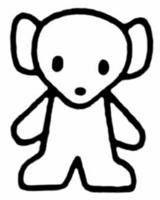 Most people will recognise nijntje, or Miffy, the little bunny from Dick Bruna. A Dutch icon that most children will have grown up with. So did I.
I learned to read with nijntje. I watched the animated tv series of nijntje. My dearest bunny plush was named after her!
Beloved all over the world (with a large fanbase in Japan or so I hear!) even my English boyfriend knew nijntje. And when he decided to stay with me and learn Dutch, his first books were an easy choice.
Since then we have fallen in love all over again with nijntje. But now, as a grown up, I look differently at nijntje. Besides the nostalgia, I can really appreciate its "simpleness". The primary colours, the thick lines; the iconic look from Dick Bruna.
Now our house is filled with Dick Bruna art, we have most of his books (the little square ones), the animated tv series on dvd, some figures and plush. It's part nostalgia, part embracing Dutch, part art.
op een dag zei vader pluis

wie gaat er met mij mee

naar de duinen en het strand

en naar de grote zee
Below I've compiled a list of things in my collection regarding nijntje / Dick Bruna, including a link to the post of it. This will be updated regularly.
Plush
Figures
Books
Others
---
Have more information to add? Own the same item? Like what you see? Have a different opinion? Feel free to comment on the post and let me know!