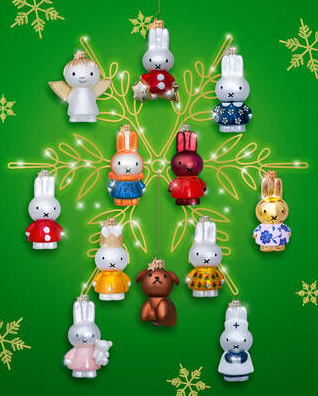 Company: Vondels
Year: 2019+
Size: 11cm
Main distribution: Europe
---
These are Christmas ornaments of Dick Bruna characters by Vondels.
Vondels specialises in fancy, glass, mouth blown and hand painted Christmas ornaments, their slogan being "sparkles from Amsterdam". Besides various random items they also make some IPs, like Hello Kitty and Dick Bruna ornaments. Here I'll list the Dick Bruna ones, a line which seems to get extended each year.

2019
Miffy Birthday dress
Miffy Orange shirt
Melanie Orange shirt
Miffy Christmas outfit
Miffy Yellow Tulip shirt
Angel
2020
Golden Miffy
Miffy Van Gogh Blossom shirt
Miffy Van Gogh Sunflowers shirt

2021
Golden Miffy Delft shirt
Miffy Yellow shirt with crown
Miffy Pink shirt and Bear
Miffy Blue shirt and Bear
Snuffy
Miffy Nurse
Miffy Doctor

2022
Miffy Shooting Star
Miffy in the snow (winter outfit)
Lion
Boris Bear

2023
Miffy Year of the Rabbit (Chinese outfit)
I got 1/21; the Lion.
Lion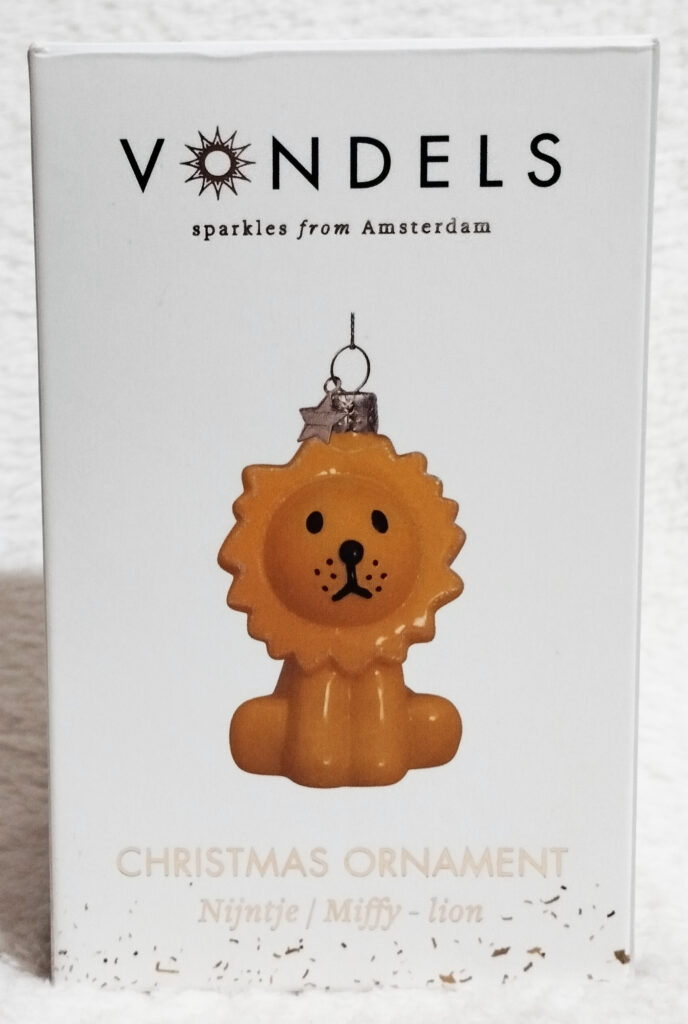 The Lion ornament comes in a little white box. The packaging is quite plain, with simply the ornament shown on the front and little text for branding and name.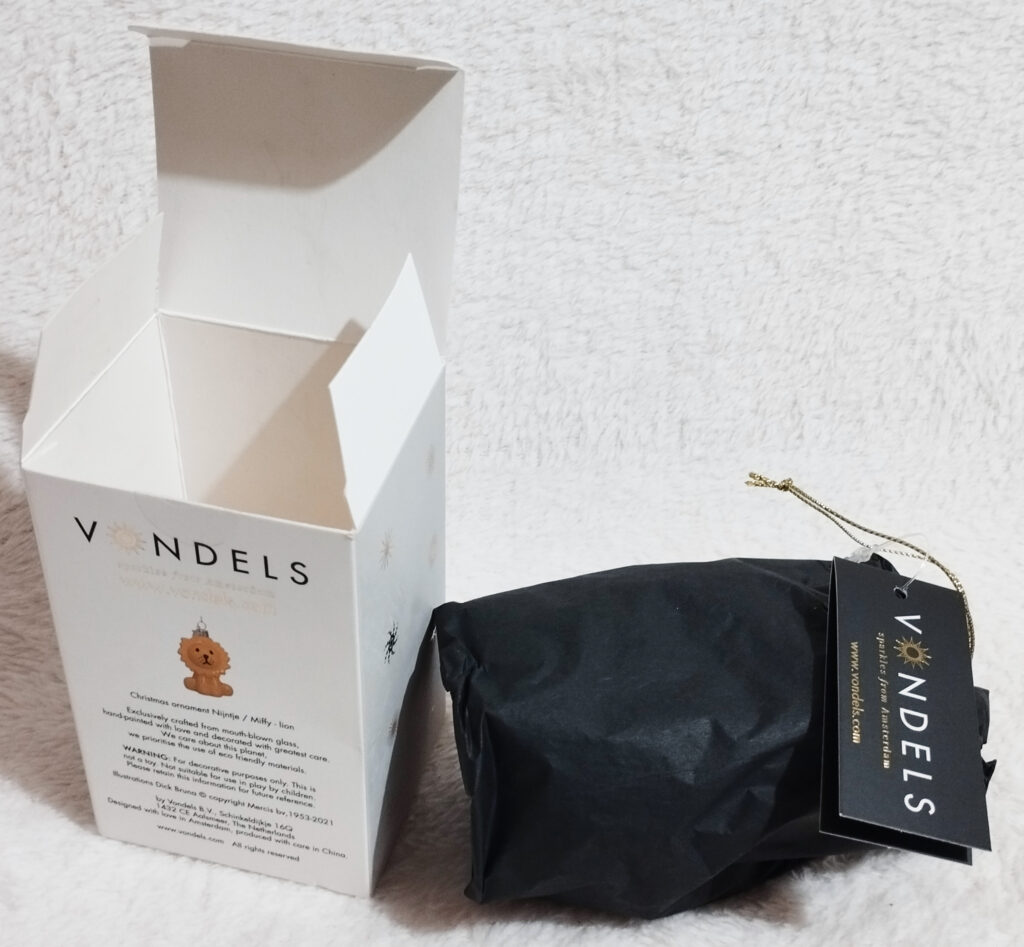 The back of the box has more text, the usual business information and how exclusive and handmade it is. The ornament is wrapped in thin black paper inside. Attached is a little black tag with some nice wording on it again.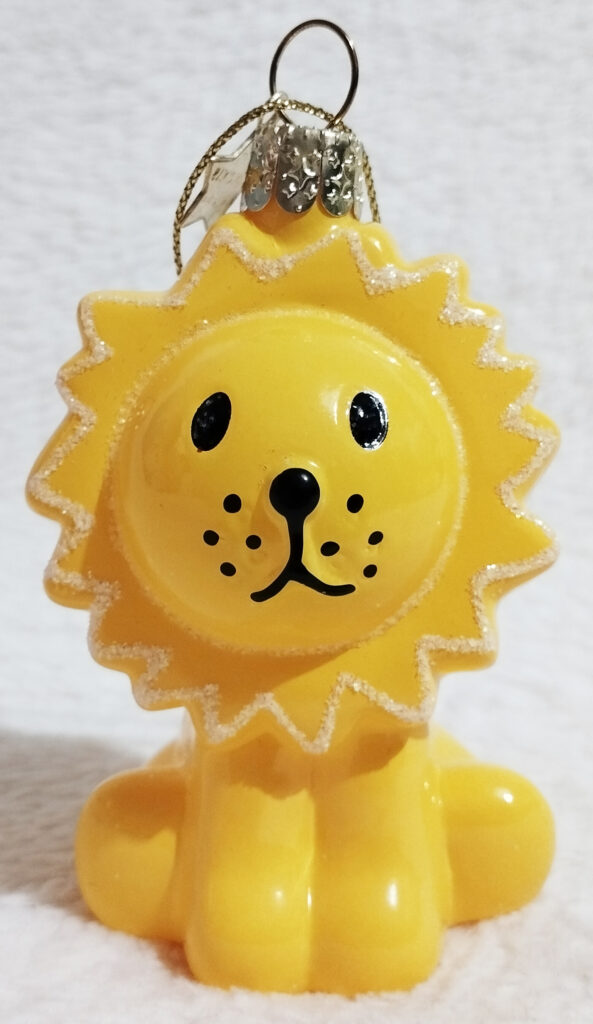 The Lion ornament is a nice 3D representation of the Dick Bruna illustration. It's bright yellow with black face detailing, and some white sparkles around its mane.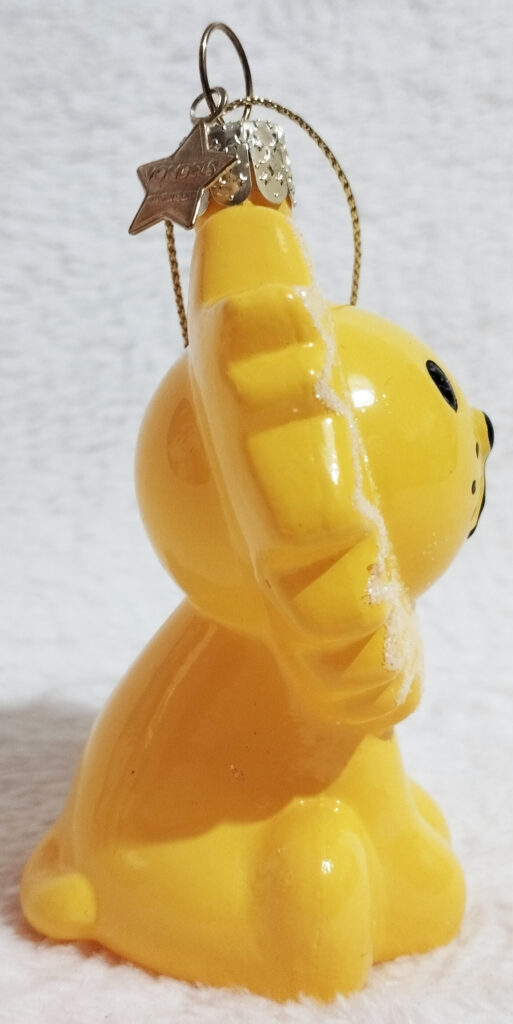 Its proportions are spot on. It's in a sitting position, and smiling friendly.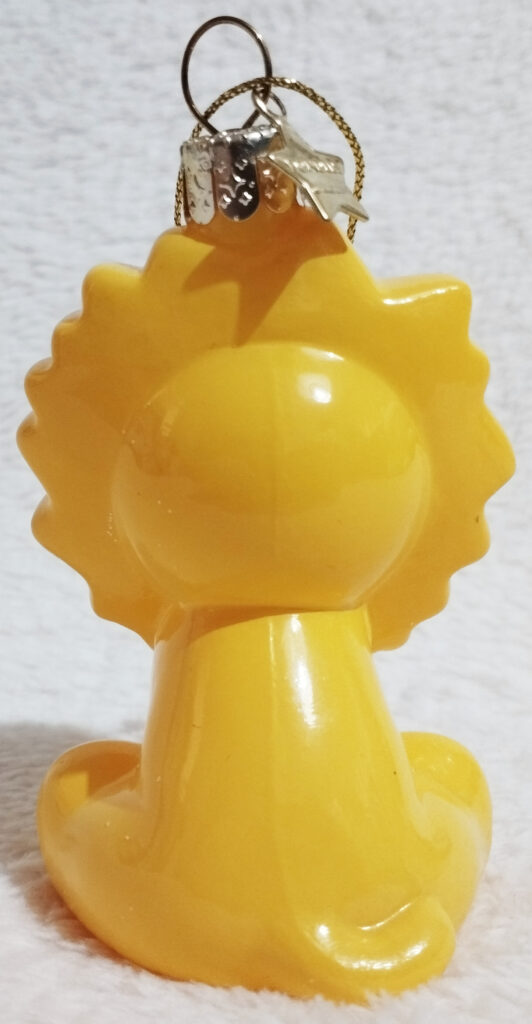 On the back we can spot a little curled up tail. The topper has little stars embossed on it. Along the loop is also a little star dangler, which has "VONDELS Amsterdam" on it. On it's bottom in black is printed © Mercis bv.
---

I loved the miffy ornaments from the first moment I saw them. It felt so Dutch and fancy. However, they are expensive. And don't really fit our Christmas tree (which is very "natural" with snow and wooden elements, and icy blue and soft blush coppers). And they are made from glass (I prefer non breakables on our tree). So I never really pursued these.
On one holiday break in Utrecht we stumble upon a shop that was selling these. Our niece was quite into lions at the time and always exclaimed it so cutely, so when I saw the miffy Lion I pointed at it and in her voice said "lion!" to my partner. I figured he got the reference and we smiled and moved on. While I was visiting friends he apparently returned to the shop and secretly bought the lion as a gift, as he thought I wanted it by pointing it out. The next December he gifted me it.
Of course I loved it, it's miffy after all, but I was not expecting it and I had not pointed it out for him to buy. But it's cute regardless. Its bright yellow sticks out in our Christmas tree though, and I may have to add a smaller "fun" tree with decadent ornaments in the future.
And of course now that we have one, I may have to pursue the others after all. Maybe we'll add a new one each year…
If you like decadent, fancy, Christmas ornaments or Dick Bruna / miffy, you will love these. Keep in mind they are expensive though.
If you're more into traditional Christmas baubles and colours, you might want to give these a miss.
---
Got any more details / information you think I should add? Or did I get something wrong? Do you own any of the miffy ornaments? Do you agree or disagree with my findings? Let me know in the comments below!