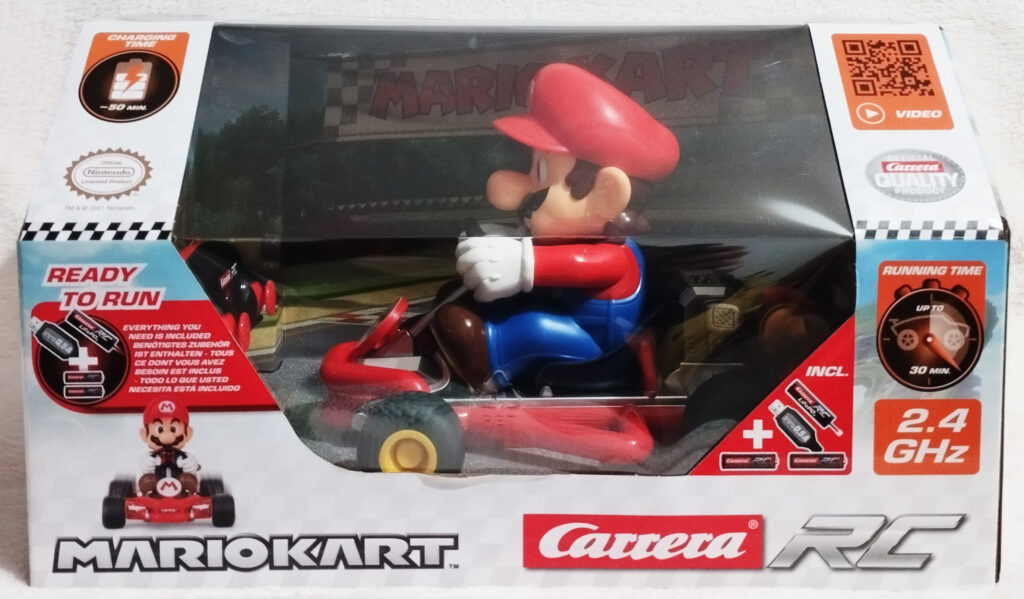 Series: Mario Kart
Company: Carrera
Year: 2017+
Size: 21cm
Main distribution: Europe
---
This is the Mario Kart RC vehicles line from Carrera.
Carrera is known for its speed and cars, especially slot car racing. But has also been world leading in RC vehicles. Recently they've been making Mario Kart RC vehicles.
They've made;
* Luigi – Circuit Special
* Luigi – Mach 8
* Mario – Bumble V
* Mario – Circuit Special
* Mario – Mach 8
* Mario – Pipeframe Kart
* Mario – Quad
* Mario – Scooter (Odessey)
* Mario – Standard Kart
* Peach – Quad
* Yoshi – Bumble V
* Yoshi – Pipeframe Kart
* Yoshi – Quad
* Yoshi – Standard Kart
Mario – Pipeframe Kart
Release date: 2021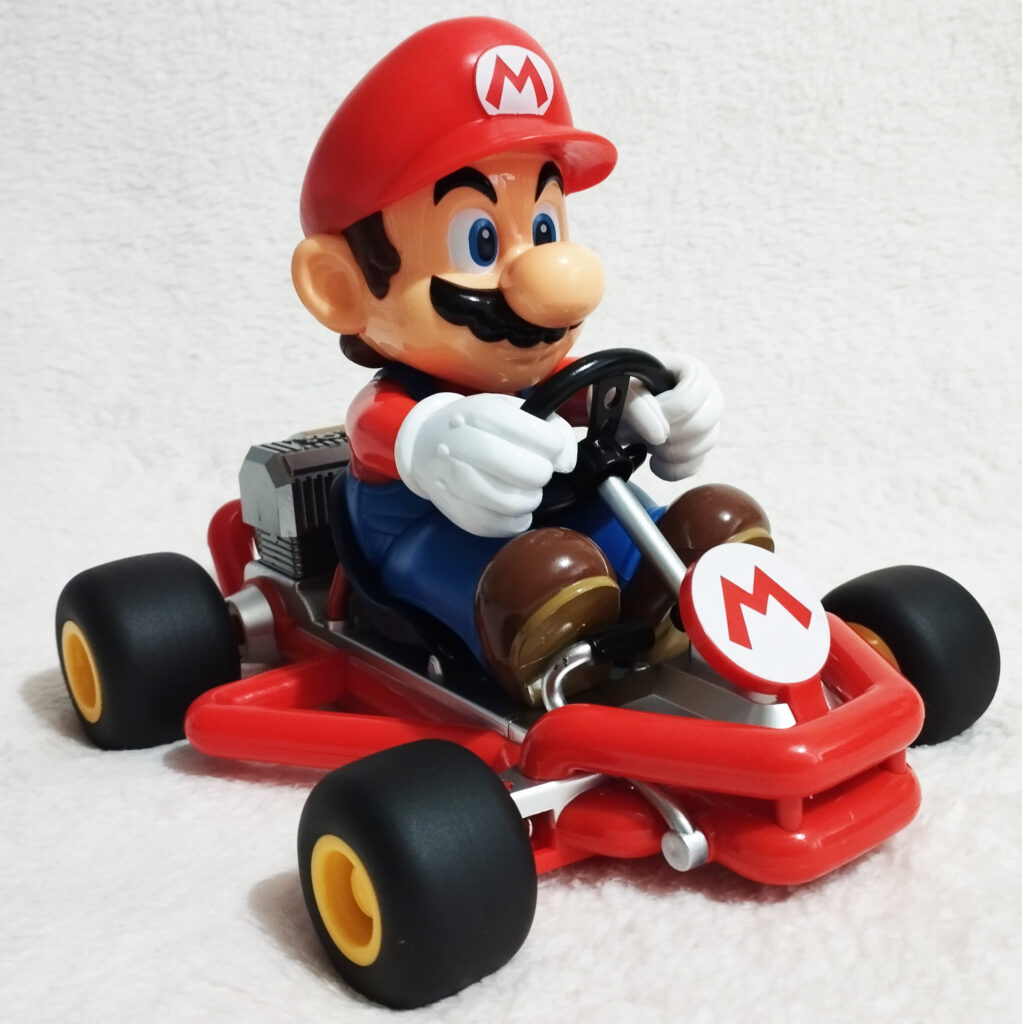 Mario sits in his red Pipe Kart, based on the N64 version with the Mario emblem at the front. He comes in a box with a large window, so you can see the kart clearly. The inside of the box looks like a Mario Kart track, which is a nice touch.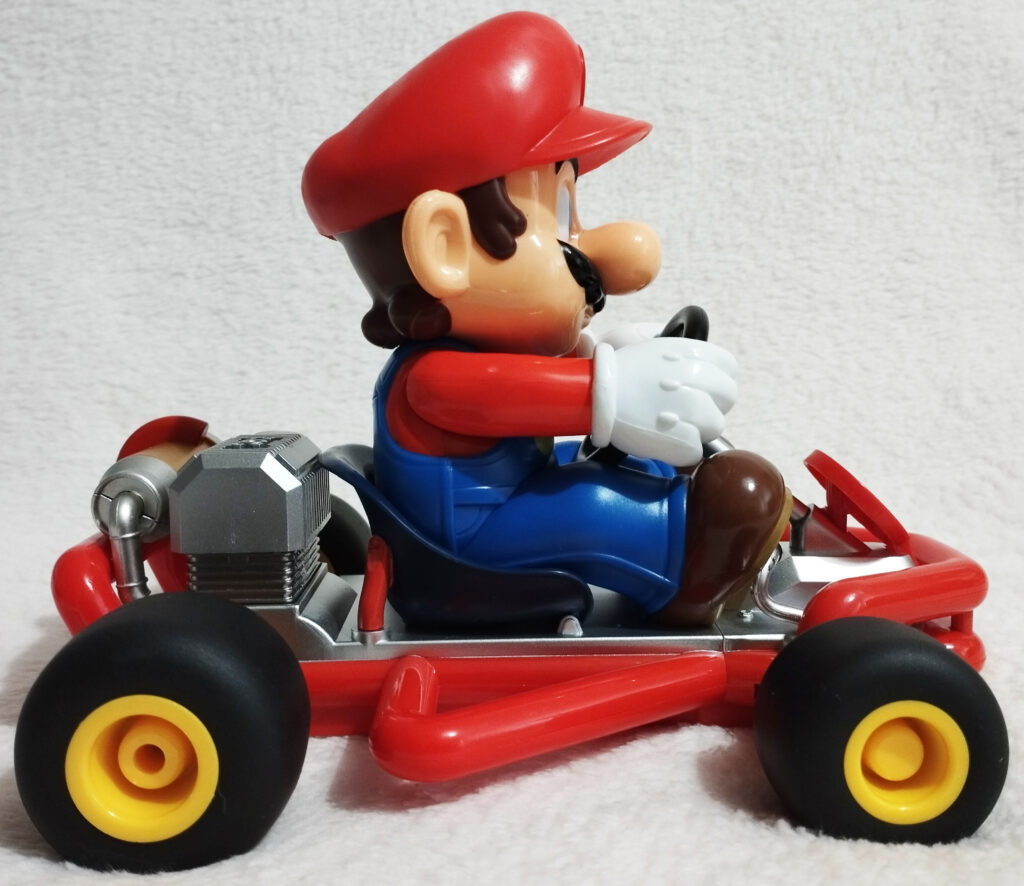 According to the box this is 1:18 scale. He looks very alike to his digital counterpart, with the right proportions. You can also clearly see him fully sitting in the kart, whereas in some other Mario Kart toys the legs get hidden/are part of the vehicle mold.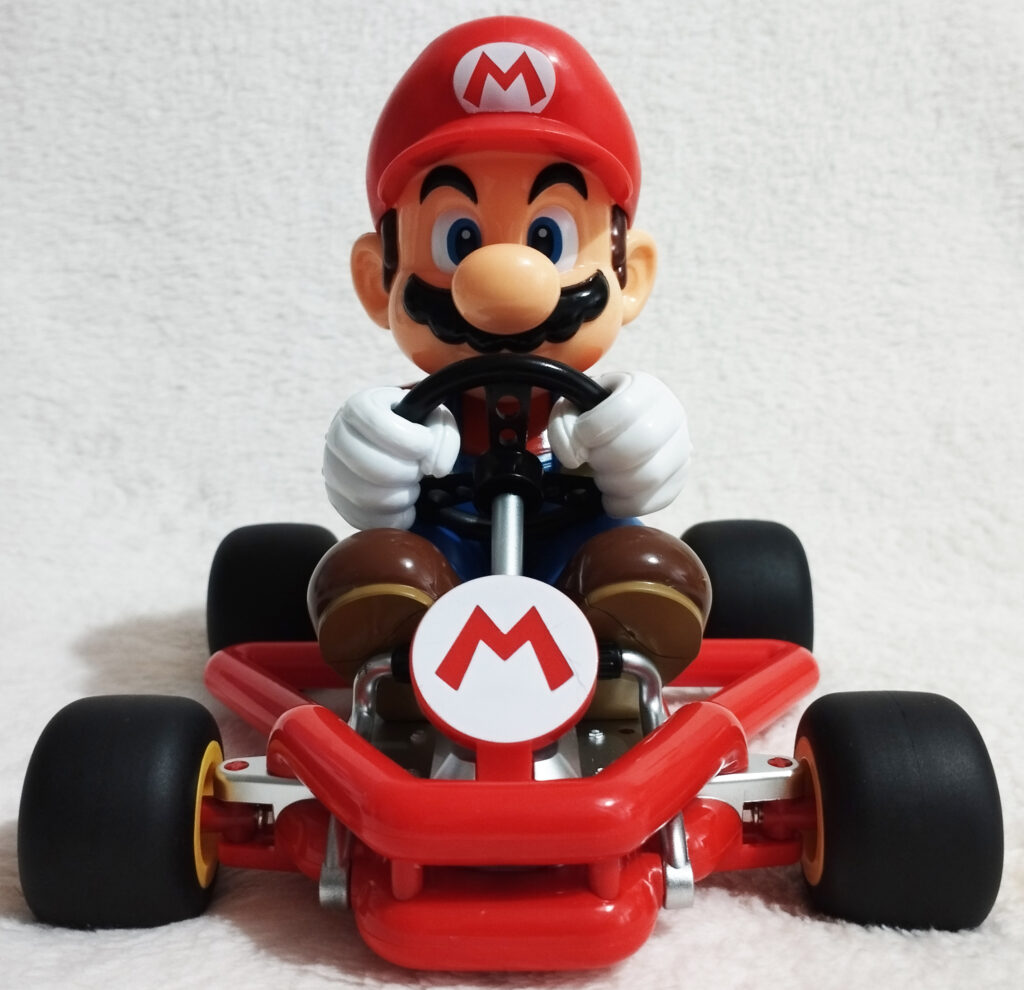 The wheels are rubber and have some bounce to them (pneumatic tires), which is a nice touch. I was a bit disappointed to find the steering wheel and Mario not moving along when steering the RC car, but maybe I was expecting too much here.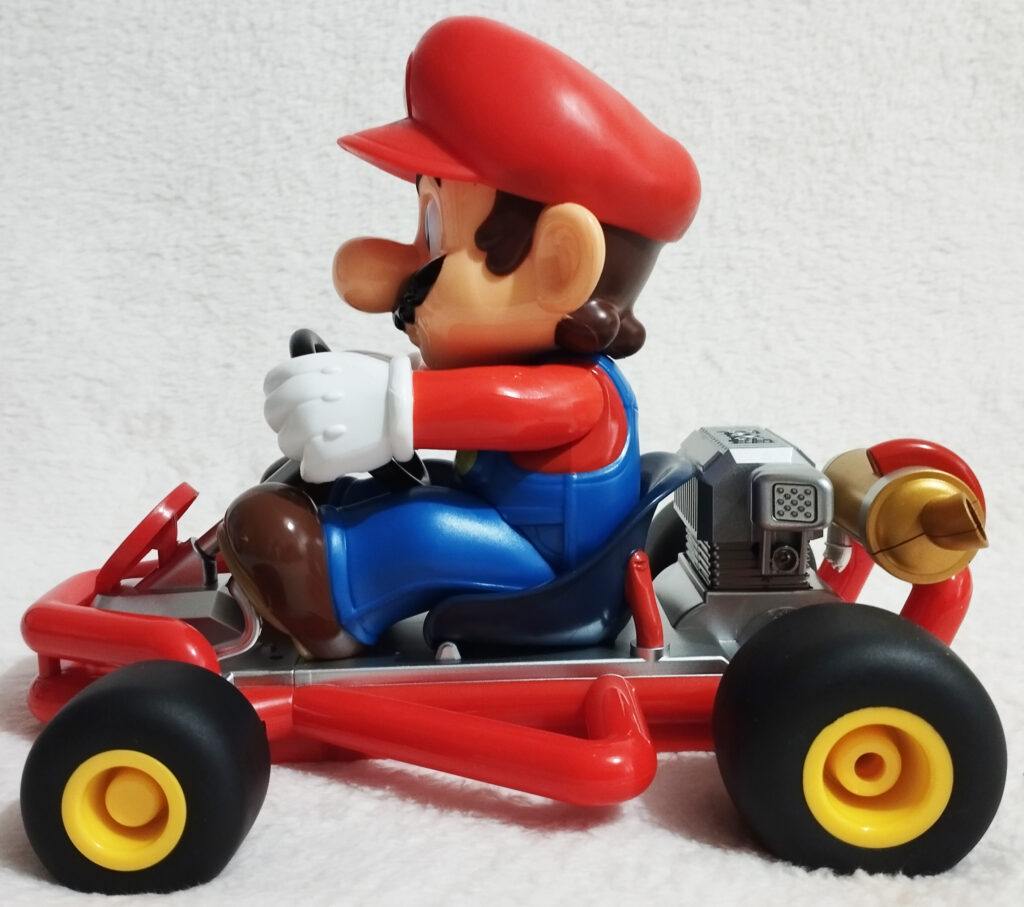 The engine itself is also nicely detailed and makes it a nice asymmetrical car, although the actual functional power sits in the base of the kart. According to the box it can reach a speed of 9 km/h (5.6mph) and can be used both indoors as well as outdoors.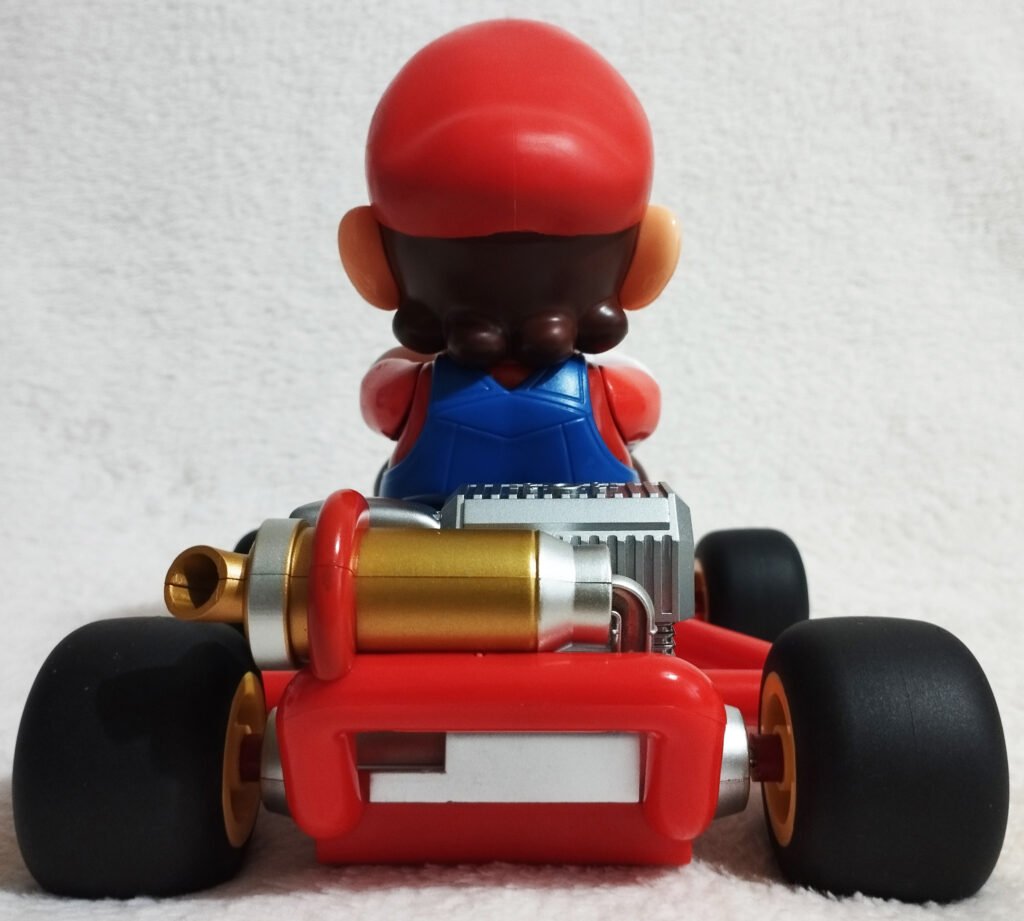 Just like his digital counterpart it is a light weight but robust kart. On a full battery it can run continuously for 30 minutes, and it takes a little under an hour to fully charge.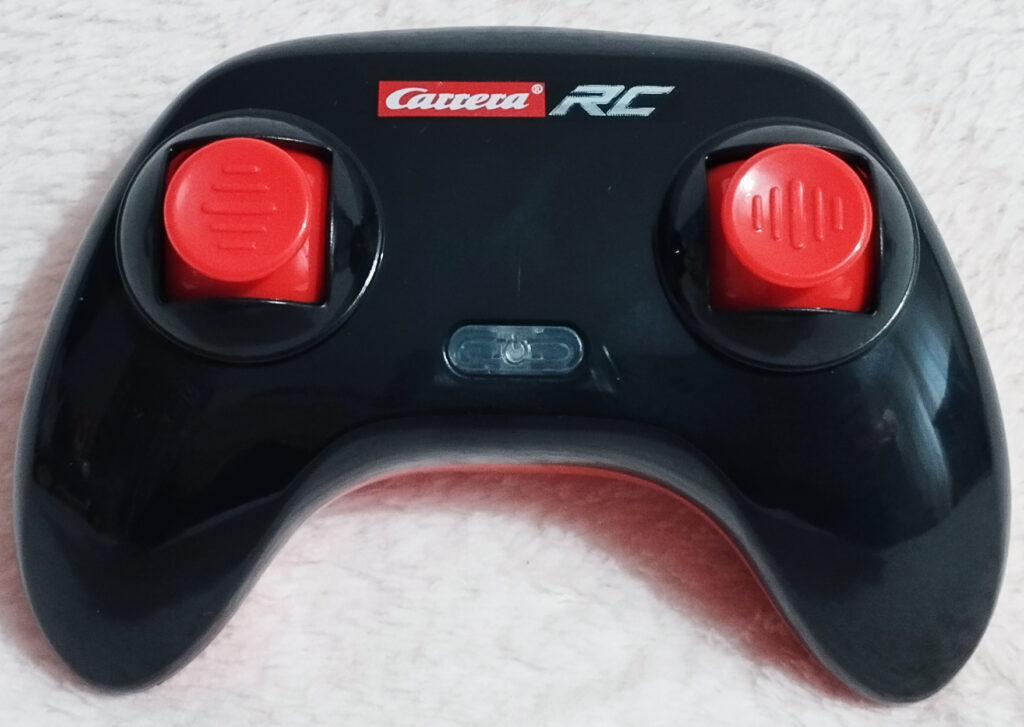 The controller has a simple design, black front with red joysticks and a red back. Carrera RC it reads at the top, and in the center is the power button. It feels very light and a bit small and flimsy in the hand. The joysticks don't have a lot of move, but the kart responds quickly to it. You can move up/down with the left joystick, and left/right with the right joystick, and diagonal when using a combination of the sticks.

It comes with a battery pack, 2 AAA batteries which are Carrera branded and a USB charger. It had some charge already so I could immediately give it a test run.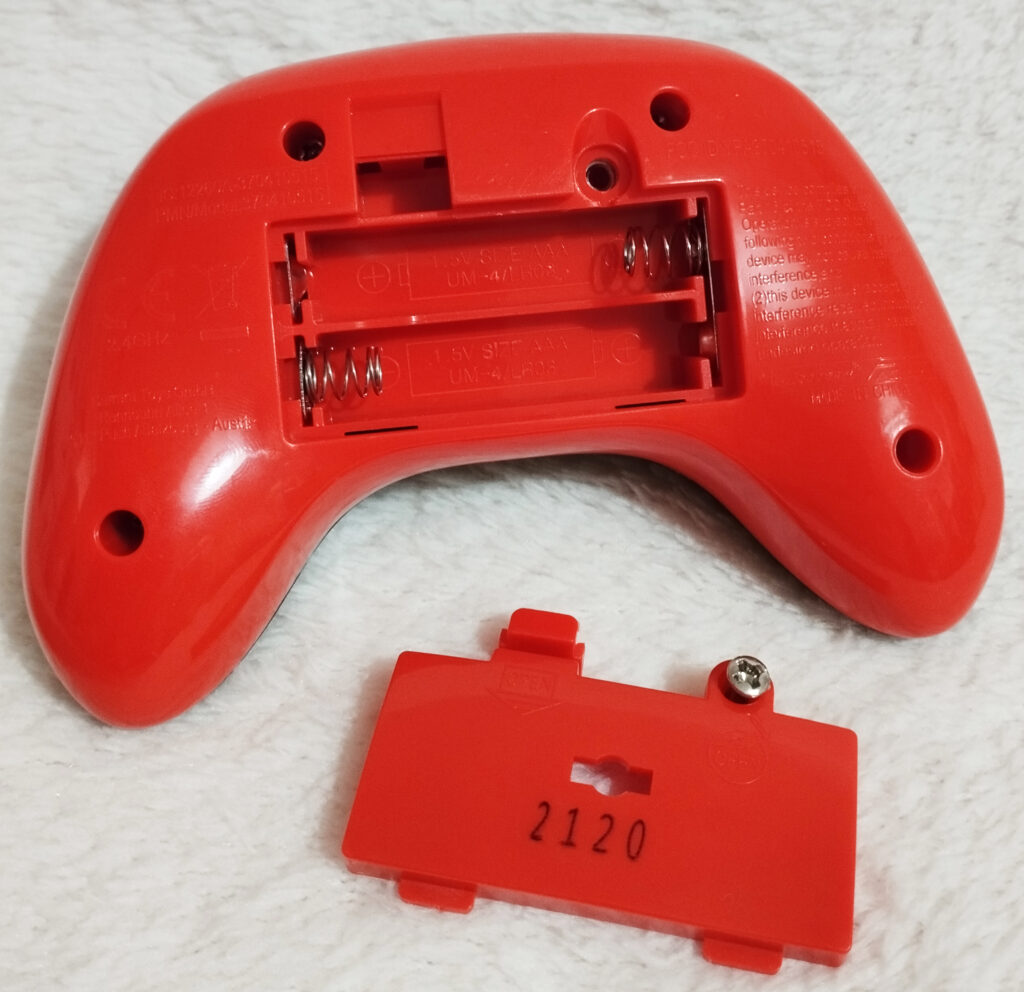 Despite the lip a screwdriver is needed to open the back of the controller and access the battery compartment, I assume to make it more childproof. The controller takes 2 AAA batteries.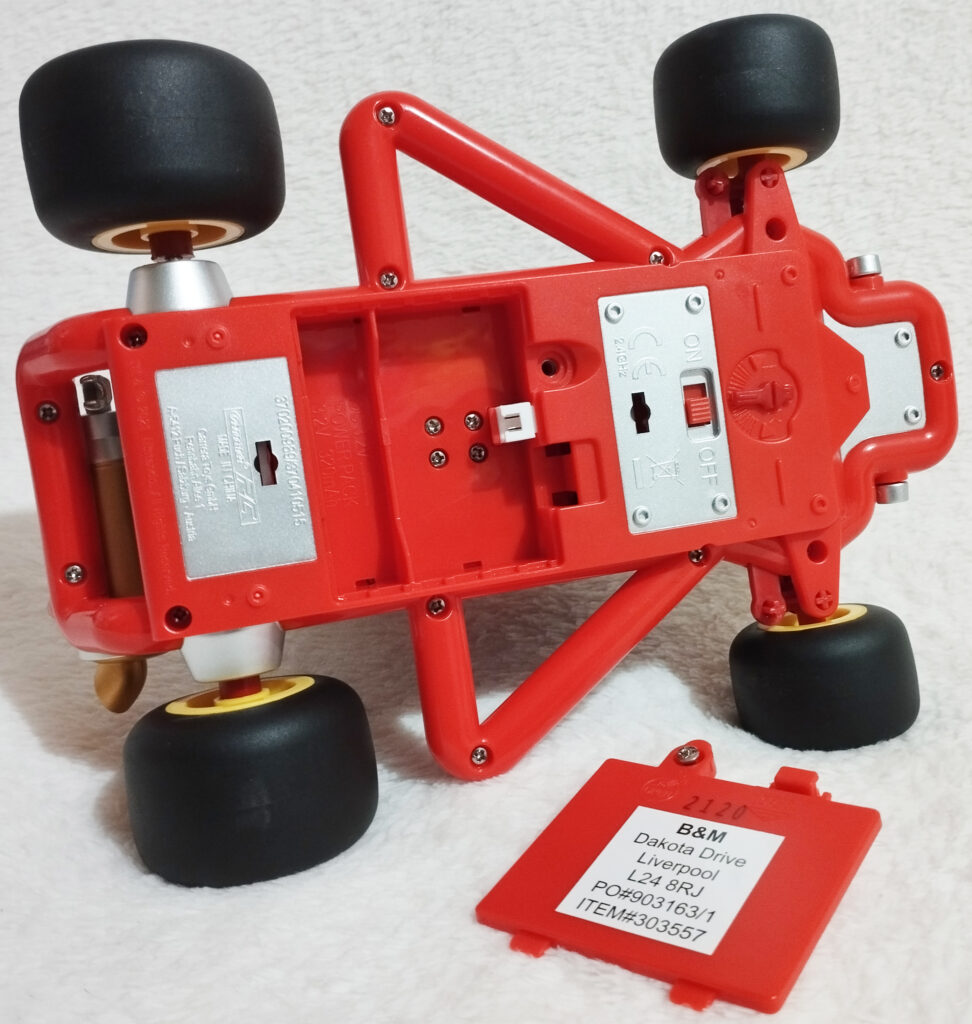 The same applies to the kart, a screwdriver is needed to open it. The battery pack fits easily in the open compartment and the cable can be plugged into the kart here. When needing to charge it it can be unplugged and plugged into the USB charger. Spare battery packs can be bought on the carrera website.
Simply turning the kart and controller on worked for me, they immediately synced up. I'm not sure how this will work when you have multiple karts. According to the box 16 cars can run in parallel due to the 2.4 GHz technology.
---
As a kid I never really owned an RC car, but played with lots of them from friends, nephews and my brother. Seeing the Mario Kart ones made me kind of want to get one, but I'm not a huge fan of the newer designs. Super Mario Kart is my favourite Mario Kart so the Pipeframes are my favourite vehicles of the franchise. So when they made a Pipeframe Mario I very much wanted it. They are a bit expensive, retailing for about £50, but I manage to get him for £30 in B&M.
I live in a rural area and don't have many if any smooth roads / pavements to test him outside, and my house is mostly carpeted, so I could only test him really in my hallway. I also didn't want his wheels to get too dirty. I can't attest if its top speed is 9km/h, but I imagine so. It's a pretty snappy little kart. I did find it slipping on one side, but not sure if that was due to the smooth floor, or if it needed a bit of fine tuning. I also found the controller a bit flimsy, but maybe this is because I'm used to better console controllers. I imagine this is a great toy for a kid though. I'm also not liking the basic design of the controller, I think they are all the same looking with the other karts, and I wouldn't want to mix them up. But I guess that's also the strength in it, to make it easier to buy replacements / manufacture.
Overall I love the way the kart looks, and its size is nice. I'll most likely use it more as a decoration and talking point in my game room than RC car, as it'll stand out more than a small Hot Wheels. I wouldn't pay full price for it I think, as I think it's just a bit too flimsy/snappy/slippy to my liking functionally and a bit too expensive, but it looks pretty though. I'm keeping an eye out for Yoshi as well. It's more fun to race with two too!
If you're into RC cars and/or Mario Kart, this is a great little vehicle. I do feel like you're paying for branding a lot, but to have an actual functional Mario Kart is kind of cool too. And it looks great.
If you rather get a cheaper / smaller Mario Kart toy, there's some other options out there.
---
Got any more details / information you think I should add? Or did I get something wrong? Do you own any Mario Kart RC vehicles? Which one is your fav? Do you agree or disagree with my findings? Let me know in the comments below!