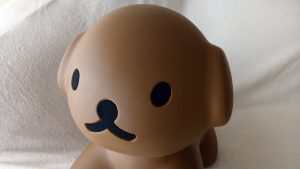 Company: Mercis bv
Year: 2012
Size: 49cm long and 41cm high (to top of his head)
Made in: Holland
Main distribution: Europe
---
This giant "figure" of snuffie, or Snuffy as known in English, is actually a toddler seat!, known as the Snuffy Sitter. As soon as I saw this giant dog I knew I had to have it.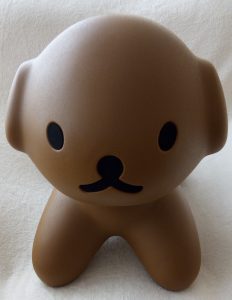 This thing is huge! Kind of how I imaged snuffie in real life, would he be real. Small children can sit on his back, although I haven't tested that yet.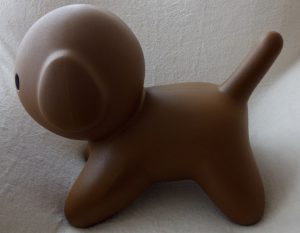 Because of his round design he looks and feels very soft, despite being made from hard polyethylene. His face features, eyes, nose and mouth, are of a softer material. My guess is foam.
Despite his size I find him very light (the website where I ordered him from says 3kg, but I have no scale to verify this.). This is probably because he is hollow.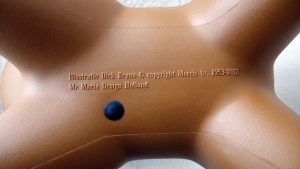 On the bottom is his mark. I find it funny how it says 1953 as snuffie's first appearance was in 1969. In 1953 Dick Bruna made his first childrens book though, so it's probably a general copyright for all of Dick Bruna's childrens work.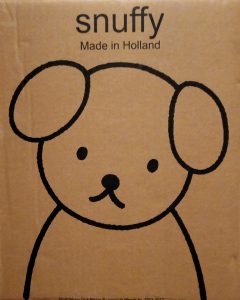 snuffie arrived in a simple cardboard box, but one of the cutest I have ever seen!
---
This giant snuffie is one of my favourite pieces of my nijntje collection.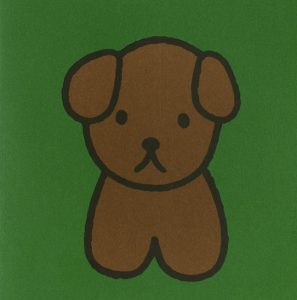 Its 3D shape translated well from Dick Bruna's 2D drawings. I especially like the shape of its paws when viewing it from the front. It captures the same look and feel of his drawings.
snuffie looks very lifelike as he is the size of a small dog! He stands next to my lazy chair in the room and seems comfortable there.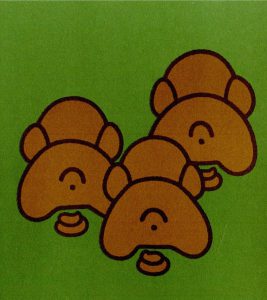 It's hard to find flaws in this piece of furniture (I guess it is technically a chair after all!). I have to say though I was slightly disappointed not to find a little butthole as in snuffie's puppies (one of my favourite snuffie episodes!).
I'm also worried how quickly this would get damaged if handled by toddlers climbing it. It is hollow after all. I can easily see this get cracked or gain a hole. However, that is mere speculation as I have no children touching it (yet).
The other thing to mention is the price I guess. For € 129,00 / £125.00 that is one expensive toddler chair! But when I saw it I told myself to get it when we have our own place. And when we got our own house Black Friday was not far away, so we got it for far, far less! I do like a bargain after all.
---
Got any more details / information you think I should add? Or did I get something wrong? Do you own the same snuffie seat? Do you agree or disagree with my findings? Let me know in the comments below!