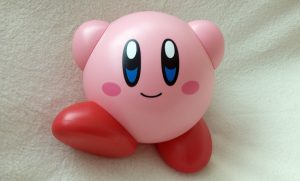 Company: SK Japan
Year: 2016
Size: 20cm
Main distribution: Japan
---
This is a big, poseable Kirby figure. And when I say big, I mean big!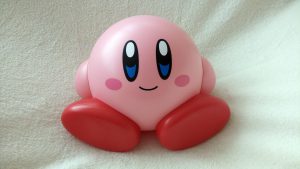 Roughly the size of a volleyball, this Kirby does not disappoint! It stands proudly in a room and demands attention.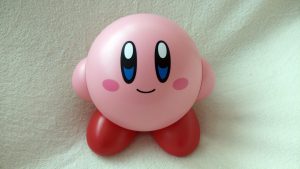 How can you ignore that cute face?! It's definitely an eye catcher.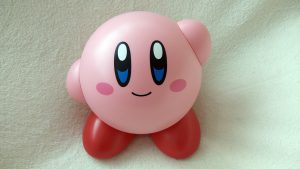 This Kirby is highly poseable due to the shape of the legs and arms and 4 magnet points in its body. You can pose him in various ways. He is made from ABS.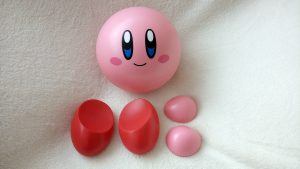 The 5 parts have no holes or joints as it all works through hidden, inside magnets. That's what makes this figure look so good in any pose from any angle.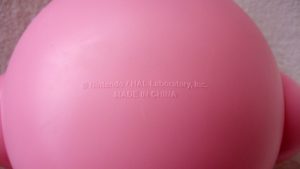 On its back is its mark. It's simply © Nintendo / HAL Laboratory, Inc and where it's made.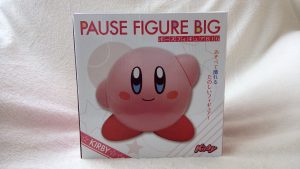 Kirby comes in a box that shows him proudly on the front and top.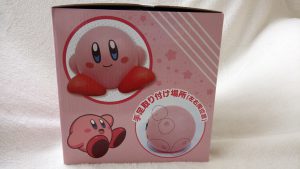 The sides show various poses with Kirby art. This side shows clearly where the magnet points are.
---
I walked into one of my favourite local geeky shops and this one had just arrived. Instant buy. Its quality and size are really nice!
I think these originally came from UFO catchers in Japan, so finding them in a shop might be rare.
I like how you can pose it using magnets instead of ugly, visible ball joints. I would have liked it more however if its entire body existed out of magnet, as the 4 points can be a bit limiting in my opinion.
I noticed online some people were complaining about the strength of the magnets but I have no issue with this during posing. Although I can see the parts easily coming off if you would like to play with it.
No doubt any Kirby fan will snatch one of these up.
---
Got any more details / information you think I should add? Or did I get something wrong? Do you own the same figure? Do you agree or disagree with my findings? Let me know in the comments below!