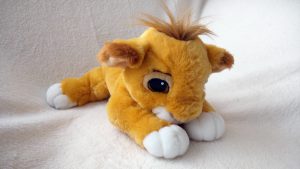 Series: The Lion King
Company: Mattel
Year: 1993
Size: 30 cm (48 cm if you include and stretch his tail)
Made in: Thailand
Main distribution: Europe / United States of America
---
The Lion King plush made by Mattel are just one big nostalgia trip. This particular Simba cub is one of my favourites! This is a floppy, laying version.
The plush is of a decent size, around 30 cm not counting its tail, and is very soft and fluffy.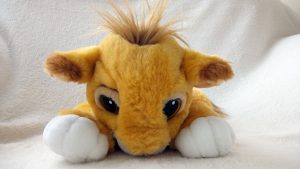 He has a fabric nose and mouth yet his eyes are of a harder material. Mattel has these buttons for eyes for their Lion King plush that are very iconic and easy to identify, with a glazed orange for the sclera and the iris and pupil painted on top of it. His paws and underbelly are white, another iconic Mattel Simba thing.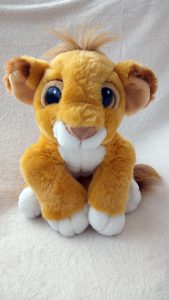 Due to its floppyness this plush has a lot of range of motion. His tail and paws are easy to move, but will fall back in their "neutral" position. The plush also can't "stand up" due to this. However, I'm able to make him sit (although he looks a bit awkward that way).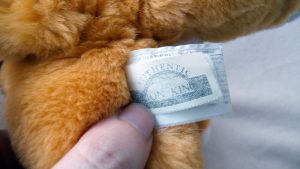 I don't have any of its packaging, but I know it came on a green cardboard plateau. On it, it said "Baby Simba", although I don't find it looking like his baby form but more his young cub form. It also had a hang tag that said "I feel so real in your arms!". He has three tush tags. The first has the Lion King logo with the word Authentic above it (mine is not in the best state and quite faded).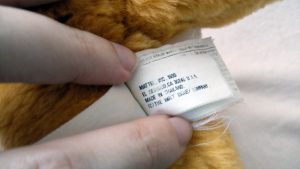 The second one has Mattel on it with the year, where it was made and the usual copyrights. The third is a legal label that is required and mentions its materials.
---
The Lion King Mattel plush has got to be my favourites! Although when it comes to Disney I usually prefer the Disney World / Disney Land / Disney Store plush, Mattel is the exception to the rule. There is something nostalgic about them.
Simba's beautiful eyes and white paws and belly are so iconic of Mattel and the Lion King's plush range back in the 90's. I have a weak spot for the white pawed Simba that are out there. The orange used for Simba is also a nice shade (darker than the Disney store ones which are usually very yellow) and seems a closer fit to the movie, which I like a lot.
As all Simba in Mattel's line he has white paws and a white underbelly, unlike Simba in the movie. As these were made in 1993, and the movie came out in 1994, I wonder with what they had to work with? Perhaps there was a white pawed and white bellied Simba at some point. I have seen concept art with white muzzles and underbellies… Or perhaps Mattel couldn't find the right shade of soft yellow/orange for it?
This particular plush though has been a long time favourite of mine. I always wanted it when I was a kid but never got it! I don't think I ever even seen it in the shops, and even if I did, I had no money as a 6 year old. Yet I saw other children with this plush! I had gotten a lot of Lion King plush though from my family, and I will post them in due time, but this was the holy grail.
I managed to get him through a Disney Facebook group for a very nice price considering what these go for amongst TLK collectors. His previous owner has even washed him as he smells really nice!
It was a childhood dream come true! He is also in a really good shape, considering he's 30+ years old. He's as fluffy as if new, and no scratches on his eyes! His tush tags are a bit faded and fraying, but I don't care that much for those.
He has a nice weight to him as well and is very comfy laying against you.
Since then I've gotten 3 more of him. I found them cheap secondhand and in terrible condition, but I managed to fix them up. I love them.
I'm sure many Disney / Lion King / Simba collectors fall in love with this plush. However, if you want something closer to the movies (no white) and have no nostalgic feelings for this line, you might want to opt for the Disney Store ones instead.
---
Got any more details / information you think I should add? Or did I get something wrong? Do you own the same plush? Do you agree or disagree with my findings? Let me know in the comments below!