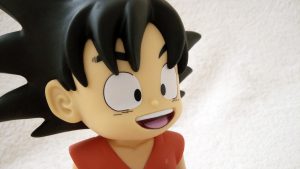 Series: Dragon Ball
Company: Plastoy
Size: 15 cm
Main distribution: Europe
---
This is a little coin bank made by Plastoy of the young character Goku. They also made a young Krillin, Master Roshi, and four star Dragonball.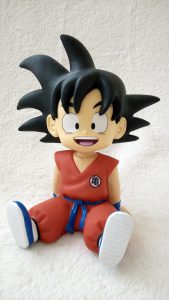 The coin bank is a nice size for figure; not too big, not too small. Although for holding actual coins it seems rather small. That's probably why it's called "mini" coin bank.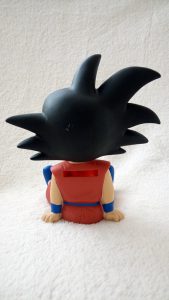 The slit to put money in is on his back shoulders. This means money will only stack in his torso / butt area, which isn't that large of an area.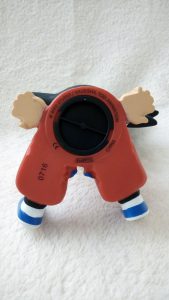 On the bottom is the opening to get the coins out. This has a turnable lock on it. Around that opening you find the brand Plastoy as well as where it was made and the usual copyrights.
---
Lately I find my Dragon Ball purchases gravitating to more mundane poses rather than the fighting ones. It's like there is too much power fighting / stances in the Dragon Ball world. My favourite Akira Toriyama drawings are also the ones you hardly see in the show itself, and portray more mundane actions.
So when I saw this young Goku sitting with a big grin on its face I really liked it (and I'm not even a big Goku fan!). It felt more in tune with Akira Toriyama's drawings. So I bought it.
I usually don't buy coin banks. I usually don't purchase items from Plastoy. I find them "cheap" looking. But I must admit this one looks quite good. It's proportions are nice and the mold is decent. The paint job itself is also alright (I've seen worse!).
Its packaging is simple. It comes in a square plastic see through box, with a cardboard bottom inside it.
I don't use it as a coin bank, it's a decorative figure to me. I've been unable to even open the bottom! I don't know whether that is me or the figure, but I better not put any coins in it.
I'm not sure if Plastoy is a French or Belgian company, but I know they make lots of figures and coin banks of characters from that region (Tintin, Astrix & Obelix, Barbapapa, Lucky Luke, The Smurfs etc.), and also some popular anime like Dragon Ball and One Piece. I see them often in shops in Belgium and the Netherlands. I was quite surprised to actually find it in the United Kingdom to be honest. It may very well be exclusive to Europe?
This probably isn't the most sought after item for a Dragon Ball collector but it's damn cute and the price isn't too expensive. However, I'm sure Plastoy and coin bank collectors would give it more value.
---
Got any more details / information you think I should add? Or did I get something wrong? Do you own the same coin bank? Do you agree or disagree with my findings? Let me know in the comments below!