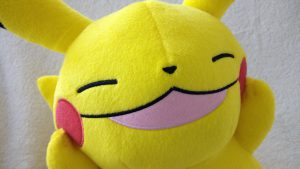 Set:  Pikachu Mania!
Company: Banpresto
Year: 2015
Size: 10.5 inches (13 inches counting ears)
Main distribution: Japan
---
This is a Pikachu plush from the Pikachu Mania! line. A silly, funny line with lots of Pikachu expressions. This particular one is the large plush that was released in 2015, where Pikachu pulls his face.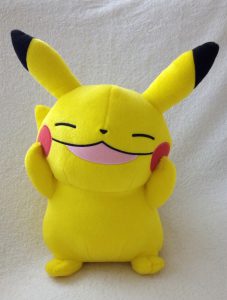 The plush stands around 10.5 ″ tall (from bottom to top of its head) and has a smooth texture. It comes in its iconic colours and matches the anime version. It has a hang string on its head and was available in UFO machines.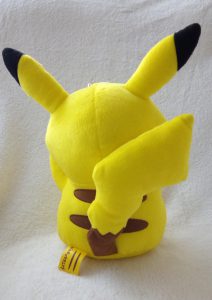 Its tush tag resembles Pikachu, one side has its face and the other has its back stripes. Behind it is a much smaller Banpresto tush tag with the year 2015 on it.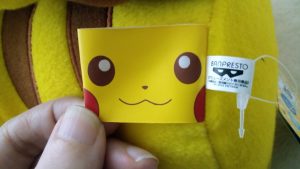 Its hang tag shows various screenshots of the anime with several Pikachu expressions the plush in this line are based on. In the bottom left you can see the Pikachu pulling his face this plush has.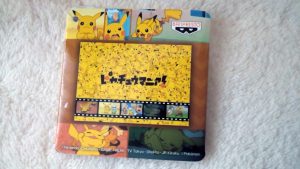 The back features a yellow background with a white zigzag pattern. It has several logo's and Japanese text.
---
This Pikachu plush probably has the funniest face. Pikachu in the anime is quite the master of pulling faces and mimicking other Pokémon.
However, I wasn't blown away by this plush at first glance. I don't feel like he's pulling his face, like there is any tension on his cheeks. Furthermore I find his head / body proportions off or more like the modern Pikachu, which I dislike.
But when I found this plush for a good price from an online UK Pokémon / anime dealer, I went for it anyway. His face is rather funny after all.
Surprisingly, my boyfriend really liked this plush and has been using it to photobomb in the background. So I've slowly warmed to this one.
It may not be the fluffiest or softest, but it's definitely the funniest and very unique in pose.
---
Got any more details / information you think I should add? Or did I get something wrong? Do you own the same plush? Do you agree or disagree with my findings? Let me know in the comments below!