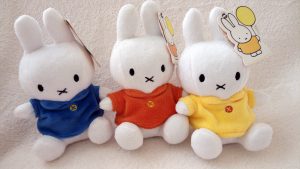 Company: Famosa
Year: 2012
Size: 13 cm (18cm incl. ears)
Main distribution: Europe
---
Here's a cute set of nijntjes made by Quirón by Famosa. All 3 plush are the same, the only difference is the colour shirt they are wearing.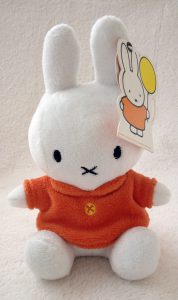 nijntje is about 13cm big (not counting her ears) and is in a sitting position. Her face is embroidered. She feels very soft.
nijntje wears an orange / yellow / blue shirt with a yellow / orange button embroidered on the front. It's a full shirt, not sewn onto the plush and could potentially be taken / cut off. There is a full plush underneath. Unlike some miffy merchandise there is no velcro on the back of the shirt to take it off. The shirt is made of a different material than the plush itself, and feels even softer as it has a slightly longer hair.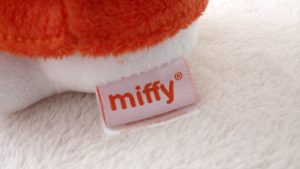 She has two small tush tags. The main one will say miffy and has the copyrights for Mercis on the back with the years. The second one is from Famosa and has the usual washing instructions and European safety symbol.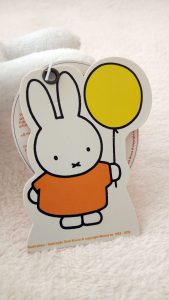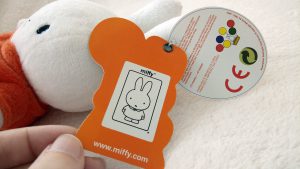 She also has 2 hang tags. The main one is of a thick cardboard and has miffy on it, as well as the usual copyrights and the international website. The second one is thinner and is from Famosa, stating the usual safety measures and barcode.
---
Although not a Dutch product, these nijntjes are adorable. I love how soft they feel and that their shirts are actual shirts and not sewn onto the plush, nor do they have that annoying velcro that never wants to sit straight and feels hard.
Their proportions are also spot on. The Spanish company did really well honouring the Dutch bunny. No wonder it's official merchandise.
We found these in the crane machines on the Dutch fairs and decided to have a go at them. Turned out they were really easy to catch! We caught the first one in one try and with still money left in the machine we might as well get them all. I would have been happy with just one as I don't usually care for similar plush but these do look cute when sitting all together.
Because they were outside in crane machines some of their tags have sun damage, but I don't mind. At least we got them cheap and it was fun too.
Despite their round butts they sit up pretty well. I think their legs help.
Most nijntje plush are targeted at little children, but these look nice enough in an adult's collection.
---
Got any more details / information you think I should add? Or did I get something wrong? Do you own the same plush? Do you agree or disagree with my findings? Let me know in the comments below!