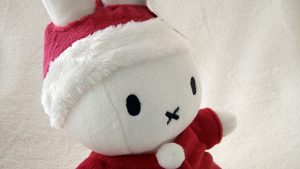 Size: 23 cm
Main distribution: Worldwide
---
A cute little nijntje dressed up as Santa.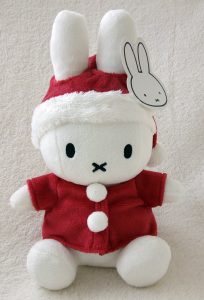 This nijntje is about 23 cm big and as most nijntje plush in a sitting position. Her face is embroided and she is very soft. She wears a velvet red santa outfit, with white puff balls for buttons and has velcro on the front.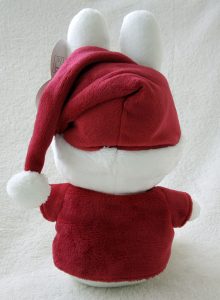 Her clothes aren't sewn on or are part of the plush bunny, so you could undress her if you want. She also has a standard Santa hat, with a fluffy rim and ball.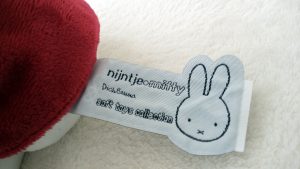 She has a large fabric tush tag like most of the official plush, with her face and name on it, as well as Dick Bruna's name.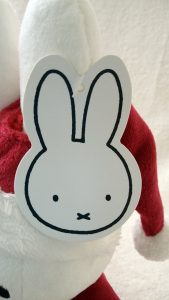 On her ear is the hang tag attached, which is the standard nijntje face one.
---
Santa nijntje was a Christmas gift from my boyfriend, which I think he got from Amazon UK. I love how we share the love of nijntje and we now use her as a geeky Christmas decoration.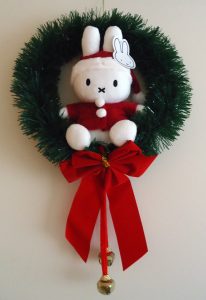 She feels very soft and I like that her santa suit is an actual jacket and not sewn onto the plush. She balances pretty well too so she can sit on her own and doesn't need any additional support.
Although not based on any Dick Bruna art, having the famous bunny dressed up for Christmas seems like a natural fit to me and I love to incorporate some Dutch in our festivities.
Although most nijntje plush are targeted at little children, this one looks also nice in an adult's collection.
---
Got any more details / information for me to add? Or did I get something wrong? Do you own the same plush or any other Christmas / winter themed merchandise? Do you agree or disagree with my findings? Let me know in the comments below!