Company: Bandai
Release: 2021
Size: 3.5 cm
Main distribution: Japan
Barcode: 4549660351733
---
Bandai has made several series of Pokémon bath bombs, under the Bikkura Tamago or Surprise Egg name. These come in a plastic blind bag.
There are several lines of these but I only got this one so far (The packaging simply says "Figure Collection" so I'm going with that for now, if anyone knows the name let me know!) but I'll be casually looking for more of them and update here.
Figure Collection
This set has 8 figures to collect; Pikachu, Bulbasaur, Charmander, Squirtle, Eevee, Jolteon, Vaporeon and Flareon.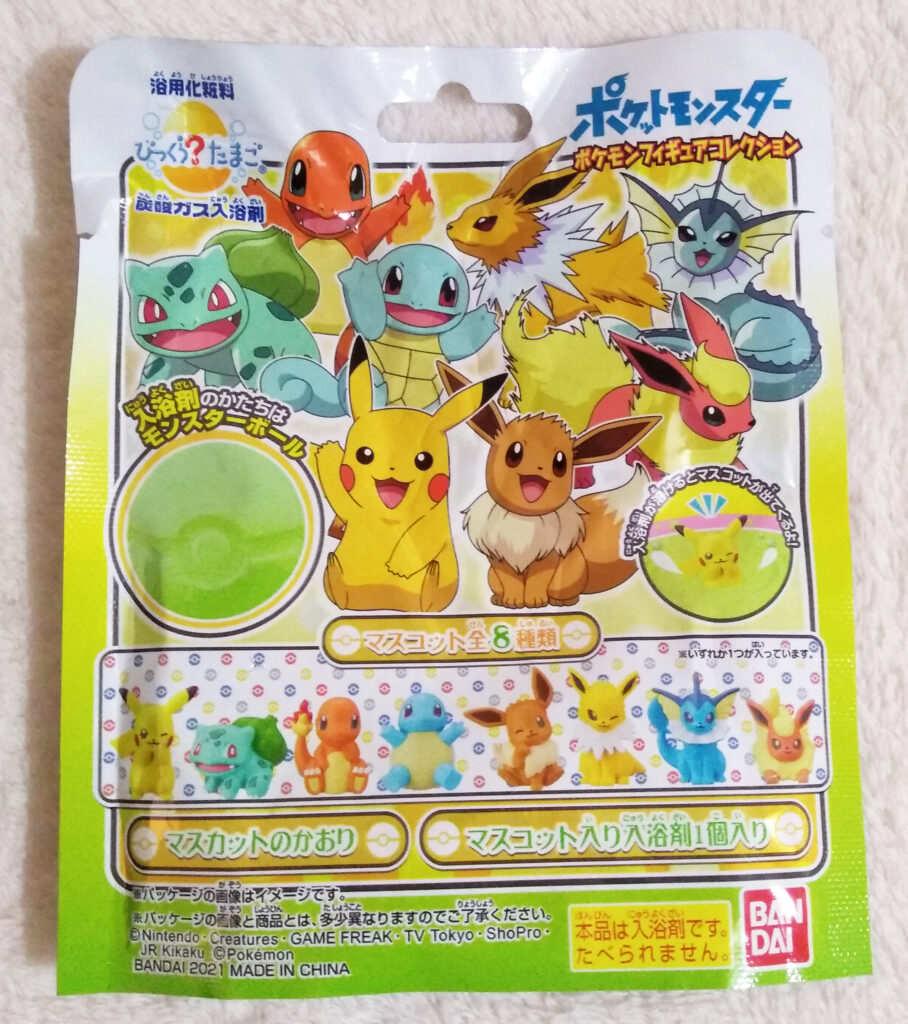 The bath bomb with figure comes in a blind bag, so you can't tell which one you get prior. The packaging has a green background, and shows a green bath bomb and the 8 different figures you can get.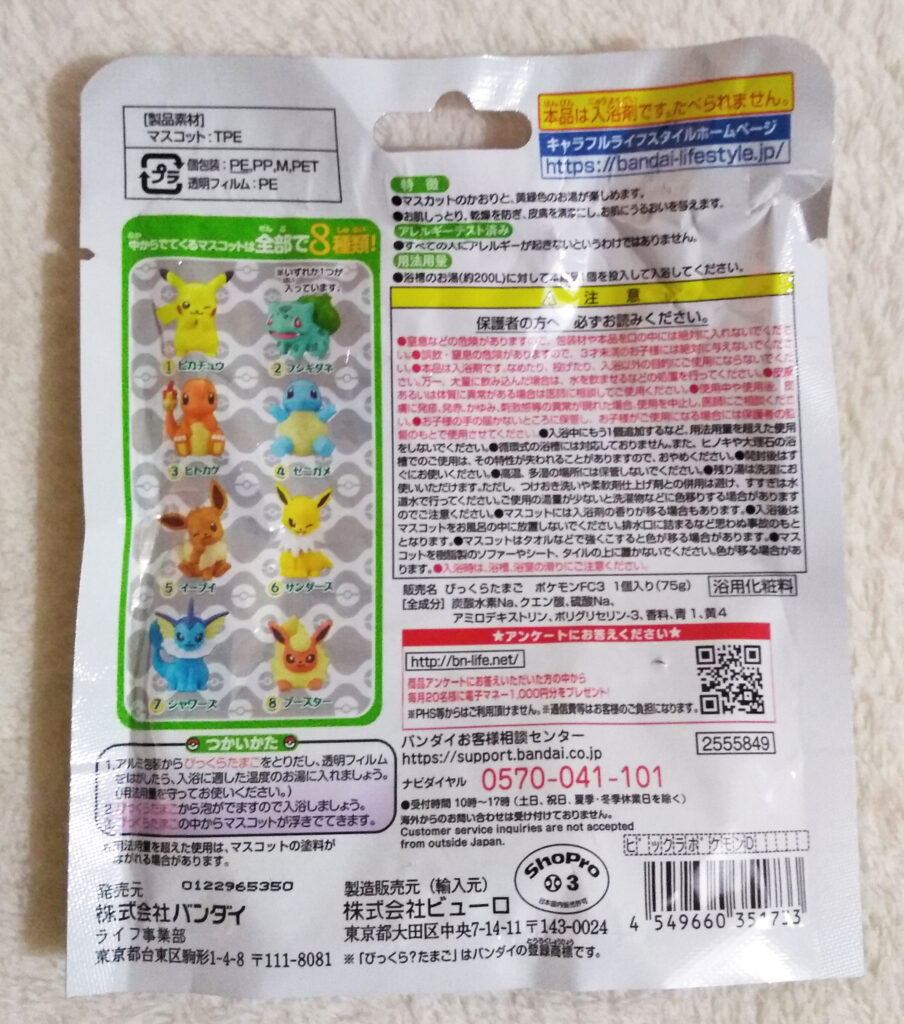 The back shows the 8 possible figures you can get again, with names, as wel as the legal information. The bath bombs smell like Muscat, which is a grape and has a light sweet floral smell. It's moisturising.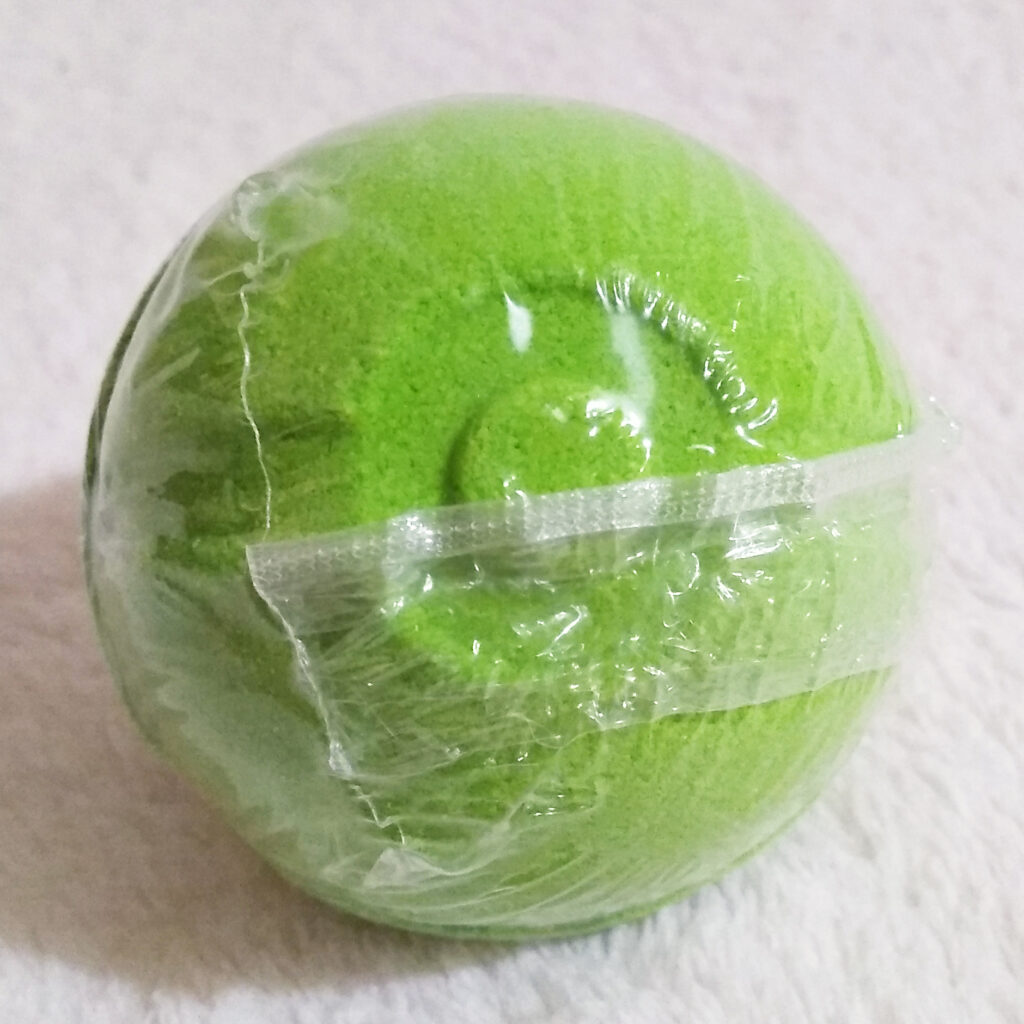 When opening the blind bag you'll find the bath bomb tightly wrapped in clear plastic. It's in the shape of a green Pokéball.
Although you can dissolve them in a bowl of hot water to get the toy out, I don't like wastage so I ran myself several baths over the weeks and threw the bomb in each time.
It fizzed and created some bubbles, but not as much as normal bubble bath stuff would. It turned the water in a lime green. It has a nice light smell. Slowly the figure is revealed. It didn't take that long for the entire bath bomb to dissolve, couple of minutes tops.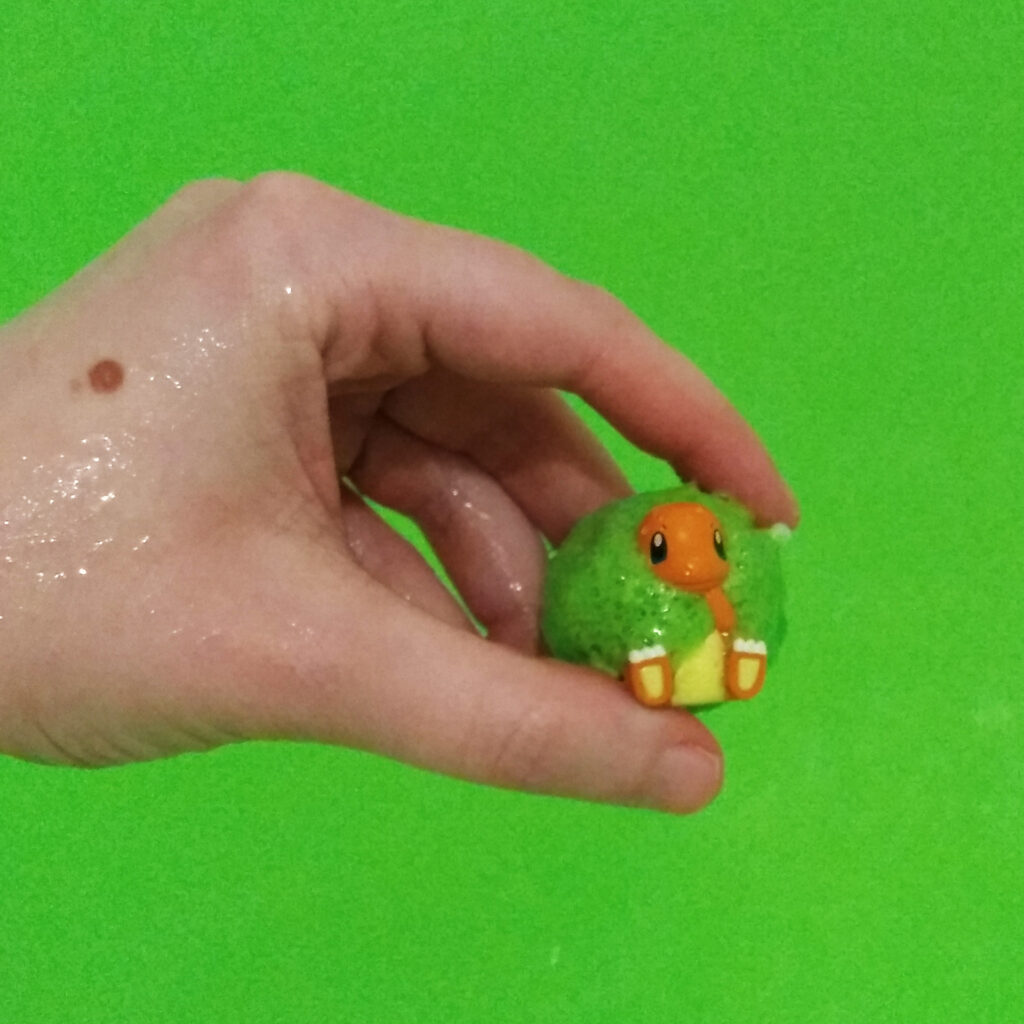 The figures feel quite nice and of high quality. They got a nice shine to them, and don't feel so rubbery as some other bath bomb figures do.
I got 3/8 figures.
Bulbasaur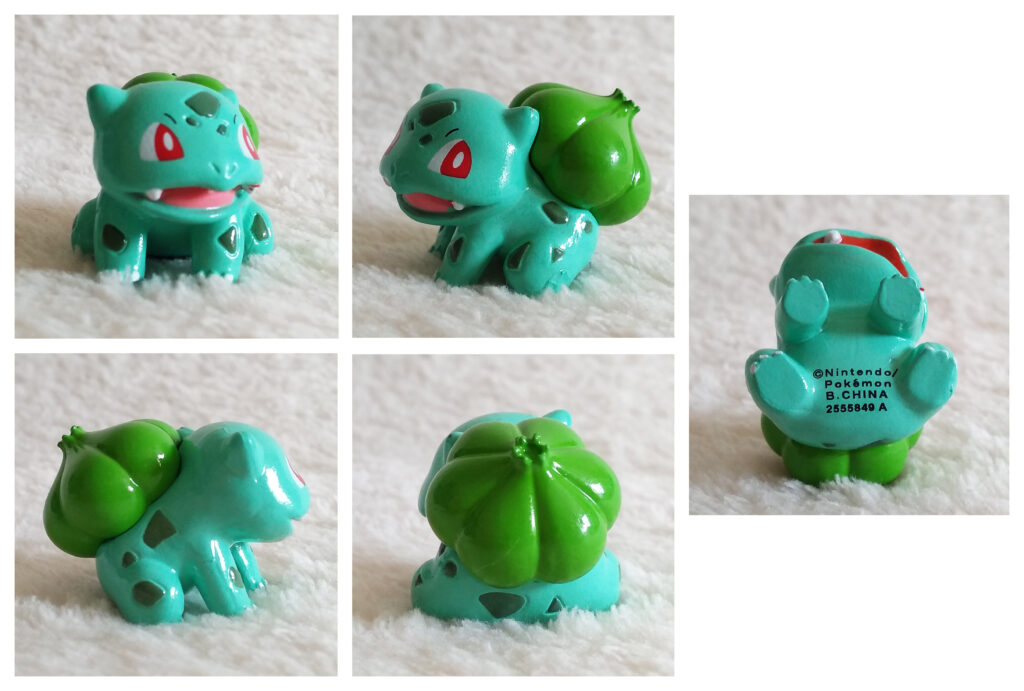 Bulbasaur is in a sitting position. His eyes and mouth are happily open. He's slightly chibi, with a larger head. His branding is on his bottom in black font; © Nintendo/Pokémon B. CHINA 2555849 A.
Charmander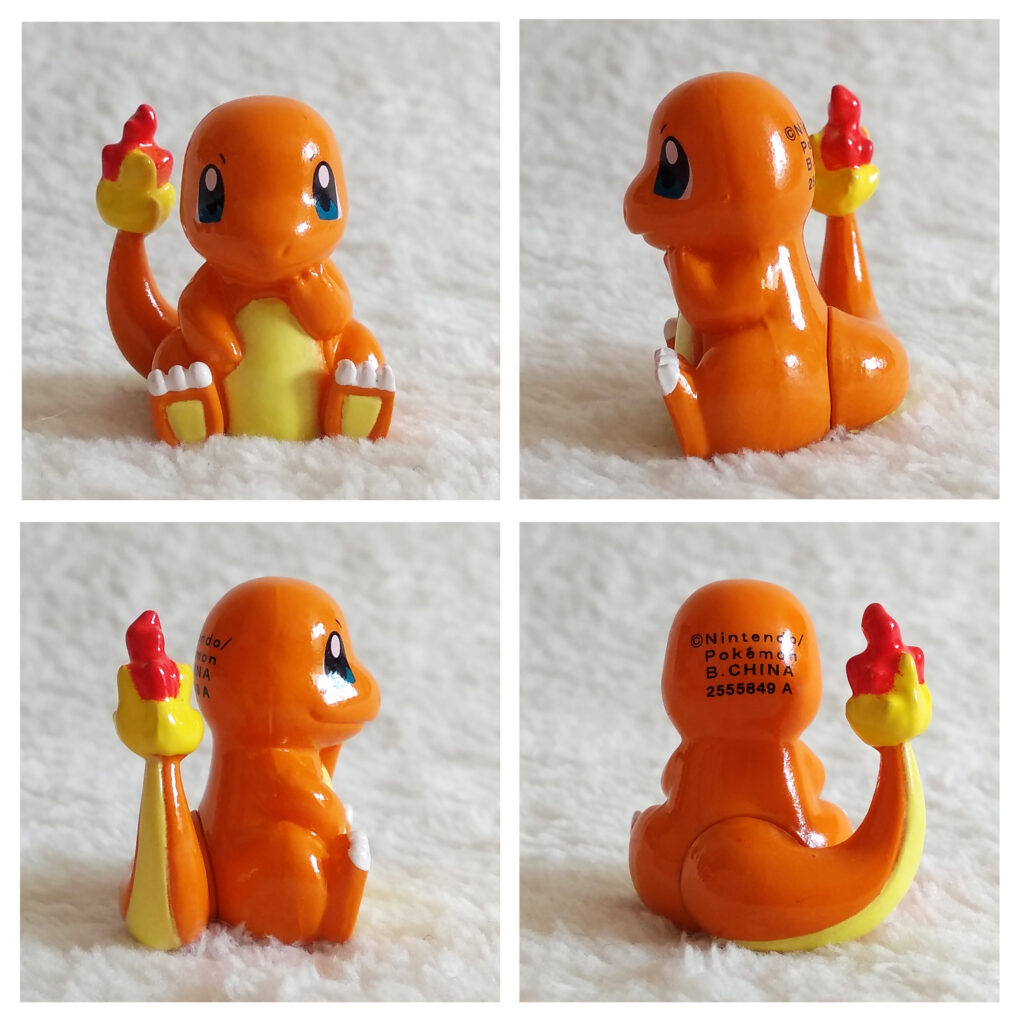 Charmander is in a sitting position. He has his hand on his mouth and looks a bit quizzical. He's slightly chibi, with a larger head and wide hips. His branding is on the back of his head in black font; © Nintendo/Pokémon B. CHINA 2555849 A.
Jolteon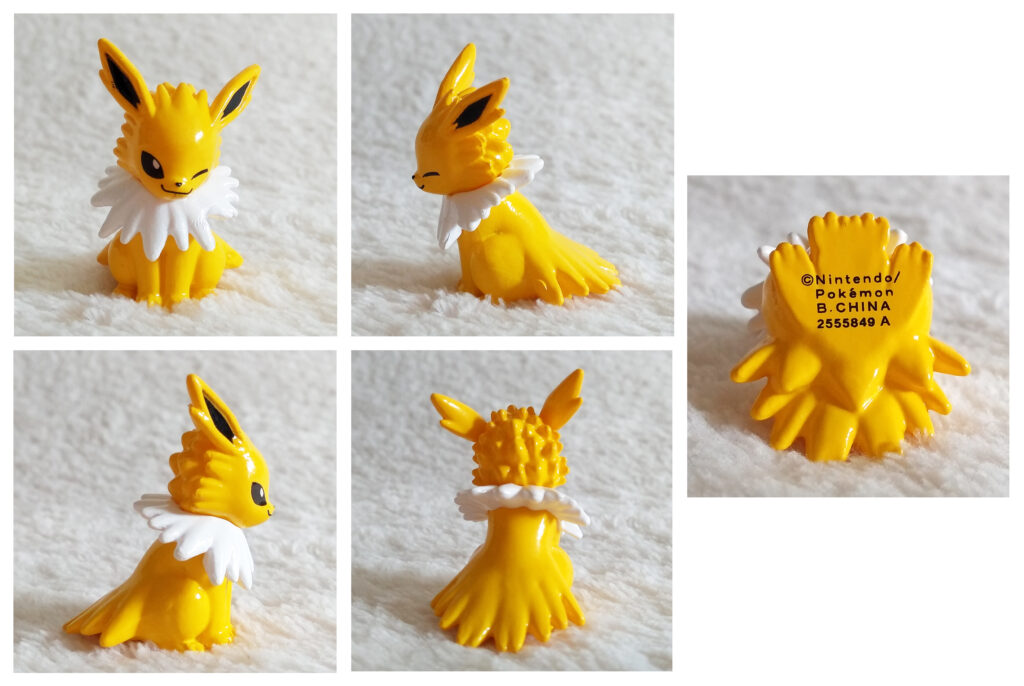 Jolteon is in a sitting position. His head is slightly tilted and he winks. He has spikes on the back of his head. His branding is on his bottom in black font; © Nintendo/Pokémon B. CHINA 2555849 A.
---
I was never a fan of bath bombs, but after the Pokémon Oh!-Egg Bath Ball and Dragon Quest Friends of Slime Bath Bomb, I was sold on these cute figures that came in them. So when I saw these, I bought three.
I was worried I could smell them through the packaging, but once diluted in water it smelled quite nice and light. The bath bombs fizzed a bit, but gave no bubbles. And it turned the bath water in a lime green, which looked a bit toxic. That said though, it made my skin feel so nice and soft! Definitely moisturising! These are the best once I had so far.
The figures are better than I expected. They feel nice and are shiny. They still smell, but only if you go up close to them and smell them. You don't smell them just from having them standing in the room. And the smell is quite nice in my opinion, not sickly strong at all. They are great quality for a bath bomb toy, and don't have that rubbery feel the others had.
I am a bit disappointed in the slight chibi look, which I hadn't really noticed on the packaging. I also don't like Jolteon's head, it looks weird with the spikes in the back somehow. I had secretly hoped for Pikachu, Charmander and Jolteon, as they looked the cutest in my opinion, and I got at least one of them. Squirtle instead of Jolteon would have been nice too, so I had the 3 starters as a set. I might buy some more of these, as I'd still like that Pikachu, and the baths are actually nice!
If you like cute or small Pokémon figures, I recommend getting these. They are nice quality. If you like bath bombs for the bath itself, these are really nice too, as they have a nice light smell and they make your skin soft.
---
Got any more details / information you think I should add? Or did I get something wrong? Do you own any of these figures? Which one is your fav? Do you bath in them or dissolve in a bowl? Do you agree or disagree with my findings? Let me know in the comments below!