Series: Dragonball Super
Company: Bandai
Year: 2019+
Size: +/-30~33cm
Main distribution: Worldwide
---
With the success of Dragonball Super new Action Figures got released. Bandai created a new line called 'Limit Breaker' series with large 5 points of articulation Action Figures. They are being released in waves.
The Limit Breaker Action Figures come in nice black boxes that can be re-opened and closed, meaning you can repackage your figure when done. The sides have nice artwork of the figure inside on it.
The back of the box displays the other figures of that wave.
The branding is underneath the character's feet.
Wave 1
Release: 2019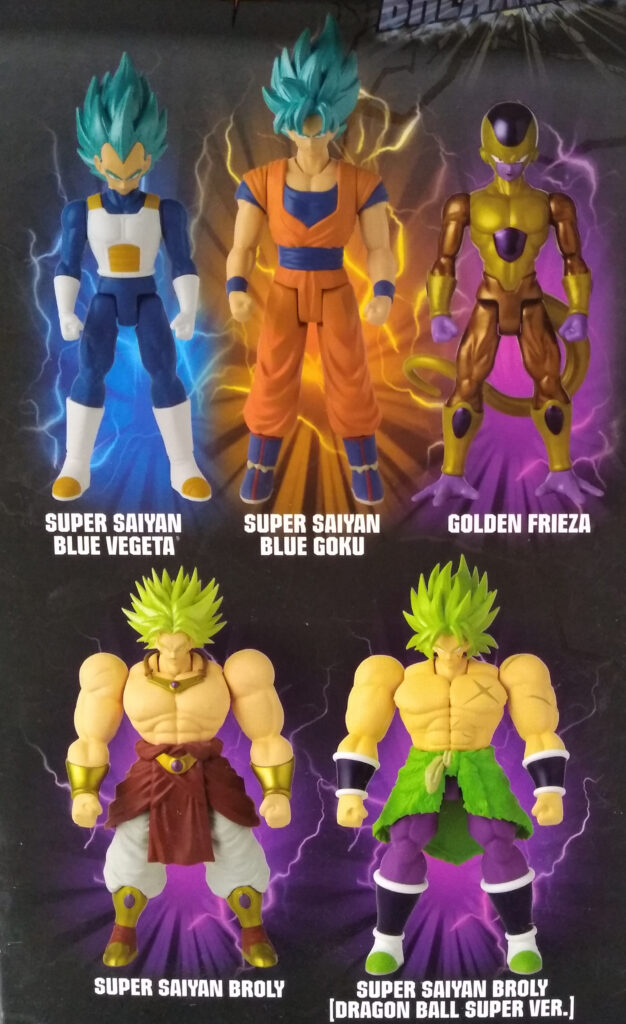 Wave 1 exist out of 5 figures; Super Saiyan Blue Vegeta, Super Saiyan Blue Goku, Golden Frieza, Super Saiyan Broly and Super Saiyan Broly (Dragonball Super version).
I got 0/5.
Wave 1 Gamestop Exclusive
Release: 2019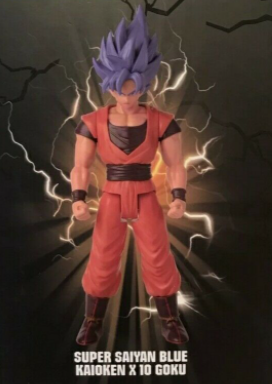 Gamestop had an exclusive figure of Super Saiyan Blue Kaioken x10 Goku.
I got 0/1.
Wave 2
Release: 2019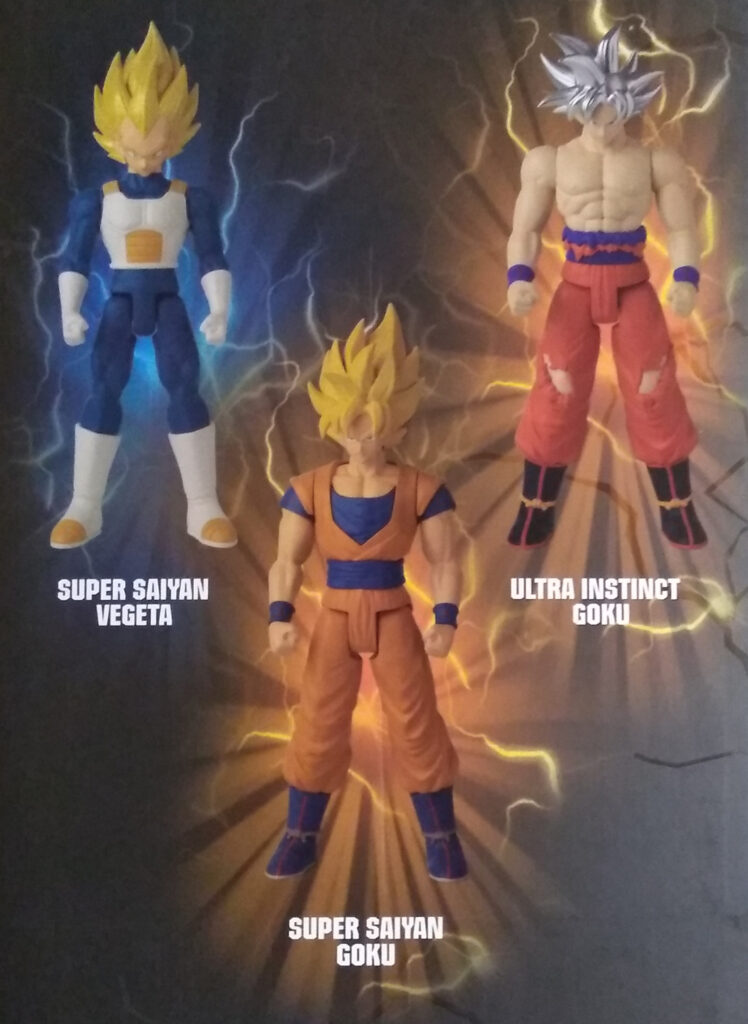 Wave 2 exist out of 3 figures; Super Saiyan Vegeta, Super Saiyan Goku and Ultra Instinct Goku.
I got 1/3; Super Saiyan Vegeta.
Super Saiyan Vegeta

The figure is quite nice if basic looking. Vegeta stands straight, with balled hands and a stoic expression on his face. Vegeta is wearing his trademark battle armour from the Android Saga to Cell Games Saga, and he is in his Super Saiyan form.
The head looks spot on. His hair has a slight shimmer to it.

Vegeta has 5 points of articulation; 2 hips/legs, 2 shoulders/arms and his head. Not much posing can be done with these figures, they feel very much like a child's toy and are apparently "super durable to survive even the fiercest battles you put them through". They also have a bit of a retro feel with the limited articulation.

The plastic feels a bit cheap, and the figure feels hollow, despite being advertised as "super durable". The 4 screws in the back are a bit of a negative as well.
Wave 3
Release: 2020
Wave 3 exist out of 4 figures; Goku, Jiren, Vegeta and Goku Black.
I got 0/4.
Wave 4
Release: 2020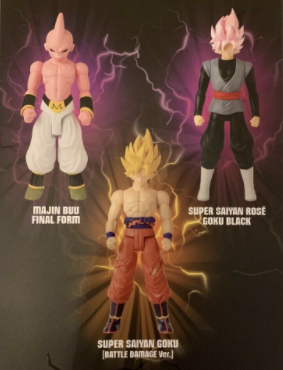 Wave 4 exist out of 3 figures; Majin Buu Final Form, Super Saiyan Goku (Battle Damage version) and Super Saiyan Rosé Goku Black.
I got 0/3.
Wave 5
Release: TBD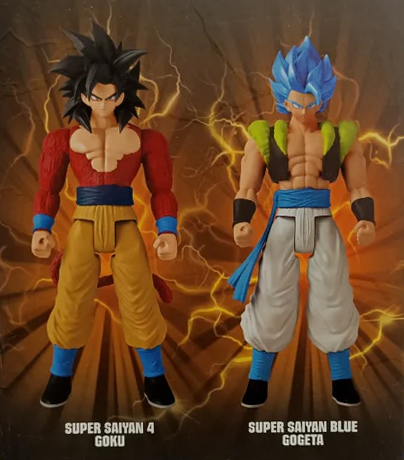 Wave 5 exist out of 2 figures that I know of so far; Super Saiyan Blue Gogeta and Super Saiyan 4 Goku.
---
When I saw the first wave, I wasn't that interested nor impressed. They were all Dragonball Super figures (apart from Broly), which isn't my favourite series.
But when I saw the second wave's Super Saiyan Vegeta I kind of wanted him. After several weeks of thinking about him I decided to get him. I figured I should have at least one of this series.
I'm not a fan of huge figures, but the basic static pose and stoic expression suit Vegeta. He looks calm and collected, which makes him also kind of menacing looking. I think he looks cool on a shelf, overlooking the room, and I think a line-up of all his forms would look great too, even when I'm normally not a fan of simple recolours. I hope they make more of them! I'm still looking out for the third wave Vegeta, which has come out since I bought the Super Saiyan.
I also love the box packaging Bandai is doing, as I don't have to ruin / break the entire thing to get the figure. They are in the same style as the Dragon Star Series, and they complement each other nicely.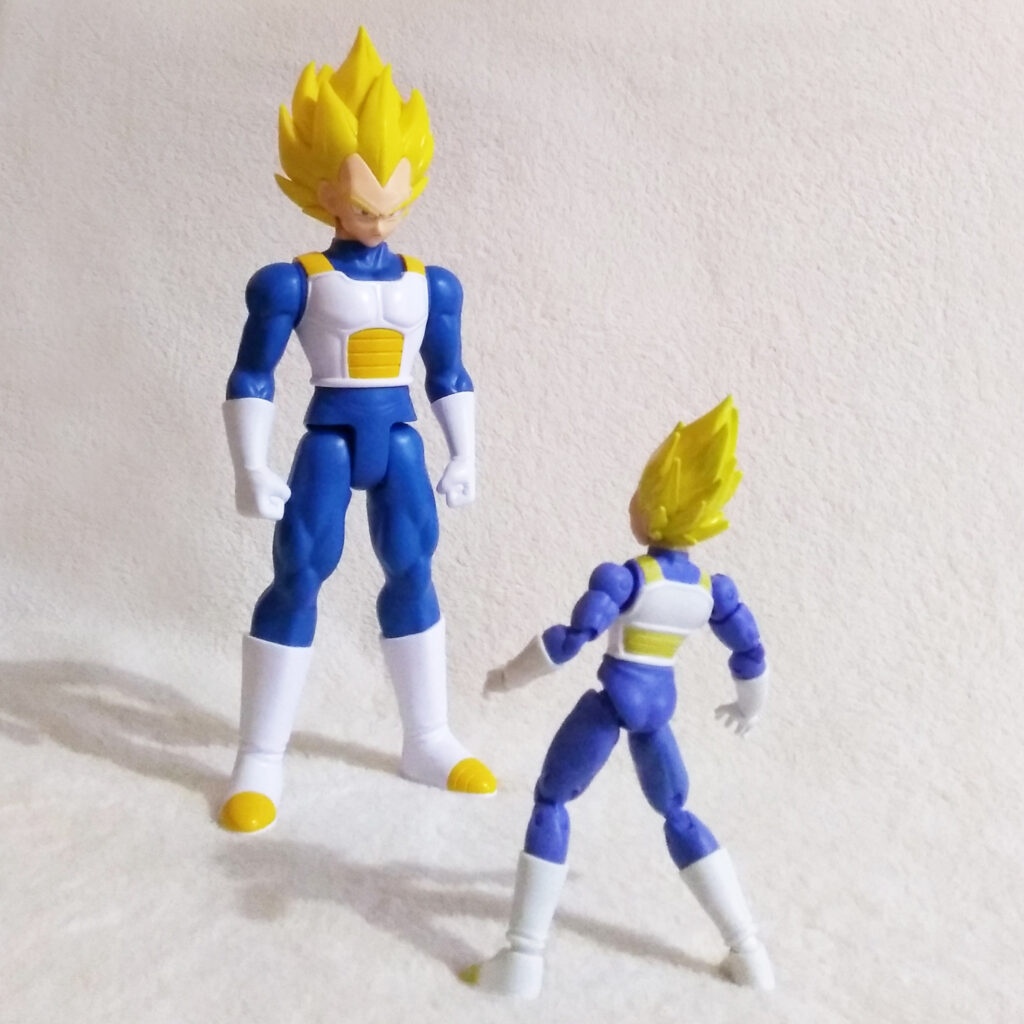 The figure itself is quite nice looking. The limited articulation reminds me of the old AB Groupe action figures, whereas the lightness and screws in the back remind me of Dorda Toys' action figures. There's something nostalgic about these large figures somehow. I used to have AB Groupe's giant figures as well, several Goku and Android 13, but sold them eventually as I couldn't display them due to their size, and the Goku looked kinda derpy.
I'm not a fan of the cheap and light feeling these figures have, nor the screws in the back. However if displaying them as a line up this shouldn't be a problem.
That said, they are quite affordable. Their RRP is $15, and I've seen them for £10~15 in the UK.
I have no interest in buying them all, but I probably end up going for all the (DBZ) Vegeta seeing he's my favourite.
If you like big figures, or nice display pieces, these are quite good for that. If you need cheaper toys for kids, these work out great too. If you want smaller or more articulation / poseable figures you'll probably give these a miss.
---
Got any more details / information you think I should add? Or did I get something wrong? Do you own any of these figures? Which one is your fav? Do you agree or disagree with my findings? Let me know in the comments below!