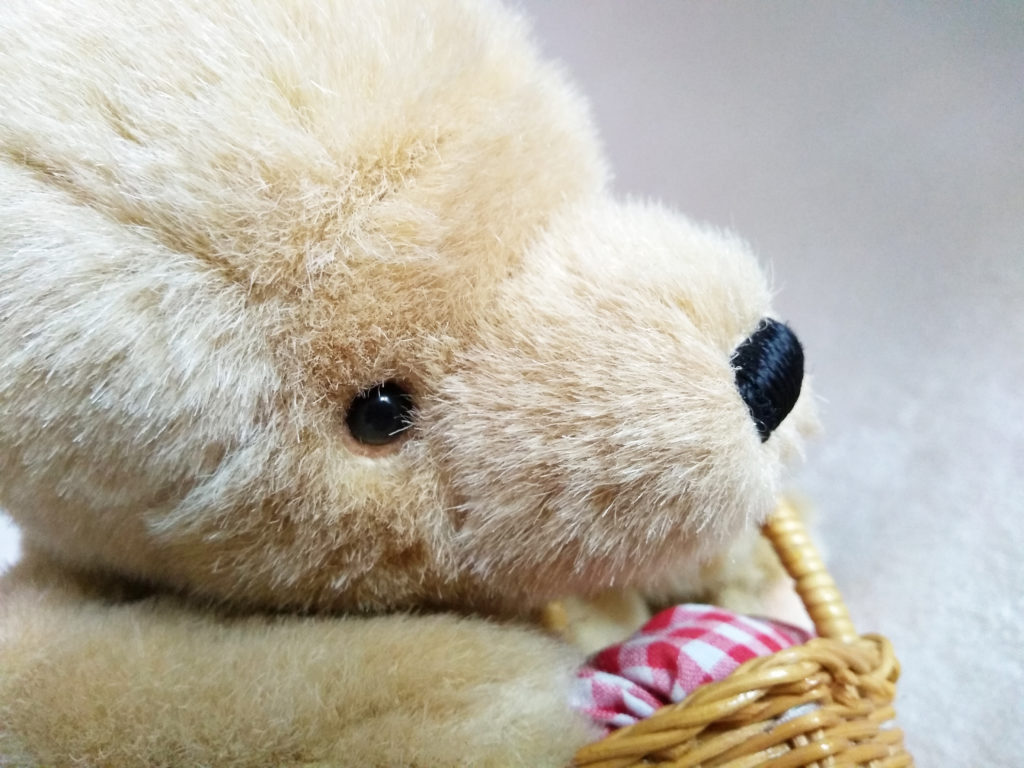 Series: Winnie the Pooh
Company: Gund
Size: 17 cm
Release: 1999
Main distribution: Europe
Barcode: 0 28399 08036 6
---
This is an Winnie the Pooh from the Classic Pooh line. He is made to look like the classic images of Ernest Howard Shepard. It is a very sculpted plush and therefor nice as a display. He holds a little picnic basket.
It's a decent size plush at 17 cm sitting. He's very cute and nice to display. Pooh has a nice light yellow brown colour with black button eyes and a black embroidered nose. He is holding a small wicker picnic basket and pulls out a picnic blanket. The blanket is red and white chequered. The blanket and basket are sewn stuck to his paws. His feet have a velvety patch on them.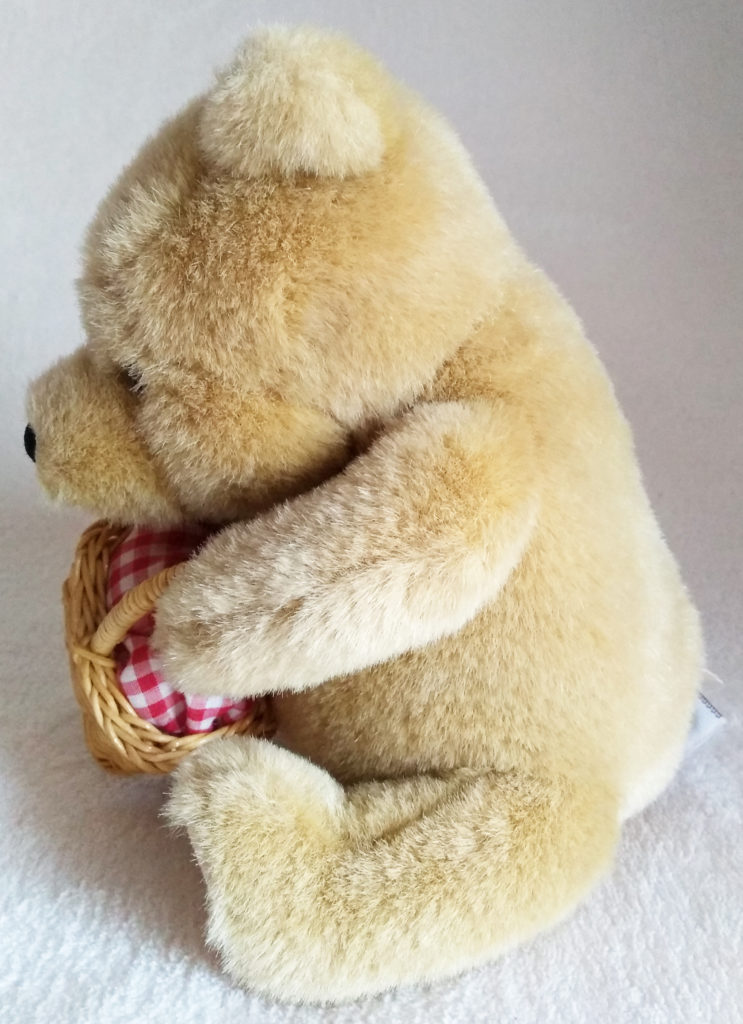 Pooh feels soft and sturdy. He is made from a fabric with a short pile. He leans forward as he's grabbing the blanket out of the basket.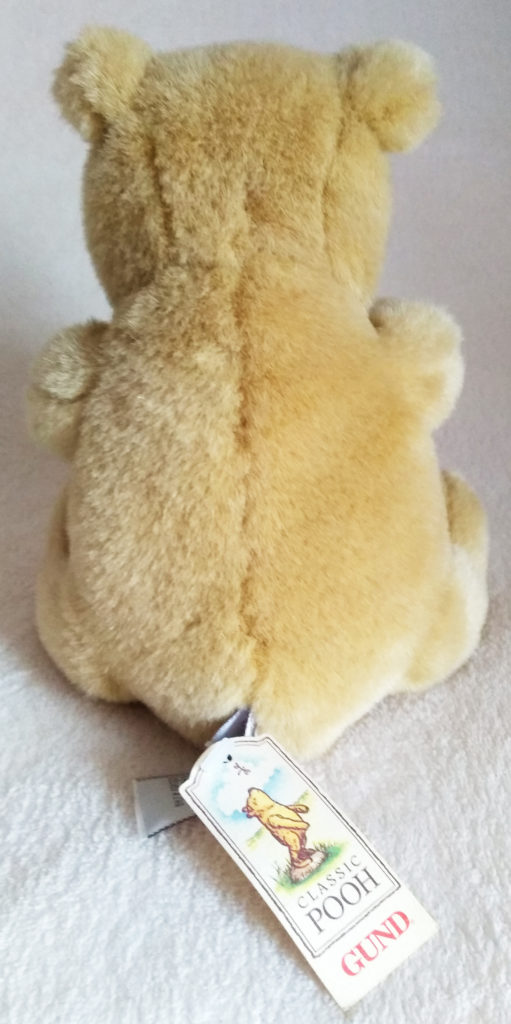 His proportions are spot on. He even has a chubby little belly. He's nicely sculpted and the seam lines aren't in the way. He sits upright easily.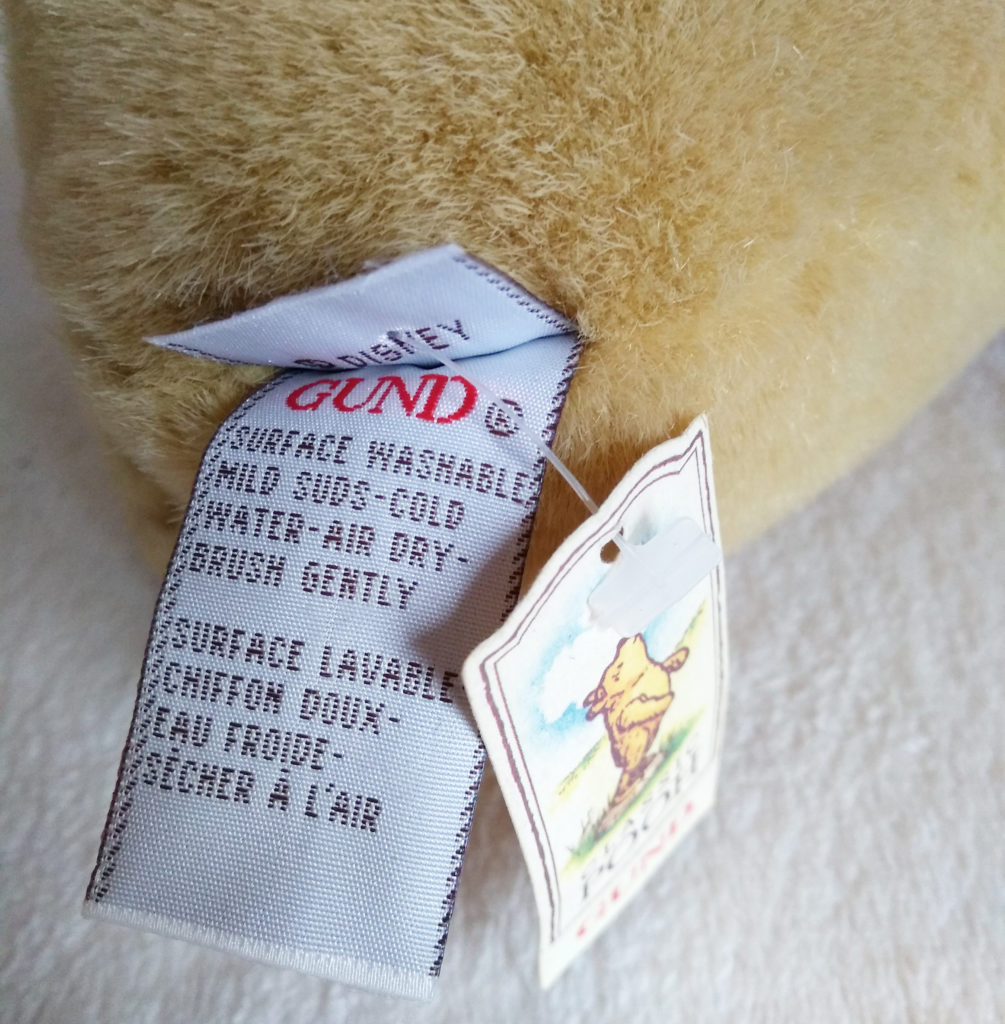 His tush tags are located at the center of his back. There is a small plasticy one with a number on it. Then a small fabric one that simply reads 'Classic Pooh' on one side, and '© Disney' on the other. Then a larger one of Gund with the usual care and legal information. Attached to this is a cardboard hang tag. It has an image of Pooh Bear looking up at a dragon fly, with Classic Pooh and Gund underneath. The back has the usual legal information. It's apparently style no: 8036.
It also used to have another cardboard hang tag on a brown rope around its neck, reading 'Have a smackerel of something' along with pictures of honey pots and bees.
---
My mother and younger brother loved Pooh Bear, so I ended up watching a lot of it. I like the original stories and poems, and the lovely drawings, so I'm often drawn more to classic Pooh than the Disney-fied one, although I do like the first movie and tv series Disney did. I love seeing art come to life so the plush based on E. H. Shepard's work is more interesting to me than the over marketed Disney ones though.
I found this little guy in a charity shop. I thought he looked quite unique, as I've found some Gund classic Pooh's over the years, but never this one with the basket. So I bought him. He had a little rope around his neck, and I later realised he used to have another tag here. It's no great lost though.
I found some illustrations of Pooh with a picnic basket, but I couldn't find an image of this exact pose however.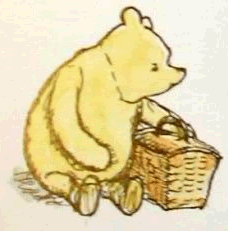 That said this plush is very well sculpted and would be a nice decoration. It's also a nice size, which sits easily on a bookshelf (with the Pooh Bear book!).
However, I'm downsizing and don't have the room to keep all these plushies, so this little guy can go to a new home. As much as I love the quality of Gund plush, and this little Pooh Bear, there are other plush I rather keep.
The photo's are, as always, of the actual plush in hand and not stock photos.
---
Got any more details / information for me to add? Or did I get something wrong? Do you own the same plush? Do you agree or disagree with my findings? Let me know in the comments below!