-I no longer own this merchandise and this post has therefor been archived-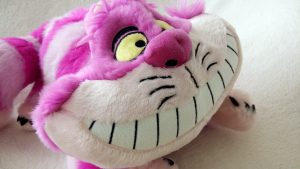 Series: Alice in Wonderland
Company: The Disney Store
Year: 2011
Size: 30 cm not including tail
Main distribution: Worldwide (at the Disney Store)
---
This is the famous grinning cat of Alice in Wonderland, The Cheshire Cat, sold exclusively at the Disney Store. This is the stamped version. The older version is here.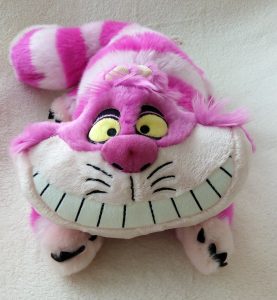 This Cheshire Cat plush is of an exceptional high quality. It's a decent size at 30 cm and very soft with a long hair. Its face is fully embroidered and features his signature long grin. There is fluffy detail around its face.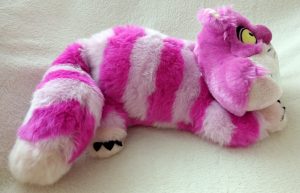 It uses the same pattern as the older one. It's in a laying position, which makes it great for displaying. The proportions of his head vs body is spot on. It comes with little black felt claws. Its tail is big and fat, and loose so can be put in different positions, although flops down to the side due to its weight.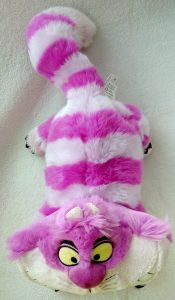 The colours are vibrant, striped pink with hot pink.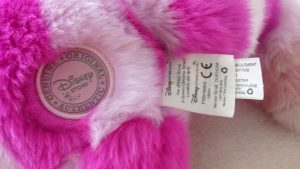 As most Disney Store plush it comes with the signature Disney Store stamp on his butt. You can also see how fluffy it is here as the fabric has such a long hair. Its tush tag is fairly standard, with the usual Disney Store information, copyrights and wash instructions.
It used to have a hang tag in its ear, but I no longer have that.
---
I always loved the stamped Disney Store plush. Their quality is amazing and they are as official as can be.
The Netherlands doesn't have a Disney Store, so finding these (usually secondhand) was always such a magical experience. As a kid, I wanted to collect them all.
Now I'm living in the UK where most major cities have a Disney Store, some even two! The magic has slightly worn off I must say, but it's still a treat to go the shop and look at all of the stamped plush. The Cheshire Cat retails for £20 in the Disney Store.
I love the Disney animals but I must say the Cheshire Cat isn't one of my favourites. Maybe because I'm more a dog person? The plush though is beautiful.
Finding them less rare now, and needing the room / money, I have decided to sell my stamped plush and only keep my favourite characters. As gorgeous as this Cheshire Cat is, Alice in Wonderland was never particularly high on my favourite Disney movies list, so with heavy heart I say goodbye to this beauty.
There is nothing I can really fault on this plush, just personal preference. I still wanted to catalogue him here for fellow collectors. The photo's are, as always, of the actual plush in hand and not stock photos.
I no longer possess this plush.
---
Got any more details / information for me to add? Or did I get something wrong? Do you own the same plush? Do you agree or disagree with my findings? Let me know in the comments below!