Company: Zuru
Release: 2022+
Size: Various (<5cm)
Main distribution: UK / Europe / Australia / America
---
This is a blind ball series by Zuru with miniatures of real life brands, hence the name Mini Brands! This particular line is the Disney Store edition; Mini Brands Disney Store!
Several Mini Brands lines have come out; Mini Brands (grocery shopping articles), Mini Brands Disney Store (Disney Store articles), Mini Fashion (clothing and accessories), Foodie Mini Brands (dishes) and Toy Mini Brands (toys).
Here I'll list the Mini Brands Disney Store. Disney 100 can also be found here.
Each Blind Ball has 5 compartments / sections, and each section holds 1 random item. So you'll get 5 items in 1 Blind Ball. There are no dupes within these 5, and usually 1 section holds a piece for the overall shop (money, till, cart, basket, bag, etc.).
There are various "categories" which indicate rarity. There's Frozen Moment items (Ultra Rare), Rose Gold items (Ultra Rare), Gold items (Super Rare), Glow in the Dark items (Rare), Metallic items and Common items.
It also comes with a small leaflet that acts as a Collector's Guide / checklist.
There are also Collector's Cases with a set of items, some exclusive to the case.
Annoyingly there's differences in the series check lists depending on the country and wave…
Series 1
Release: 28 February 2022
Series 1 Blind Balls are white with a white and dark blue wrapper.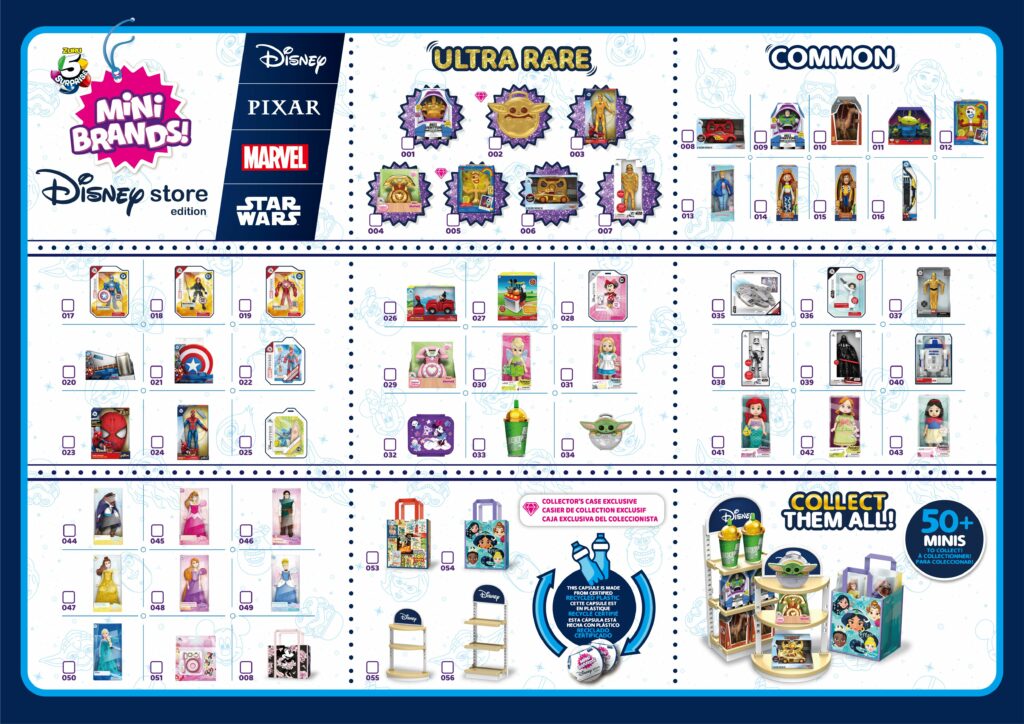 Series 1 exists out of 7 Gold and 49 Common items; totalling 56 items to collect. 5 of these are to build the shop; bags and shelves.
I got 1/56.
045 Princess Aurora (common)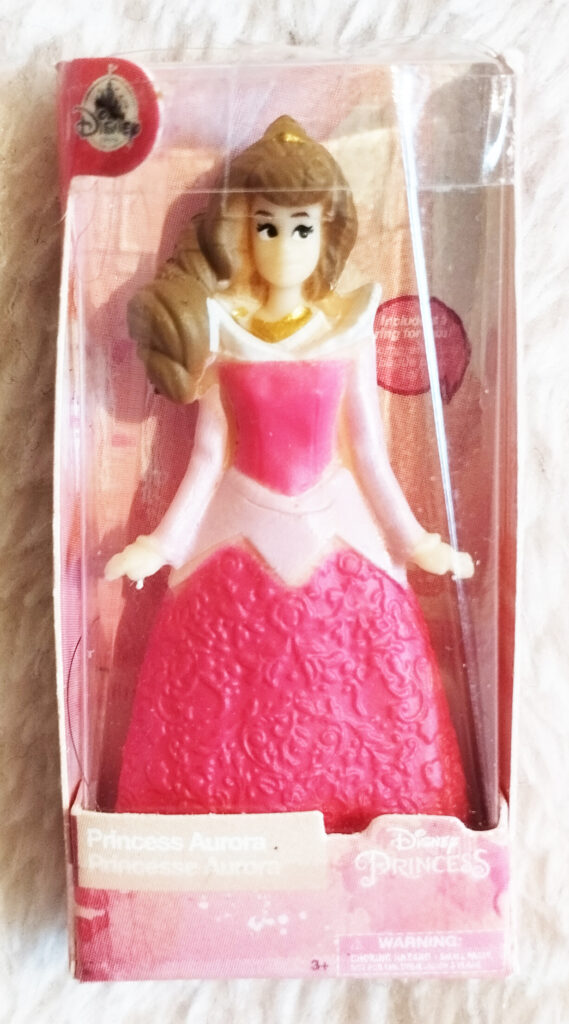 Series 2
Release: 11 January 2023
Series 2 Blind Balls are white with a lightblue wrapper.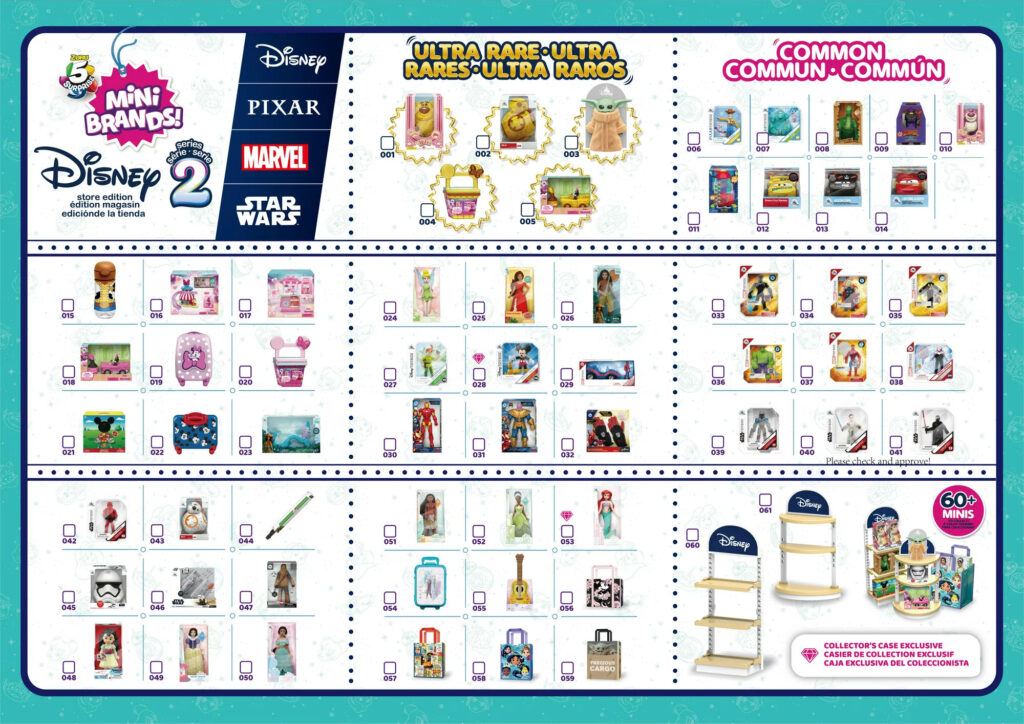 Series 2 exists out of 5 Gold and 56 Common items; totalling 61 items to collect. 6 of these are to build the shop; bags and shelves.
I got 5/61.
025 Elena of Avalor (common)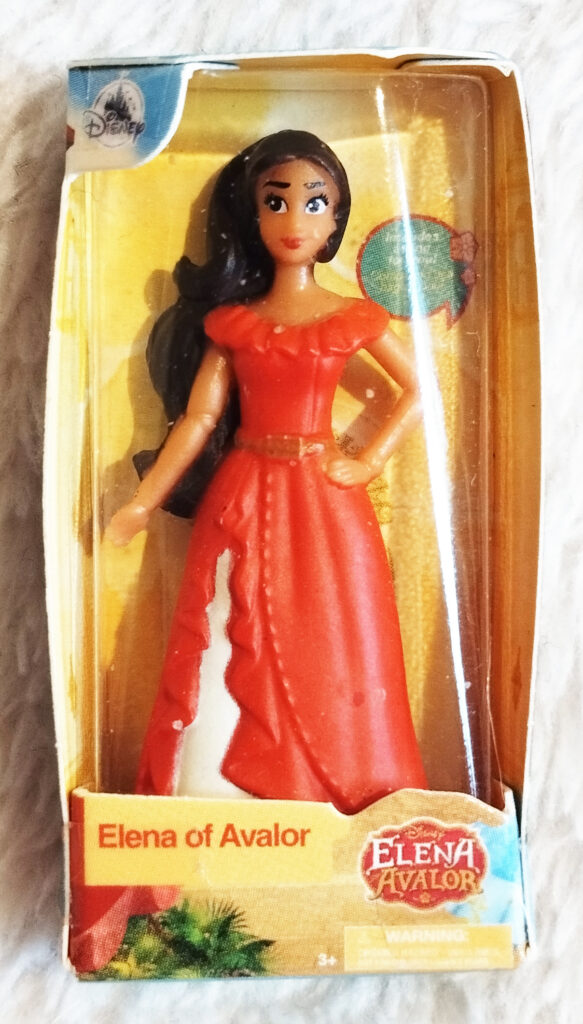 038 Ghost-Spider [Marvel Toy Box] (common)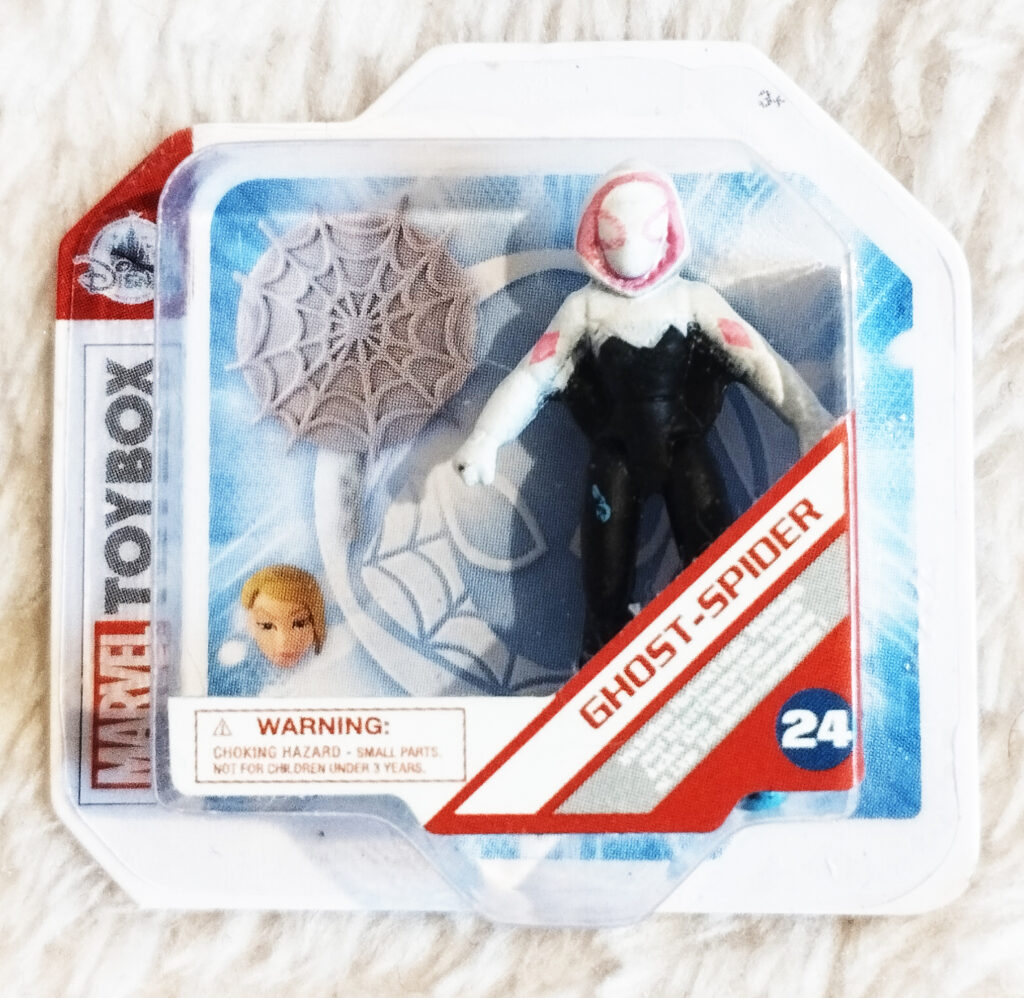 040 Rey [Star Wars Toy Box] (common)
041 Kylo Ren [Star Wars Toy Box] (common)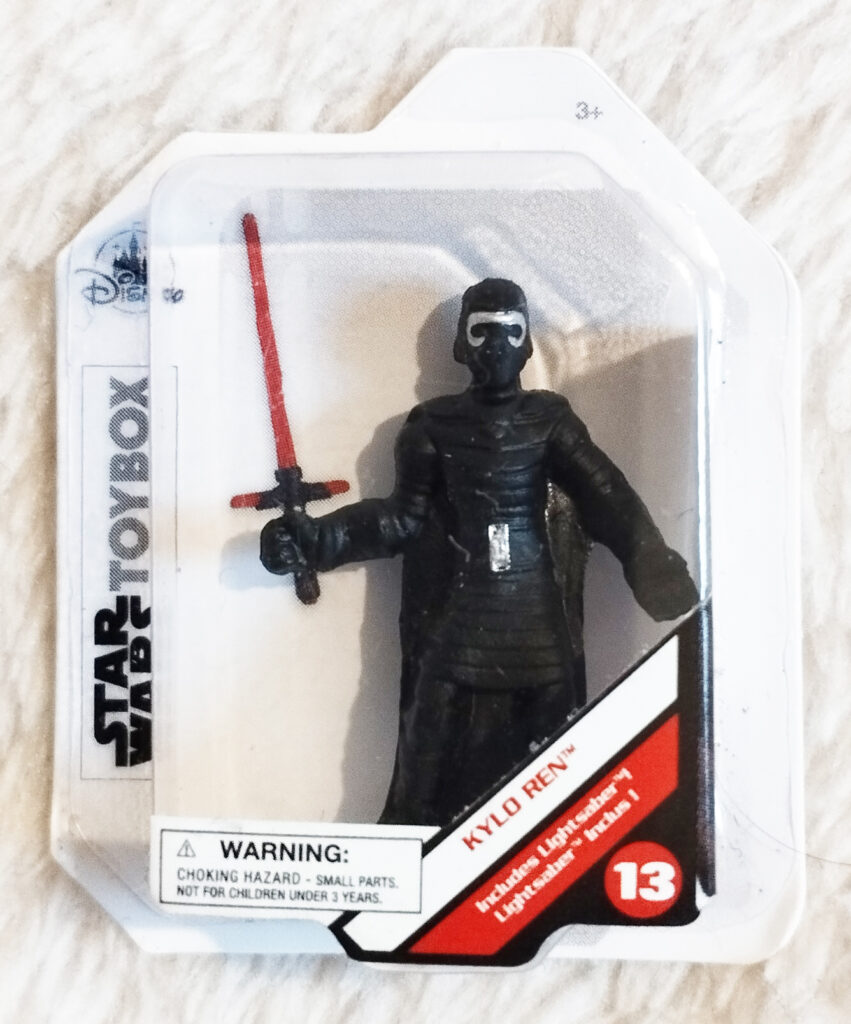 052 Princess Tiana (common)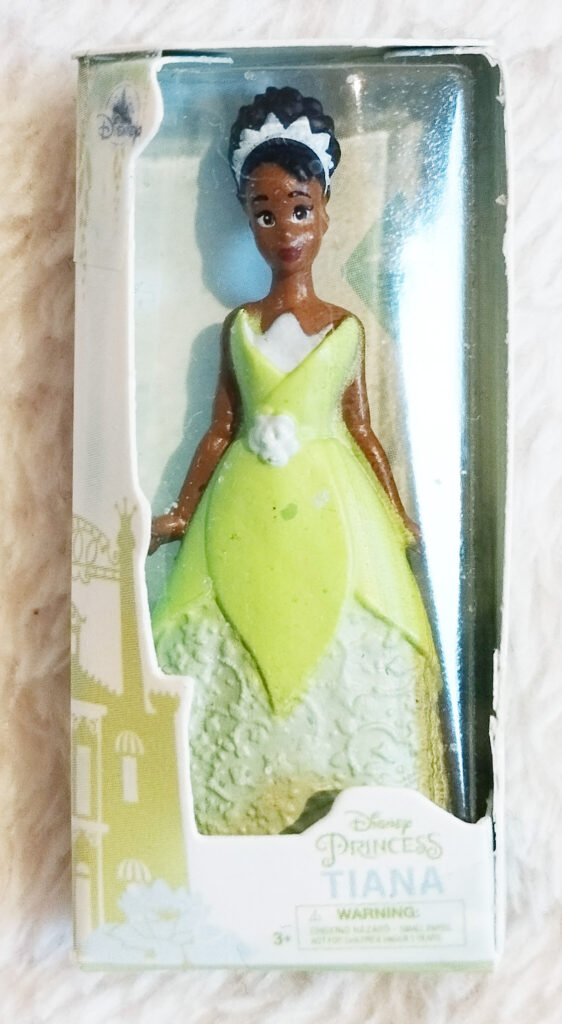 Series Disney 100
Release: 20 July 2023
Disney 100 is a special anniversary series to celebrate 100 years of Disney.
Disney 100 Blind Balls are silver/shimmery/platinum with a purple wrapper.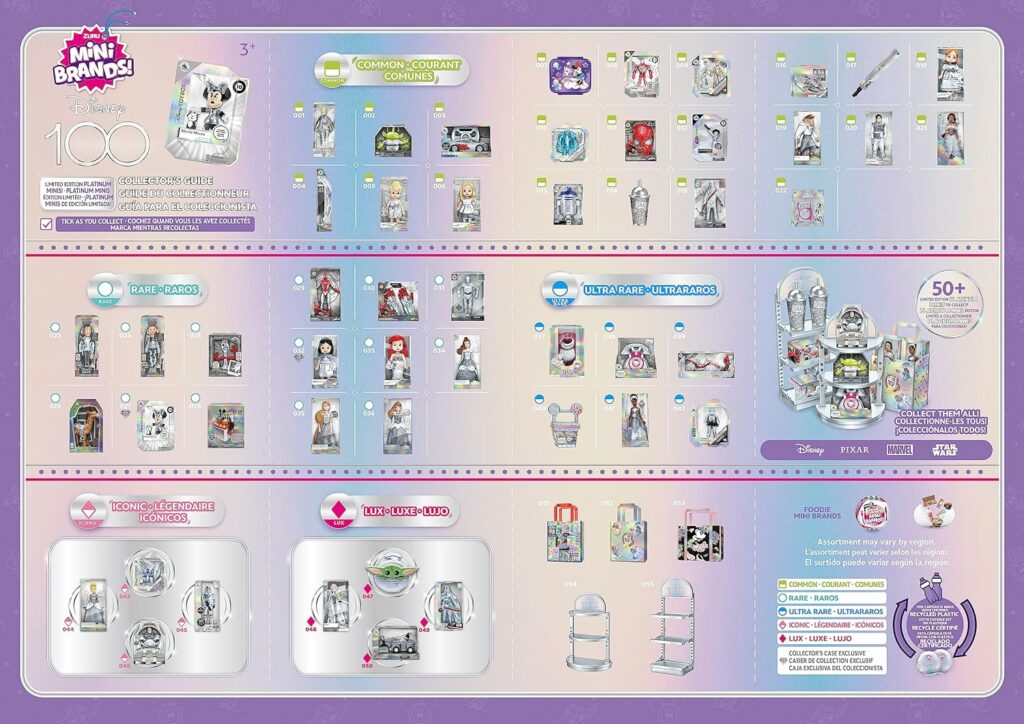 Disney 100 exists out of 4 Luxurious items, 4 Iconic items, 6 Ultra Rare items, 14 Rare items and 27 Common items; totalling 55 items to collect. 5 of these are to build the shop; bags and shelves.
I got 0/55.
---
I love miniature things, let alone if they're realistic or mimicking the real world. And of course I love toys and Disney. So you think the Mini Brands Disney Store edition are right up my ally. But I found it mostly had modern items, and they are quite expensive, so I never bothered.
The action figures, animator's dolls and princesses are kinda cool, and a tiny Grogu is adorable, but I wasn't going to buy a ball. They are quite expensive (RRP £6~8) for the 5 tiny toys you get. And with it being random and me not liking most of them that seemed too much of a gamble.
But I got a Gold item from the Toy Mini Brands and traded it for a bunch of Disney ones besides the Tamagotchi that I really wanted. So now I have a few of the action figures and dolls. I wouldn't mind more of them, but unless I see them on a significant sale, I won't be pursuing these.
If you love miniatures, or toys, you might like these. They are expensive though and you'll likely need to trade.
If you prefer bigger stuff, you want to give these a miss.
---
Got any more details / information you think I should add? Or did I get something wrong? Do you own any Mini Brands? Which one is your fav? Do you agree or disagree with my findings? Let me know in the comments below!