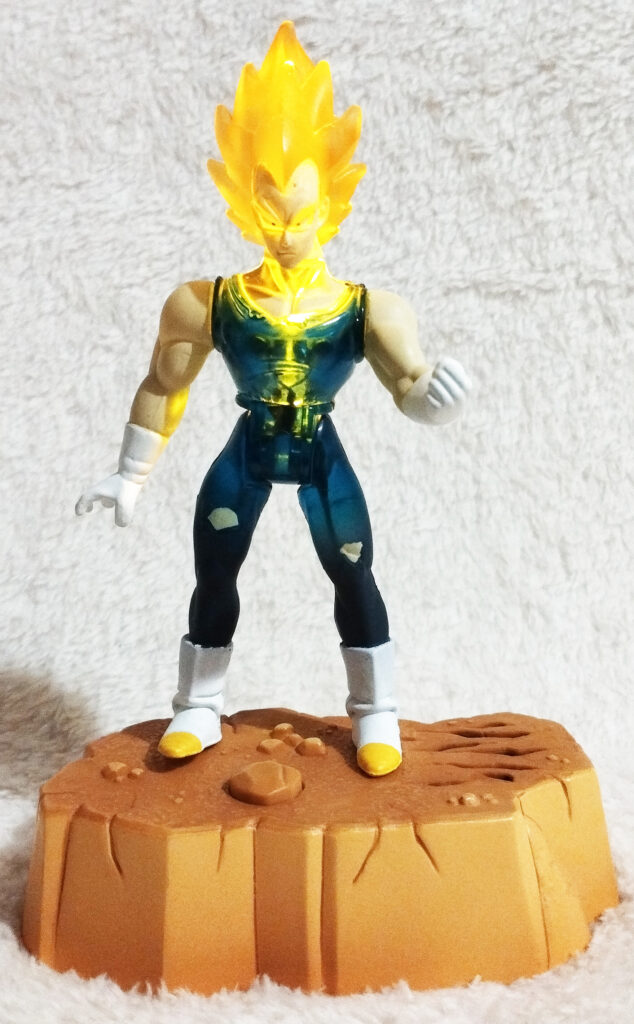 Series: Dragon Ball Z
Company: Irwin Toy
Year: 2002
Size: 16 cm
Main distribution: America / Europe
---
Irwin Toy was a Canadian distributor and manufacturer of toys. They started off by re-releasing Dragonball Z Action Figures of Bandai and AB Groupe, bringing these toys to America, before making their own Dragonball Z Action Figures. Alongside these Action Figures more elaborated toys were created, like these Energy Glow Action Figures.
The figures came in blister packs. The figures shared similar design to the Energy Blasters which had come out a year prior.
The figures have lights in them but no batteries. Their (Super Saiyan) hair is transparent, to see the glowing light. In their feet are magnets. When placed on the magnets on the landscape, and pressing the button, the figures will light up. The landscape has the battery compartment and takes 2 AA batteries. It also has a soundbox.
Behind on the characters legs is the branding. It reads in raised font: © 02 B/S/S.T.A. Licensed by Fun.® Irwin. China
Under the landscape is also branding. It reads in raised font: © 02 B.S./S.T.A Licensed by FUN.® Irwin. China.
In 2002 Irwin Toy went bankrupt, and Jakks Pacific took over the line.
In total 7 series were made of the Energy Glow figures. However, Jakks Pacific took over from series 3. Jakks Pacific initially released these as Battle Ready Warriors (series 3 and 4), as well as Power Up! (series 5), Electronic Power Up (series 6) before continuing as Energy Glow (series 7).
Series 1
Release date: 2002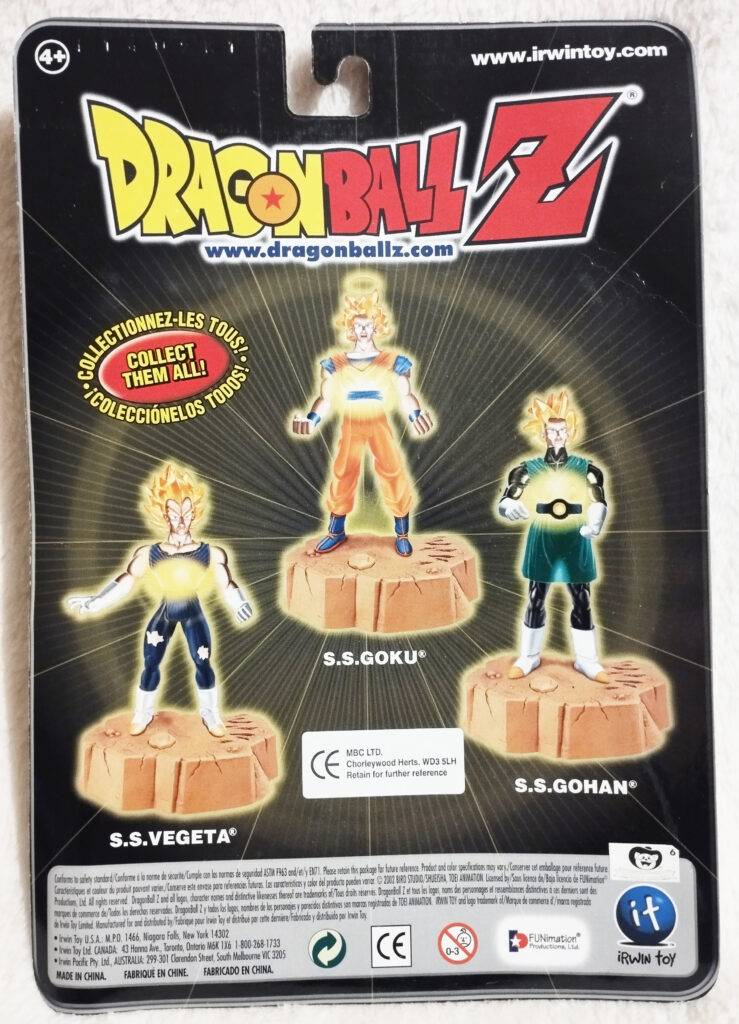 The first wave existed out of 3 figures.
Super Saiyan Goku, Super Saiyan Vegeta and Super Saiyan Gohan.
I got 1/3; Super Saiyan Vegeta.
Super Saiyan Vegeta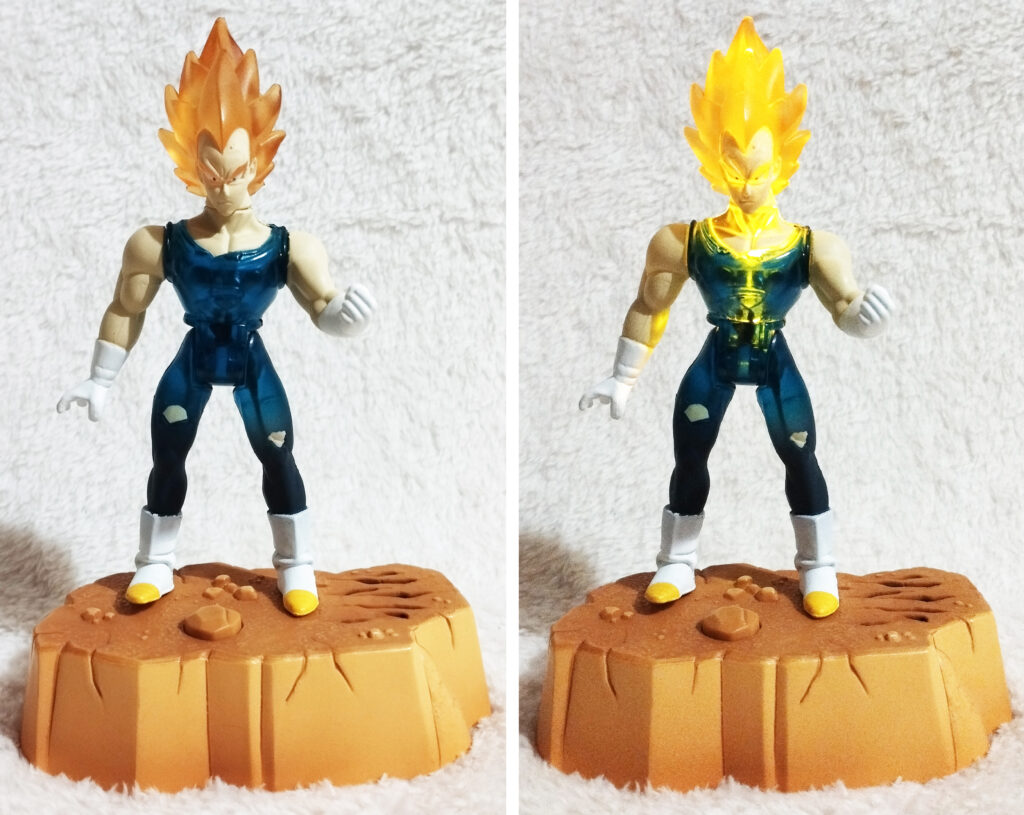 Super Saiyan Vegeta is wearing his blue outfit as at the end of the Buu Saga. He looks battle damaged, with a rip on the neckline and holes on his upper legs. His hair and eyebrows are transparent, as well as his blue outfit although lesser so towards his feet. He has an angry expression on his face. His left hand is closed in a fist and his arm is slightly bend in a flex. His right hand is open as if shooting a blast. It's a similar pose to the Energy Blaster figure, which came with a ki ball.
When pressing the button you hear Super Saiyan Power Up sound effects.
Series 2
Release date: October 2002
The second wave also existed out of 3 figures.
Super Saiyan 3 Goku, Super Saiyan Vegeta (halo) and Super Saiyan 3 Gotenks.
I got 0/3.
---
I was a massive Dragonball fan at the time, and one of the first series I truly collected besides the Lion King. I spent all my pocket money on these, and harassed my family to go out to the bigger cities so I could buy these once I had saved up some.
I travelled almost weekly by train to Sittard to the Atomic comic bookshop to buy cards and these figures.
This was a time before internet, and we hunted for these figures in all the shops. Trading and selling on was a huge part of collecting, especially then, and it created some cool friendships.
I also played lots with these! The ones I was missing, my friend would have and vice versa (often shops only had 1 of each, and we both bought them). Dragonball was also a huge influence in my understanding of English. I played with these figures in English!, as they spoke English on tv. Kid logic?
I mostly bought the "standard" action figures. Even as a kid I thought these were a bit gimmicky. Of course, I had to have Vegeta, my favourite, though.
When I started saving for Uni I tried to sell these, but this one never sold. Although I'm still not a huge fan of these (gimmicky and transparent) I feel quite nostalgic for them now. I've decided to keep him for now.
As simple as they are compared to the figures now, these mean a lot to me and are so nostalgic! I still prefer the regular action figures though.
If you like Dragonball Z or vintage action figures, you'll like these.
If you prefer more modern articulation and less play features, you'll give these a miss.
---
Got any more details / information you think I should add? Or did I get something wrong? Do you own any of these figures? Which one is your fav? Do you agree or disagree with my findings? Let me know in the comments below!