-I no longer own this merchandise and this post has therefor been archived-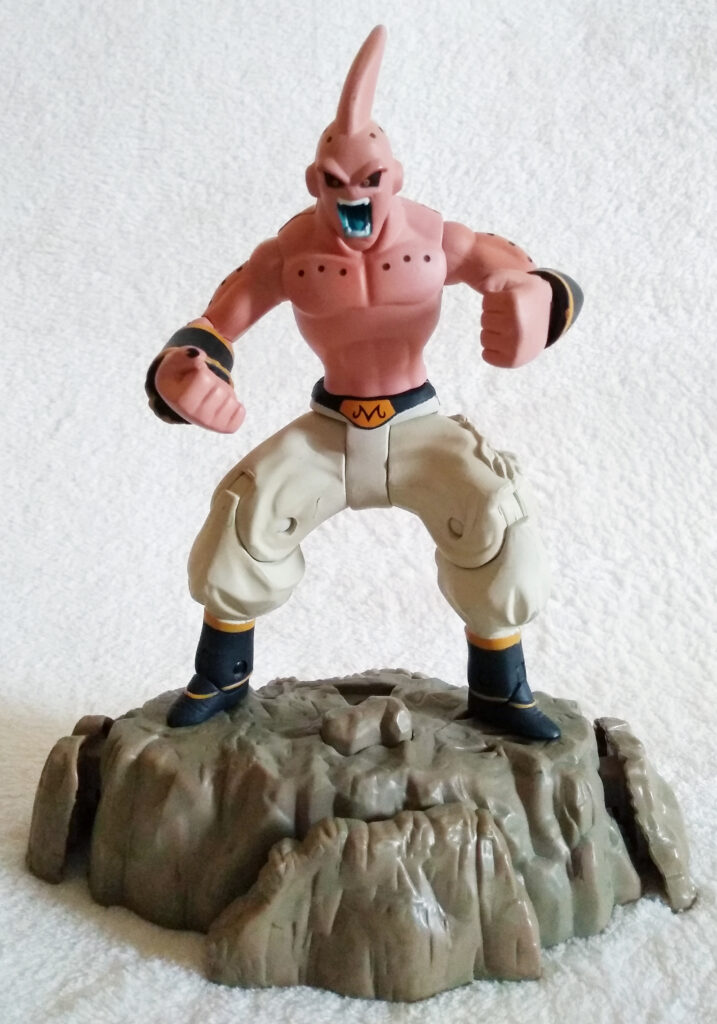 Series: Dragonball Z
Company: Jakks Pacific
Year: Summer 2003
Size: 16 cm
Main distribution: America
---
Irwin Toy was a Canadian distributor and manufacturer of toys. They made the Energy Glow Action Figures amongst others. In 2002 Irwin Toy went bankrupt, and Jakks Pacific took over the line, creating more series of these. The Power Up! line is a unique line to Jakks Pacific, but appears to be a spiritual successor of Irwin Toy's Energy Glow line. Jakks continued this Energy Glow line, and also called the Power Up! line "Energy Glow Series #5 with new "power up" feature".  
In total 7 series were made of the Energy Glow figures. Jakks Pacific took over from series 3. Jakks Pacific initially released these as Battle Ready Warriors (series 3 and 4), as well as Power Up! (series 5), Electronic Power Up (series 6) before continuing as Energy Glow (series 7).
The Power Up! line of Jakks Pacific is a line of figures that are "powered up" and come with "power up action". This includes a rock with sound from the anime, as well as the figures having a pull string and being "battle damaged".
Only 3 Power Up! figures were made; Super Saiyan Vegito, Super Buu and Piccolo. The box read "Series 5", which can be a bit confusing if you're unfamiliar with the Energy Glow series. All 3 figures were "battle damaged".
I had 1/3; Super Buu.
Buu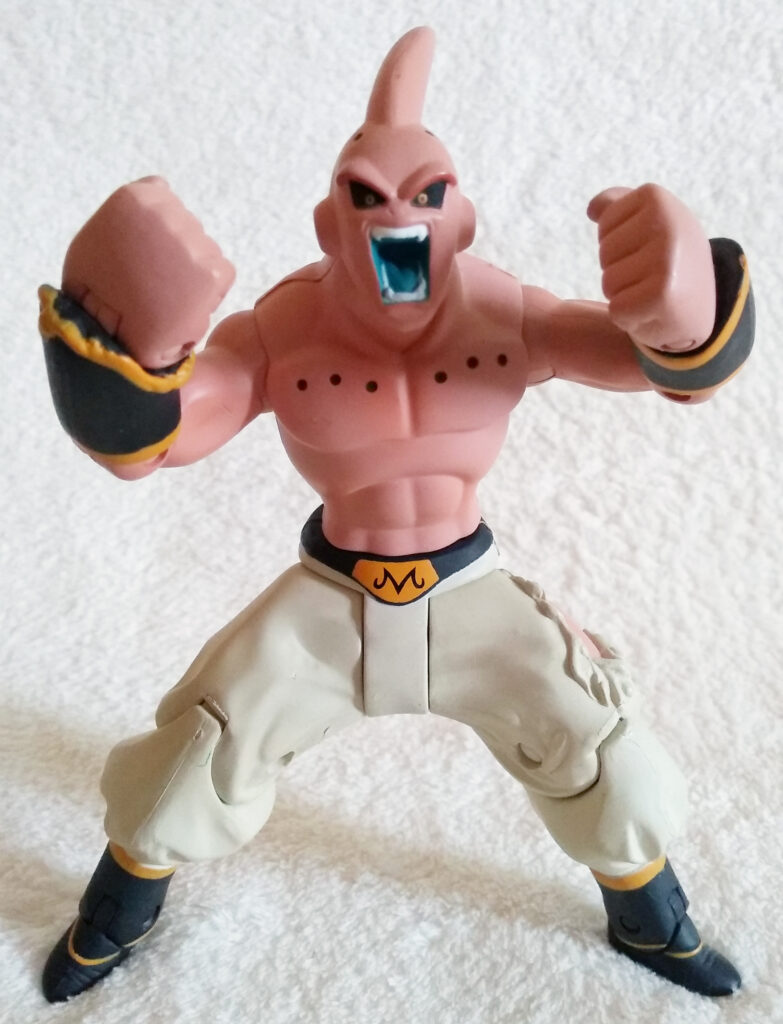 Buu has articulation in his neck, shoulders, elbows, wrists, waist, hips, knees and ankles. This makes him quite poseable and easy to stand up. He is wearing his trademark Majin pants, with his upper left having a gaping hole due to being "battle damaged". The cuff along his right wrist also seems to have some "battle damage". Buu has an angry, screaming expression on his face. His hands are 2 fists.
The paintjob is pretty good, and there's even some subtle shading on his skin. On the back is a pull string, that when pulled, makes his head move and the figure vibrate. I suppose this is to make it look like he's powering up.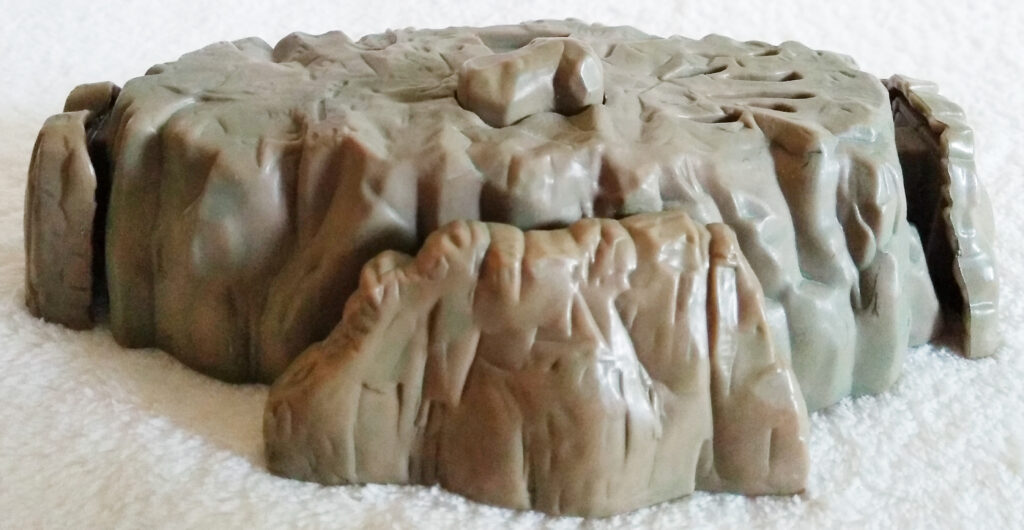 He comes with a brown rock. It has 4 smaller pieces of rock attached to each side. I'm guessing these are loose to make it look like Buu's powering up makes the ground shake and break. There's a protruding stone at the top that is the button for the sound. Once pressed you hear Buu's Ki and struggling sounds, as well as "how?! why?!". I believe this is when Gohan overwhelms him. Next to the stone are some slits for the speaker inside. Behind the stone is a hole. This is where you can attach a pole to make the figure "hover" or "fly". I do not have this pole unfortunately. It is the same colour as the rock, brown. On the bottom of the rock is the battery compartment which can be opened by a screw. It takes 2 AA batteries. There's a switch on the bottom also that has TRY ME and NORMAL. I did not find any difference in the two options however.
The branding is on the bottom of the pieces. Underneath Buu's left foot it reads in raised font: ©03 B.S./S., T.A. Licensed by FUN. ®. Under his right foot it reads in raised font: © 2003 JAKKS China. On the bottom of the rock it reads in raised font the same: ©03 B.S./S., T.A. Licensed by FUN. ® © 2003 JAKKS China.
---
I was a massive Dragonball fan at the time, and one of the first series I truly collected besides the Lion King. I spent all my pocket money on these action figures, and harassed my family to go out to the bigger cities so I could buy them once I had saved up some. I travelled almost weekly by train to Sittard to the Atomic comic bookshop to buy cards and figures.
This was a time before internet, and we hunted for these figures in all the shops. Trading and selling on was a huge part of collecting, especially then, and it created some cool friendships.
Jakks Pacific figures never made it over to where I was residing however, or very few did anyway. It seemed to be mostly in America these were released. I occasionally saw them in magazines at the time, and there's only a few of Jakks Pacific's I would like now (end of Z Vegeta and Teen Trunks specifically).
Trying to complete Irwin Toy's action figure line up however, I ended up buying some lots off eBay, one of which had this Buu figure (I call him Buu and not Super Buu, as he only calls himself Super Buu after absorbing the Z Fighters). It's a great figure, with lots of articulation. Especially the ankles are great as it makes him easier to balance. He is also very expressive and I love that he's "battle damaged" as it makes the characters look cooler. I can't really fault the figure. The play features are a bit gimmicky in my opinion. And the pole, which I'm missing, would have been better transparent, but I guess using the same plastic you already have for the rock was cheaper.
That said, I don't collect Jakks Pacific figures, even if this Buu is one of the better ones I've seen of Jakks. I'd only get some of my favourites, and I can't be keeping or collecting everything. As I have no nostalgic feelings for this one, I decided to let him go. My younger brother is a fan of Buu however, and he was interested in him, so we traded. My Jakks' Buu for his AB Groupe's Broly.
If you like vintage, American Dragonball Z figures, you might like these too. If you prefer more modern Dragonball Z action figures, you might give these a miss.
---
Got any more details / information you think I should add? Or did I get something wrong? Do you own any of these figures? Which one is your fav? Do you agree or disagree with my findings? Let me know in the comments below!