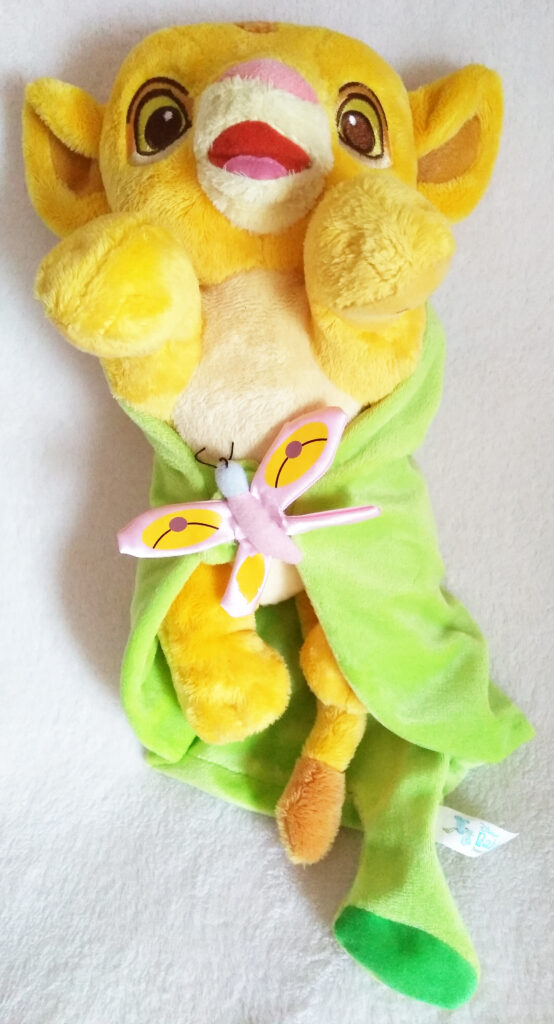 Series: The Lion King
Company: The Disney Store
Release date: 2011
Size: ~30cm
Made in: Vietnam
Main distribution: Worldwide (Disney Theme Parks / Disney stores)
---
This is baby Simba from the Disney Babies collection of 2011, sold at the Disney Parks and Store.
Many characters have gotten the Disney Babies treatment. Starting in 2011 with a little blanket, later re-launched in 2017 with a bag (like how a Stork carries them) and again in 2021 with a swaddle. Here is the 2011 version with the blanket.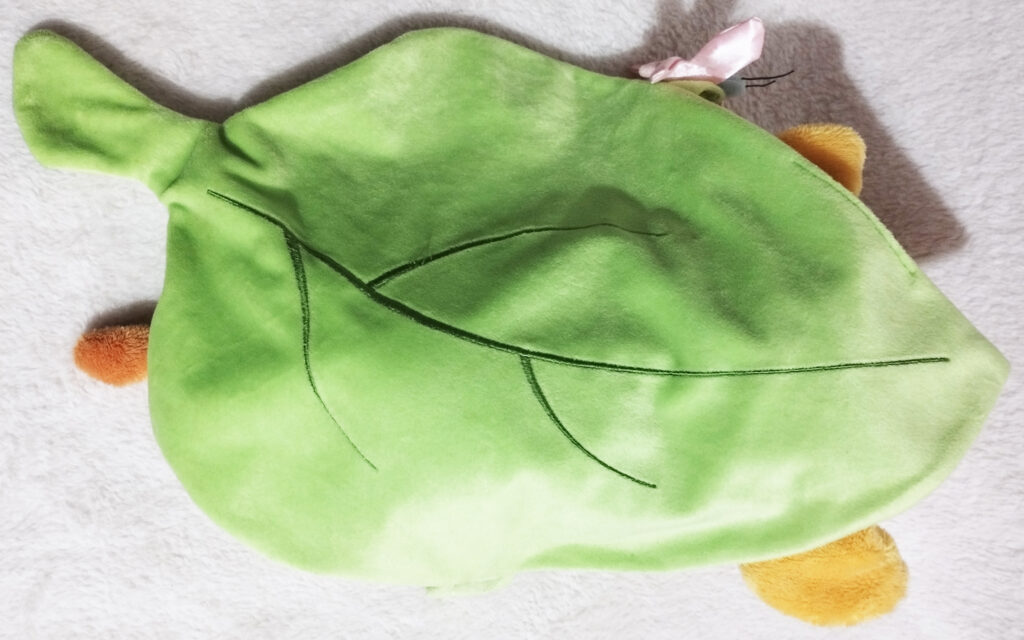 Baby Simba's blanket is a large leaf, which is fitting for his jungle theme. The midrib and veins are embroidered. The closure is velcro and has a pink butterfly.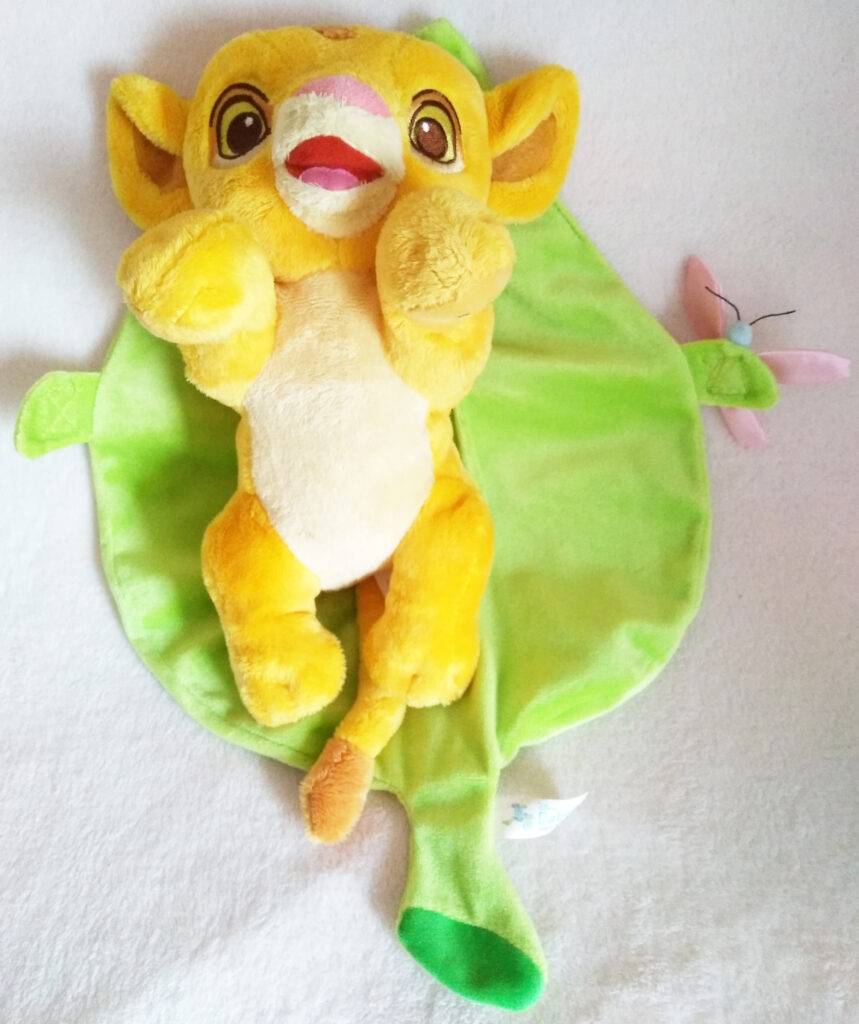 Simba itself is laying on his back, with his front paws in the air. He has embroidered details and a happy open mouth. Proportion wise his head is a bit too big, but it gives him a cuter look.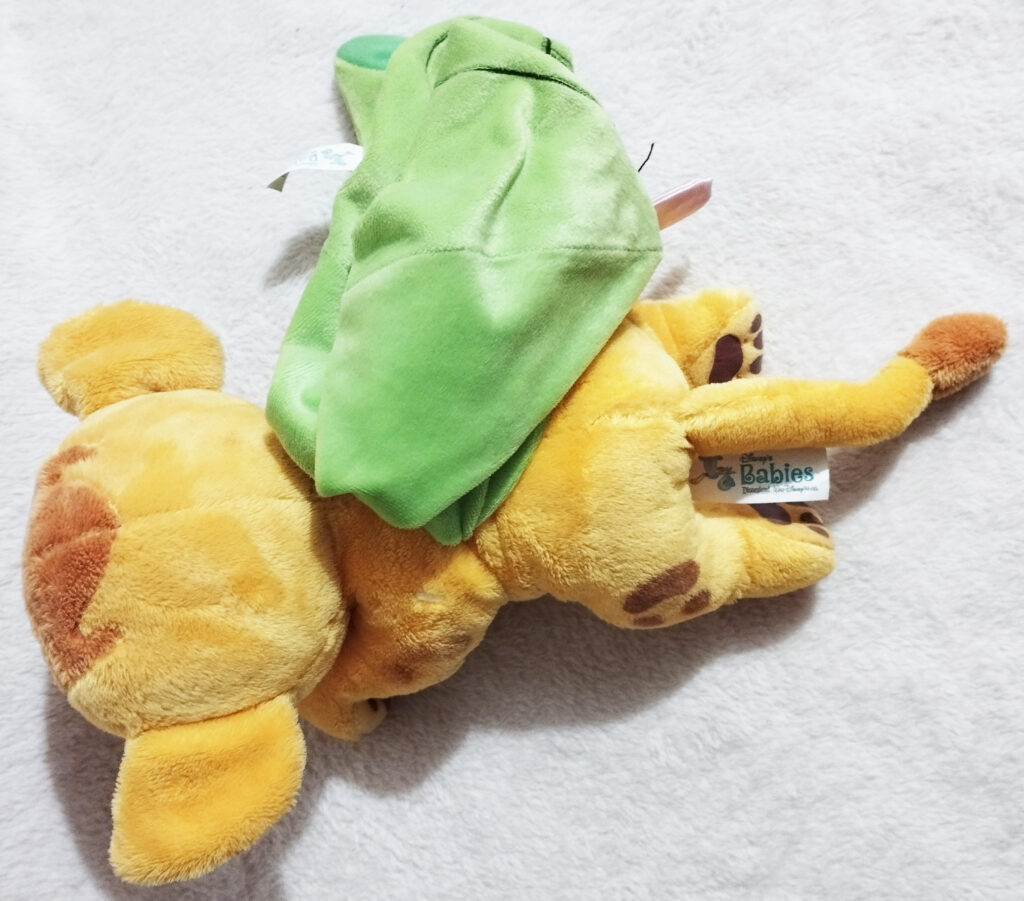 The blanket is attached with two plastic pins to his back, which should be cut to remove (mine is still attached). Simba has his iconic baby fur brown spots, on his head, shoulders and hips. His paw pads are painted on (and crack easily).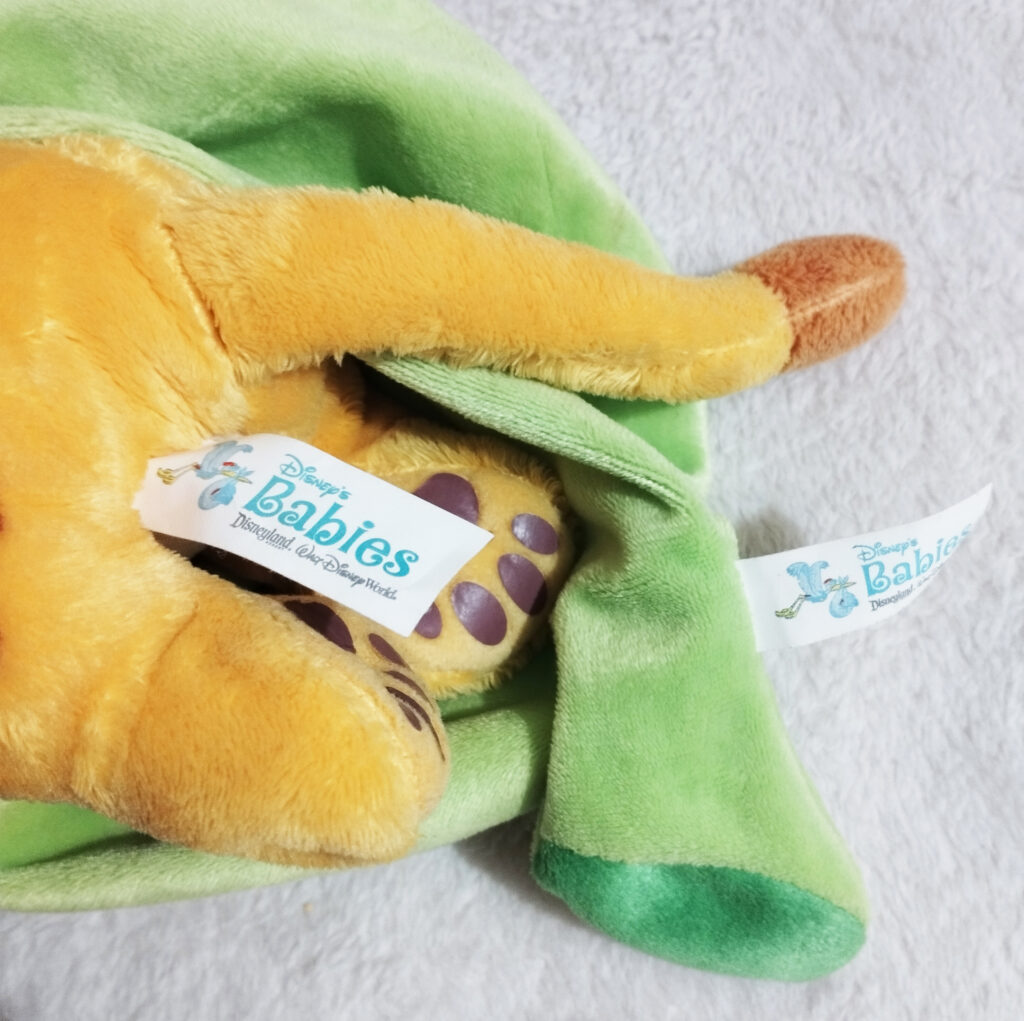 Both Simba and the blanket have a Disney's Babies tushtag on the bottom. It has its own logo, and shows the Stork from Dumbo carrying baby Dumbo in the bag. It also has both Disneyland and Disney World on it. The back has the usual legal information. Although initially only available in the parks, it later got released on the Disney Shop online as well.
Its hangtag would have been in its left ear. It's round with a blue border, and has the Stork carrying baby Dumbo on it as well as Disney's Babies, similar to the tushtag. It also has both Disneyland and Disney World on it. Around it in the blue border it reads "Take me home to live happily ever after.".
It RRP'd for $19.95.
---
The Disney Babies are quite a popular line to collect. Apparently it's hard to find them with their blankets second-hand. So I was quite lucky to have found this baby Simba in a charity shop, not only complete with the blanket still attached but also in immaculate condition. The paw pads tend to crack, and although the front paws have it a little (possibly as they are more bent), the back ones still look amazing.
He looks so cute and in a similar pose as when Rafiki holds him up during the film's opening. However, he doesn't look like his movie counterpart that much. His face is more modern, slightly chibi-fied, and cuter. That said it's still a nice baby Simba plush, and I prefer this one much more than its 2017 and 2021 counterparts, which look more like chibi Simba than baby Simba (no brown fur spots!). The leaf blanket is also a nice idea, as a normal blanket would not fit within Simba's world. It also reminds me a bit of the Jungle Friend Babies from Mattel, where things were made out of leafs and other jungle finds.
As far as baby Simba plush go, I think this is one of the better looking ones.
If you like Disney, the Lion King, Simba or baby plush, you'll like these.
If you prefer more accurate plush, you'll give these a miss.
---
Got any more details / information you think I should add? Or did I get something wrong? Do you own the same plush? Do you agree or disagree with my findings? Let me know in the comments below!