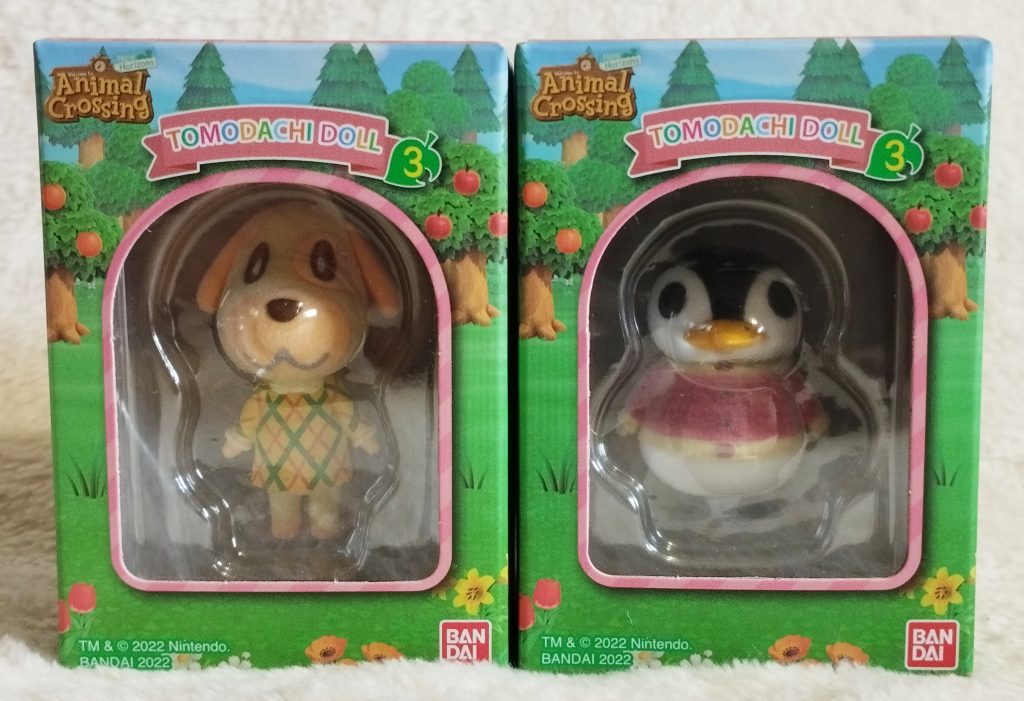 Series: Animal Crossing New Horizons
Company: Bandai
Size: +/- 5cm
Year: 2020-2022
Main distribution: Worldwide
---
Tomodachi Doll, or Friend Doll, are small flocked figures of the Animal Crossing characters, officially licensed by Nintendo, made by Bandai and distributed by Bluefin and Bandai Namco. They come out in waves, each a mix of Special and Villager Characters.
Each character is individually packaged, in a little green box with a clear section at the front that clearly displays the figure inside. The number in the leaf is to indicate which wave this is. The side and top of the box display the others of that wave.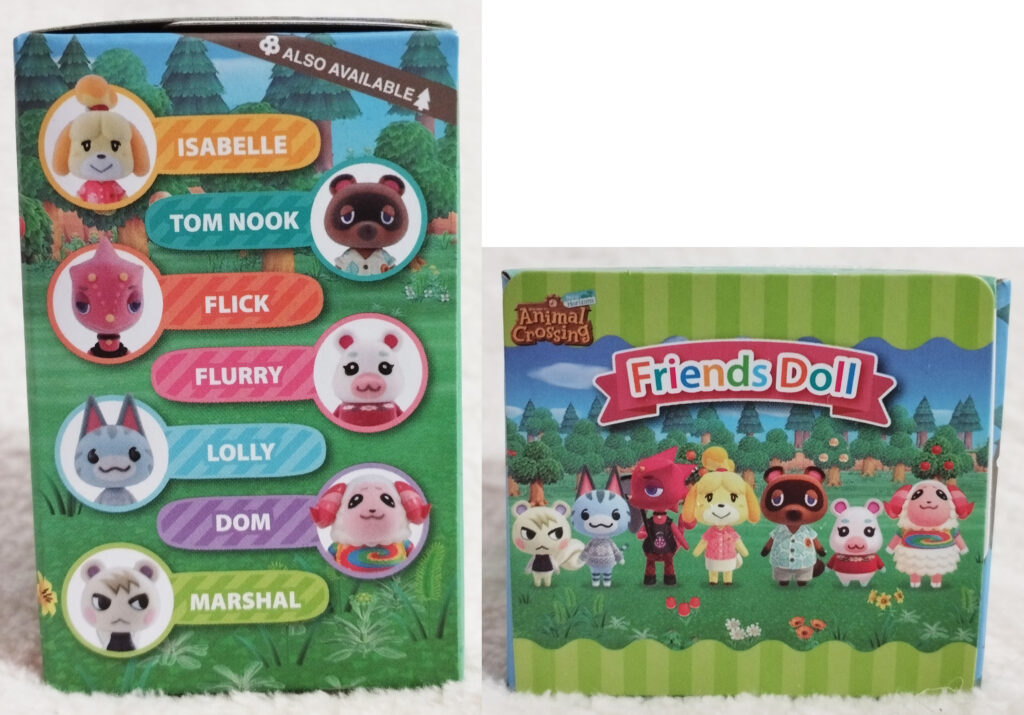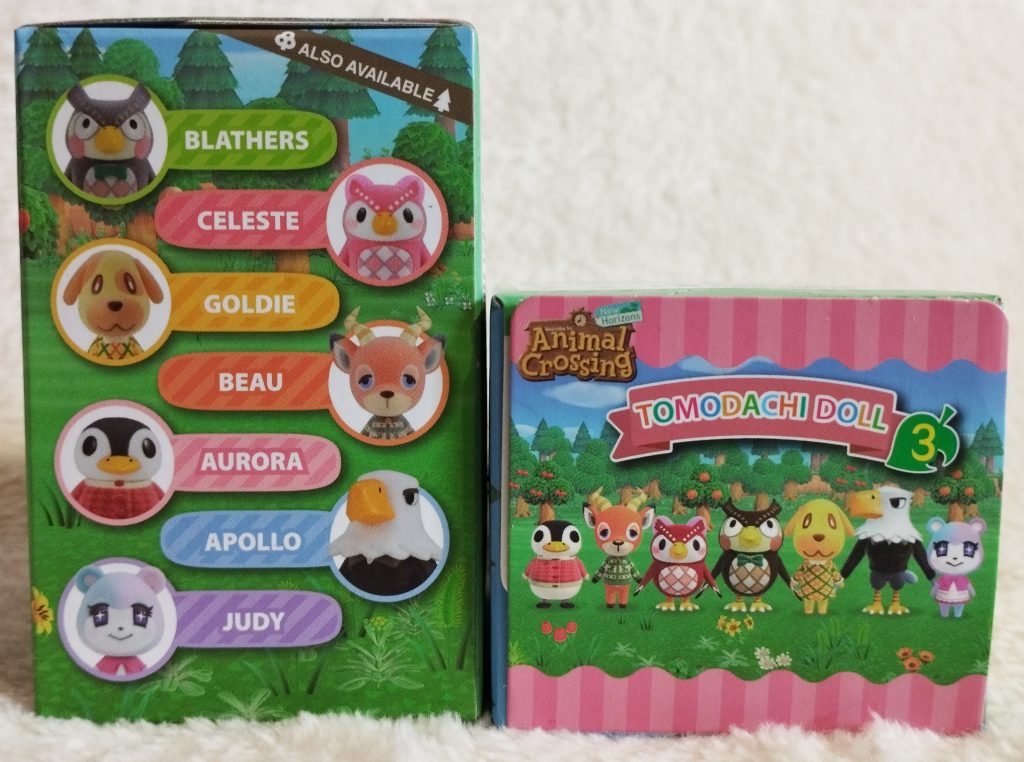 Initially only available in Japan, they have been slowly coming over to the West as well. The boxes/packaging have been translated, but otherwise they are the same figures.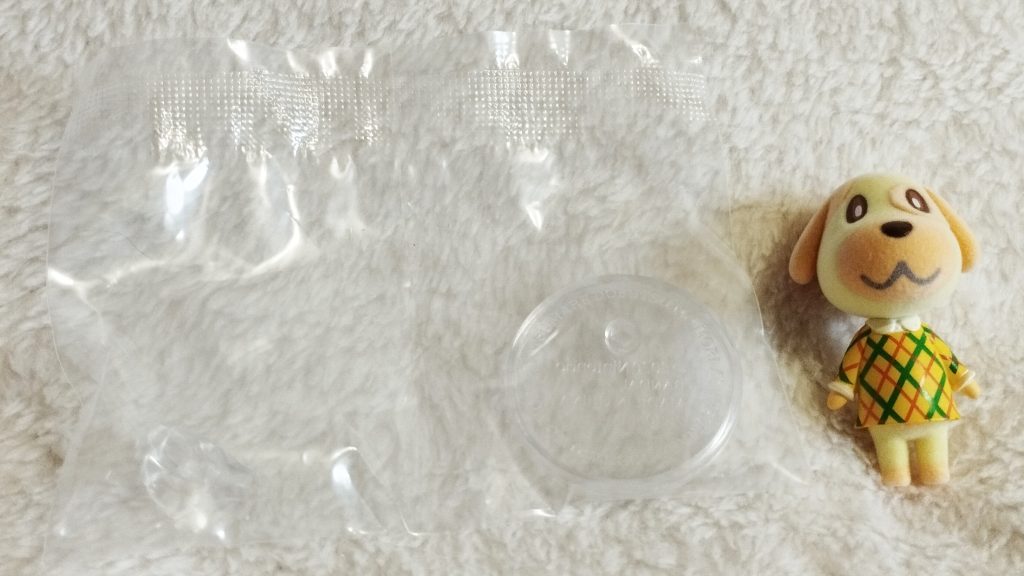 When opening the box you'll find the figure in the plastic casing, and the base and peg in plastic wrap behind the plastic casing.
Each character comes on a transparent base with a peg. Interestingly the pegs are individually shaped pieces unique to the figure, and the figure rests on it, rather than the peg connecting to the figure and base as a more permanent fixture. This makes it easy to take the characters of their base.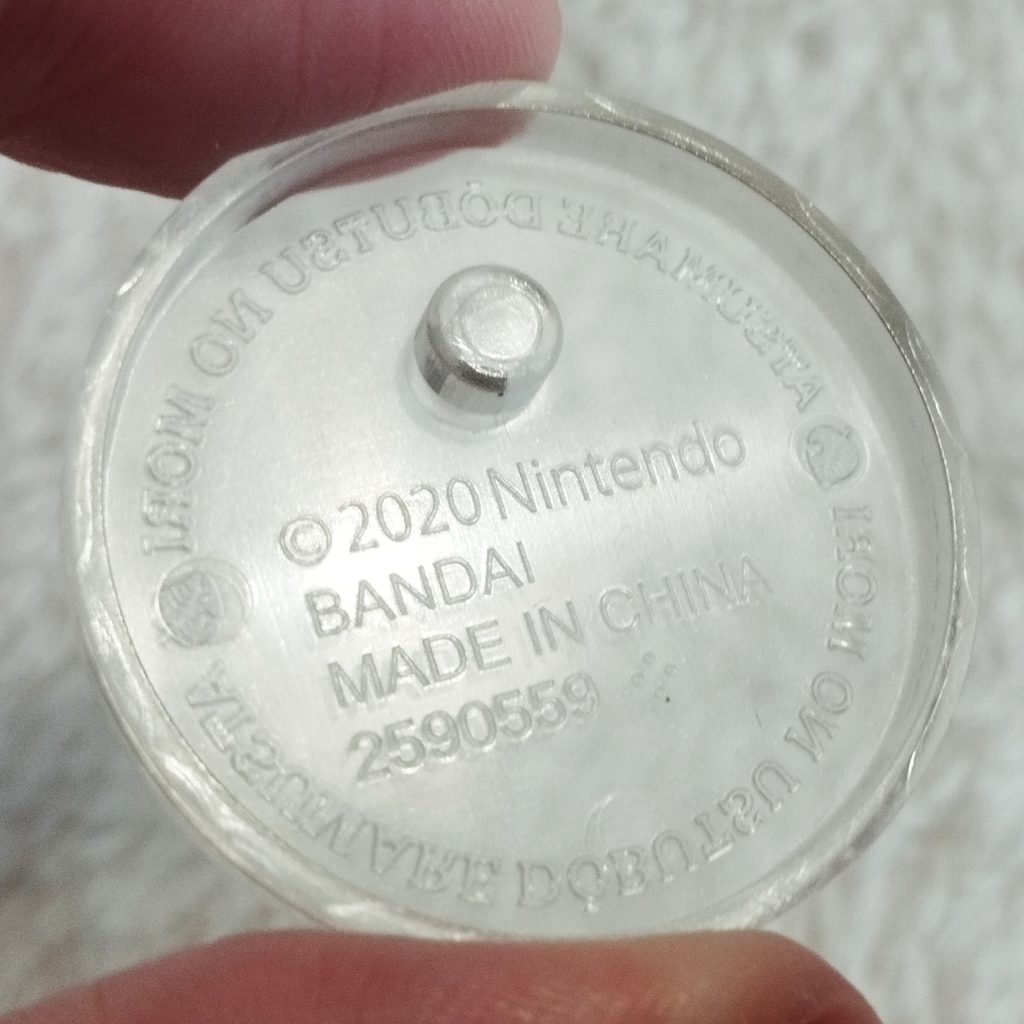 The base has all the branding. On the top in raised font it reads around the rim "Atsumare Dōbutsu no Mori" (Animal Crossing New Horizons) twice, with a leaf icon between it. On the bottom it reads in raised font © 2020 Nintendo BANDAI MADE IN CHINA 2590559 and has the 4 dots Bandai symbol. It seems the base has been the same since wave 1, as my wave 3 figures from 2022 also have 2020 on them.

There's been 3 waves so far, totalling 22 characters. I got 3/22.
Wave 1
Release: 2020
Barcode: 4549660542919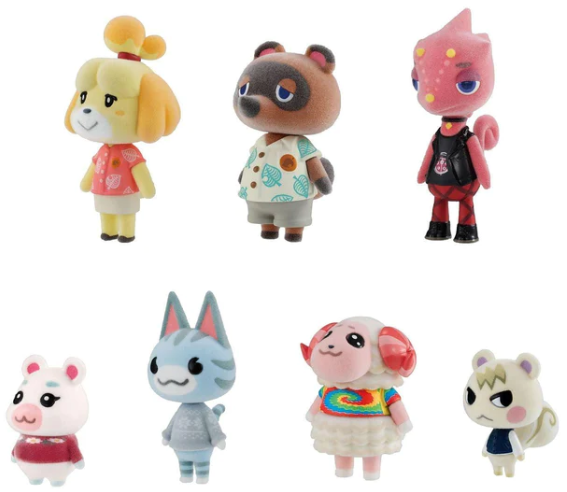 Wave 1 consists of 7 figures; Isabelle, Tom Nook, Flick, Flurry, Lolly, Dom and Marshall.
I got 1/7; Marshall.
Marshall
Barcode: 3701405805272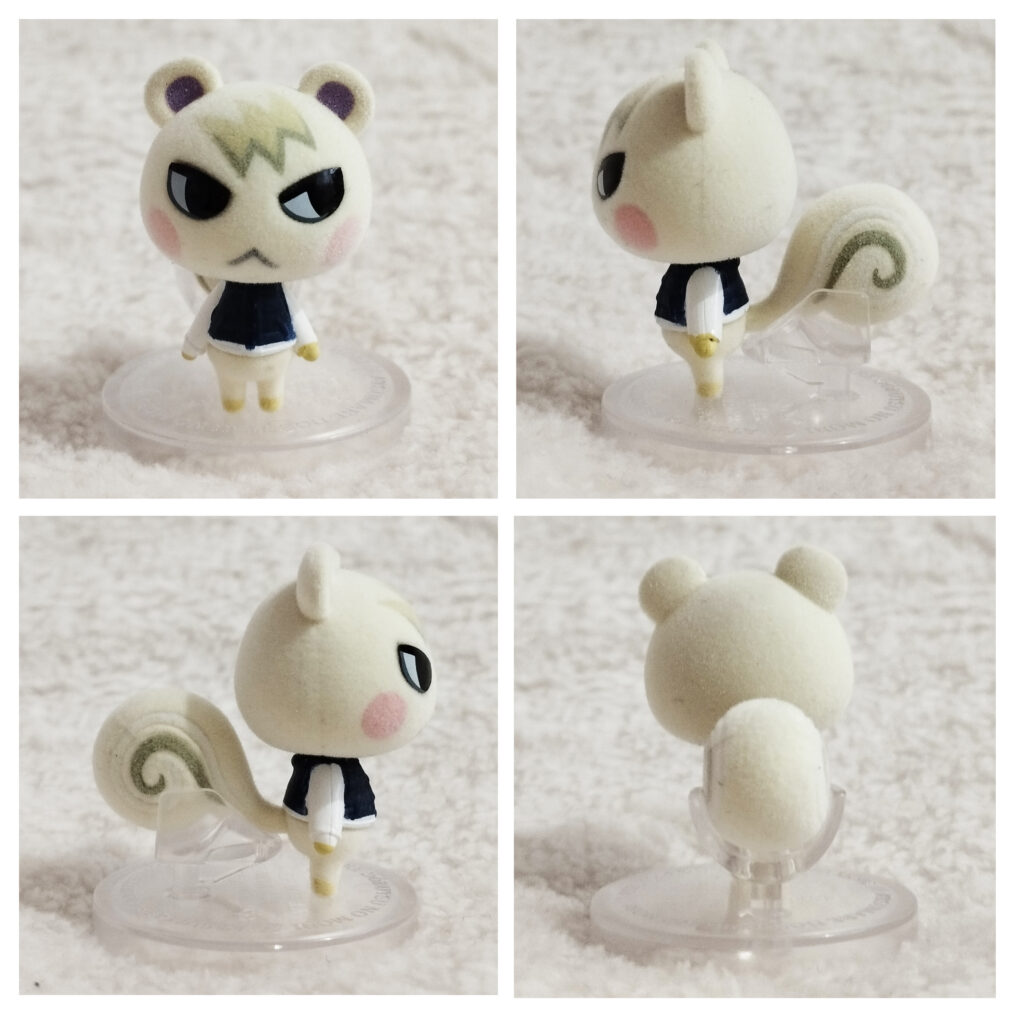 Marshall, or Jun in Japan, is a smug Squirrel Villager. His off-white fur is flocked on the figure. He wears a Puffy Vest which is also what he initially wears in Animal Crossing New Horizons. He stands in a neutral pose, with his iconic brooding expression on his face. The peg sits behind him and supports his tail.
Wave 2
Release: 2021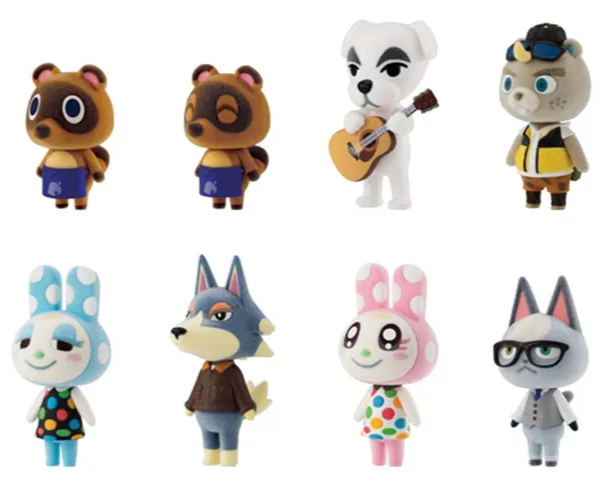 Wave 2 consists of 8 figures; Tommy, Timmy, K.K., C.J., Francine, Wolfgang, Chrissy and Raymond.
I got 0/8.
Wave 3
Release: 2022
Barcode: 4549660700432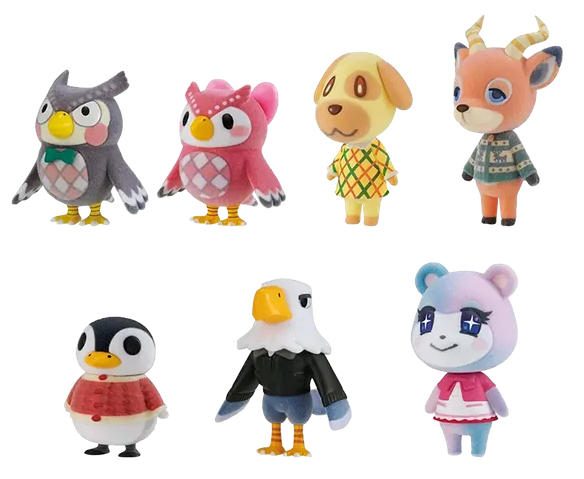 Wave 3 consists of 7 figures; Blathers, Celeste, Goldie, Beau, Aurora, Apollo and Judy.
I got 2/7; Goldie and Aurora.
Goldie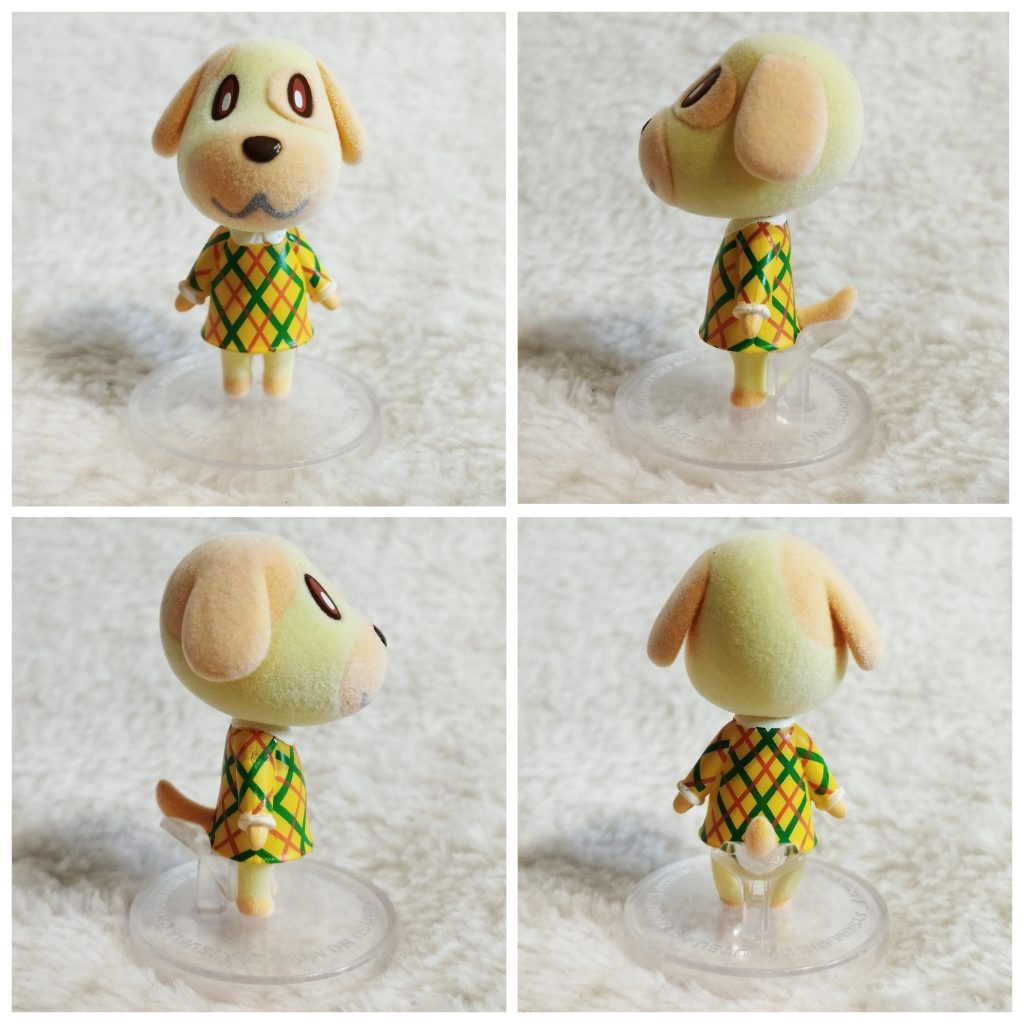 Goldie, or Caramel in Japan, is a sweet Golden Retriever Dog Villager. Her yellow and beige fur is flocked on the figure. She wears a Tweed Dress which is also what she initially wears in Animal Crossing New Horizons. She stands in a neutral pose, with a happy expression on her face. The peg sits behind her legs and supports her taint and tail.
Aurora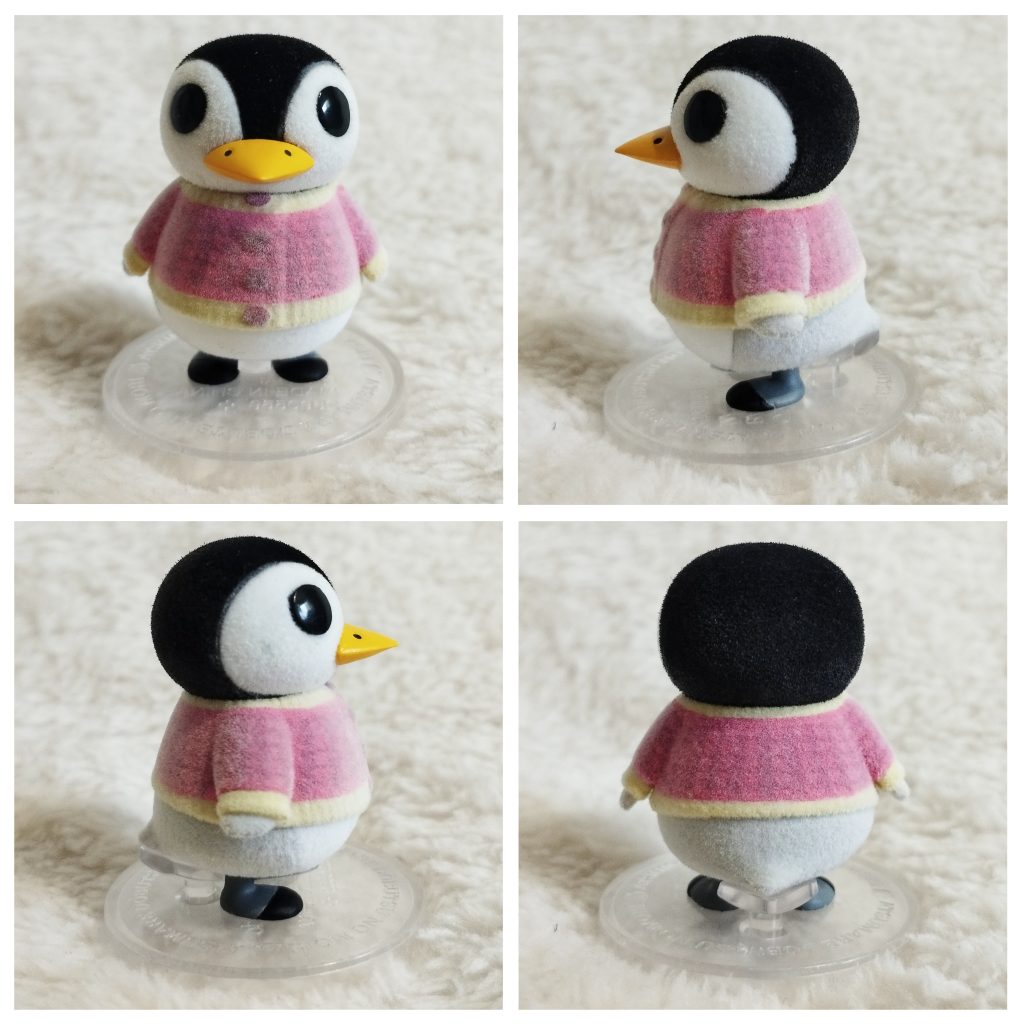 Aurora is a Penguin Villager. Her black and white skin, as well as her clothing is flocked on the figure. She wears a Plover Cardigan which is also what she initially wears in Animal Crossing New Horizons. She stands in a neutral pose. The peg sits behind her legs and supports her taint and tail.
---
Animal Crossing is such a chill game with so many great loveable characters, but finding merchandise for it was quite hard until New Horizons became popular. Now you can easily find merchandise for it, like house wares and plush. Apart from Amiibo not many figures make it to the West though if at all, so seeing these was great.
However I found them quite expensive (£7+) for such a small, single figure. At least they weren't blind boxed.
I love the original game which I played on the Gamecube, so characters from that game are still my favourites. I bought the Special figures Amiibo of them, so I didn't feel like getting them again. And although the first wave has Marshal, whom I liked in New Leaf and Pocket Camp, I didn't have a huge connection with him that warranted buying him solo for the price they were going for at the time. I like the look of Lolly, but it's a cat and I never had her in any of my towns. Wave 2 brought a bunch of popular villagers, but I never liked those. Wolfgang is cool though, and one I also had on the Gamecube game (I had most wolves). But still getting a single figure for that price was not something I wanted to do.
Wave 3 however brought Goldie, one of my favourites. And Aurora, who just looks adorable. I wasn't going to buy them, but then I found them tugged away in a corner on sale! So now of course I had to. I finally caved and bought some of these. I then found Marshall later on sale too so I nabbed him too.
And I have to say, they are so adorable in person. Their flocking makes them look pastel and soft. The individual stands are cool and makes it easy to take them off the shelf. Their quality is really great, as you expect from Japanese merchandise.
Although I wouldn't get all of them, I would definitely get my favourites if they announce more of them (Hopper, Maple and Kid Cat please!). I might even see if I can score Wolfgang for cheap.
If you love Animal Crossing, you'll like these figures. However, if you want larger or articulated figures, these may not be for you. Also, they can be pricey.
---
Got any more details / information? Did I get something wrong? Do you own the same figures or the full series? Let me know in the comments below!