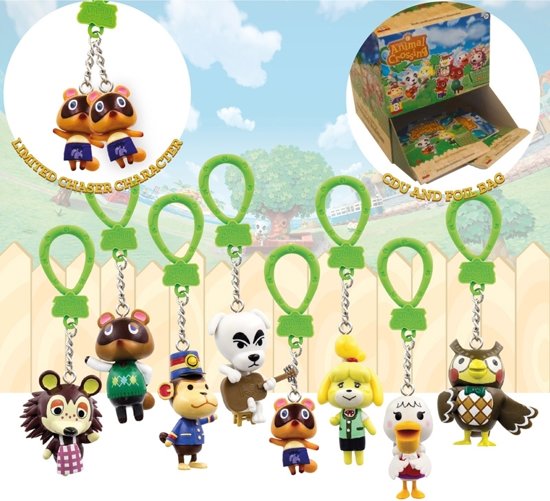 Company: Paladone
Release: March 2020
Size: ~7 cm
Main distribution: Europe
Barcode: 5056577700176
---
This is a keychain collection from Animal Crossing. They are blind bags that exist out of a 'backpack buddy'; a keychain with a plastic clip on, and has a plastic 3D Animal Crossing character figure on it. There are 8 different ones to collect, and 1 chaser; a Timmy & Tommy duo.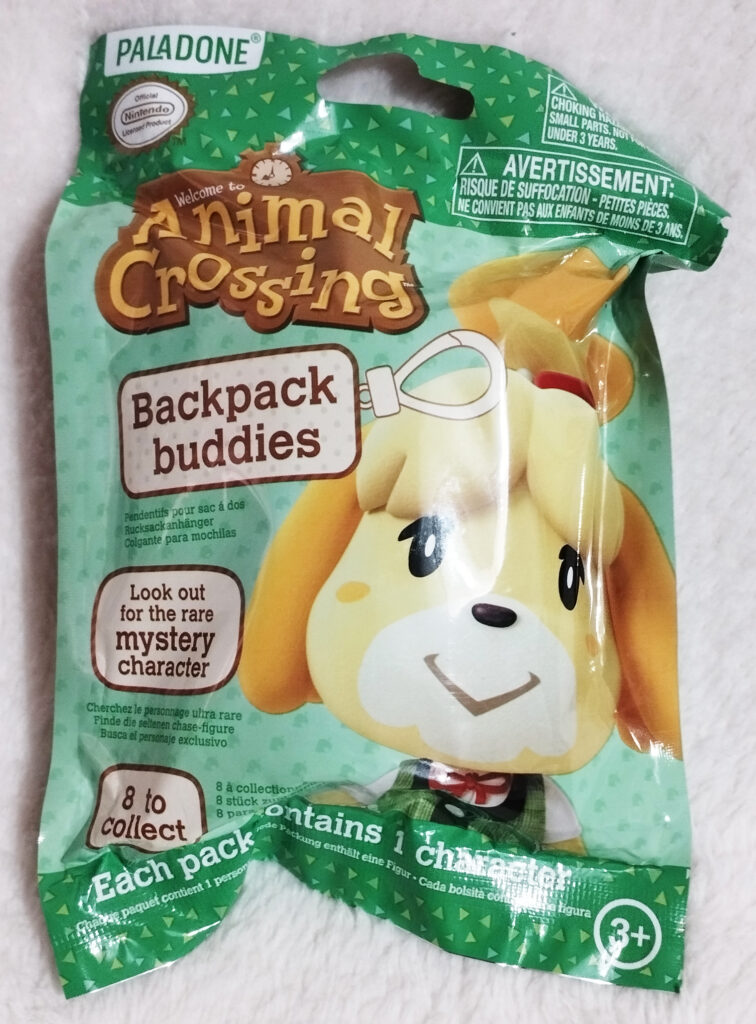 They come in these bulky blind bags. They are green, and has a large image of Isabelle on it. It has the official Nintendo stamp on it.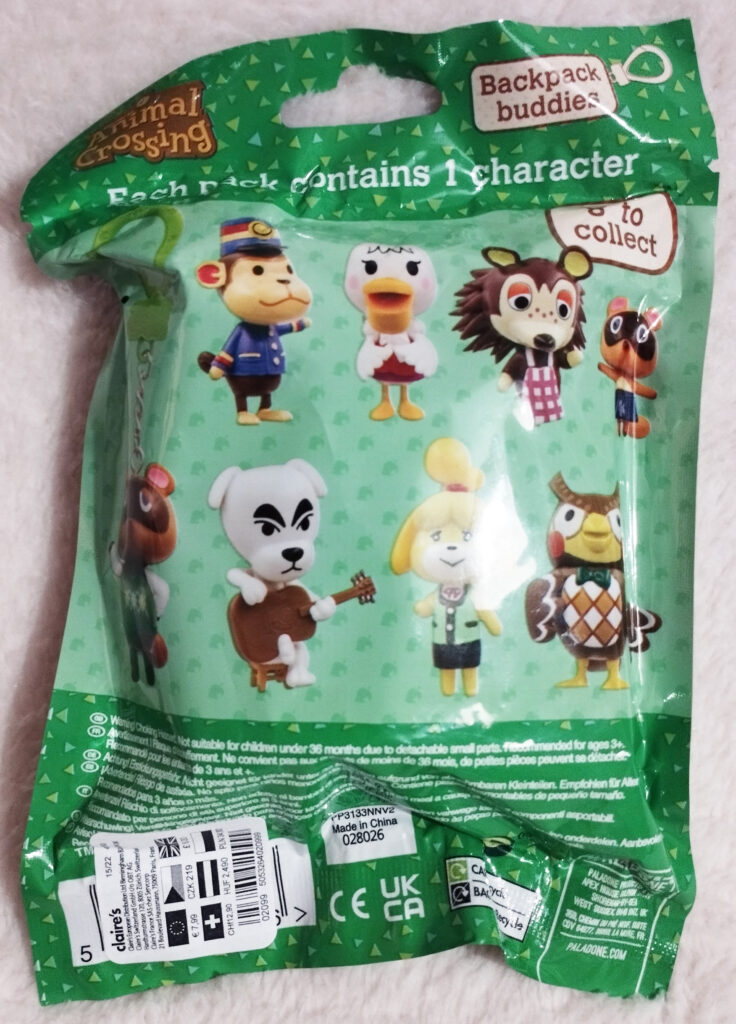 The back shows all 8 different keychains. (The chaser is literally the Timmy/Tommy figure twice). The packaging has various different European languages on it, so I assume these are distributed across Europe. I bought mine in the UK.
Once opened you'll find a plain, white cardboard box in it with the keychain inside that. This makes it impossible to feel which one you'll get.
Blathers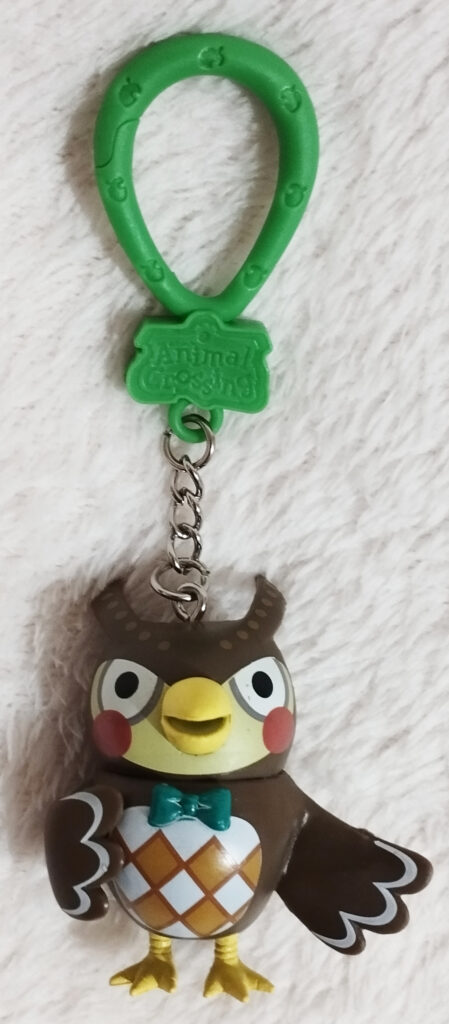 Blathers is an owl who appeared in the original Animal Crossing, and is director of the Museum. His belly is checkered, resembling an argyle vest and he wears a green bow tie. He looks happy and extends his wing.
On his back is the branding. In raised font it reads: CE logo, © Nintendo, Paladone Ltd. BN43 6NZ Made in China.
Isabelle

Isabelle is a yellow Shi h Tzu dog who first appeared in Animal Crossing: New Leaf, whom initially helps the player with mayor duties, and in later games works the Civic Consultation Counter in the Resident Services / Town Hall. She has along Tom Nook become a mascot character for the series since. She is wearing her Town Hall Spring Top, featuring a green vest and blue skirt. She looks happy and does a little greeting wave.
On the back of her head is the branding. In raised font it reads: CE logo, © Nintendo, Paladone Ltd. BN43 6NZ Made in China.
Pelly

Pelly is the pelican who works at the Post Office during the day in the original Animal Crossing, and in later games also in the Town Hall. She is kind and nice, and her expression in the figure reflects that. She looks smiley, with a happy open mouth and has her wings together in an almost shy pose. She's wearing her standard purple dress with pink vest. She can stand up thanks to her wide feet.
On the back of her head is the branding. In raised font it reads: CE logo, © Nintendo, Paladone Ltd. BN43 6NZ Made in China.
Porter

Porter is the monkey who works at the Train Station in the original Animal Crossing, and re-appears in New Leaf. He is friendly and helps the player visit other towns, and his smile and welcoming gesture on the figure reflects that. He's a brown monkey with a pale yellow face and paws. He's wearing his signature blue station porter uniform, which consists of a jacket with gold buttons and 2 front pockets, and a har with a badge on the front. He can stand up thanks to his wide feet.
On the back of his head is the branding. In raised font it reads: CE logo, © Nintendo, Paladone Ltd. BN43 6NZ Made in China.
---
Animal Crossing was one of the main reasons I bought a GameCube. I love the old characters and simple times. It was hard to find Animal Crossing merchandise back then, but since Animal Crossing: New Horizons there's a boom of merchandise to find.
When I saw these I was delighted to find actually the old characters featured. The logo was also the original one. But then again, Isabelle was in it too. It seemed a bit of a weird set. Some of them looked a bit derpy in my opinion too. But I really liked Porter, the monkey from the train station, and he looked cute here just like his New Leaf render. I don't think there's much merchandise of him either. So I wanted to buy one in the hopes of getting him.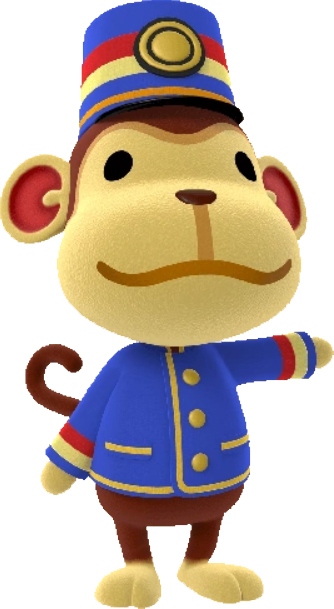 The first time I saw these was the box actually, which was filled with other Animal Crossing gashapon / blind bags. It was very misleading and almost bought the wrong ones, as that set didn't have Porter in it. Looking online, I found another store here in town that sold them, so I went there and bought one.
Having collected Paladone's Nintendo Classic Console Backpack Buddies set before, I kind of knew what to expect here. 3D plastic figures with a plastic keychain, that are kinda overpriced in my opinion (retail for £6). The chaser feels especially cheap with it being the same figure twice, one you can get as a single standard.
Sadly I didn't get Porter, I got Pelly, my second favourite of this set. She doesn't look derpy, is one of the original characters, doesn't have a lot of merchandise (if any?) and she can stand on her own. I couldn't complain.
But it wasn't Porter. So I bought another one a week later. This time I got Isabelle. She looks better than on the picture of the packaging, happier. But I don't like Isabelle. She isn't from the original game. And her being the new mascot means she is everywhere and on everything. I'm kind of bored of her. So I got another one on my next shopping trip. I got Pelly again, which my boyfriend took over (his work has a pelican for logo, and thought it be funny on his work bag). Next week, I got Blathers. I like him as an original character, but I already have his Amiibo which suffices for me as a figure. The week after, my boyfriend buys me one, and of course with his luck finds Porter! So I finally found the one I wanted.
Isabelle and Blathers are up for sale.
For some reason, these were also the Pre-order bonus for Animal Crossing: New Horizon if you pre-ordered it at GameMania in the Netherlands or Belgium. Which is weird considering the older characters in here who aren't really featured in Animal Crossing: New Horizons.
If you like Animal Crossing and are looking for some unique figures, there's a few in here that you might like. But they can be pricey and you never know which one you'll get.
If you prefer higher quality figures, you might want to give these a miss.
---
Got any more details / information you think I should add? Or did I get something wrong? Do you own any of these? Which one is your fav? Do you agree or disagree with my findings? Do you have Porter and would like to get rid of it? Let me know in the comments below!