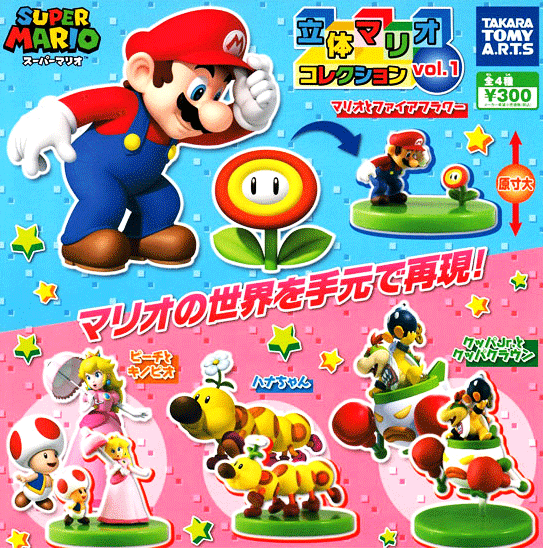 Company: Tomy / T-Arts
Year: 2019
Size: +/- 5cm
Main distribution: Japan / Europe
Barcode: 796714679358
---
These are little buildable Super Mario figures. They are distributed via Gashapon in Japan, and blind boxes / gashapon balls in Europe.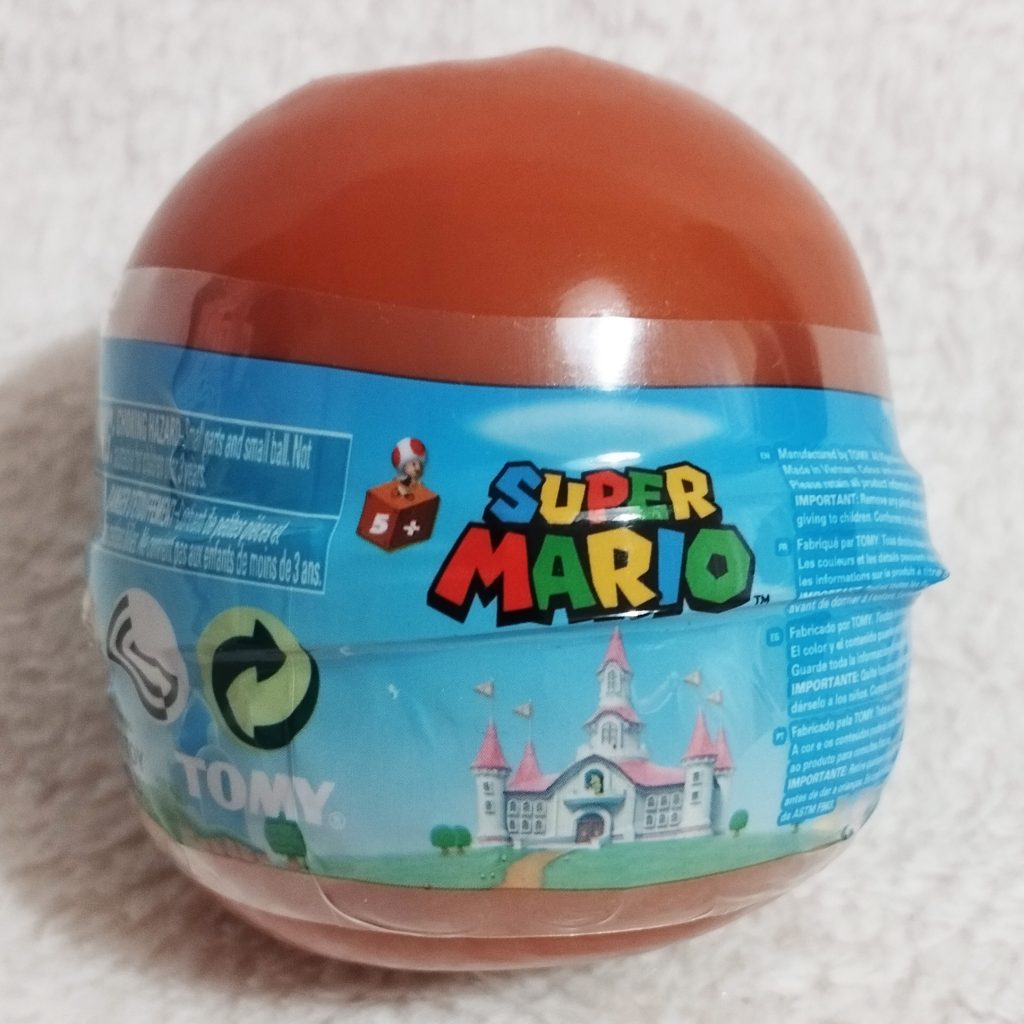 This is the European version. It comes in a brown Gashapon ball and was sold as a "blind box". You can spot parts through the little holes though.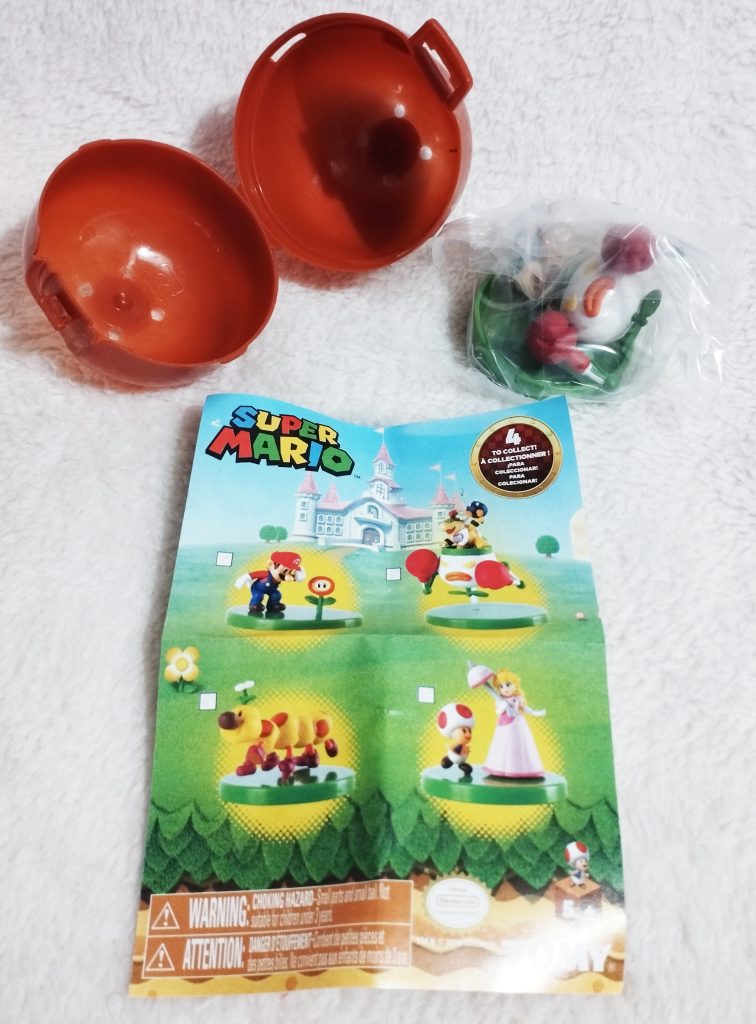 Inside is the figure in pieces in clear plastic and the leaflet showing the entire line as a checklist.
I've only found 1 volume so far, with 4 figures.
Volume 1
Volume 1 exists out of 4 figures; Mario Fire Flower, Peach and Toad, Wiggler and Bowser Jr.
I got 1/4.
Bowser Jr.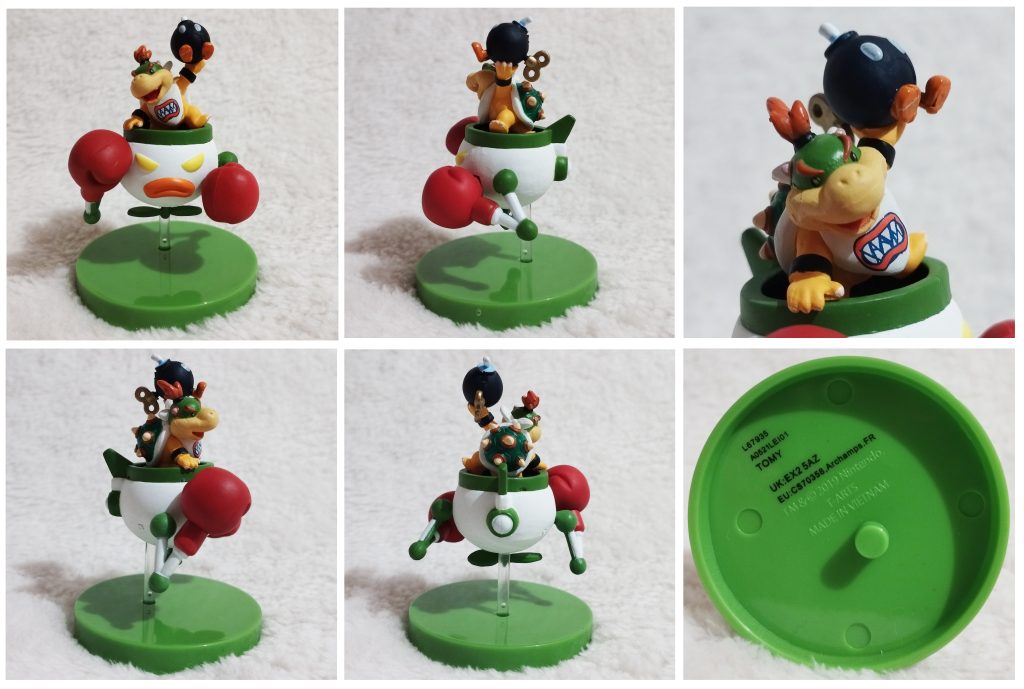 Boswer Jr is in the Clown Car and he's holding a Bomb-omb ready to throw down. He floats via a transparent rod and sits on a green base. The figure is quite detailed and the paintjob is great. It comes in 3 pieces, the main figure, the rod and the base. The branding is under the base. In raised font it reads: TM&©2019 Nintendo. T-ARTS MADE IN VIETNAM. Above it in black is printed: L67935 A0521LEI01 TOMY UK: EX2 5AZ EU: CS70358, Archamps. FR. I assume the later is printed on the European releases only.
---
Super Mario World is my favourite Mario game. Finding merchandise specifically for that though is hard. But when I saw this little Gashapon set with Wiggler in it I wanted to get it. Wiggler made his debut in Super Mario World.
I peaked through the little holes of all the available ones in the hopes to spot Wiggler. I found Peach and Toad easily. But the rest was harder to find. I saw a little shoe and figured that was Wiggler, so bought it, but it turned out it was Bowser Jr. The shoe I saw was from the Bomb-omb. Ah well.
I'm trying to limit my collections and thin out a bit again, and I have no need for Bowser Jr, so I'll be looking to trade him for Wiggler or sell him. I won't collect all of them, as I'm only after Wiggler really. But we'll see if other volumes come out with ones I like as well.
They retail for 300 yen in Japan, and £4.99 in the UK.
If you like the Mario franchise, these are really nice and detailed and not expensive. If you like bigger or articulated figures, you might want to give these a miss.
If anyone would like to trade let me know.
---
Got any more details / information? Did I get something wrong? Do you own the same figures or the full series? Let me know in the comments below!