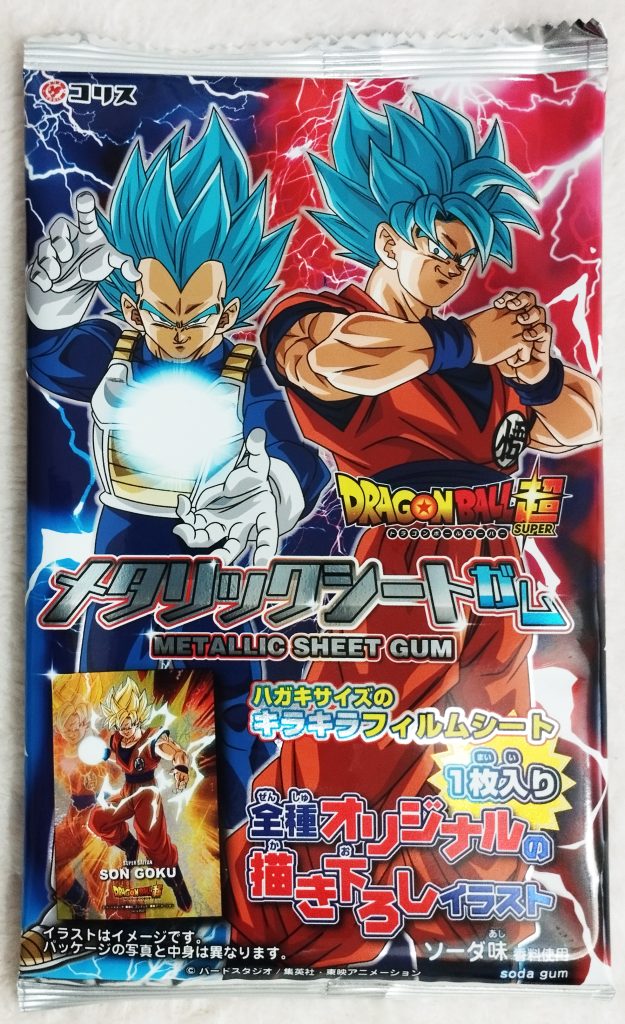 Series: Dragonball Super
Company: Coris
Year: 2021
Main distribution: Japan
Barcode: 4 901361 001131
---
These are metallic sheets / "cards" from Dragonball Super by Coris. The set exists out of 16 sheets, with 2 rare ones.
Coris is a Japanese candy manufacturer founded in 1948. They are best known for their cute Japanese DIY candy kits. For the Dragonball license they make several candies, but the metallic sheet gum comes with these collectable "cards" or metallic sheets.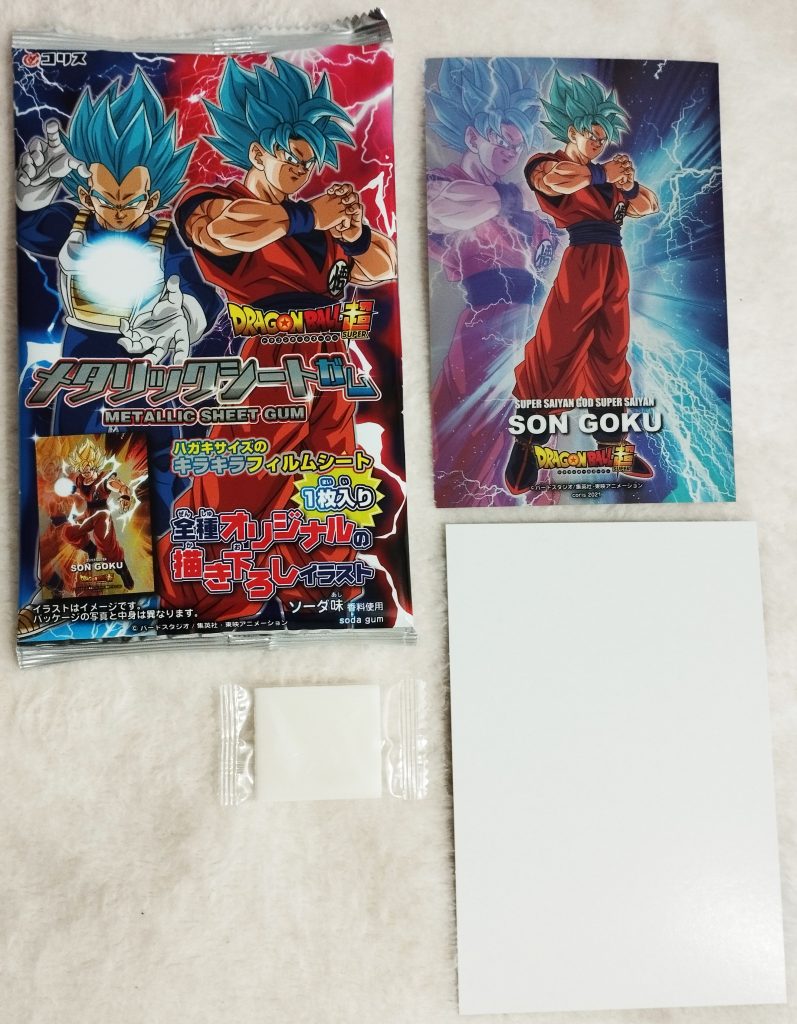 Each pack comes with a piece of gum, a metallic sheet and a white piece of cardboard to prevent the sheet from bending in the packaging. The gum is ramune soda flavoured.
The metallic sheet line-up has characters from the Dragonball Super anime and the Dragonball Super: Broly movie, all with designs created especially for this series. Generally speaking each sheet has 1 character on it, with their name, form/power up and Dragonball Super Logo at the bottom. A semi-transparent larger image is in the background, and it has a colourful backdrop. The back is plain silver and shows the relief of the print.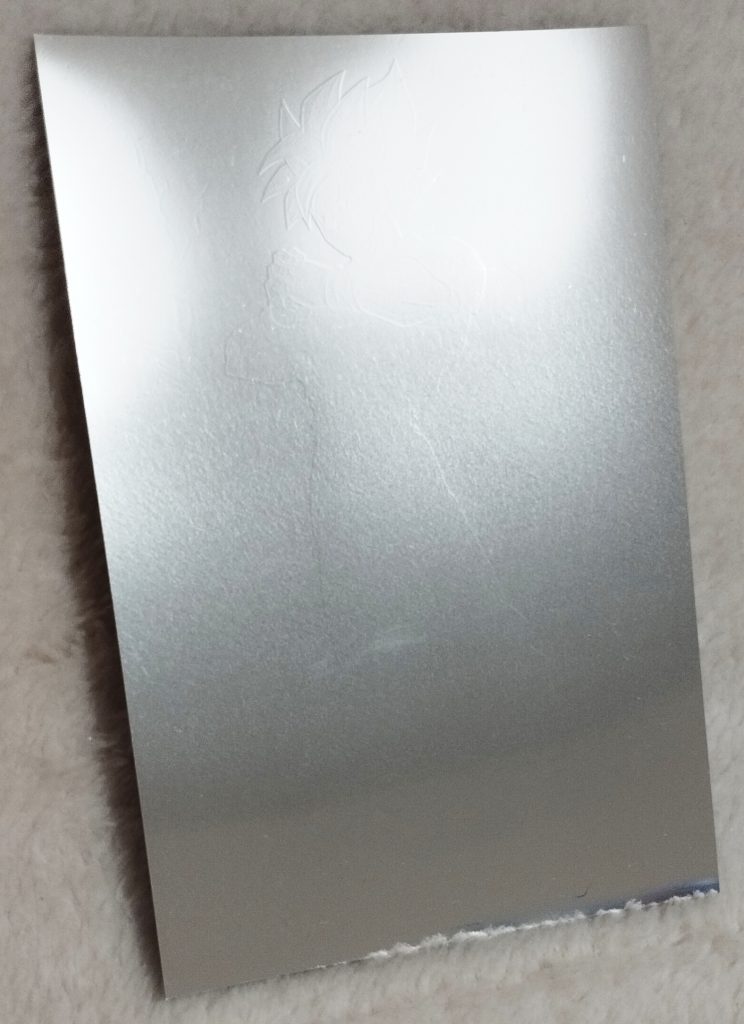 There are no numbers on the sheets.
There are 14 normal rarity sheets and 2 rares, making for a total of 16 sheets to find.
Unlike most cards, these are bigger; 100mm wide and 148mm long. Similar to photo's or postcards. They are also quite thin, similar to photo's, maybe even thinner. And they are very shiny due to their metallic nature.
There are a 16 sheet in total to collect. I got 13/16.
As there are no numbers I'm listing what I got in alphabetical order.
Android #17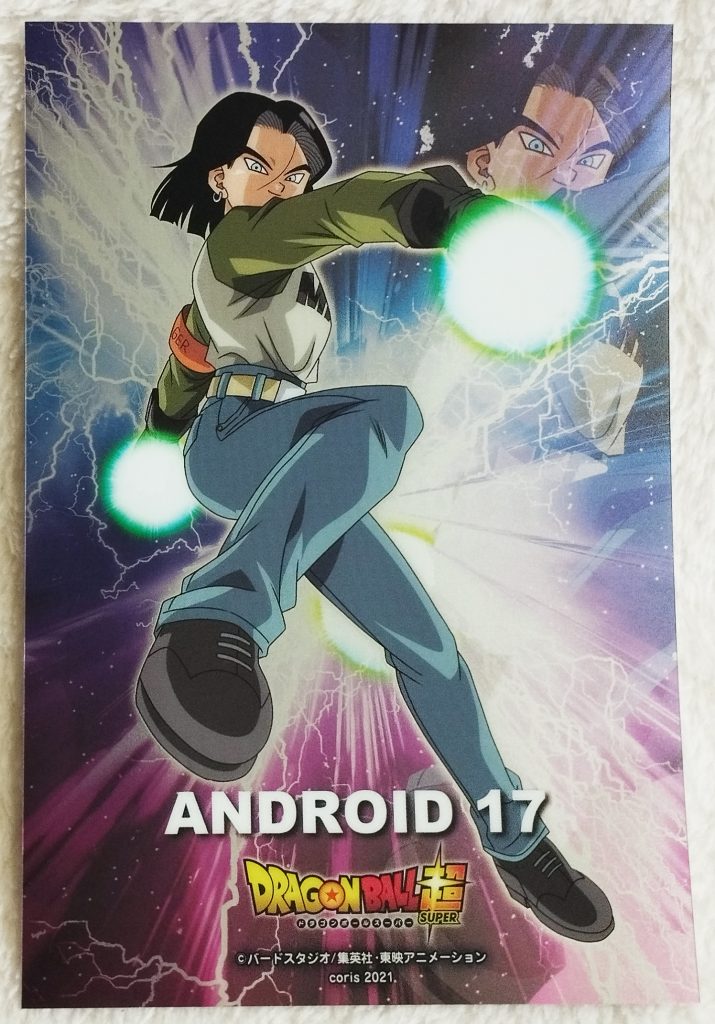 Episode #131 Frieza & Son Goku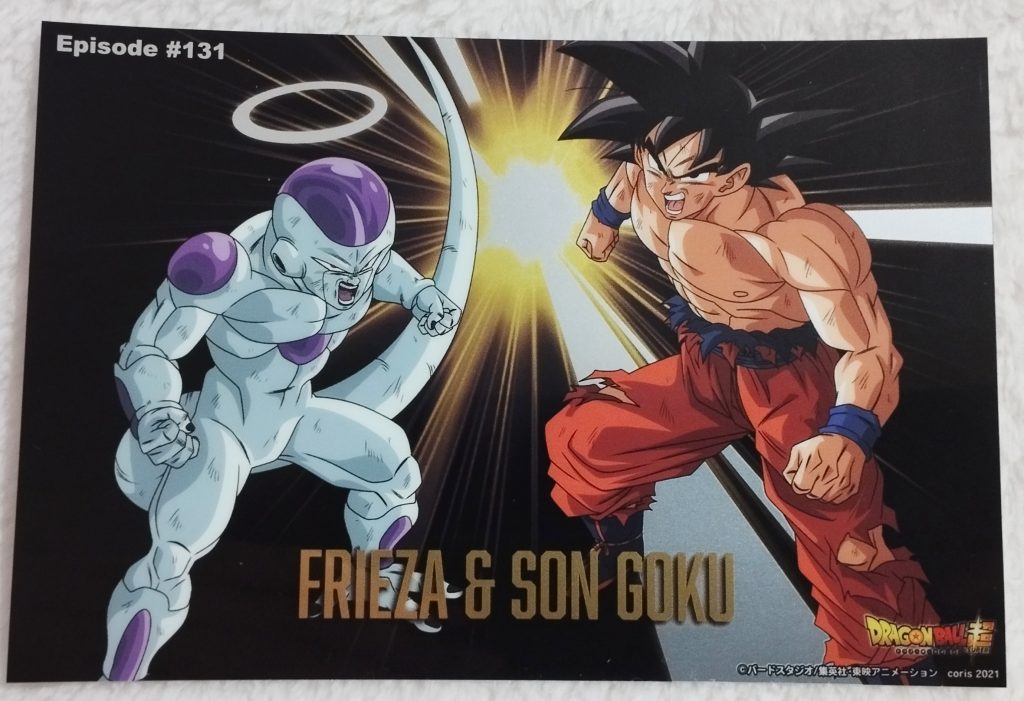 This one seems unique in that it shows 2 characters, lists an Episode number, and is horizontal orientated instead of vertical like the others. I assume this is a rare one.
Frieza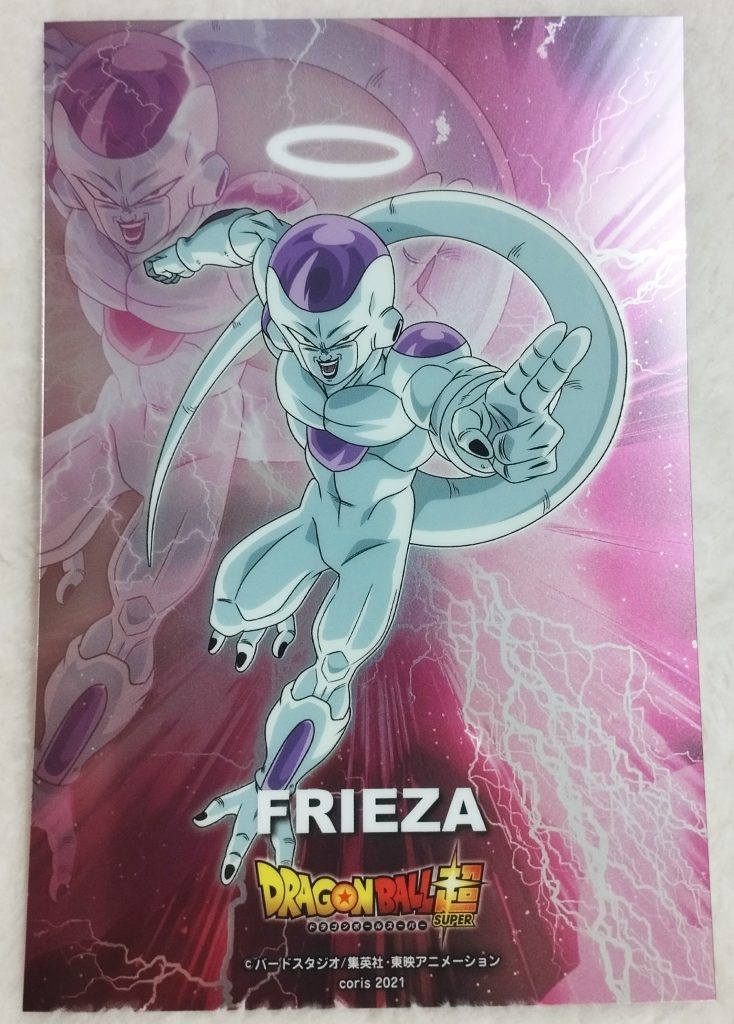 Krillin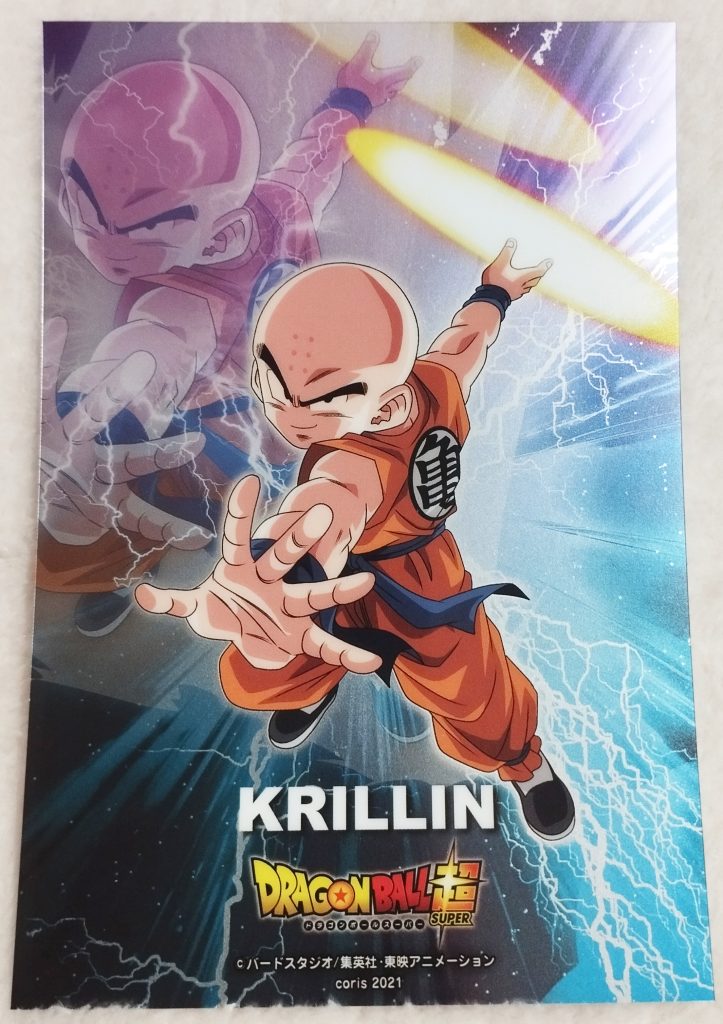 Piccolo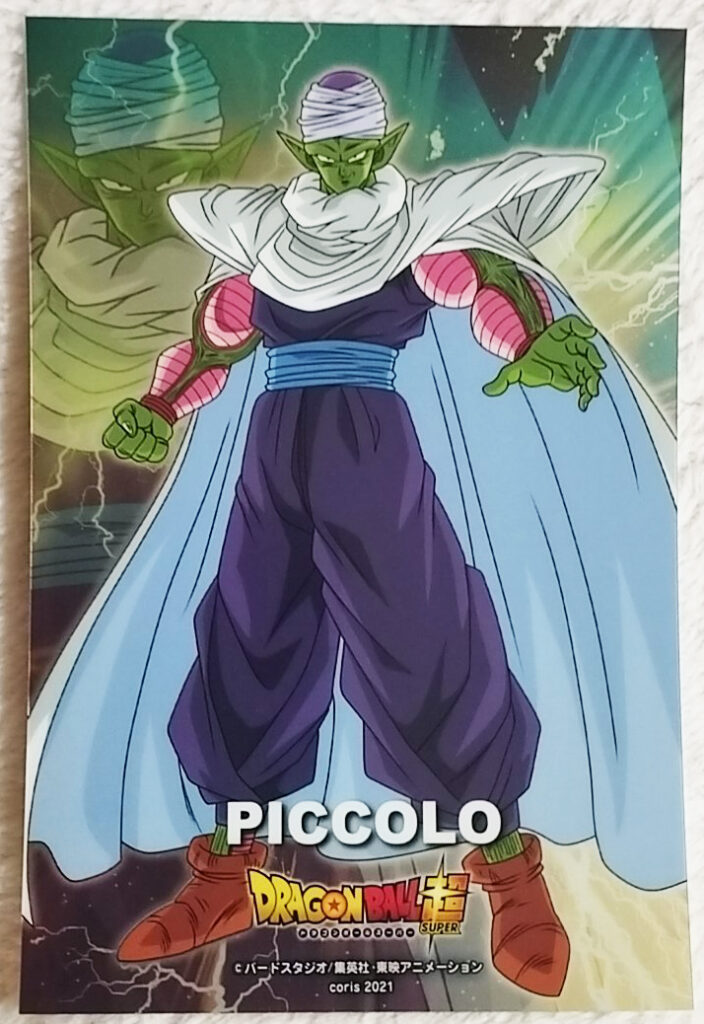 Son Gohan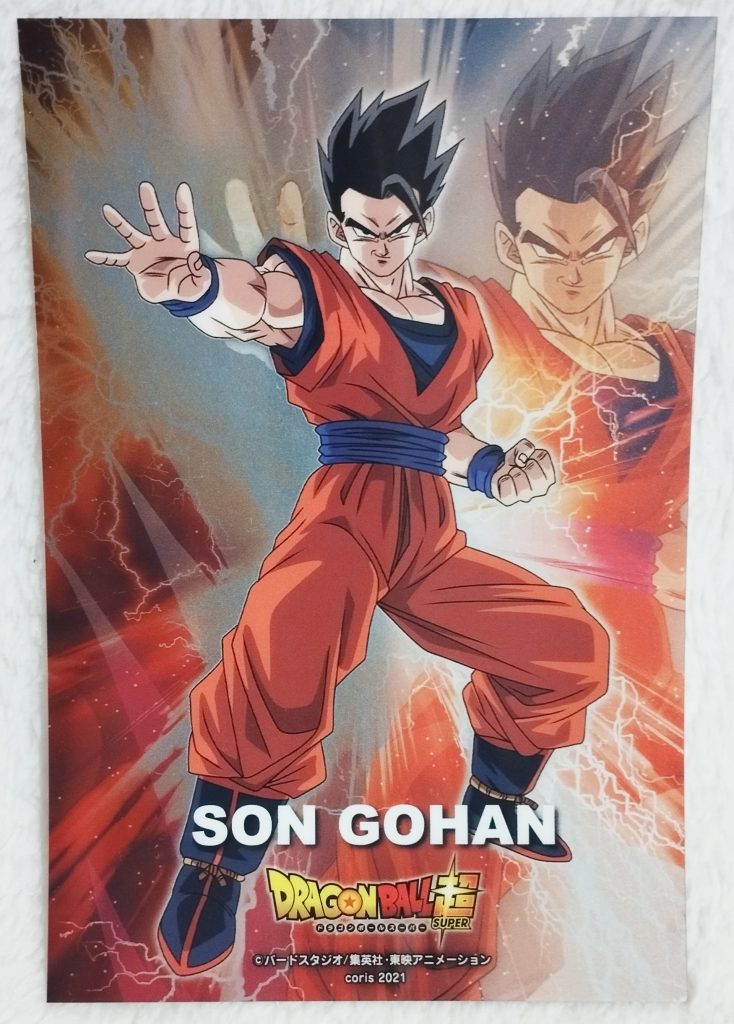 Super Saiyan Broly (Full Power)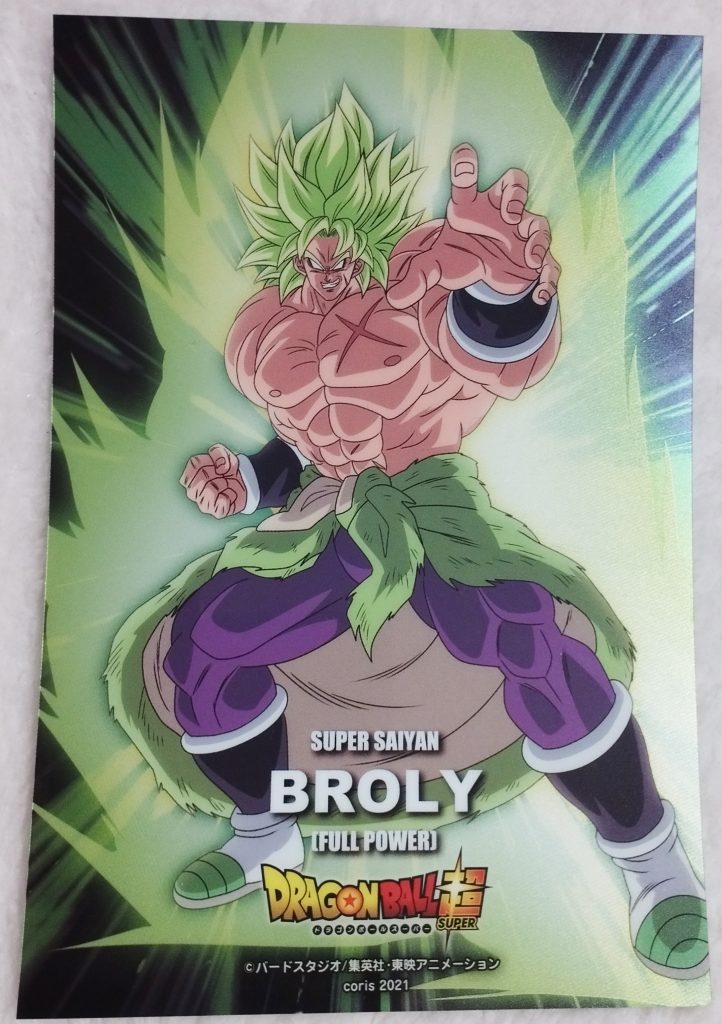 Unlike the others, there is no duplicated image in the background, and Broly has Ki energy around him.
Super Saiyan God Super Saiyan Gogeta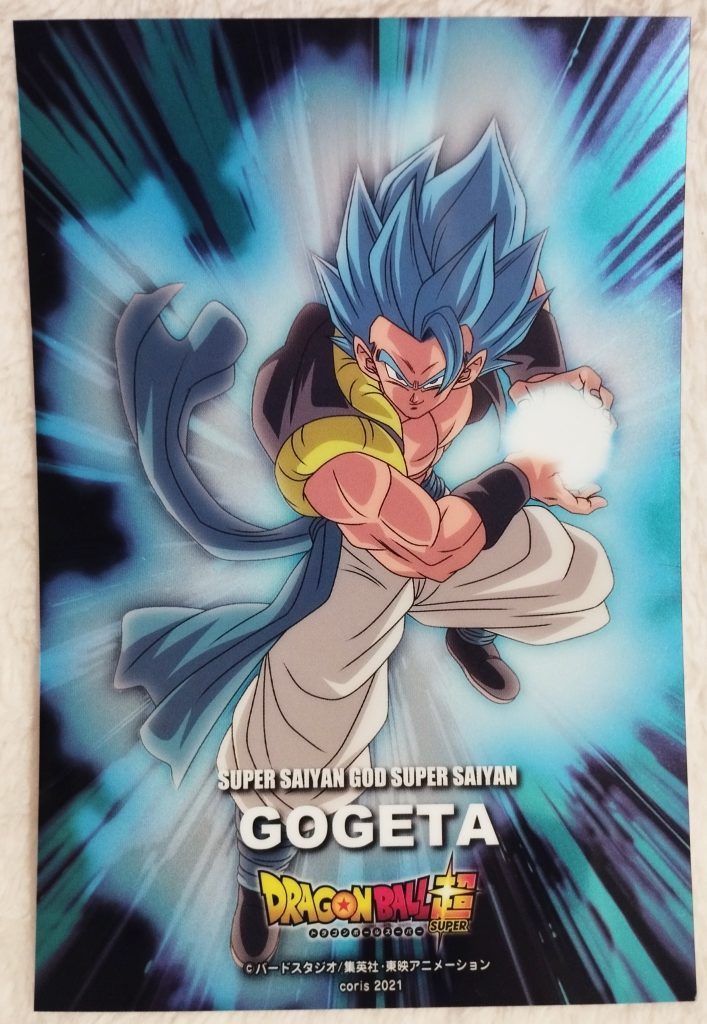 Unlike the others, there is no duplicated image in the background, and Gogeta has Ki energy around him.
Super Saiyan God Super Saiyan Son Goku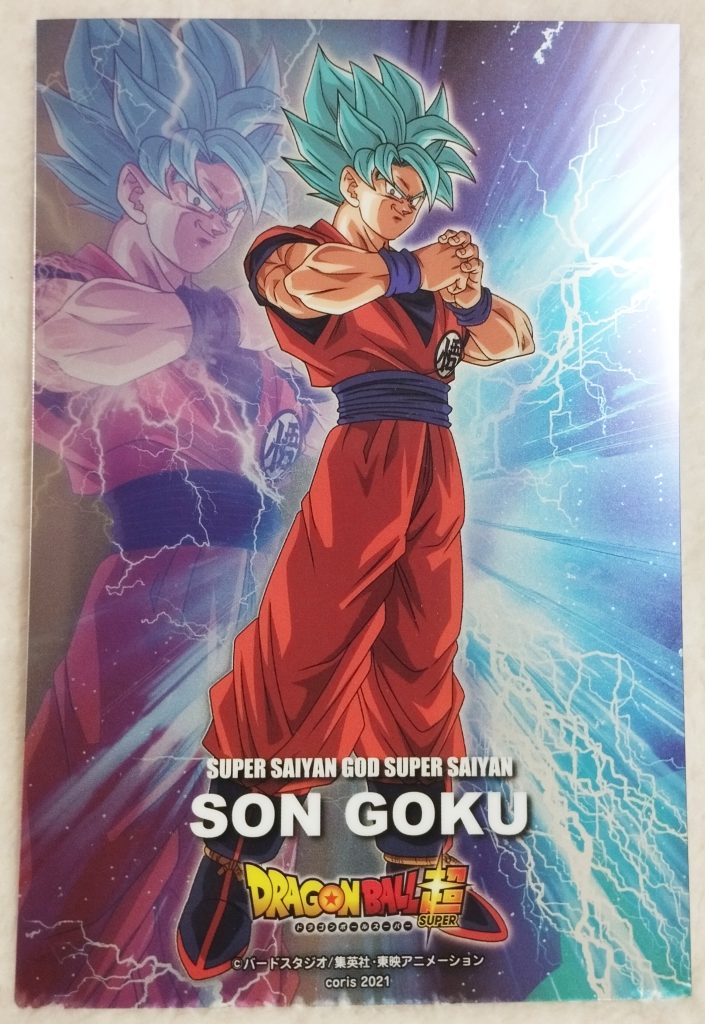 Super Saiyan God Super Saiyan Vegeta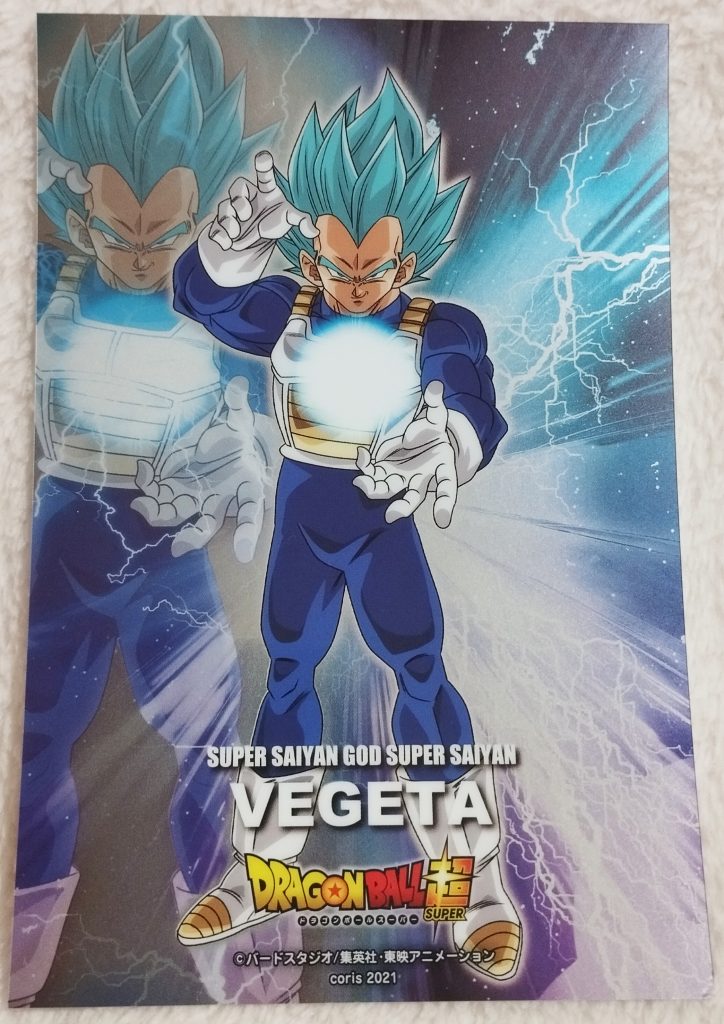 Super Saiyan God Super Saiyan Vegito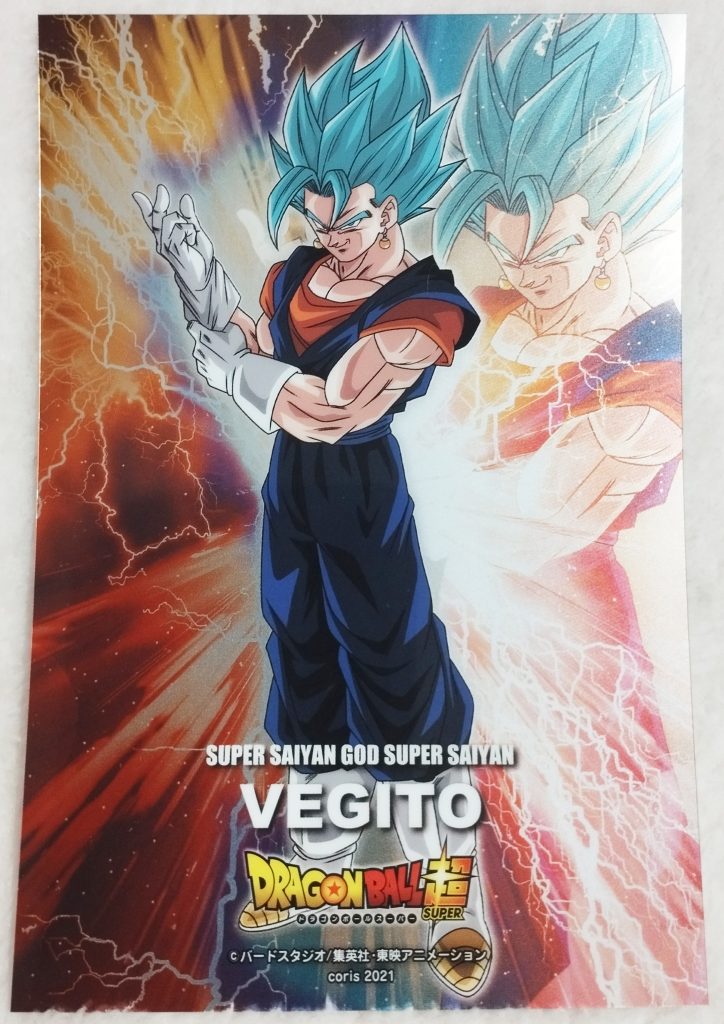 Super Saiyan Rosé Goku Black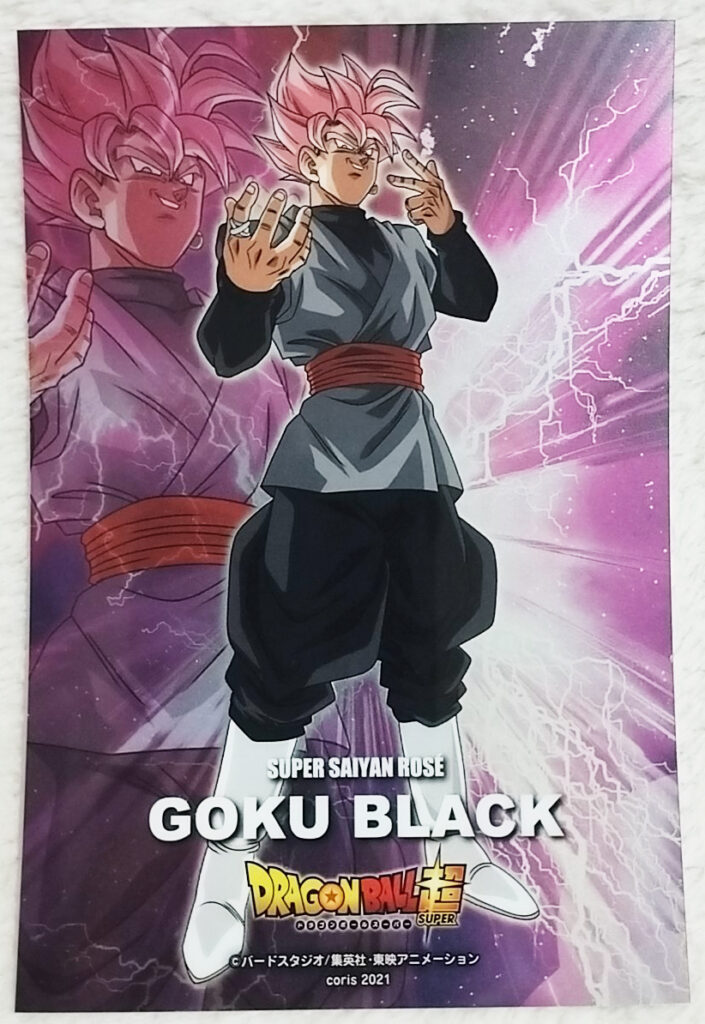 Trunks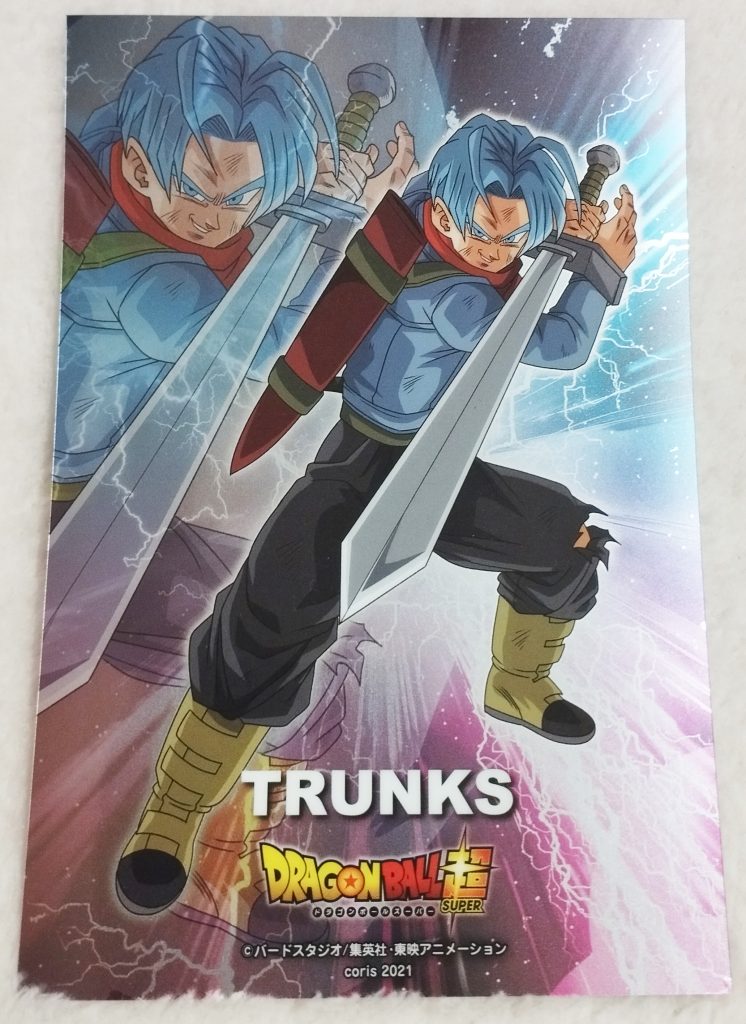 ---
One of my other collections is video games, and I buy a lot of imported Japanese ones from a seller online. They've done so well they've gotten a physical store now in Scotland. Because of this they started to expand their selection, including imported drinks and snacks. They had gotten amongst that these candies in.
I always like little collectables that come with candy. They are usually cheap and hard to find later because they are so niche (I still want to gain more of these Pokémon dia's that came with biscuits!). So I looked through their snacks to find any that came with freebies, like these Metallic Sheets, and added one to my order. I had no intention of getting them all, but I was curious what one would look like.
I was quite shocked how big the packaging was actually. I did not realise how large these sheets were! I had hoped for a Vegeta of course, but I got a Trunks (2nd best I guess). The gum tastes surprisingly nice too actually, but the flavour only lasts for a minute if that, and the gum itself isn't that elastic or nice to chew. Not a fan of the designs of Dragonball Super, nor that impressed with the large yet thin sheets, I figured I'd leave it at that. But when I made a second order I thought I add another for fun, still hoping for a Vegeta. This time I got Goku.
They were quite expensive here (£4), and I couldn't find much info of them at the time, so I left it at that. But then I ended up in London for 3 days and found them slightly cheaper at the Japan Centre (£3.50). I bought three more with my lunch here, one for each day, seeing they were right there and cheaper than before. This gave me Broly, Frieza and Vegito.
I managed to find more information on them now, mainly that this was already series 4, and there are 16 total to collect in this set. I figured that's not too many to attempt to get, but with the expense I wasn't going to order these online anymore.
But then I found my local toy shop (which is really small and independent but has a drink/snack section for some reason) has started to get imported drinks and snacks and amongst that were these. And the cheapest of all so far (£2.50)! This set has started to grow on me and now with easy access to them I'm compelled to attempt a full set. I've bought two more so far, which gave me Krillin and a dupe. A week later I bought two more, which finally gave me Vegeta and what I believe is a rare! Another week and I got Android #17 and another dupe. I've kept trying, buying one or two each week, but now I have 13/16 and 4 dupes. I hope to trade for the remaining ones now.
It's giving me a real nostalgic fun, of buying card packs / gum and trying to get them all just like when I was a young teen. I'm not super invested though so this eases the frustration and just adds a bit of fun to my grocery shopping time. Whenever I'm in town now I'll buy at least a pack and hope for a new one to add.
As I couldn't find any images of these online, let alone a full set, I'm showing them here in the hope to help others. Besides the ones I got so far, I know there's also a Super Saiyan Son Goku as it's the example on the back of the packaging. So that's almost the set figured out. Here's to finding more of them!
If anyone would like to trade, I got Broly, SSJGSSJ Goku, Trunks and Frieza double.
---
Got any more details / information you think I should add? Or did I get something wrong? Do you own any of these sheets? Or do you have the full set? Would you like to trade any? Do you agree or disagree with my findings? Let me know in the comments below!