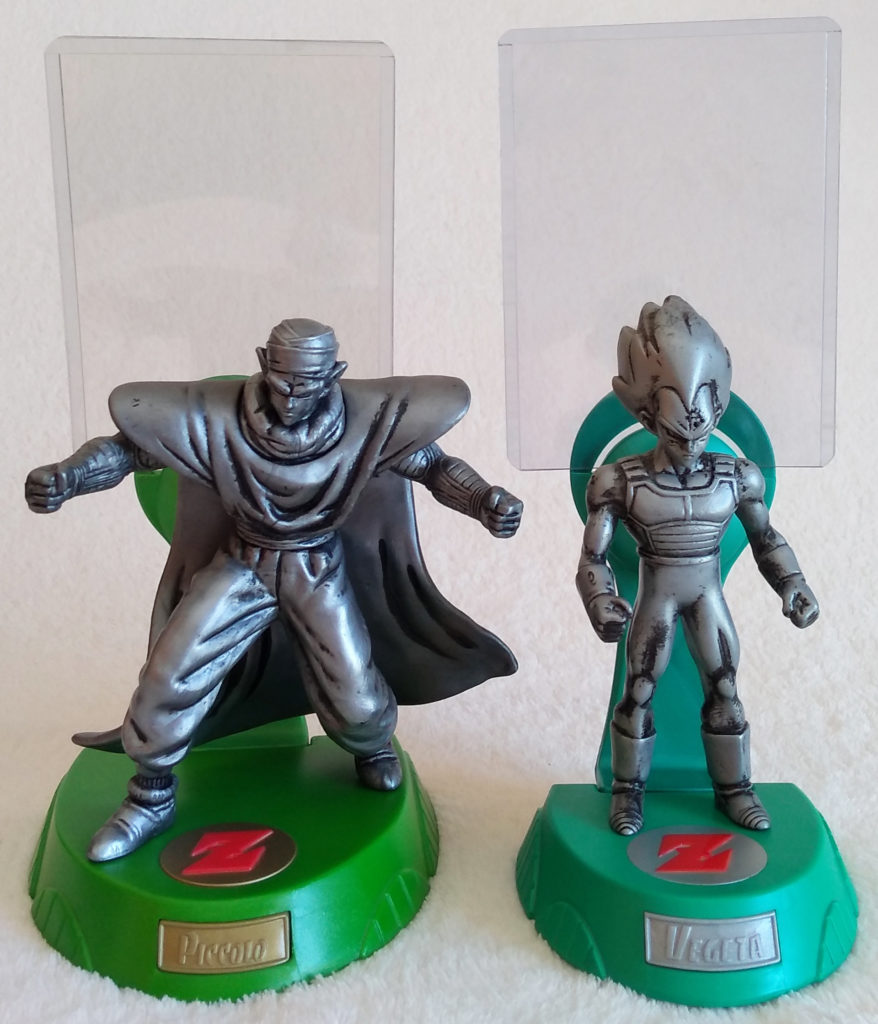 Series: Dragon Ball Z
Company: Burger King
Year: 2000
Size:  +/- 13 cm
Main distribution: Burger King Kids Meal
---
These are a set of 7 Dragonball Z toys that came with Burger King Kids Meals in 2000.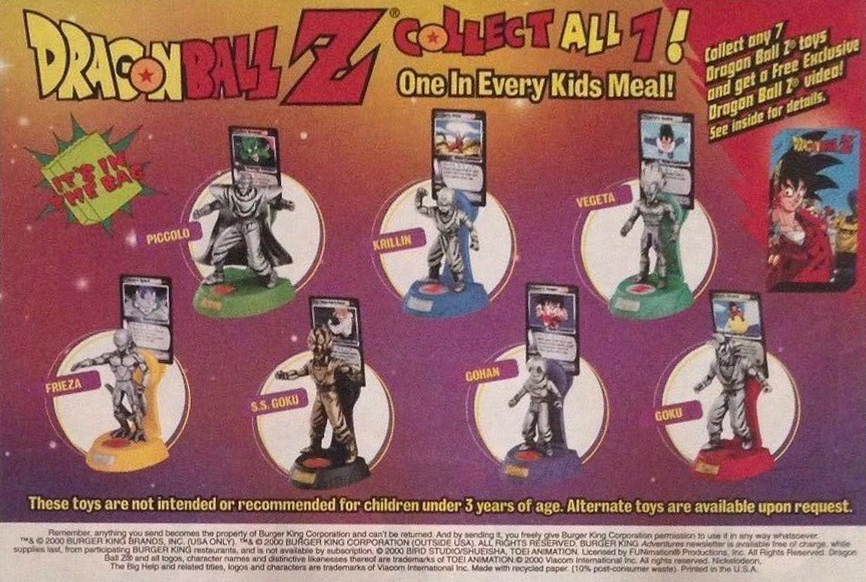 With each Burger King Kids Meal you would get 1 out of 7 of these figures. Each figure came with a base that held an official DBZ CTCG card.
The set existed out of Piccolo, Krillin, Vegeta, Frieza, Super Saiyan Goku, Gohan and Goku. All of the figures were silver, except the Super Saiyan Goku which was gold. Each figure had its own coloured base, with a numbered Dragonball. The figures can stand without the base fine as well.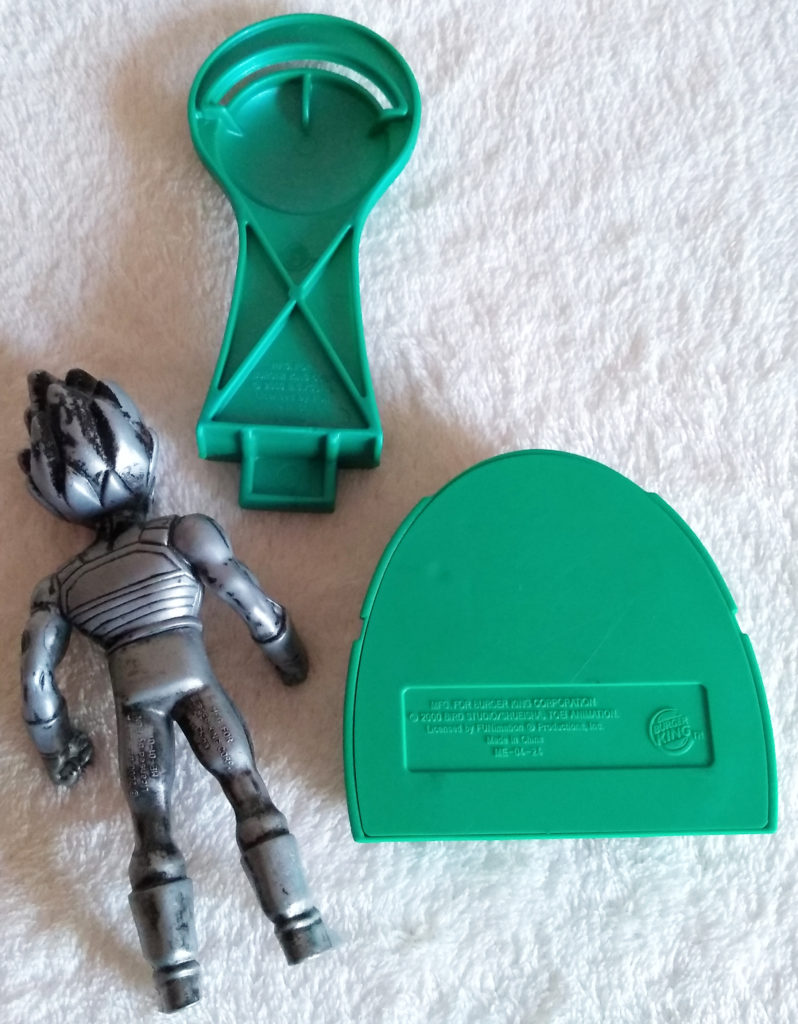 Each part had branding on it. It reads in raised font: MFG. FOR BURGER KING CORPORATION © 2000 BIRD STUDIO/SHUEISHA, TOEI ANIMATION Licensed by FUNimation ® Productions, Inc. Made in China. Figures and smaller parts had this with abbreviations. Parts also had the Burger King logo.
I have 2/7; Piccolo and Vegeta.
#1 Piccolo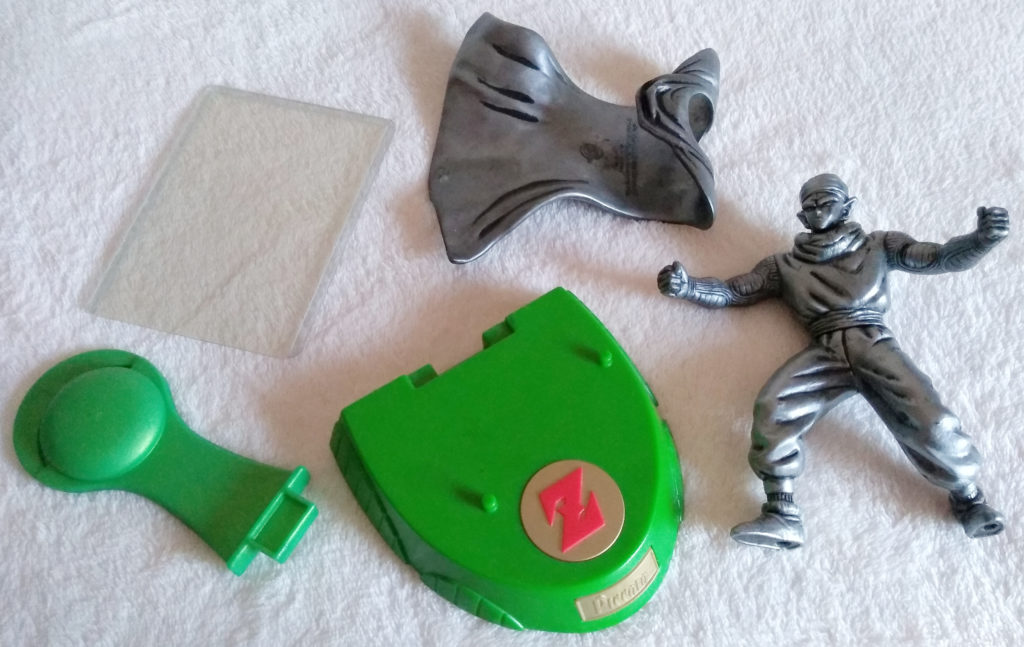 Piccolo came in 4 pieces; the base, cardholder, cape and figure. Piccolo's base is green. It has a Z logo on gold on it and his name in gold at the front. The Dragonball on the card holder is a 1-star Dragonball. Piccolo can remove his cape.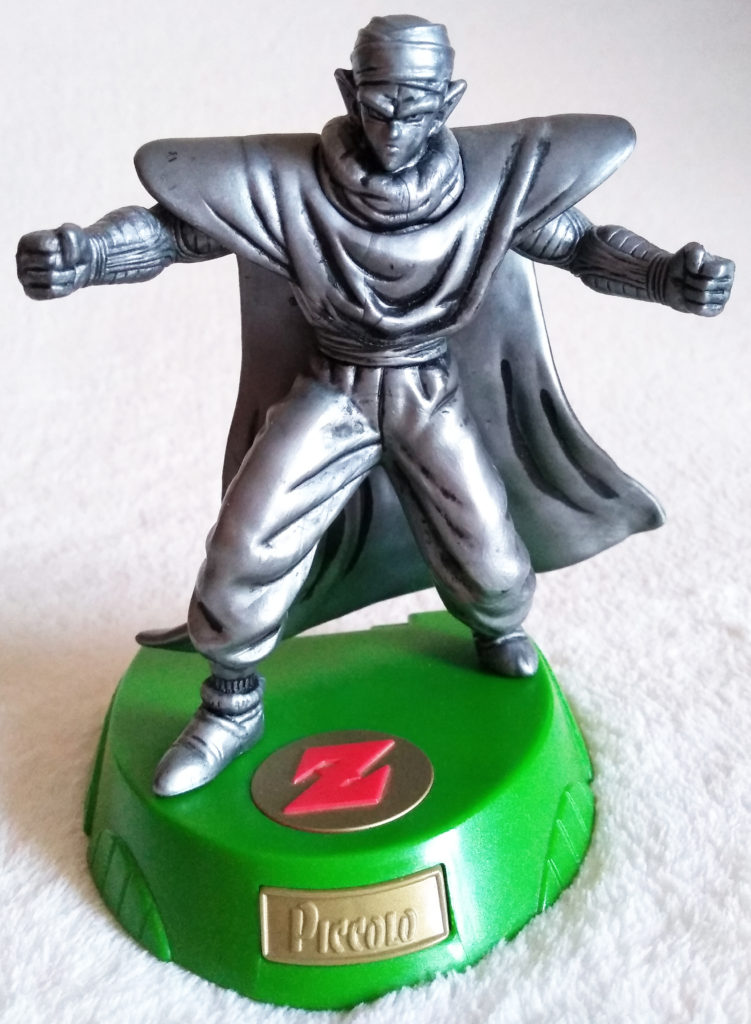 Piccolo stands with his legs and arms wide, his hands are fists. He has a stern expression on his face. He is painted silver, with black shading. Due to his stance his base is quite large compared to the other ones.
#3 Vegeta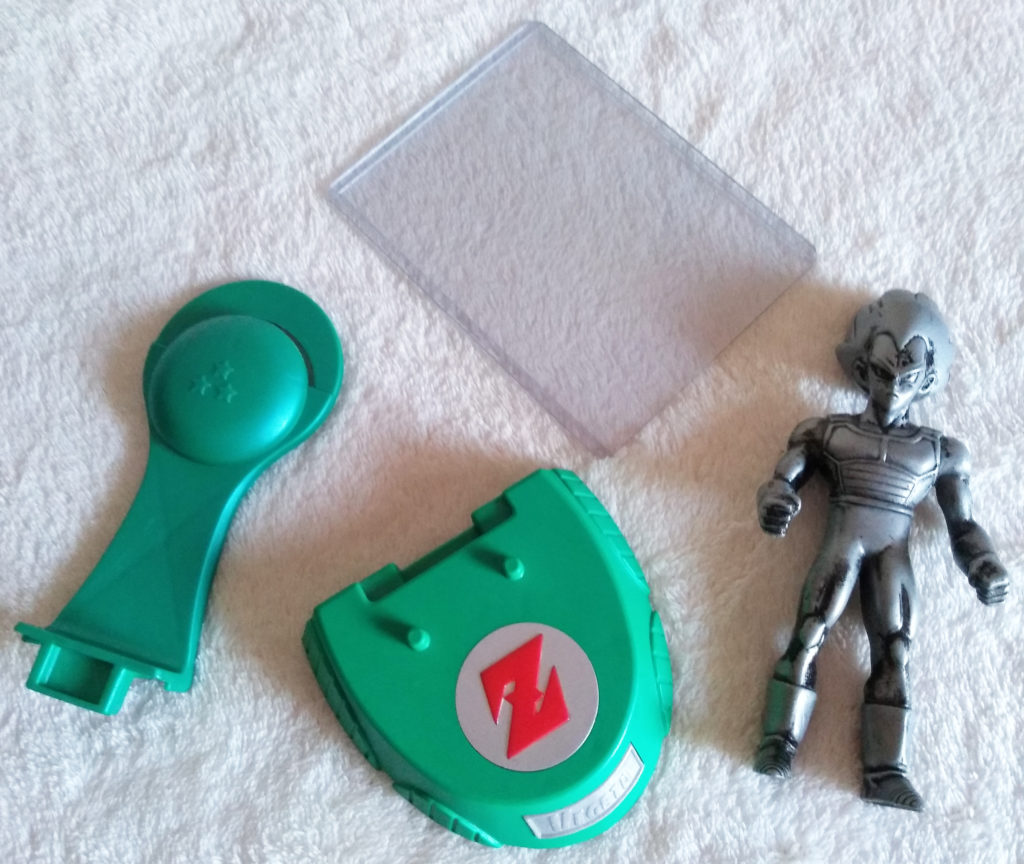 Vegeta came in 3 pieces; the base, cardholder and figure. Vegeta's base is a blue green. It has a Z logo on silver on it and his name in silver at the front. The Dragonball on the card holder is a 3-star Dragonball.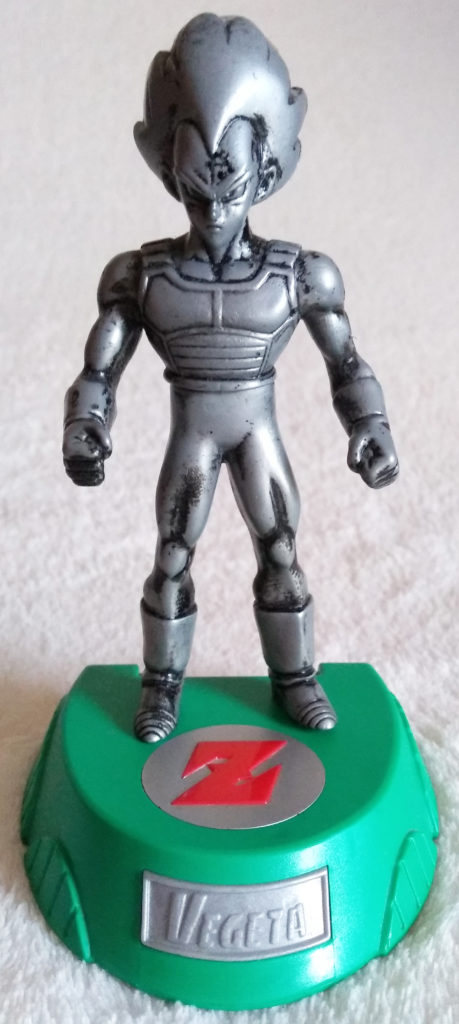 Vegeta stands straight, his hands are fists. He has a stern expression on his face. He is painted silver, with black shading.
---
Burger King wasn't a big thing in the Netherlands. The first one opened in 1981 in Rotterdam, which was a large city nowhere near me. The Burger Kings mostly appeared in the North in the larger cities. It's still not a big thing really. Netherlands has a little over 60 Burger Kings now, for comparison there are about 250 McDonalds.
I lived in the South, in Limburg. The first Burger King that opened in Limburg was in September 2019! And even this would still be several kilometers away from me in Hasselt, not a place I would have quickly visited as a kid.
So when I found this Piccolo on a local market I had no clue what Burger King was, apart from an American McDonalds kinda place. I thought the Piccolo was cool, and when I looked up the others, I wanted a Vegeta of course! I found Vegeta not much later online and bought him.
I don't know if the hard plastic card protectors originally came with it, but mine did. The cards I've put with my other cards safely in a folder.
I liked their silvery look as a kid. They have no articulation however (my Vegeta can turn his waist but not sure if that's intended). They looked like statues to me and felt prestige. When playing, the Vegeta was always some sort of old Saiyan statue, like an old guardian or something. Piccolo was cool too. We played he got frozen to stone, like in the DBZ Babidi Saga.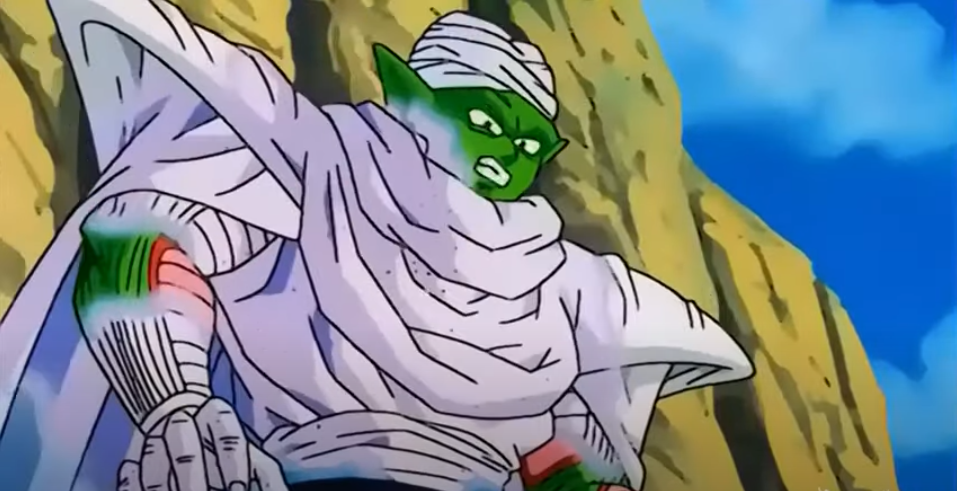 These are definitely some of the best fast food toys I have ever seen. I like that I got my favourite, and Piccolo was great for play, but I'm not that bothered about the others to be honest. These are just nostalgia for me and I wouldn't go looking for the rest.
Still, they make cool display pieces, and could also be used for holding notes or pictures. They are not that expensive either.
---
Got any more details / information you think I should add? Or did I get something wrong? Do you own any of these figures? Which one is your fav? Do you agree or disagree with my findings? Let me know in the comments below!