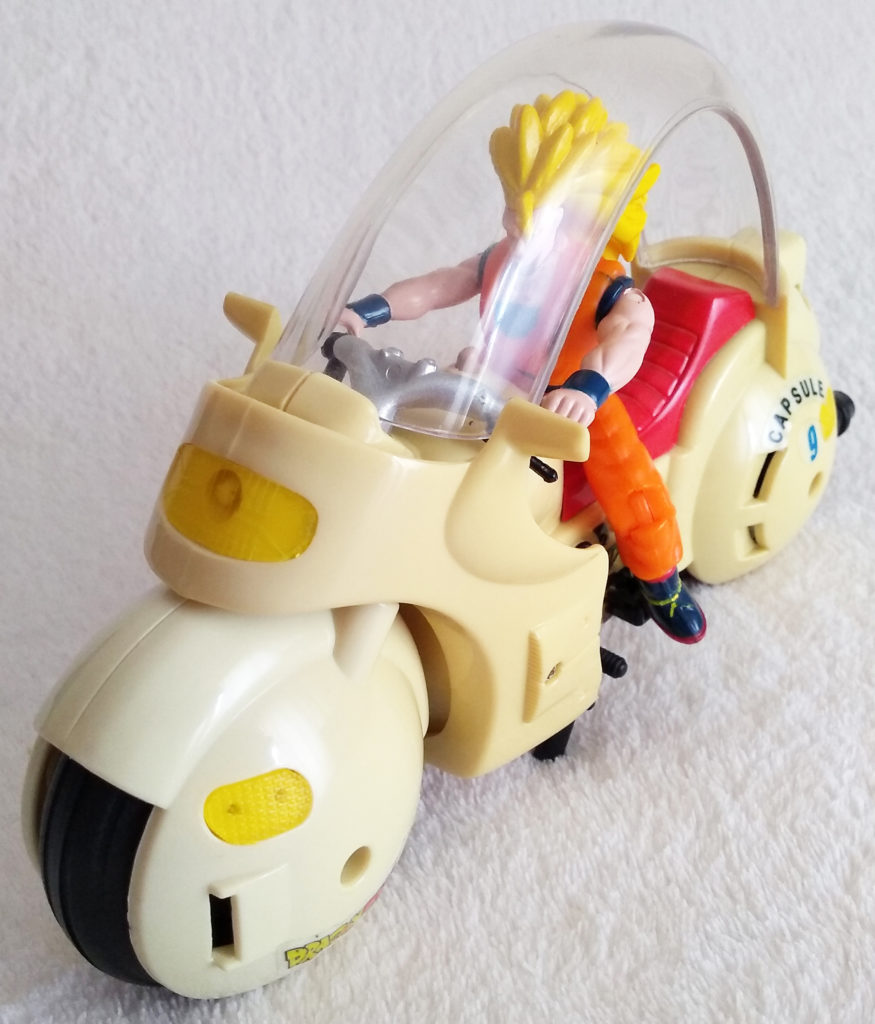 Series: Dragon Ball Z
Company: AB Groupe (Re-released by KidzBiz, Giochi Preziosi)
Year: 1996?, 2000
Size: 20cm long, 12cm high
Main distribution: Europe
---
AB Groupe (now Mediawan Thematics) is a French broadcasting group, and the distributor of the Dragon Ball merchandise for European and Canadian markets. They made the English dub for the Dragon Ball Z movies in the Netherlands (based of their French dub), with awkward changes like Piccolo being "Big Green" and the Saiyans "Space Warriors". As terrible as that dub was, their toys were one of the first you could get in Europe. Their "Super Guerriers"/"Super Guerriers Articule" line is well known, but they also made other toys alongside it, like vehicles such as this motorbike.
I'm not sure when the original release was, but I'm guessing around 1996 like the rest of their merchandise. It seemed to have come in a plastic box with a silver bottom.
"The Legend is here" is a 2000 re-release of their merchandise by KidzBiz. They also have the Italian Giochi Preziosi logo on them, so they might be related.
That is the version I got.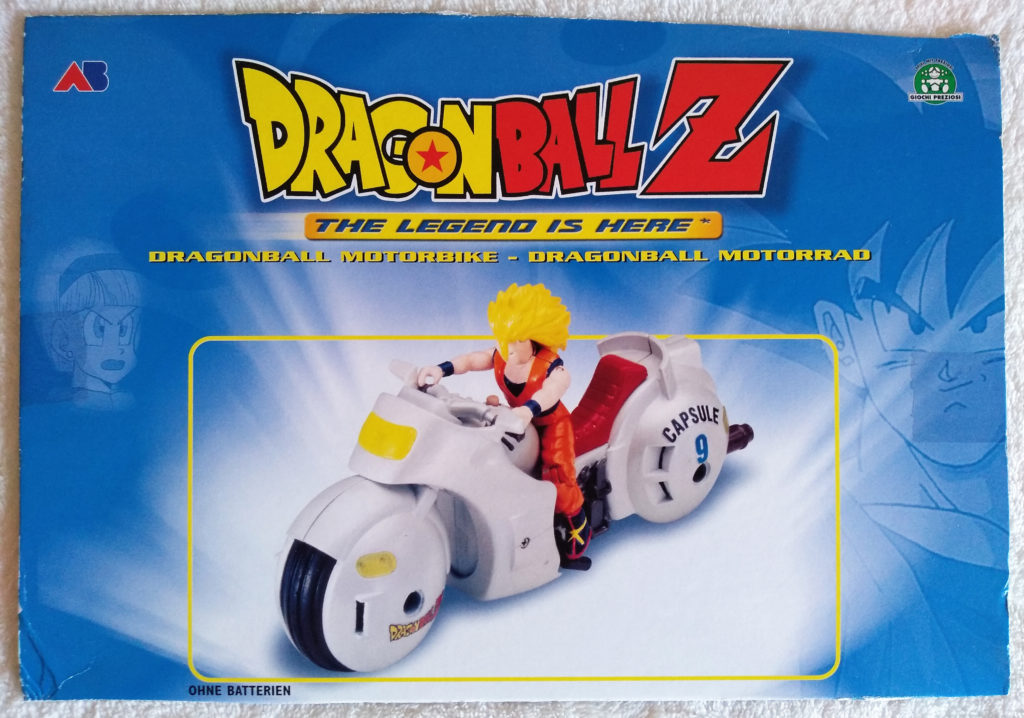 Interestingly the packaging doesn't show the plastic windscreen / roof that comes on top of the bike which makes it so iconic. Perhaps this was hard to photograph without glare?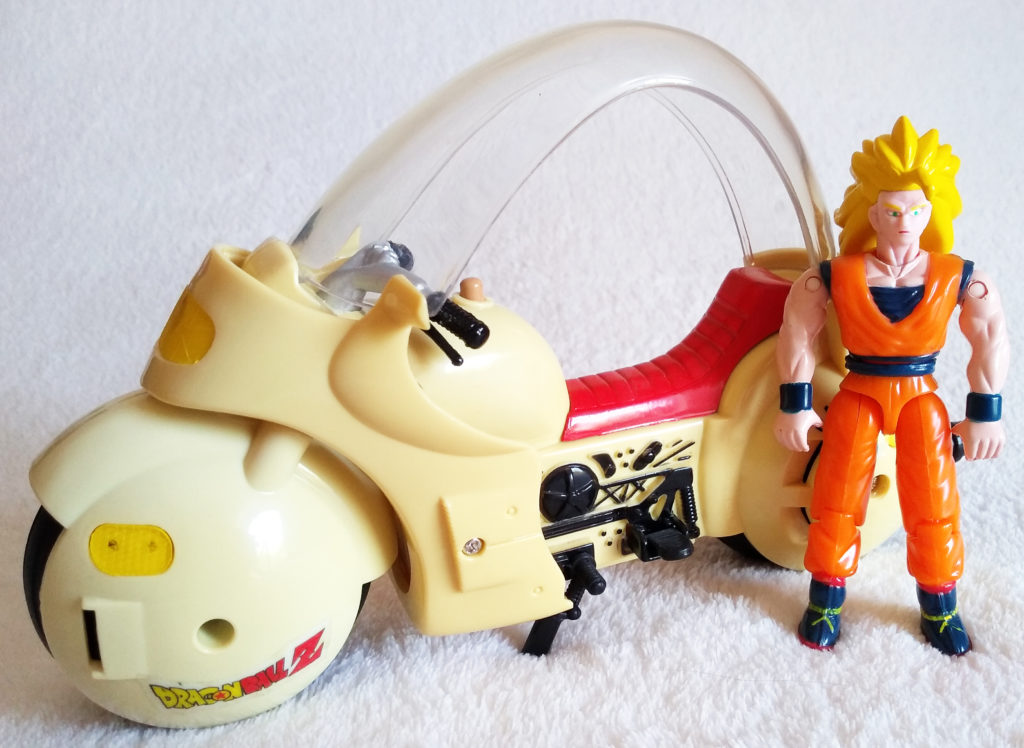 It comes with Capsule 9 Motorbike of Bulma and a small figure Super Saiyan 3 Goku.
Goku's legs are attached to his waist by a rubber band, giving him a flexible waist which is needed to pose him on the bike. He has bendable knees and can turn his arms by the shoulder. His hands are open, to grip onto the handle bars of the bike.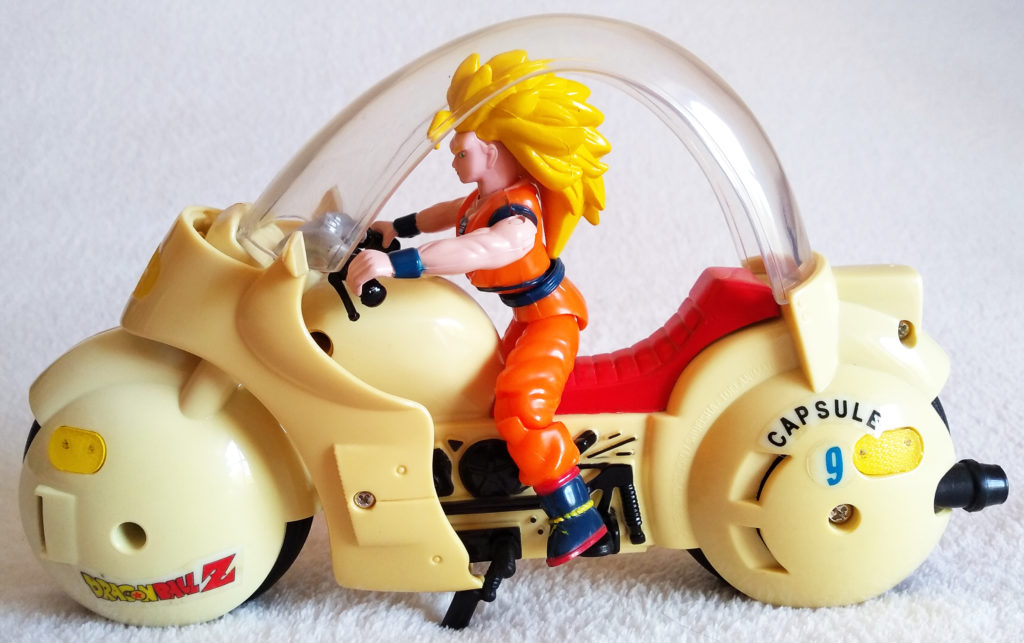 The motorbike is quite faithful to the original design. Decal are stickers, which were already on it in the box (I didn't place them myself). The kickstand can be lifted, as well the as the foot rests. The steering wheel and wheel turn. It takes batteries in the bottom and lights up and makes sound by pressing the button at the top of the gas tank. I never put batteries in mine.
It's supposed to be white, but mine yellowed over time.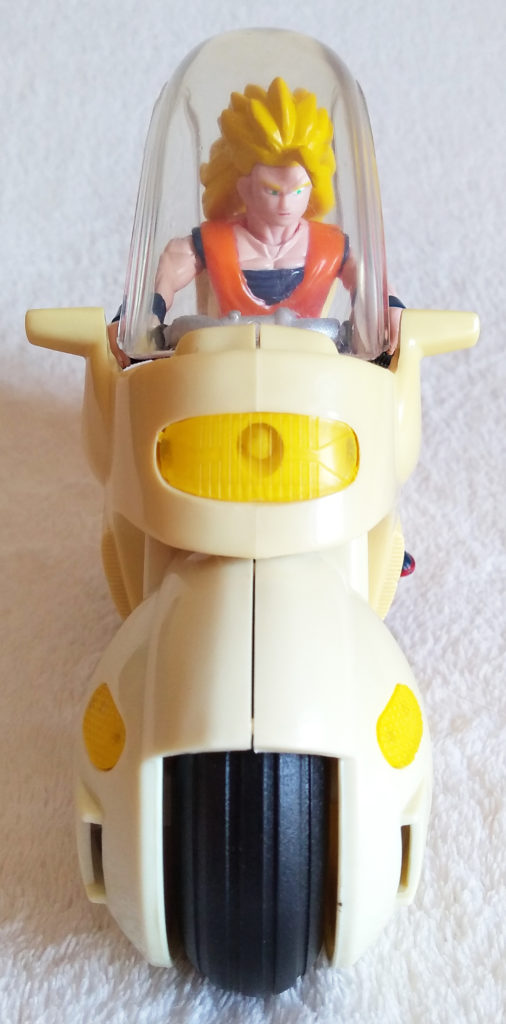 It has thick wheels, giving it quite a large base. Including the kickstand, it can stand upright on its own easily.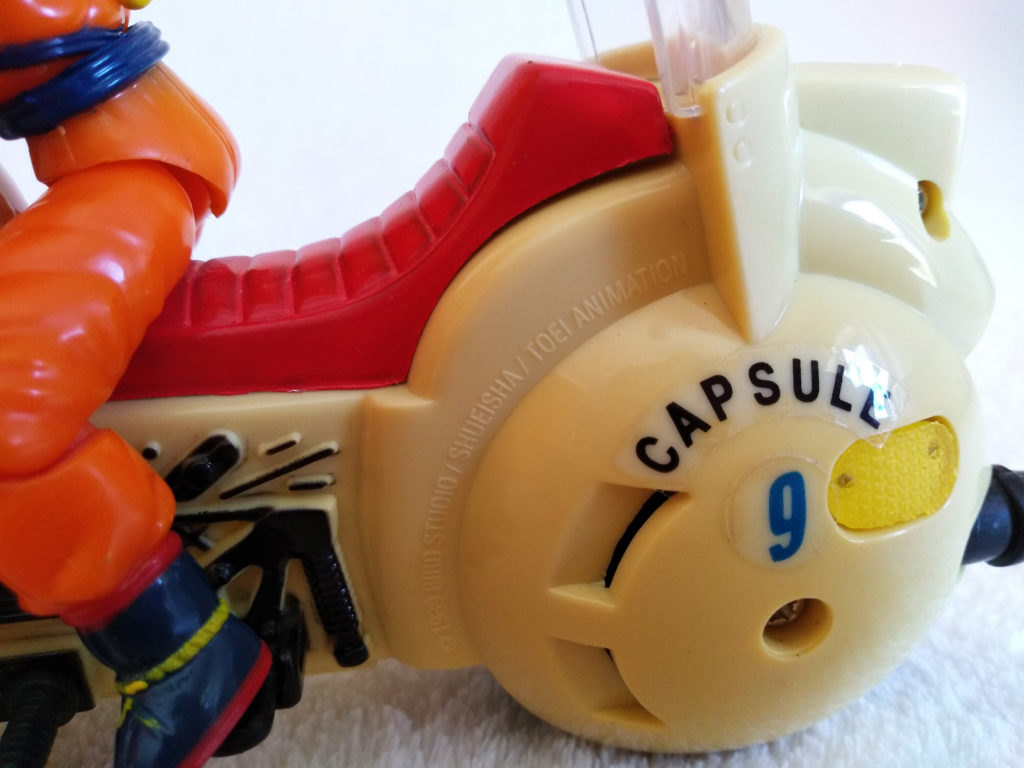 The branding is along the side of the back wheel. It reads in raised font: © 1989 BIRD STUDIO / SHUEISHA / TOEI ANIMATION. There's also branding under Goku's feet, reading in raised font: © 1989 B.S./S.T.A. CHINE CHINA.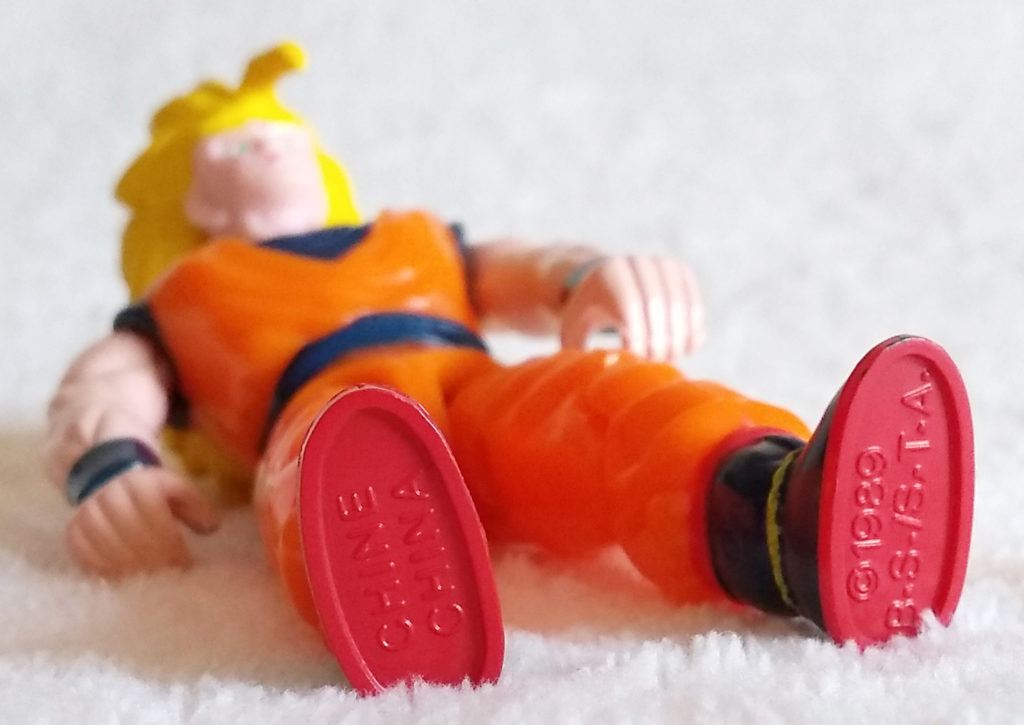 Other vehicles AB Groupe made is a hover car, Mr. Satan's car, a 2 person spaceship, the heavy-gravity chamber spaceship and Frieza's spaceship.
---
I was a massive Dragonball fan at the time, and one of the first series I truly collected besides the Lion King. I spent all my pocket money on these, and harassed my family to go out to the bigger cities so I could buy these once I had saved up some.
My aunt would regularly drive me to Aachen just over the border in Germany where I would buy several of these. I found Germany had lots of the KidzBiz figures.
This was a time before internet, and we hunted for these figures in all the shops. Trading and selling on was a huge part of collecting, especially then, and it created some cool friendships.
I think I bought this one as a kid in Aachen. I had found this large department store, which sold mostly clothes, that had a small toy section on the upper floor that was filled with "The Legend is Here" merchandise. It was an odd place to find these, but I wasn't complaining! I bought lots of stuff there, some of it sold on again.
I always loved Akira Toriyama's vehicle design. There is something familiar and classic, yet futuristic about it. So when I saw the motorbike I knew I wanted it.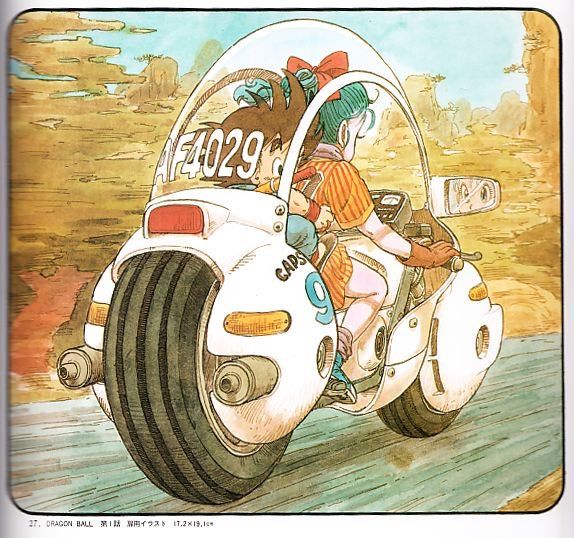 I always found it odd it came with a Super Saiyan 3 Goku though. It was Bulma's bike, capsule #9. If Bulma wasn't "cool" enough, at the very least it could have been kid Goku riding it like he did once in the anime?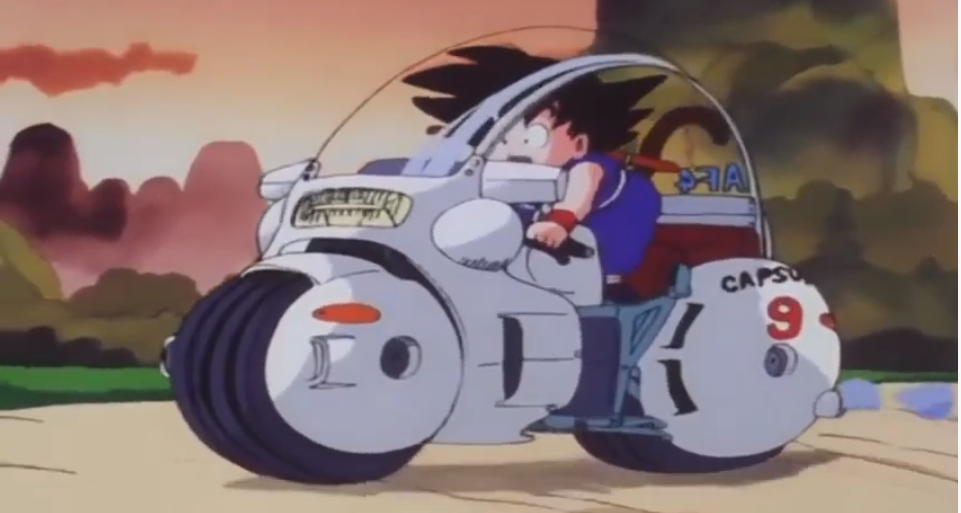 Perhaps an adult with long hair was more fitted for a motorcycle? Who knows! As much as I like the motorbike, I'm not a fan of the Goku. His Super Saiyan 3 hair seems too short, reaching his waist rather than his knees, although this is probably so he fits better on the bike. I'm not liking the rubber band inside him either. Again, this was common back then on figures and makes him flexible enough to get on the bike, but I'm terrified that rubber band is getting brittle and will snap one day…
I'm also sad my bike yellowed. I never placed them directly in sunlight, but my childhood bedroom had a skylight, so maybe the sun got to it in the end. Or perhaps it's just one of those plastics that discolours over time.
Still, I love the bike and I hope to get more of Akira Toriyama's iconic vehicles.
---
Got any more details / information you think I should add? Or did I get something wrong? Do you own any of these figures and vehicles? Which one is your fav? Do you agree or disagree with my findings? Let me know in the comments below!