-I no longer own this merchandise and this post has therefor been archived-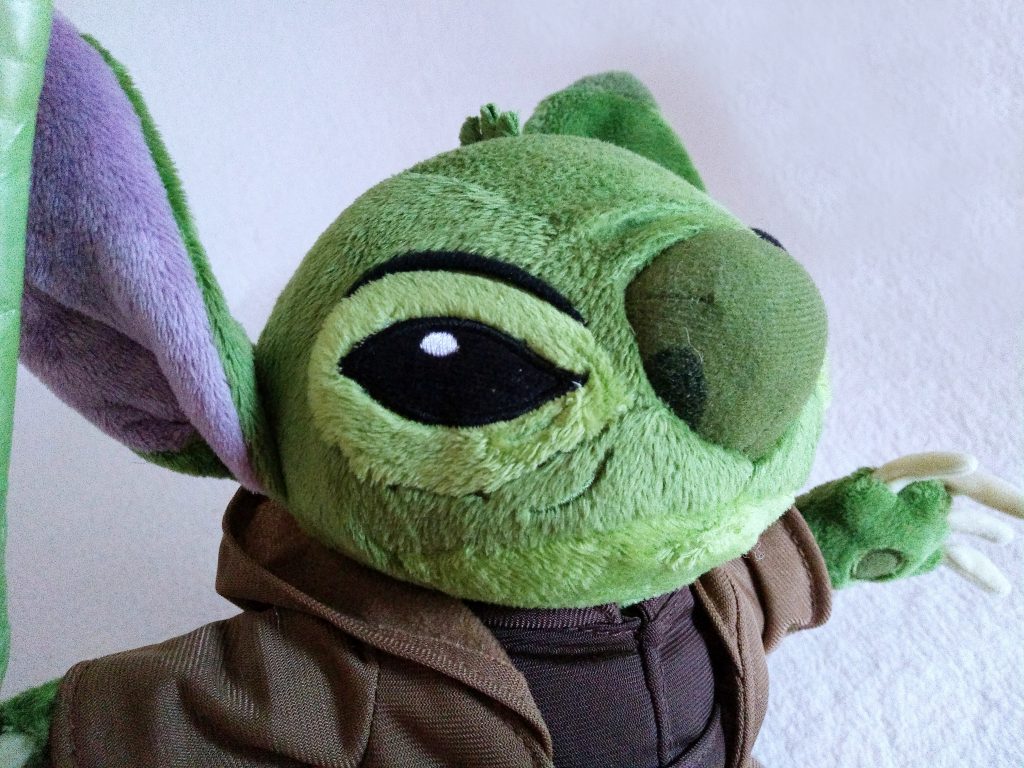 Series: Lilo & Stitch / Star Wars
Size: 23~26 cm
Main distribution: Star Wars Weekends at Disney's Hollywood Studios in Walt Disney World Resort
---
The Disney Star Wars Characters were released exclusively during Star Wars Weekends at the Disney's Hollywood Studios in Walt Disney World Resort between 2007-2015. This was in a time before Disney owned LucasArts and they cutified the Star Wars brand by having Disney characters dressed up as Star Wars characters. They used the original trilogy, the prequels and the Clone Wars cartoon for this.
In 2012 Disney purchased LucasArts and decided to take the Star Wars brand more seriously. Star Wars Weekends discontinued in 2015 as Galaxy's Edge and a general larger Star Wars presence was now in the park.
Many figures and plush were made over these years, and many were re-released. This is the plush of Stitch as Yoda.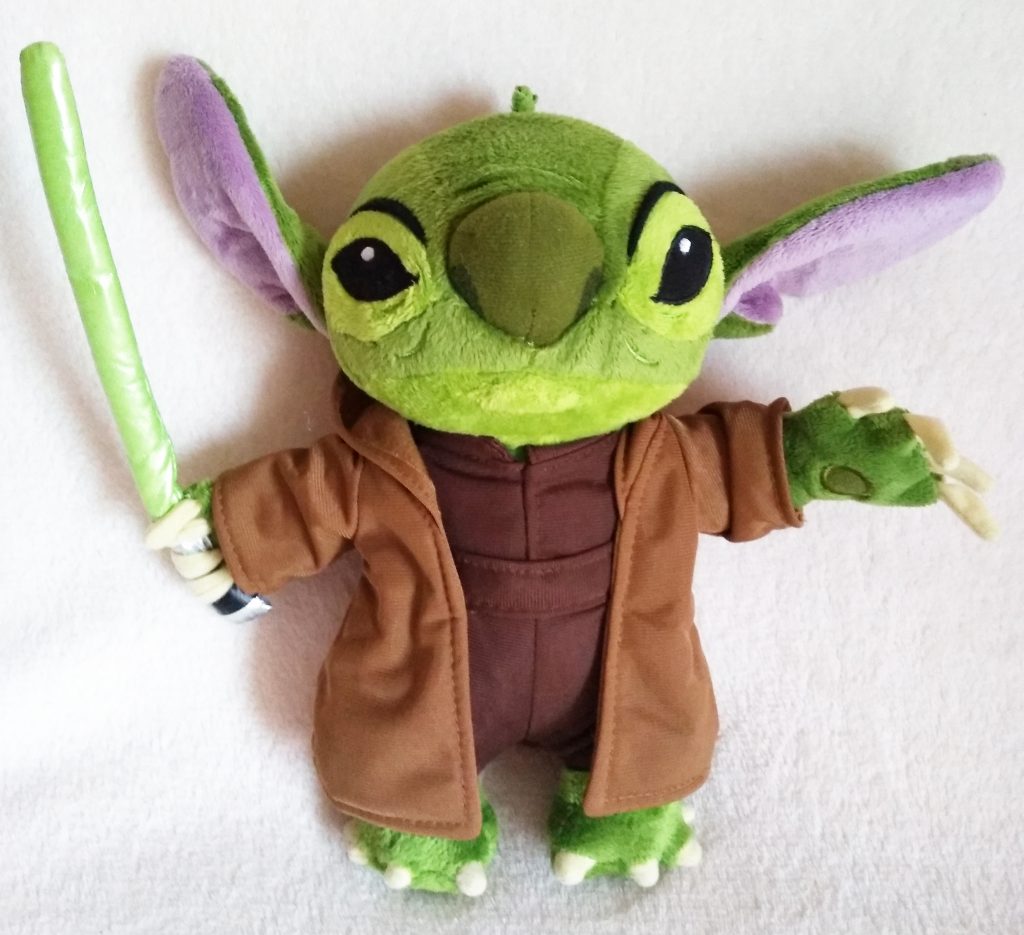 Stitch here is depicted as Yoda. His usual blue skin / fur colour has changed to Yoda's green. He wears Yoda's dark brown outfit and has a brown Jedi robe on. He is in a standing position, with one claw outwards as if using the Force, and the other holds a green Lightsaber fully extended.
He is made of a soft fabric with a short pile and has embroidered face features. His eyes are squinting. His ears are upwards, although floppy and tend to fall down.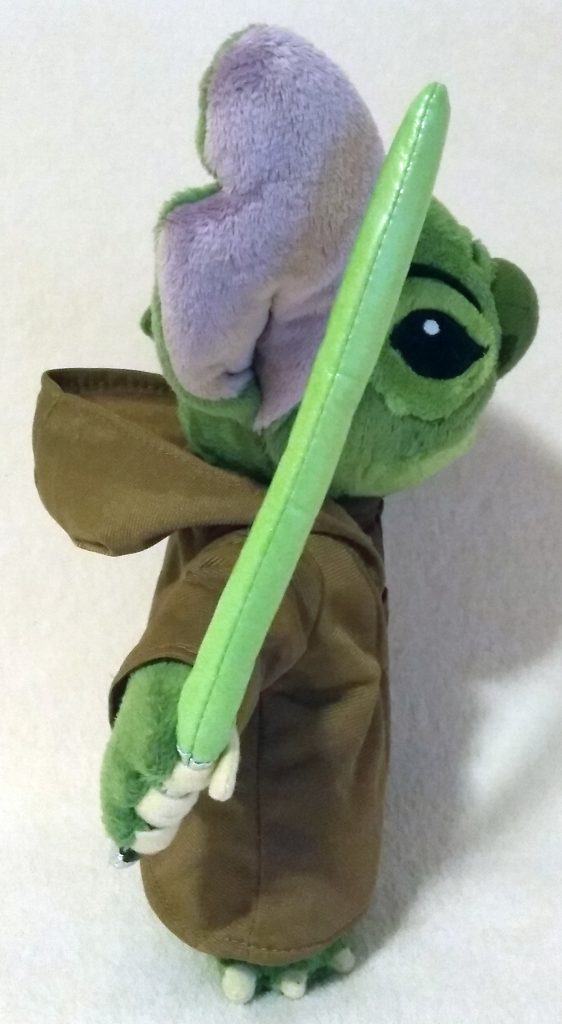 His proportions seem ok. His Lightsaber is made of a shimmering fabric.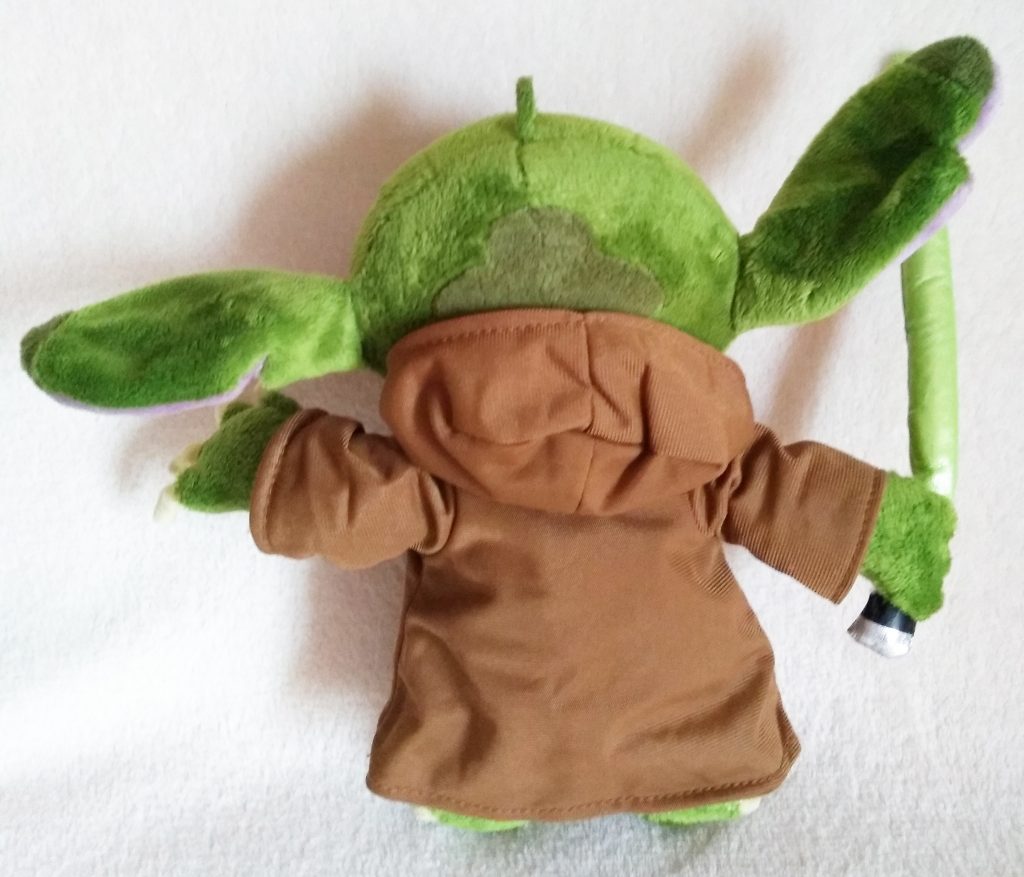 He can not stand upright on its own due to it's heavy head and thin legs. There appears to be no tush tags on mine, nor a hang tag.
---
Lilo & Stitch is probably my second favourite Disney movie (after the Lion King). The rebellious and not typical Lilo resonated with me and Stitch is all things I love (blue, dog, alien). Although I prefer Chris Sander's original pitch (Stitch being a bad ass space criminal instead of an experiment gone rogue) the movie is enjoyable to watch and so different from the previous Disney movies. Stitch became one of my favourite Disney characters. His mannerisms are cute to watch and his voice is amazing.
Although not a Star Wars fan, I've come to appreciate it more since I have worked with the IP. I also enjoyed Disney's Episode VII The Force Awakens and the recent TV series The Mandalorian.
The marketing campaign Disney did here is not my thing however. I rarely like crossovers. Stitch has been depicted as Emperor Palpatine, Yoda and General Grievous, but I think Yoda suits him best due to both of them having an oval head, big eyes and long ears.
I found this guy in a charity shop near my boyfriend's parents in England. I bought him because it's Stitch, and the recent baby Yoda made Yoda in general cute.
However, he just doesn't really fit my collection. I've still wanted to catalogue him though, although I've been struggling to pin point the year of this plush's release. The lack of tags and the many re-releases in this series makes it hard. This Stitch has now been sold.
The photo's are, as always, of the actual plush in hand and not stock photos.
---
Got any more details / information for me to add? Do you know what year this plush released? Did I get something wrong? Do you own the same plush? Do you agree or disagree with my findings? Let me know in the comments below!