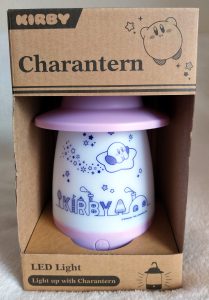 Company: SK Japan
Release: March, 2018
Size: 19 cm
Main distribution: Japan
Barcode: 4544815040531
---
Charantern are cute little LED light lanterns with various characters on them. Hence the name Char(acter)(l)antern. This is a Kirby Charantern.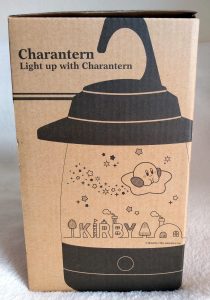 It comes in a cute, old fashioned, cardboard box with dark printing on it.
The bottom area can be twisted off to insert 3 AA batteries. The little button at the bottom turns it on and off.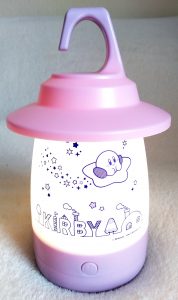 The lantern is a soft purple / pinkish colour which suites Kirby. The image in the center is of Kirby flying on a star through the night sky. It gives of a bright, white LED light when lit.
---
I saw the Kirby Charantern advertised in the SoKawaii monthly subscription box. This was the July 2019 box with the Dreamy Vacations theme. My boyfriend has done several subscription boxes that were in my opinion disappointing, so I was a bit hesitant. It always feels like they are trying to give you tat and old stock, or worse, fake items. But I loved the look of the lamp, and they had advertised most of what was in the box, and it was good value for money so I ordered this box. And everything inside was legit and so kawaii! Hence the name I guess.
That said it is clearly old stock. This lantern came out over a year prior. But I don't mind! It looks and works great. The shape reminds me of camping as a child, it's in a cute pastel colour and it has Kirby!
It's a nice little light that I currently have hanging above our guest bed to use as a little light around bedtime. Many have commented how cute it is!
If you need a little light with some character, this one is great. I don't know how long the batteries will last as I don't use it that often, but so far so good. It does feel very plastic-y and hollow however, which can come across as a bit cheap, but I really like it. And I got it with many other things all for around £30, so I can't really complain. If you can get one for a good price, you'll enjoy it.
---
Got any more details / information? Did I get something wrong? Do you have one of these? Or order subscription boxes? Let me know in the comments below!