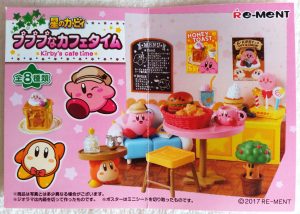 Company: Re-Ment
Release: 2017
Size: various
Main distribution: Japan
Barcode: 4521121203638
---
Re-Ment makes various blind boxes with cute little items and / or scenes of a multitude of IPs. This series is called "Kirby's cafe time" featuring Nintendo's Kirby. The set exists out of 8 parts.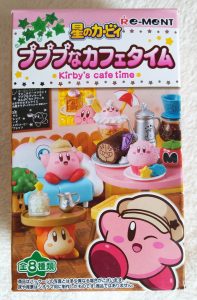 The 8 parts come in a blind box. Each box depicts the whole set and it'll be a surprise which one you get.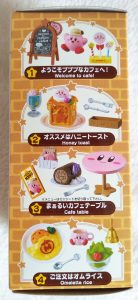 On the sides are the 8 parts printed. 4 on one side, and 4 on the other.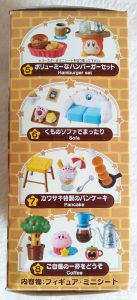 I only got #7; Pancake.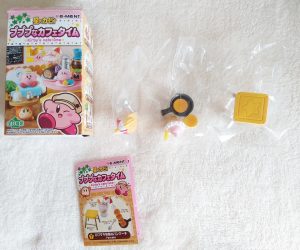 Inside the box you'll find a leaflet with your part, and the pieces in small, joined plastic bags.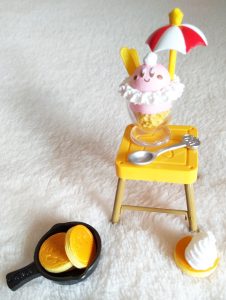 #7 Pancake contains 4 pancakes with Kirby character faces on it, a little frying pan, a tuft of whip cream, a stool with a star on it, a Kirby themed ice cream coupe with parasol and a little spoon with the tomato power up on it.
The quality of the items is great with excellent colouring.
---
I love the little sets Re-Ment comes out with. The Kirby and Pokémon themed ones are my favourites, but I've seen several others I'd enjoy too. The doll house like stuff is great for making little scenes and toy photography.
Although it's ideal to get a full set, this can get quite expensive so for some I just buy a random box and let myself be surprised. If I want a full set it'd be cheaper to find a full set online and buy that then getting random boxes in the store.
I love tiny foods so the Kirby's cafe time series was great to get a random one out of. I don't need the whole set and I like all of them really, so I wasn't too bothered which one I would get. I was secretly hoping for #7 Pancake or #5 Hamburger set so got really lucky I guess!
Although primarily sold in Japan I've seen several stores importing these now, especially the Pokémon series so it's fairly easy to get these. However, they are quite expensive for a blind box and range from around €/£ 7~12. Getting a full set by buying them randomly and potentially getting doubles can therefor get expensive! I can usually find a full set for around £40, which comes down to £5 each, which is a bit more doable.
I bought this particular one in a shop in Amsterdam as a little treat and lucky dip for myself. If these were cheaper I'd probably buy a lot more of them. The quality is amazing and the tiny items are very detailed! They would be very dangerous impulse buys!
If you like small, scaled, doll house like items Re-Ment is something you want to look into. If you like food or Kirby this series is highly recommended!
---
Got any more details / information? Did I get something wrong? Do you own the same figures or the full set? Let me know in the comments below!