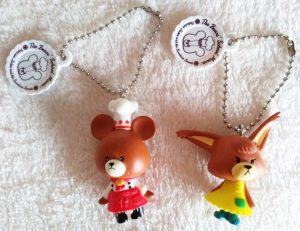 Serie: The Bears' School
Company: Bandai
Release: August 31, 2017
Size: 5 cm
Main distribution: Japan
Barcode: 4549660189459
---
These are little ballchain figure mascots of the anime movie 'Eiga Kuma no Gakkō: Patissier Jackie to Ohisama no Sweets', or 'The Bear's School Movie "Patissier Jackie and the Sunshine sweets"'.
They are small, non poseable figures on a ballchain that also comes with a plate. They were released with the movie. The figures look cute with some detail and have a good paint job. There are 5 in the series. I got 2 figures, #1 Jackie and #5 Sue.
Jackie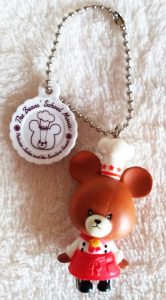 Sue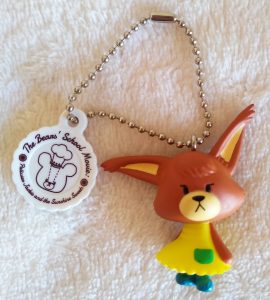 On the back of their heads is the branding and reads © B/TBSMP B. CHINA 2398865 and has the 4 dots Bandai stamp.  The plate has on the back also © B/TBSMP and the 4 dots.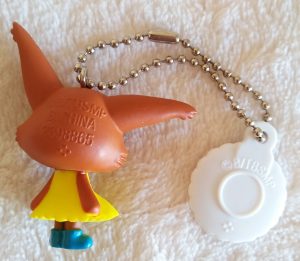 They come in an adorable little box packaging that looks like a tiny sweet shop. The clear window at the front shows which figure you get.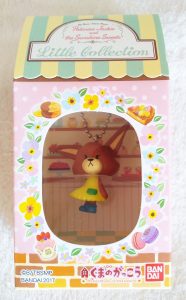 ---
I don't know anything of the anime or children's book series, but when I saw these figures I just loved them. It reminded me of Maple Town and Animal Crossing. Sue kinda looked grumpy to me and I thought she was cute, so I bought her. When I visited the shop months later and saw they still had them, I bought Jackie as well, a cute little chef bear. Not much else to say about this, just cute little keychains I bumped into.
The detail and paint looks great and they can stand up on their own as well despite the tiny legs.
If you like cute small things for cheap, I think it's a good buy.
---
Got any more details / information you think I should add? Or did I get something wrong? Do you own the same figure or have the set? Do you agree or disagree with my findings? Let me know in the comments below!