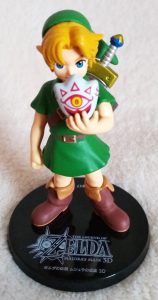 Serie: The Legend Of Zelda – Majora's Mask 3D
Company: MediCom Toy Corporation
Release: May 30, 2017
Size: 7.5 cm
Main distribution: Japan / Worldwide
Barcode: 4530956153131
---
This is a figure of Link from the video game The Legend of Zelda: Majora's Mask 3D. It's from the UDF series, which stands for Ultra Detail Figure, and it's #313.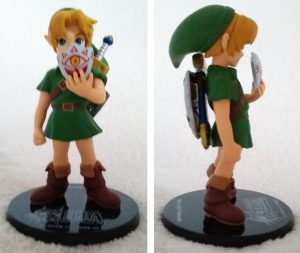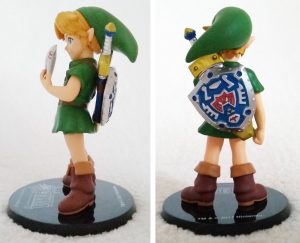 It's a small, non poseable figure on a black base. The base has the game's logo on it. 2 small holes in its feet and 2 small sticks on the base connect the two.
The figure is based on the box art of Majora's Mask 3D. On it, Link holds the Mask of Truth, similar as the figure.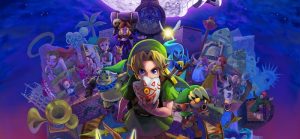 The figure has, as expected, nice details and a good paint job. The quality of Ultra Detail Figures is very good, considering they are not that expensive compared to other high detailed figures.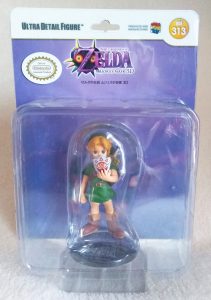 UDF comes in simple packaging, with a clear plastic front with mold and a cardboard back. The number is on the top right, in this case 313. It has the Official Nintendo Seal on it.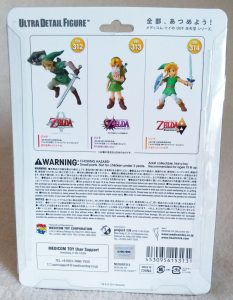 The back shows others in the series, in this case UDF 312 and 314, as well as 313 itself.
---
I really like the UDF series. Unlike FunkoPops, the figures look exactly as their original character instead of being squashed into a mold. The quality of these is also really high. Just like FunkoPops, there are also numerous series to get, although I mainly see Nintendo game related ones here in England.
This is my second Zelda one, I also have a couple of Mario ones, and one Disney figure. I love how they look like their respective character, and their size is nice to display many of them; not too big, not too small. It's a nice series to get into in my opinion, and I'll be looking to get a few more of them in the future I think.
Considering how many there are though, I'll stick to just buying my favourites.
If you like good quality, high detailed figures for not too much money, these are great to get started.
---
Got any more details / information you think I should add? Or did I get something wrong? Do you own the same figure or have the set? Do you agree or disagree with my findings? Let me know in the comments below!