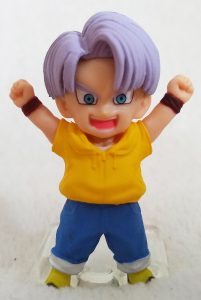 Serie: Dragon Ball Super
Company: Bandai
Year: 2018
Size: 4.5 cm
Main distribution: Japan
Barcode: 4549660250630
---
The Dragon Children is a line of small chibi figures of the children of the Dragon Ball series from Dragon Ball Adverge Ex. Two sets came out, this is the second one.
I only currently have Trunks. It's a small figure just under 5 cm tall. It's a Chibi, meaning the proportions are super deformed, making him about 2.5 heads tall. Trunks wears his casual yellow hoodie and blue pants, as he wears in the Dragonball Super anime.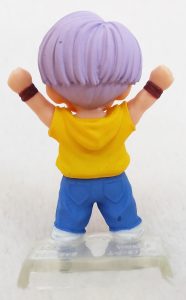 The figure is quite detailed with a great paint job. It comes with a clear stand to help him balance, but he doesn't need it to stand. The branding is on the stand and reads © B/S·F·T 2422252 B.CHINA 308 and there is a 4 on the back.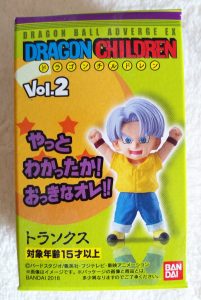 They come in a small cardboard box. The front depicts which Character is inside, and also has the name printed on it.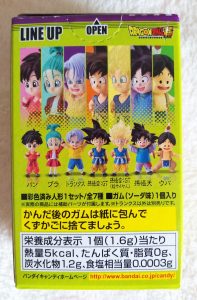 The back shows the rest in the set.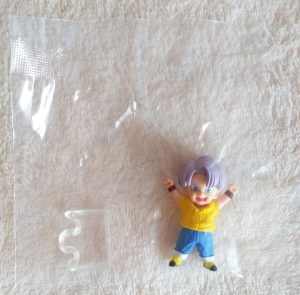 Once opened you'll find the Character and base in plastic.
---
I didn't plan on buying more chibi figures, but when I saw this Trunks I kinda did anyway. He didn't seem too bad, as he's quite chibi in the show anyway. I like his casual outfit of Dragon Ball Super, despite not really liking Dragon Ball Super. And Trunks is my second favourite character of Dragon Ball.
The pose seems to be based on the opening of the anime, and I like direct adaptations.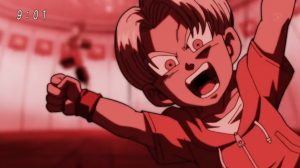 When I opened the box however, I was surprised at how small he was. You can fit at least 3 of him in the box! But this was a good thing in my opinion. I like small things and it only made him cuter. Now I kind of regret not getting Goten with him.
Some of the figures seem to be too out of proportion, but I don't have that that much with Trunks. Perhaps I'm biased as I like Trunks, or perhaps his baggy clothes make his limbs less thin looking or his head less big. Anyway, I don't regret buying him now!
If you like chibi figures, or the children of Dragon Ball, these sets are quite good value of money. They don't cost too much, and have nice detail on them. I might be getting a few more of these now.
---
Got any more details / information? Did I get something wrong? Do you own the same figure or the full set? Let me know in the comments below!