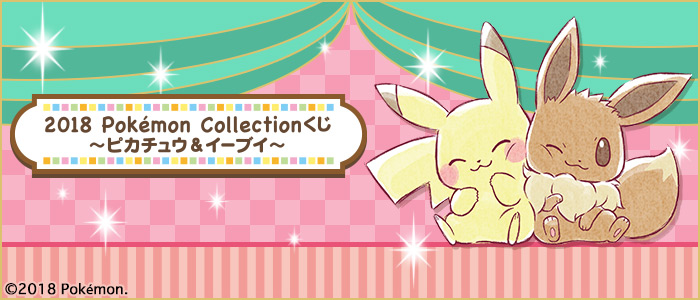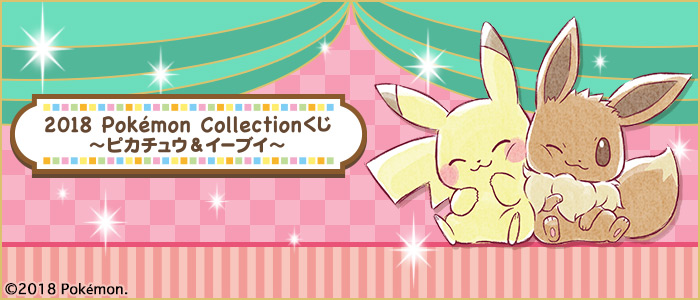 Set: Pokémon Collectionくじ
Company: Banpresto
Release: July 7, 2018
Size: 40cm (nose to butt)
Main distribution: Japan
Barcode: 4 521329 232904
---
This is the Pokémon Collectionくじ (Kuji) 2018 line ~Pikachu & Eevee~. This series seems to celebrate Pikachu & Eevee. The series consists of plushies, pillows, bowls, towels, plates and keychains. These items could only be won in a Kujiban lottery, hence the name.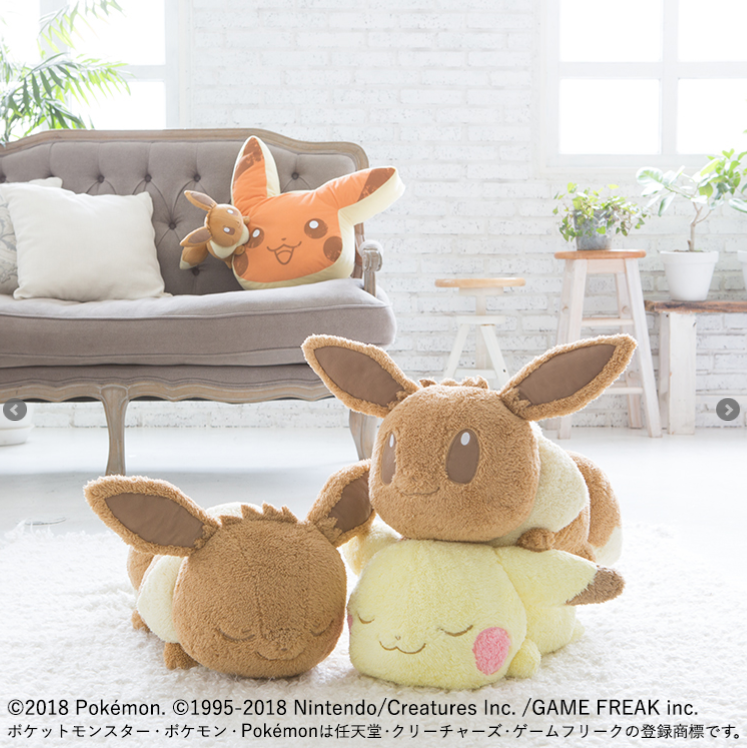 Pokémon Collectionくじ 2018 ~Pikachu & Eevee~ is a very cute line that seems to celebrate Pikachu & Eevee, probably in line with the Pokémon Let's Go games of 2018. The series features Pikachu, Eevee and the Eeveelutions.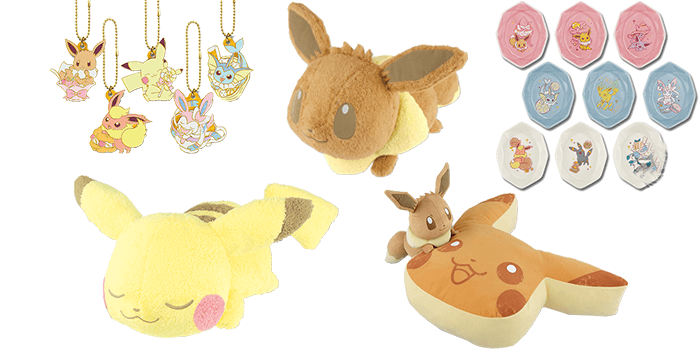 The series is very similar to the I ♡ series, meaning the colours are pastel and the plush are fluffy.
I got the Prize B plush; sleeping Pikachu.
Prize B – sleeping Pikachu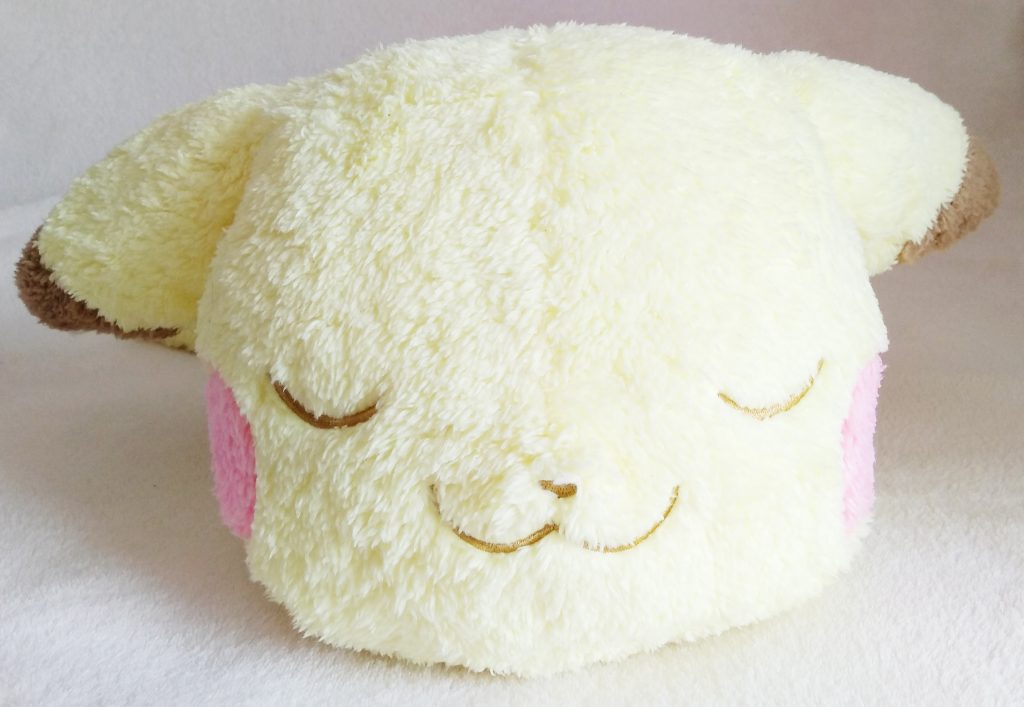 It's a Pikachu with pink cheeks and closed eyes. The plush lays and is about 40 cm long (from tip of nose to butt) and has a soft, fuzzy texture with pastel colours. This means its iconic yellow is of a softer colour, and the black eyes, nose, mouth and tip of its ears are a soft brown much like on its tail and back stripes.
Unlike the I ♡ Pikachu series Pikachu plush, its cheeks are of the same material as the rest of the plush, so they are fuzzy too.
It has a relaxed face, with closed eyes and a closed, happy "3" mouth. Its ears are droopy.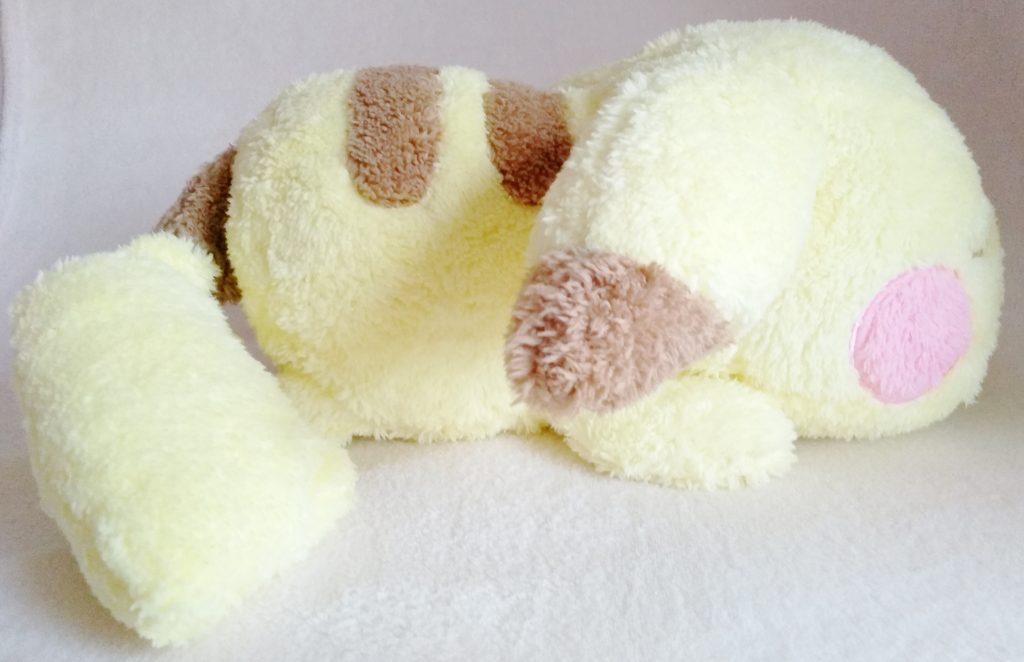 The proportions are off when it comes to its paws as they are too small, but the rest seems spot on. It looks like a cute, fluffy, chubby Pikachu laying on its belly.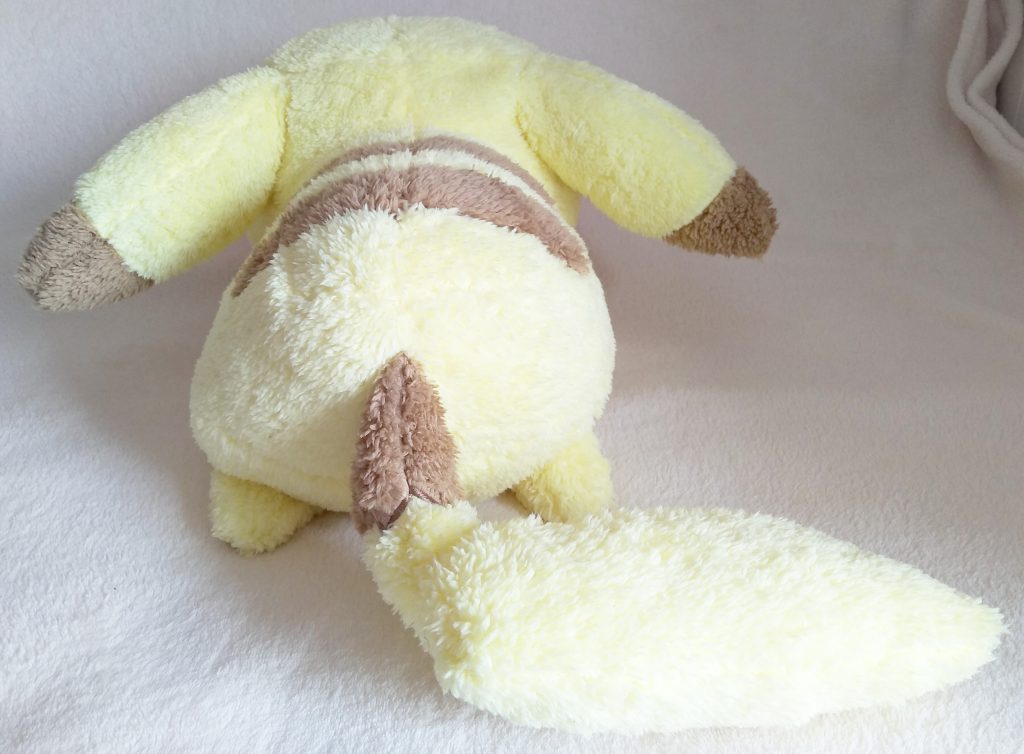 The tail is nice and thick, and has that iconic lightning shape.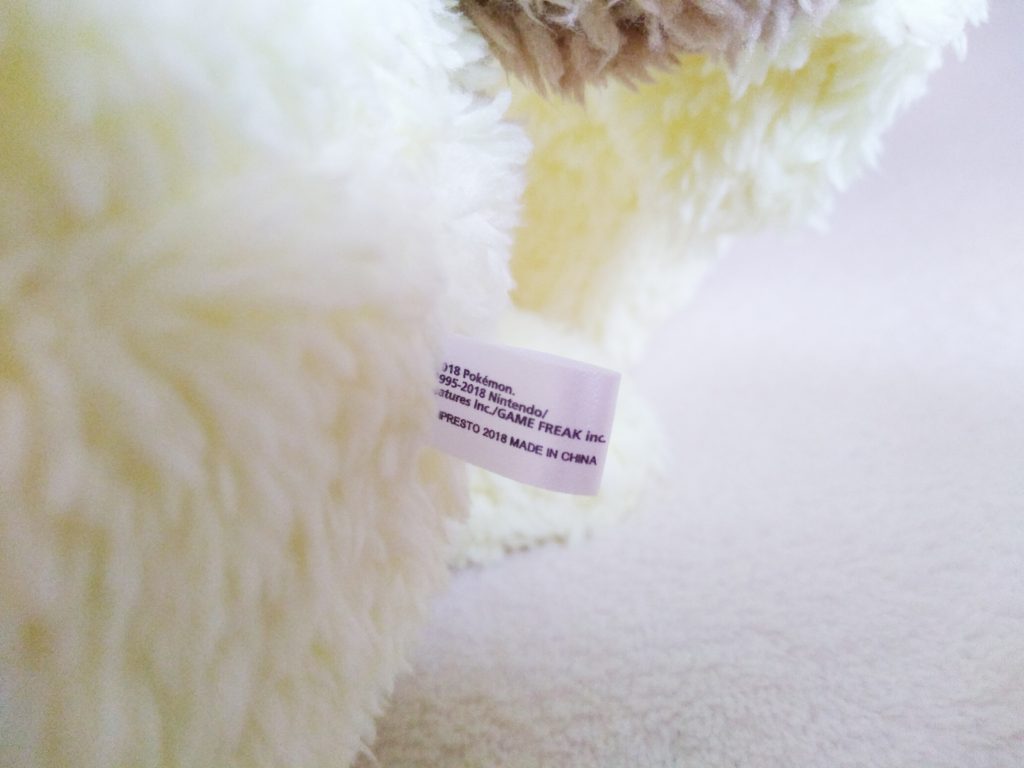 It only has a small tush tag on its back left side. It simply states the year and brands.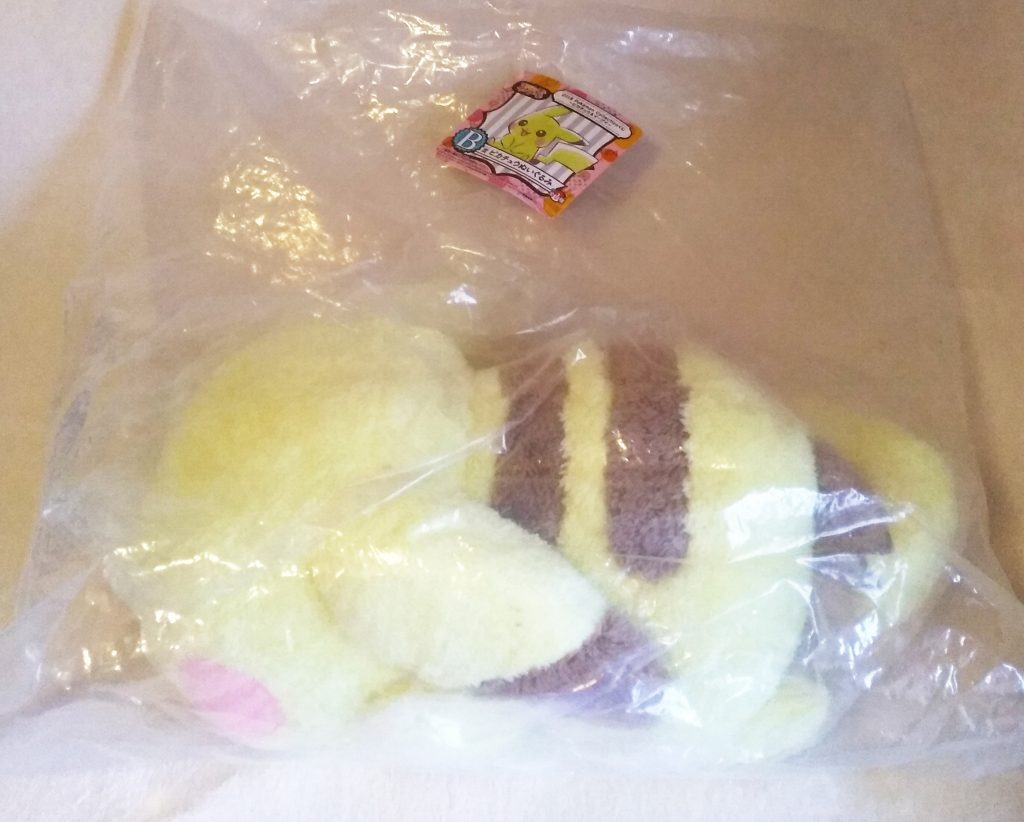 The plush itself was packaged in clear plastic, and came in a simple, transparant, plastic bag.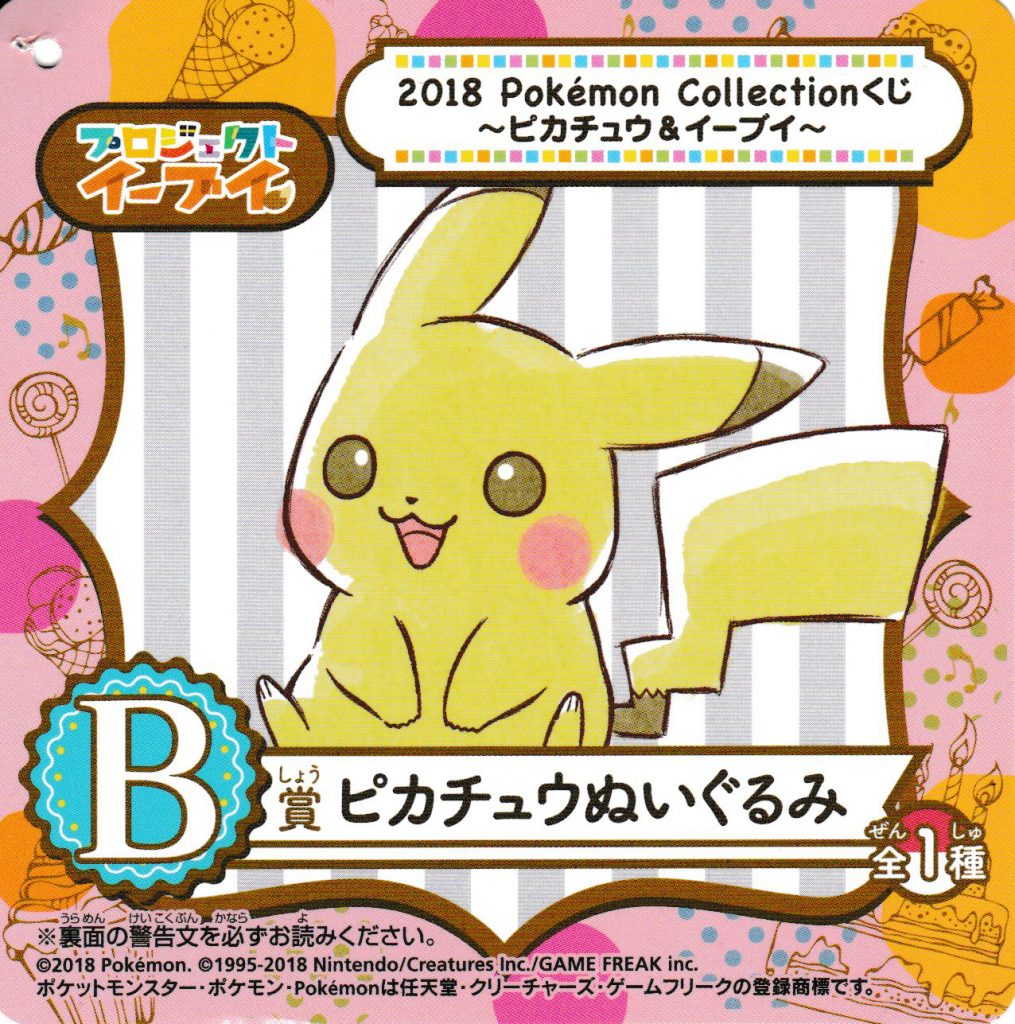 Attached is its tag, that states it's the B Prize in the Pokémon Collectionくじ 2018.
---
I absolutely adore the I ♡ Pikachu line due to its cute pastel colours and soft nature. So when I saw this series I obviously immediately loved it too. I already had the female Pikachu with open eyes from the previous year's serie, but a sleeping one is of course higher on my want list. So when I saw someone selling these I snagged one up!
It looks very similar to my other fuzzy sleeping Pikachu from the I ♡ Pikachu line, but it's much bigger. It also has pink and fluffy cheeks.
This fuzzy boy is extremely soft and its fuzziness makes it look cute. It looks great in a light room and on a bed. It's currently laying with my other sleeping Pikachu.
It has a nice shape which tapers in at the neck. The proportions on its face are spot on and the slightly bigger head adds to its cute look.
The only negatives I can find in this plush is that the fuzzy texture can collect a lot of dirt, hairs etc. so keep your plushy clean!
I find many of the plush in this line have the same shape / pose, but have a new accessory, a different face or are in a different size, and I'm not the collector who wants one of everything but picks its favourites, which in my case is based on uniqueness. I understand it's easier to (re)produce something that's already made and change one small feature, be it face or size, or add a little something extra like a flower, but it's simply not for me and find it personally a bit of a cash cow. However, I'm glad to own both this big Pikachu and the smaller Pikachu, and I might get some more, as these are just amazing. The pastel Pikachu might be the exception to my rule!
There are still some more cute Pikachu I would like to add to my collection so if you have some for sale that are similar you can always shoot me a message.
---
Got any more details / information you think I should add? Or did I get something wrong? Do you own the same plush? Do you agree or disagree with my findings? Let me know in the comments below!