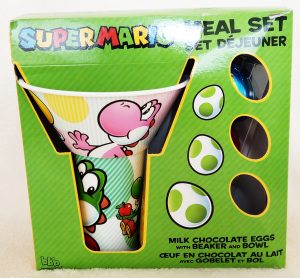 Serie: Mario & friends
Company: Bon Bon Buddies Ltd
Year: 2017
Main distribution: United Kingdom
---
This is a Super Mario Meal Set existing of a cup and bowl that came with three chocolate Easter eggs. It was sold in 2018 in the United Kingdom in various super markets and outlets.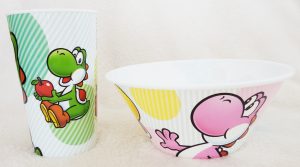 The cup and bowl feature various coloured Yoshi in various poses. They are made from plastic.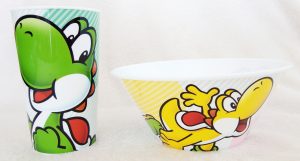 Their outline is thick and generally look cute. The background consists of pastel coloured circles with a stripe motif.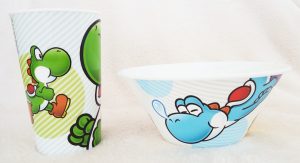 The cup has three green Yoshi pictured, one running, one profile and one sitting with an apple. The bowl also has three Yoshi, one sleeping blue Yoshi, one running yellow Yoshi and one profile of a pink Yoshi.
The set was made by Bon Bon Buddies Ltd, and is an Official Nintendo Licensed Product™, TM & © 2017 Nintendo. Although the copyright states 2017 I've only seen this for sale in 2018. They were a promotional item around Easter time.
---
Apart from collectables, I also have house wares of my favourite franchises. I think it's important to surround yourself with things you like and things you work with. This also applies to the every day life!
Around Easter time I see a lot of these sets appear in the UK. Some look cheap and contain a keychain, stickers or other small items for children. Some are more expensive and have a ceramic mug with a large egg. In 2018 I spotted this set. I thought it was cute and useful, but it's very small and just made out of plastic, clearly aimed at children (there was also a My Little Pony and Teletubbies set).
However, Yoshi is one of my favourite Nintendo / Mario characters, and pastel colours always work for me. I decided to wait till after Easter to snap one up for cheap, if any were left. And there was one left in my local shop after Easter, with the price slashed three times so I only paid a little for it.
To be honest, the chocolate didn't taste that nice. Luckily there were only three small eggs and I was only really interested in the bowl. The cup is cute but small, and will probably be used more by the nephews and nieces when they visit. Bowls however are always handy in my experience. They are just great for putting small knick knacks in! Or use for snacks, which is probably its main purpose. This bowl however, will probably be used more for storing little things.
---
Got any more details / information you think I should add? Or did I get something wrong? Do you own geeky house wares? Do you agree or disagree with my findings? Let me know in the comments below!