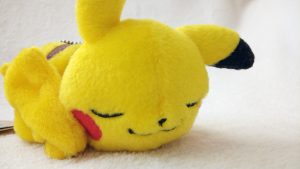 Set:  Pikachu Mania!
Company: Banpresto
Year: 2015
Size: 12cm (from butt to head)
Main distribution: Japan
---
This is a Pikachu plush from the Pikachu Mania! line. A silly, funny line with lots of Pikachu expressions. This particular one is a small ballchain / keychain plush that was released in 2015, where Pikachu is curled up asleep.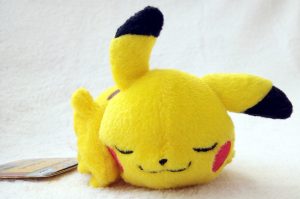 The plush lays about 12cm long (from butt to point of nose) and has a smooth texture. It comes in its iconic colours and matches the anime version. It has a small satin ribbon loop on its back with a ballchain on it so it can be used as a keychain. It was available in UFO machines.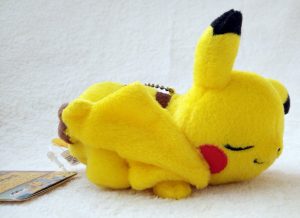 Pikachu is curled up in a sleeping position. It has one ear up and the other down, both leaning towards its left. It has closed eyes with downward eyelids, and a "3" shaped mouth, making it look relaxed.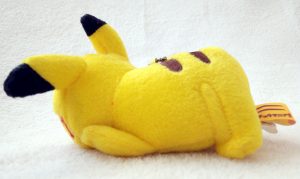 Its face and back stripes are embroidered on.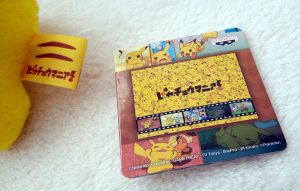 Its tags are the same as from its big brother, with the tush tag resembling Pikachu. One side has its face and the other has its back stripes. Behind it is a much smaller Banpresto tush tag with the year 2015 on it. Its hang tag shows various screenshots of the anime with several Pikachu expressions the plush in this line are based on. In the bottom right you can see the curled up, sleeping Pikachu this plush is based on.
---
This Pikachu plush is one of the cutest sleeping Pikachu there is! All curled up and comfy, and it fits in the palm of my hand!
Definitively my favourite in this line. Then again, I might be biased as I love sleeping Pikachu.
Despite being a keychain, I don't think I could ever use it as such. I'd be too scared it would get mucky. It sleeps with its other sleepy friends in my bedroom.
I managed to snag one up when people were selling them when they came out, and am glad I did.
In 2016 the Pikachu Mania! line got a follow up, and this sleeping cutey now also comes in a big plush! Although I think I prefer the smaller, cuter one.
---
Got any more details / information you think I should add? Or did I get something wrong? Do you own the same plush? Do you agree or disagree with my findings? Let me know in the comments below!