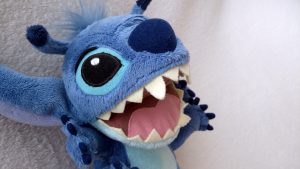 Series: Lilo & Stitch
Company: Euro Disney
Size: 20 cm
Main distribution: Disneyland Resort Paris
---
This is a Stitch plush from Disneyland Resort Paris. He's in his alien form, meaning with antenna's and 4 arms.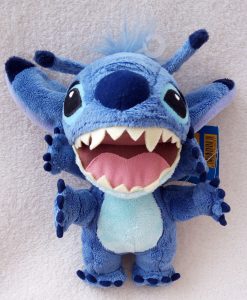 It's a small plush that's about 20 cm big. He is standing upright with his 4 arms outwards. His ears are upright. He is made from a soft fabric with a short pile and has a little tuft of long hair on his head. His face features are embroidered. There is a stiffener in his head to keep his face moulded. The teeth are made of a thin fabric with only one soft side, so the teeth exists of two layers with the soft sides outwards. The teeth on my Stitch have started to "split", and show both layers.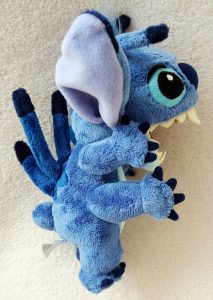 His proportions are off. This Stitch' head is very round, and looks bigger due to the open mouth. The ears and eyes look too small for its head.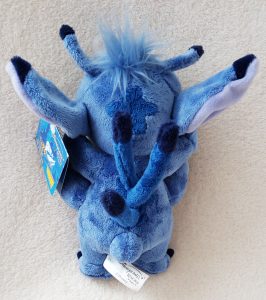 Due to his pose, he can't stand up on his own. His little feet do not support his body, let alone his big head. His colours are most likely based of the Stitch from the movie, as he's a quite dark blue.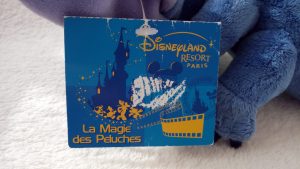 Through its head is a plastic hook, probably from how it hung in the shop. It has a fairly standard Disneyland Paris hang tag with the Disney Castle on it and "La Magie des Peluches". The tag hangs from its left ear. The inside has text with usual child safety information. The back has its barcode, and room to write "from / to" in case of a gift.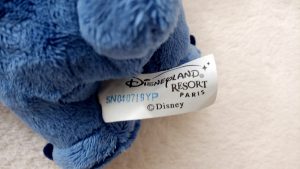 Its tush tag is located on its left leg. It's plain and a standard Disneyland Paris one, with the usual copyrights and how to clean information.
---
The Disney park plush always seem to be of high quality. Having never gone myself (so far), finding these is always a joy.
Lilo & Stitch is probably my second favourite Disney movie (after the Lion King). The rebellious and not typical Lilo resonated with me and Stitch is all things I love (blue, dog, alien). Although I prefer Chris Sander's original pitch (Stitch being a bad ass space criminal instead of an experiment gone rogue) the movie is enjoyable to watch and so different from the previous Disney movies. Stitch became one of my favourite Disney characters. His mannerisms are cute to watch and his voice is amazing.
My mom found this alien on a flea market and bought it for me knowing I like the blue space dog.
This Stitch retailed for € 9,90 in the Disneyland Resort Paris park.
I love the Alien Stitch. His antenna and extra limbs make him look cool, but sadly there are only a few plush of him like this (compared to his regular "dog" look). So I'm pleased to have this guy.
However, he is not my favourite (Stitch) plush. His teeth are splitting (common with this type of fabric) and his proportions feel off. He also can't stand on his own, something I find is a high plus in a plush.
Still, it is a Stitch, and an official Disneyland one to boot, so I'm not complaining too much. He sits proudly with my other Stitch. I do love the Alien form.
---
Got any more details / information for me to add? Or did I get something wrong? Do you own the same plush? Do you agree or disagree with my findings? Let me know in the comments below!