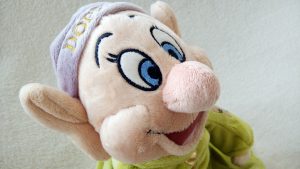 Series: Snow White and the Seven Dwarfs
Company: The Disney Store
Year: 2008
Size: 28 cm (from butt to head)
Main distribution: Worldwide (at the Disney Store)
---
This is a plush of the mute dwarf Dopey from Snow White and the Seven Dwarfs, sold exclusively at the Disney Store.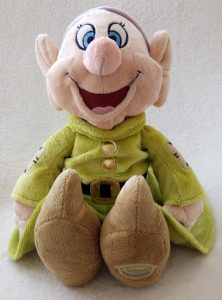 This Dopey plush is a decent size at 28 cm sitting height and feels very soft. Its face is fully embroidered and pretty well moulded to look like Dopey's. His name is embroidered on the rim of his hat in golden stitching.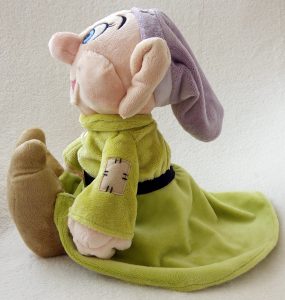 He is wearing his oversized green jacket and big purple hat. There are lots of little details like the patches on his sleeves and golden buttons and belt.
He has beats in his butt to help him sit and give him some weight. The colours and proportions are alright. His limbs are loose and can easily be posed (doesn't stay in position though) and played with.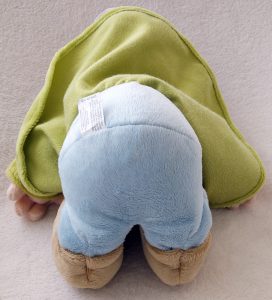 His oversized jacket is really big and flows freely from his belt. His sleeves can also be rolled up and reveal his plush arms. Only his belly is purely made of jacket, but even there there is some extra fabric to create the puffy, oversized look.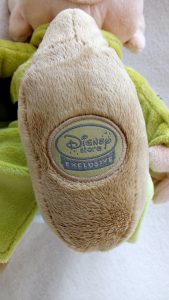 As most Disney Store plush it comes with the signature Disney Store stamp on his foot.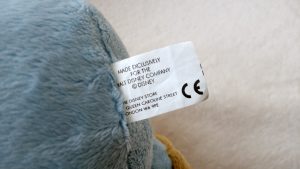 Its tush tag is fairly standard, with the usual Disney Store information, copyrights and wash instructions.
---
I always loved the stamped Disney Store plush. Their quality is amazing and they are as official as can be.
The Netherlands doesn't have a Disney Store, so finding these (usually secondhand) was always such a magical experience. As a kid, I wanted to collect them all.
Now I'm living in the UK where most major cities have a Disney Store, some even two! The magic has slightly worn off I must say, but it's still a treat to go the shop and look at all of the stamped plush.
Snow White and the Seven Dwarfs was probably one of the first Disney movies we got on VHS, and therefor seen quite a lot. Still, it didn't grab me as much as the Lion King for example did. I had this with most Disney princess movies to be fair (much to my mom's dislike who loved them).
Dopey was my favourite dwarf as a child. He's comical and so different from the others he stands out. Nowadays I seem to relate more to Grumpy, and can see Dopey as the comic relief character he is. He is sweet though.
I normally don't like human plush. They always look odd, with plush for skin. But this Dopey looks alright I guess. Maybe because he is such a toon? I like his cute little fingers on the plush, even though they look nothing like his hands on the screen. As far as Dopey plush go, this is the best looking one in my opinion.
However, finding these stamped plush less rare now, and needing the room / money, I have decided to sell them and only keep my favourite characters. As much as I like this Dopey, without the other dwarfs as a full set (wouldn't know where to place them anyway) and not high on my favourite Disney characters list, I have decided to sell him.
There is nothing I can really fault on this plush, just personal preference of characters. I still wanted to catalogue him here for fellow collectors. The photo's are, as always, of the actual plush in hand and not stock photos.
If anyone is interested, this guy is still up for sale!
---
Got any more details / information for me to add? Or did I get something wrong? Do you own the same plush? Do you agree or disagree with my findings? Let me know in the comments below!