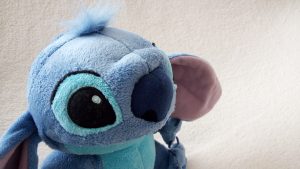 Series: Lilo & Stitch
Company: Walt Disney Parks and Resorts
Size: 20 cm
Main distribution: Walt Disney World parks (Florida)
---
This is a Stitch from the Walt Disney World park in Florida.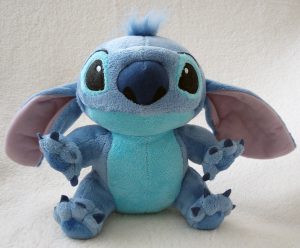 It's a small plush that's about 20 cm big. He is in a sitting position with all paws sticking out to the front and his ears are hanging low. He is made from a soft fabric with a short pile and has a little tuft of long hair on his head. His face features are embroidered. There is a stiffener in his head to keep his face moulded.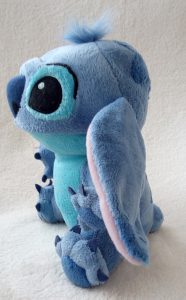 His proportions are way off. This Stitch is about 2 heads big, which makes this more of a chibi Stitch. His legs and arms are short and stubby, which makes the overal plush look a bit chubby.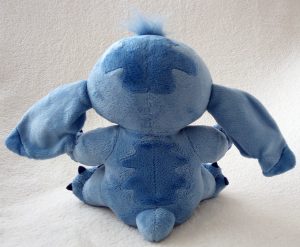 He has plastic pellets in his body, which makes him easy to sit and squishy to cuddle. His colours are of the Stitch from the TV series, a lighter blue than the movie Stitch.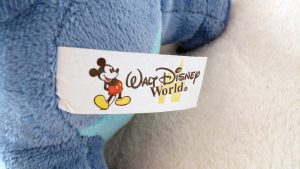 His tush tag is a standard Walt Disney Worlds one. It features Mickey Mouse, with a yellow Disney Castle and Walt Disney Worlds on it. The back has the usual copyrights, materials and where it was made.
---
Lilo & Stitch is probably my second favourite Disney movie (after the Lion King). The rebellious and not typical Lilo resonated with me and Stitch is all things I love (blue, dog, alien). Although I prefer Chris Sander's original pitch (Stitch being a bad ass space criminal instead of an experiment gone rogue) the movie is enjoyable to watch and so different from the previous Disney movies. Stitch became one of my favourite Disney characters. His mannerisms are cute to watch and his voice is amazing.
My mom found this cutie in a charity shop and bought it for me knowing I like the blue space dog.
However, he is not my favourite (Stitch) plush. I'm not a big fan of "teddy" posed characters (sitting with paws sticking out) nor characters that are out of proportions from their original design.
Still, it is a Stitch, and an official Disney World one to boot, so I'm not complaining too much. He sits proudly with my other Stitch. I do love his silly expression…
---
Got any more details / information for me to add? Or did I get something wrong? Do you own the same plush? Do you agree or disagree with my findings? Let me know in the comments below!