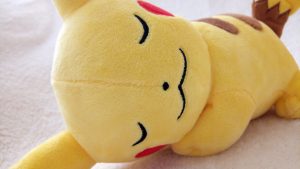 Company: Pokémon Center
Release: December, 2016
Size: 23cm (tip of laying ear to butt)
Main distribution: Japan (at Pokémon Centers)
---
This is a sleeping Pikachu plush from the Pokémon Center, which was available in December in 2016.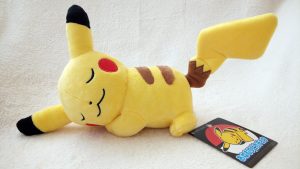 The plush is laying down and curled its head on its front paws. It has the iconic colours of the anime Pikachu, with embroidered features. It has a relaxed expression, with downward closed eyes and a "3" mouth. One ear lays flat, while the other is somewhat erect.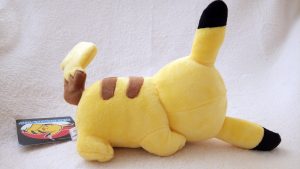 The tail is floppy and quite flat, it doesn't seem stuffed. However the extra brown fabric at the base of the tail gives it some sturdiness, enough to even prop the tail up for a moment.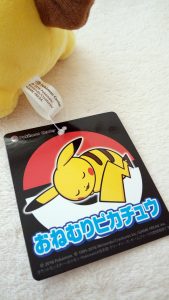 The tush tag is located at its butt and is the standard Pokémon Center one with the Pokéball logo, Pokémon Center, year and the usual copyrights. The tag is square and black with a Pokéball background. On the Pokéball is an image of the Pokémon, in this case Pikachu sleeping.
---
I love this plush of sleeping Pikachu. Every "onemuri" Pikachu campaign I seem to miss, but I'm certain this plush is based on that as it has the same if not a very similar pose. My boyfriend got it for me for Valentine's day.
This plush is so soft like all the other Pokémon Center plush! And its sleeping pose is cute and looks comfy. It is a great addition to the sleeping Chu family.
Not only that, but the need to gain a onemuri plush has lessened now, which is great as they are quite expensive due to their exclusiveness.
---
Got any more details / information you think I should add? Or did I get something wrong? Do you own the same plush? Do you agree or disagree with my findings? Let me know in the comments below!