-I no longer own this merchandise and this post has therefor been archived-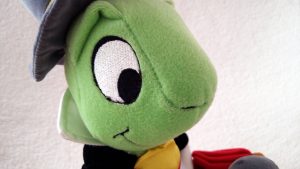 Series: Pinocchio
Company: Disneyland Paris
Size: 25 cm (butt to top of hat)
Main distribution: Disneyland Paris
---
This is Jiminy Cricket, the bug that acted as Pinocchio's conscience in Pinocchio, and later appeared in various other media like Fun and Fancy Free. This one is sold exclusively at Disneyland Paris.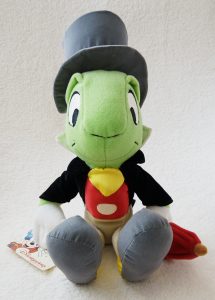 This Jiminy Cricket plush is of a high quality, as you expect from the plush from the parks. It's a decent size at 25 cm (considering it's a bug). It's not a very soft plush due to its clothes and short pile. Its face is fully embroidered. His black jacket seems to be made from some velvet like material and the grey hat and shoes have a similar feel but are made of thinner and cheaper material than the jacket. His collar, waistcoat, tie and the yellow on the shoes are more of a satin material and the button is embroidered on.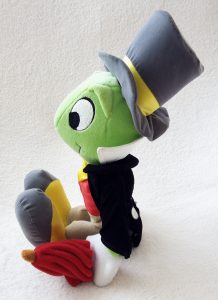 It's in a sitting position, which makes it great for displaying. The proportions of his head and body are spot on. The plush is firmly stuffed and quite stiff, so it sits upright easily and keeps its shape. It's holding a red, folded in, umbrella in its left paw.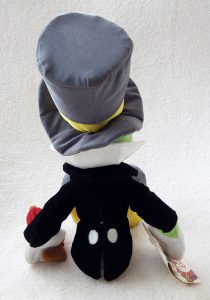 The buttons on the back of his jacket are also embroidered on. The colours are vibrant and the photo's don't really do it any justice.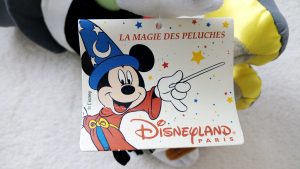 It has a standard Disneyland Paris hang tag with Mickey Mouse from Fantasia on it. The tag hangs from its right paw. The inside has text with usual child safety information and how to clean the plush. The back has its barcode, Disneyland Paris on it and the name of the plush, in this case Jiminy.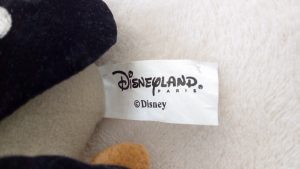 Its tush tag is located at its butt. It's plain and a standard Disneyland Paris one, with the usual copyrights and how to clean information.
---
The Disney park plush are amazing looking. They always look spot on and of high quality. Having never gone myself (so far), finding these is always a joy.
Jiminy Cricket is such a big character for such a small guy. This is probably one of the best plush I've seen of him, but then again I rarely see plush of him.
Despite the good looks on this plush, I have a few issues with him. Mainly, the velvety material is a giant dust magnet. It easily gets covered in tiny hairs and dust. Luckily it also easily comes off with some tape. Still, that makes this plush high maintenance. He's also not that soft, like my others, and makes him more of a display piece than anything.
Needing the room / money, I have decided to sell this plush. I'm not a huge fan of Pinocchio nor Jiminy, and the cleaning is a pain. It's still a very nice looking plush though, and if I had infinite room / money I would keep him.
I still wanted to catalogue him here for fellow collectors. The photo's are, as always, of the actual plush in hand and not stock photos.
I no longer possess this plush.
---
Got any more details / information for me to add? Or did I get something wrong? Do you own the same plush? Do you agree or disagree with my findings? Let me know in the comments below!