-I no longer own this merchandise and this post has therefor been archived-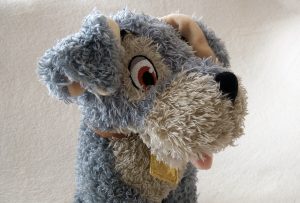 Series: Lady and the Tramp
Company: The Disney Store
Size: 35 cm high
Main distribution: Worldwide (at the Disney Store)
---
This is the lovable rogue Tramp of Lady and the Tramp, sold exclusively at the Disney Store. This one has a curly hair texture.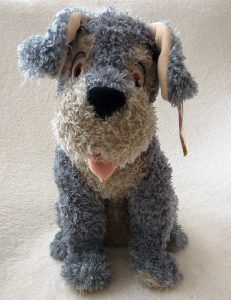 This Tramp plush is a decent size at 35 cm high and soft due to its long, curly hair. Its eyes are fully embroidered and the nose exists out of a felt like button. The inside of its ears and mouth is made of a different material with a short pile.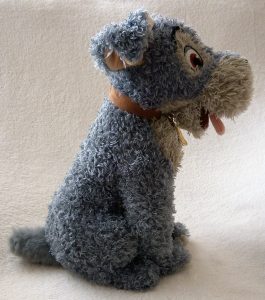 It's in a upright, sitting position, which makes it great for displaying. It has little beads in its butt that help it remain sitting upright. The proportions of his head vs body are quite good. The collar is made of the same material that's used for the inside of its ears, and the tag is made of a shimmering, gold fabric.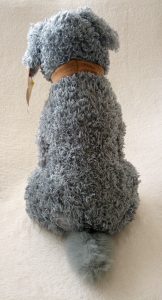 Its tail is made of a fluffier material, with a long straight hair. The plush has mostly the same colours as Tramp, although it's more of a blue grey-ish colour as seen in promotional material, and not the brown-greyish colour of the movie.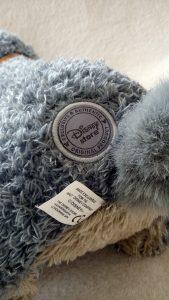 As most Disney Store plush it comes with the signature Disney Store stamp on his butt. Its tush tag is fairly standard, with the usual Disney Store information, copyrights and wash instructions.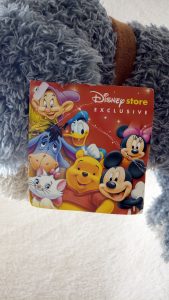 It has a hang tag in its ear, that's a pretty standard "Disney Store Exclusive" one. It features a red backgrond and several Disney characters.
Sadly mine is creased.
---
I always loved the stamped Disney Store plush. Their quality is amazing and they are as official as can be.
The Netherlands doesn't have a Disney Store, so finding these (usually secondhand) was always such a magical experience. As a kid, I wanted to collect them all.
Now I'm living in the UK where most major cities have a Disney Store, some even two! The magic has slightly worn off I must say, but it's still a treat to go the shop and look at all of the stamped plush. This Tramp retailed for £12 / €20 in the Disney Store.
I love the Disney animals, especially the Disney Dogs. So Tramp is pretty high up there. However, I'm not a big fan of the curly hair texture (just personal preference). I find it even weirder the tail is different!
Finding these stamped plush less rare now, and needing the room / money, I have decided to sell them and only keep my favourite characters. As much as I love Tramp, I have another plush of him that I prefer over this one, so this one has been sold and now has a new home at a colleague of mine.
There is nothing I can really fault on this plush, just personal preference. I still wanted to catalogue him here for fellow collectors. The photo's are, as always, of the actual plush in hand and not stock photos.
---
Got any more details / information for me to add? Or did I get something wrong? Do you own the same plush? Do you agree or disagree with my findings? Let me know in the comments below!