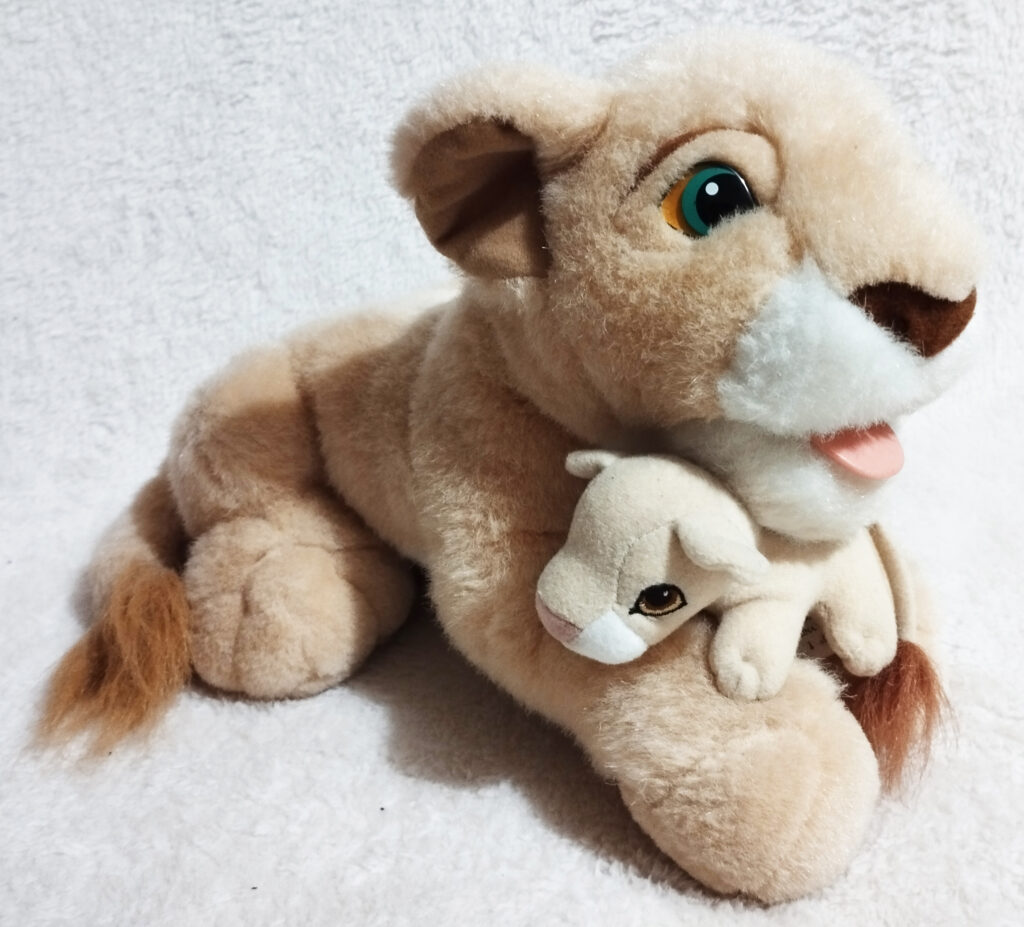 Series: The Lion King II: Simba's Pride
Company: Mattel
Release date: 1998
Size: +/- 30 cm and +/- 9cm
Made in: China
Main distribution: Europe / United States of America
---
These are a mother and daughter pair of plush of adult Nala and baby Kiara made for the release of the Lion King II: Simba's Pride by Mattel.
Loving Licks is a set that exists out of mother adult Nala and daughter baby Kiara. Nala can give Kiara "loving licks"; a cat tongue bath.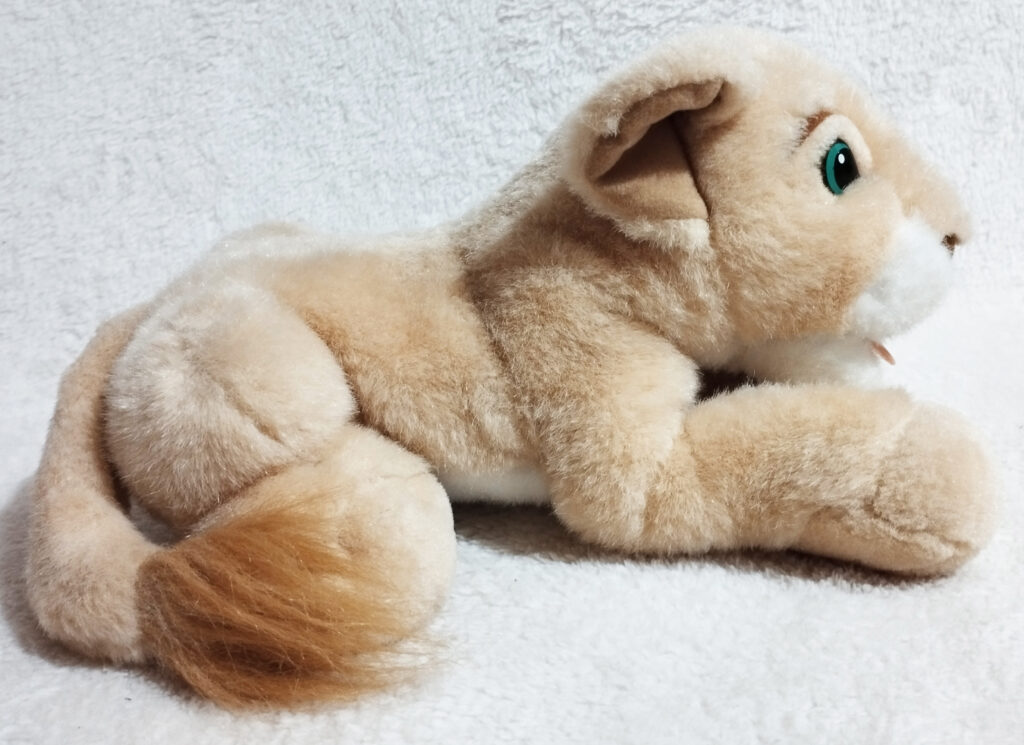 Nala is in a laying position. She is an adult lioness, and her proportions reflect that with a longer body and smaller head than her cub version. She's about 30cm long. She is a light pink with a brown tail tip, and white muzzle and chest. Her fur is made of that classic plush material of the 90's. She has longer, fluffy hair for the tail tip. Her eyes are plastic buttons, layered to give a dimensional effect. She has tushtags on her left bum. It shows The Lion King Simba's Pride logo, as well as a second one with all the legal informations. She would sit on top of a jungle themed box, with the Lion King Simba's Pride logo on the front.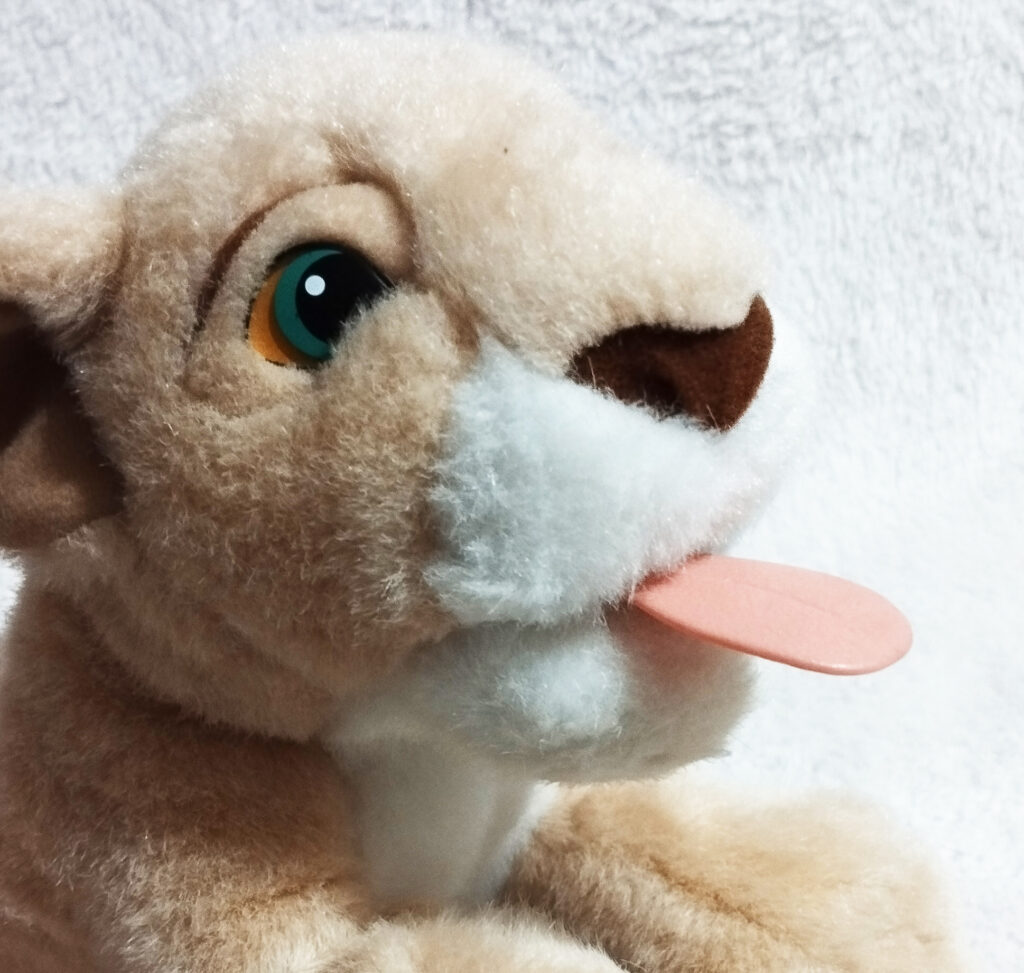 Her tongue is made of plastic and part of the special mechanism inside her. When pressing her belly, her tongue sticks out. Through this "loving licks" can be given to Kiara. She also has velcro under her chin, for Kiara to stick unto.

Kiara is a small simple plush of about 9cm. She has embroidered eyes, and a basic body shape. She is laying down. She is a light pink with a brown tail tip and white muzzle. She is made of a cheaper almost felt like material, which makes her stick well to the velcro of Nala. Her proportions are off, as her head is as big as her body. She has tushtags on her left back paw. It shows The Lion King Simba's Pride logo, as well as a second one with all the legal informations.
---
The Lion King Mattel plush has got to be my favourites! Although when it comes to Disney I usually prefer the Disney World / Disney Land / Disney Store plush as they look closer to their movie counterparts, Mattel is the exception to the rule. There is something nostalgic about them.
As far as Disney sequels go, I loved the Lion King 2, although it doesn't top the original. But seeing Queen Nala and Kiara as a female lead was awesome. Although the film doesn't have a bath scene like the first one, it makes for a fun and unique playset.
I didn't get Loving Licks at the time as a kid, but found it later second hand online. I hadn't even heard of this one until I started looking for other Mattel plush. I love the adult Nala. Not only is it hard to find good adult Nala plush, I love how she looks exactly like a grownup version of her cub version from Mattel's Purring plush line. It's hard to find one with baby Kiara though. I guess the little one gets easily dirty or lost. I initially found only Nala, and later bought a complete set with Kiara. So I have a spare Nala up for sale.
I'm happy to have found a complete set, as a completionist, but I'm most happy with Nala. I'll probably keep them forever.
I'm sure many Disney / Lion King / Nala / Kiara collectors would love these plush. Keep in mind it can be hard to find baby Kiara though.
However, if you want something looking closer to the movies (proportions and colours) and have no nostalgic feelings for this line, you might want to opt for the other ones instead.
---
Got any more details / information you think I should add? Or did I get something wrong? Do you own the same plush? Do you agree or disagree with my findings? Let me know in the comments below!