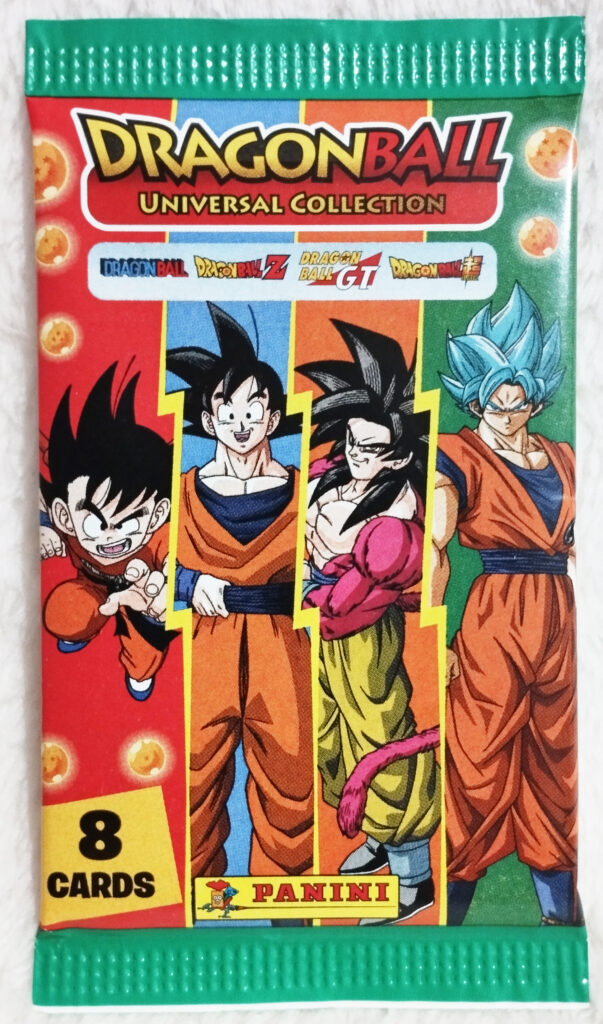 Series: Dragonball, Dragonball Z, Dragonball GT, Dragonball Super
Company: Panini
Release: 2023
Main distribution: Europe
---
These are trading cards from Dragonball, Dragonball Z, Dragonball GT and Dragonball Super by Panini. Called "Universal Collection" it spans all of the Dragonball series. The set exists out of 264 cards; 60 Dragonball, 60 Dragonball Z, 60 Dragonball GT and 60 Dragonball Super, 12 Limited Edition cards and 12 XXL Limited Edition cards. Amongst those are 60 "crystal shard" cards and 45 "transformation" cards. The images are mainly characters, and modern art.
Panini is an Italian company headquartered in Modena, Italy, named after the Panini brothers who founded it in 1961. Mostly known for its collectable stickers and cards, they also produce books, comics, magazines and other items through its collectibles and publishing subsidiaries.
Here I'll show my Dragonball Universal Collection.
The cards are recognisable as having a starburst backdrop with a wide, diagonal border.
The backs feature a similar border, as well as the character(s) and name(s) from the front, and in the corners are the logo of this card series (Dragonball Universal Collection), the Toei Animation logo, the Panini logo and the card number. Dragonball cards start with a D, Dragonball Z cards start with a Z, Dragonball GT cards start with a G and Dragonball Super cards start with a S.
Limited Edition cards have no number, and simply state "Limited Edition". They have a diagonal division and contain 2 characters, portraying an "Epic Battle".
They mainly come in packs of 8. The packaging is predominantly green and features Goku 4 times, how he mainly looks in each series. The packaging is also made out of recyclable paper, rather than foil.
There's also a pack of 4. It has the same artwork but is predominantly yellow instead of green.
And there's also packs of 24 + 2 bonus cards, considered a "value pack" or "fat pack". It has the same artwork but is predominantly blue instead of green.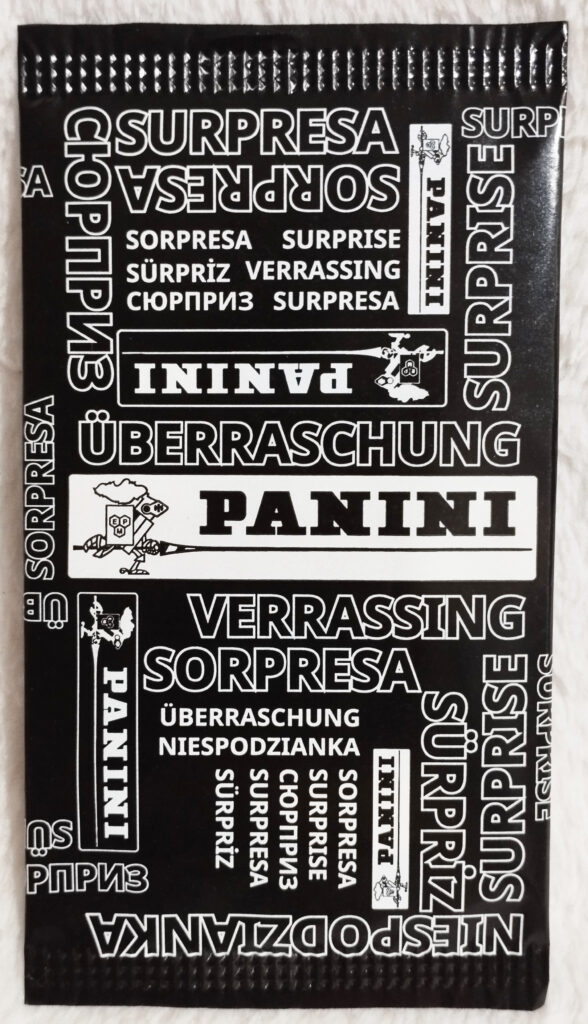 There's also a generic "surprise" black pack with a limited edition card.
There's a box set with 4 8-packs and a limited edition card.
Lastly there's 4 Collector's Tins, a red Dragonball one, a blue Dragonball Z one, an orange Dragonball GT one and a green Dragonball Super one. Each comes with 3 8-packs and a limited edition card.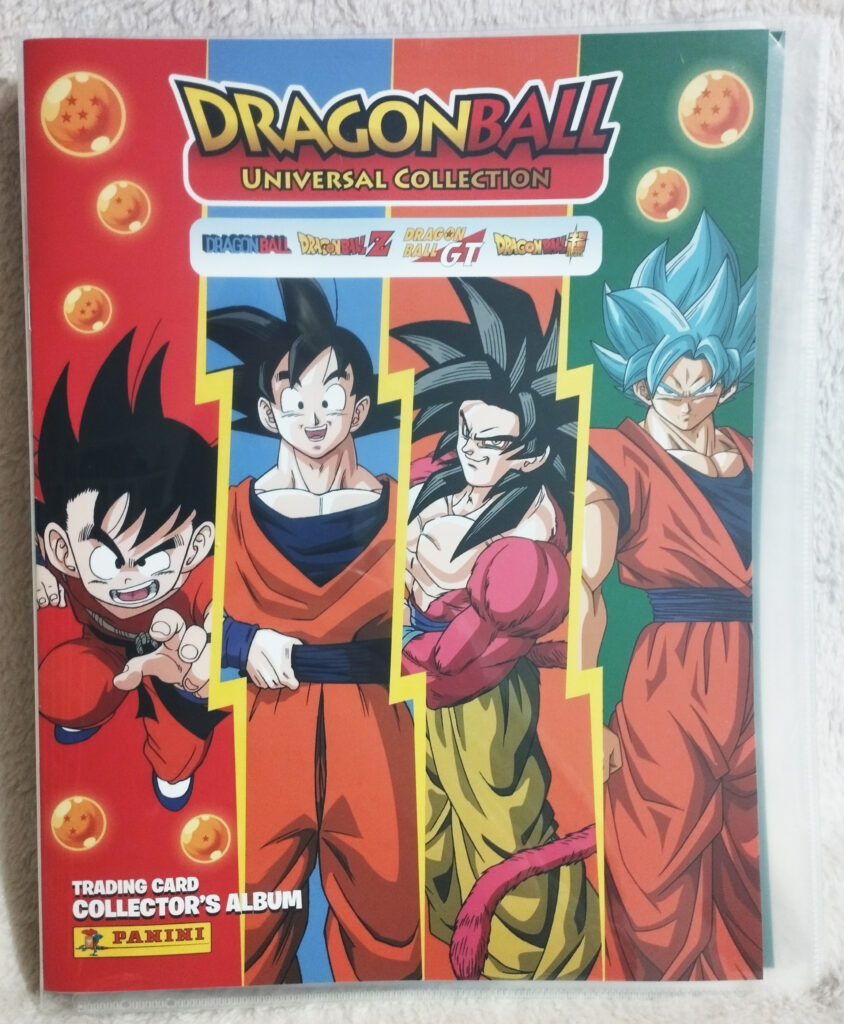 The Collector's Album has the same 4 Goku graphic on the front. This front can easily be removed and is actually a booklet that is also the checklist, with full images of the cards.
The sleeves inside have numbers, but do not match the card numbers. It's possible it's a generic empty album that gets repurposed for each series Panini makes. There's room for 540 cards.
I got 25/264 cards.
[I will update with pictures once I have collected some more]
---
I spotted these in WHS suddenly and initially dismissed them as it's Dragonball Super, which I'm not a fan of. But seeing it also has the other Dragonball series, and something about collecting Panini cards is very nostalgic to me, I looked up the cards. It's mostly modern art, and the cards also look quite plain, so I wasn't going to collect them. But then I saw a card of King Vegeta!
I only ever found 1 other card of King Vegeta, in the german Panini set Saga Freezer, so to have another would be cool. (There's probably more now in the modern Super series, but I don't care about those… yet).
And it also comes with its own album. I don't think I could care looking for albums and sleeves again and making sure I have enough for the cards.
And the Panini cards are relatively cheap.
So… I bought the Collector's Album and started to collect these I guess. I'm not sure I will attempt to get them all. I have no interest in the Super cards anyway. I might just collect till I get King Vegeta. And maybe get the tins if I can find them (I love tins / boxes / baskets).
Whenever I'm out getting groceries, I will add a pack and see what I'll get. It'll be a little nostalgic fun.
If anyone in the UK wants to trade (I have no doubles yet but will likely get them) let me know!
---
Got any more details / information you think I should add? Or did I get something wrong? Do you own any of these cards? Or do you have the full set? Would you like to trade any? Do you agree or disagree with my findings? Let me know in the comments below!