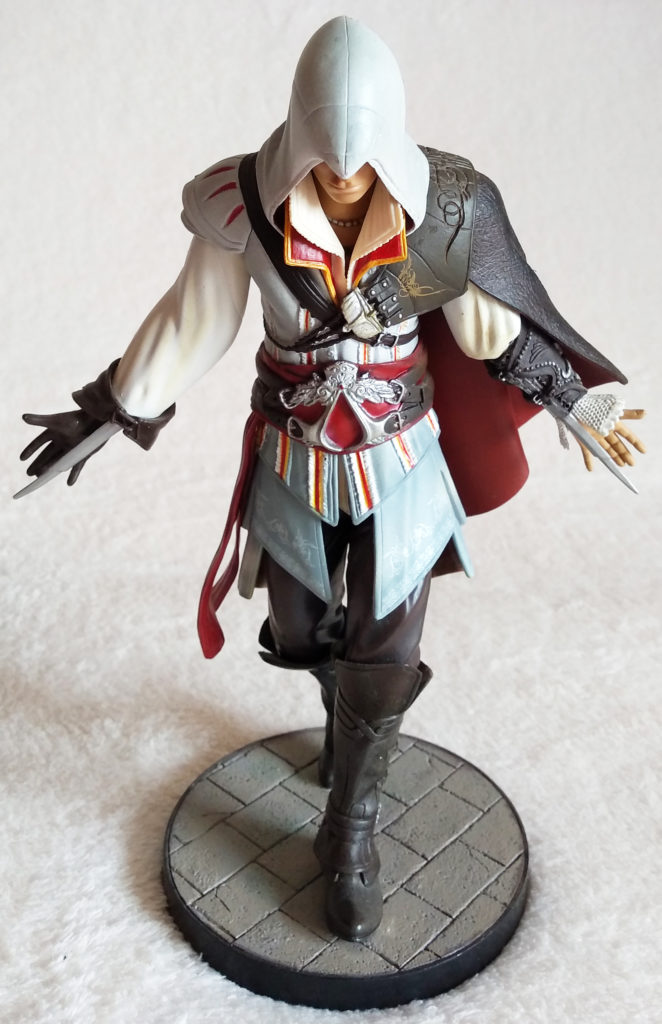 Company: Ubisoft
Release: 2009
Size: 22cm
Main distribution: Worldwide
---
This is a figure of the Assassin's Creed II Ezio Auditore Collection. It's the white version. You could buy it separate, in a 4 pack with the other 3 figures, and it came with some collector's editions of the game. It's considered a Limited Edition.
4 figures were made in the Assassin's Creed II Ezio Auditore Collection. The white version, the black version, both with the arms spread, a white version standing and a black version walking. All are official Ubisoft products.
Ezio Auditore is wearing his white outfit. He is walking directly towards you, arms spread, blades out, looking menacing.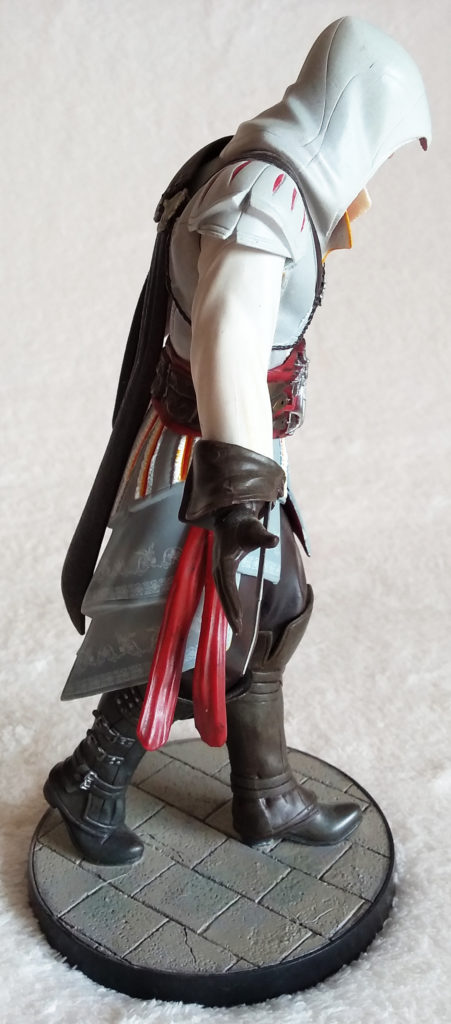 He has a slight lean forward, but the figure stands incredibly stable due to the base.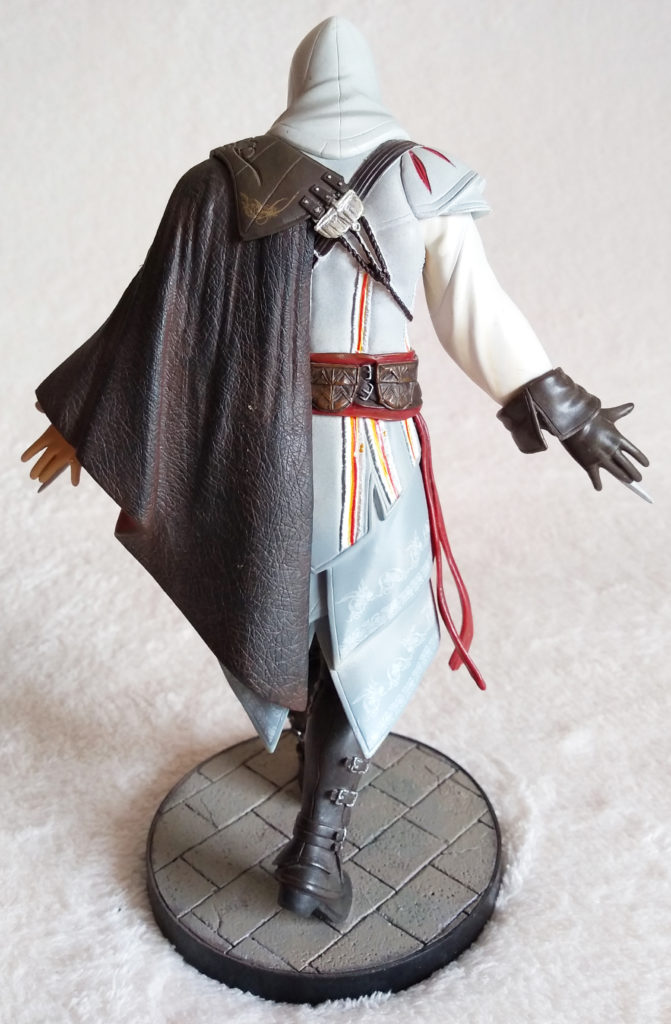 The detail on his clothes is very nice. Seams, textures, buckles and prints are all there.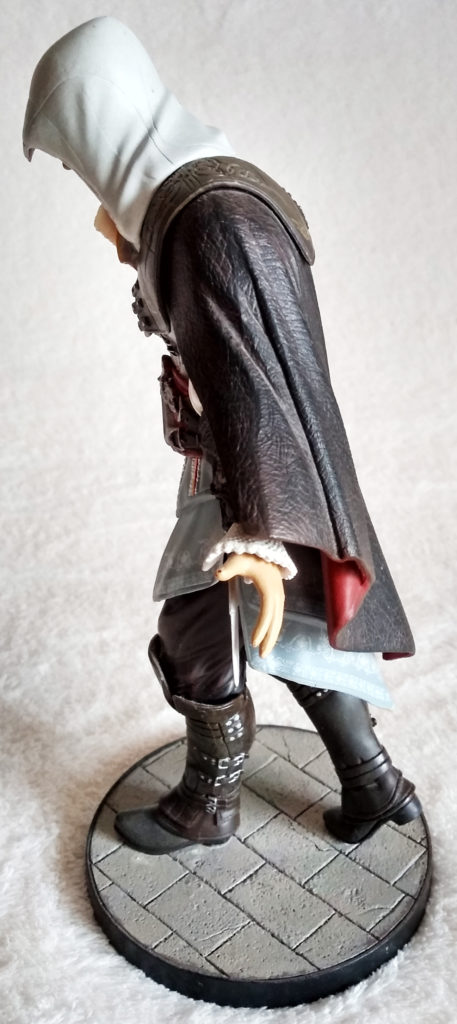 The base is nice that it's not a simple black disc, but actually has some ground texture. In this case, a tiled flooring.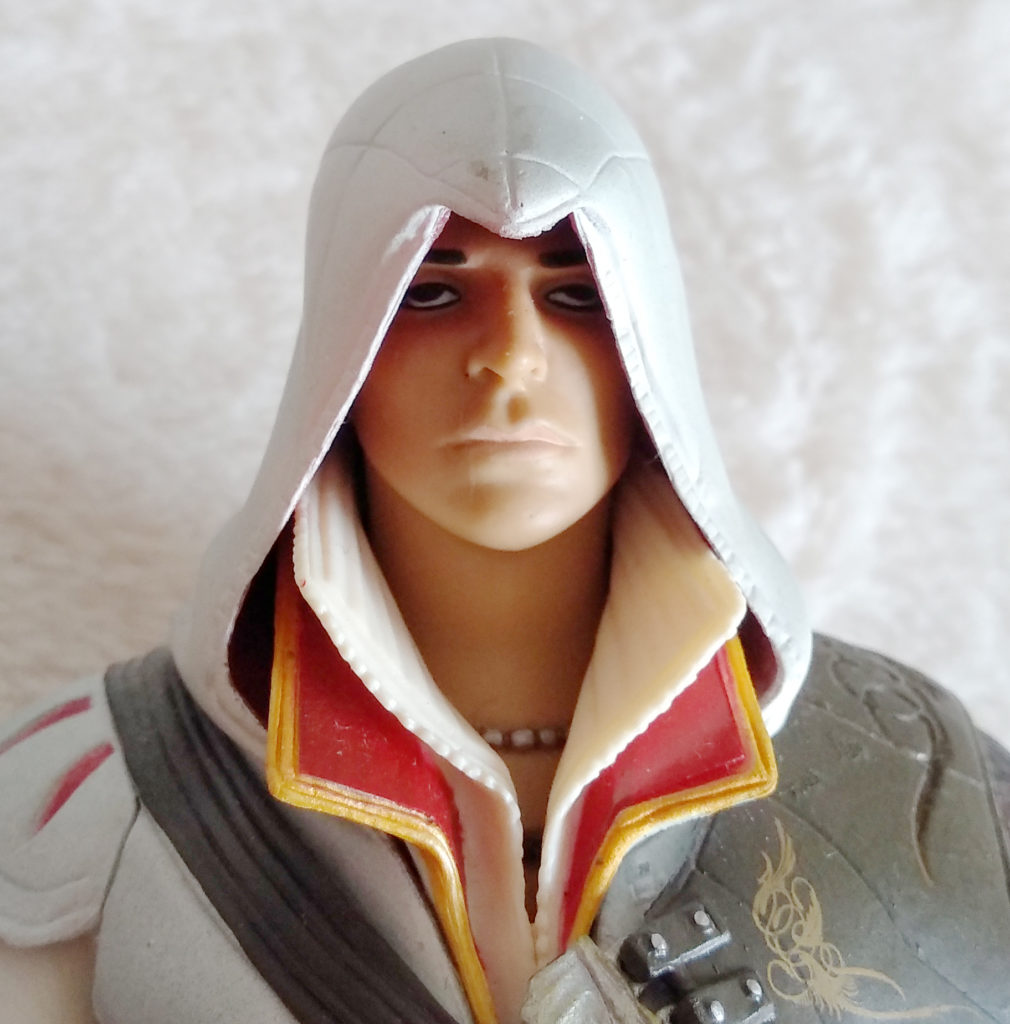 His face looks a bit odd, but he has his head down and is looking upwards / forward, hence the weird expression when you look under the hood from beneath.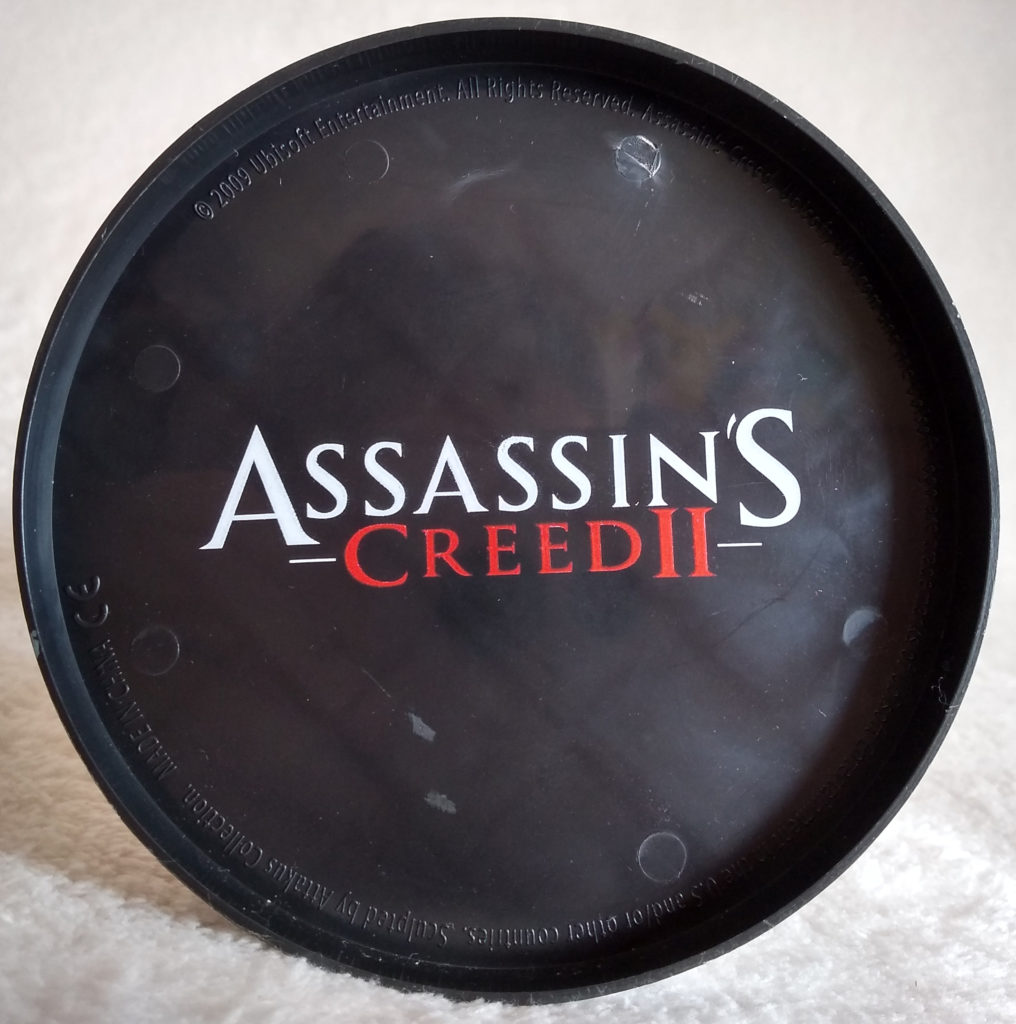 The branding is underneath the base. It has the Assassin's Creed II logo prominently in the center. Around the rim it has in raised font: © 2009 Ubisoft Entertainment. All Rights Reserved. Assassin's Creed, Ubisoft, Ubi.com and the Ubisoft logo are trademarks of Ubisoft Entertainment in the U.S and/or other countries. Sculpted by Attakus Collection. MADE IN CHINA CE.
---
Back when the PS3 came out, I was saving for my Masters and could therefor not afford the machine. But when I found the PS3 Assassin's Creed Revelations Collector's Edition version of the game for cheap I bought it anyway. I always wanted to play Assassin's Creed since I saw its release, and figured I would get the PS3 eventually. I never ended up buying one in the end, as during my Masters I got my boyfriend who did have one.
Shortly after having bought that game, I saw these figures appear. I was told it came with the Collector's Edition of the game, and I thought I was missing it from mine (as I bought it secondhand and maybe they wanted to keep the figure). So I bought the figure, as I always liked Limited Edition game figures.
Looking more into it, this one doesn't go with my game. And having stood for years on our game shelf, he doesn't really fit our other figures either. Plus I find his face creepy, haha.
So I'm selling this guy on. Hope he finds a nice new home!
I still wanted to catalogue him here for everyone. Pictures are of the actual figure and not stock photos.
---
Got any more details / information for me to add? Or did I get something wrong? Do you own the same figure? Or do you have the full set? Do you agree or disagree with my findings? Let me know in the comments below!