-I no longer own this merchandise and this post has therefor been archived-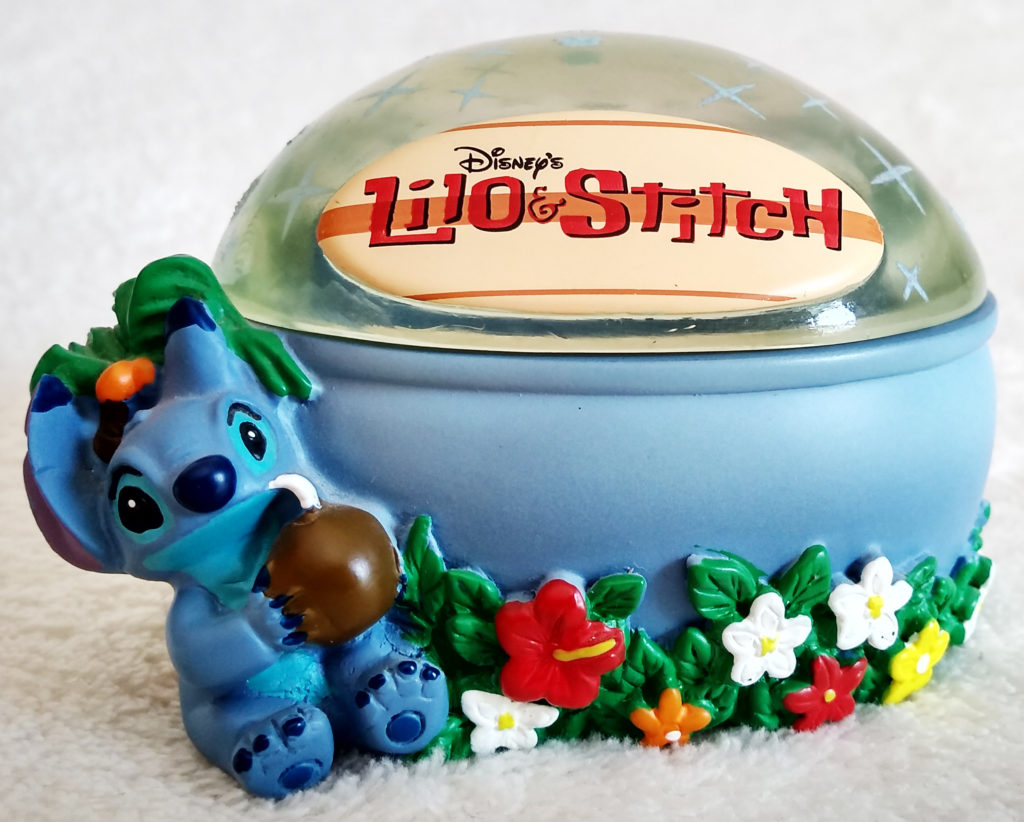 Series: Lilo & Stitch
Company: Disney Store (Japan)
Size: 8cm wide, 6cm tall
Main distribution: Disney Stores in Japan

Barcode: 4936313025170
---
This is a little trinket box of Lilo & Stitch that was sold in the Disney Stores in Japan.
It's a cute little oval shaped blue gradient trinket box that has Stitch on the side sipping out of a coconut near a palm tree. Along the entire bottom edge are flowers.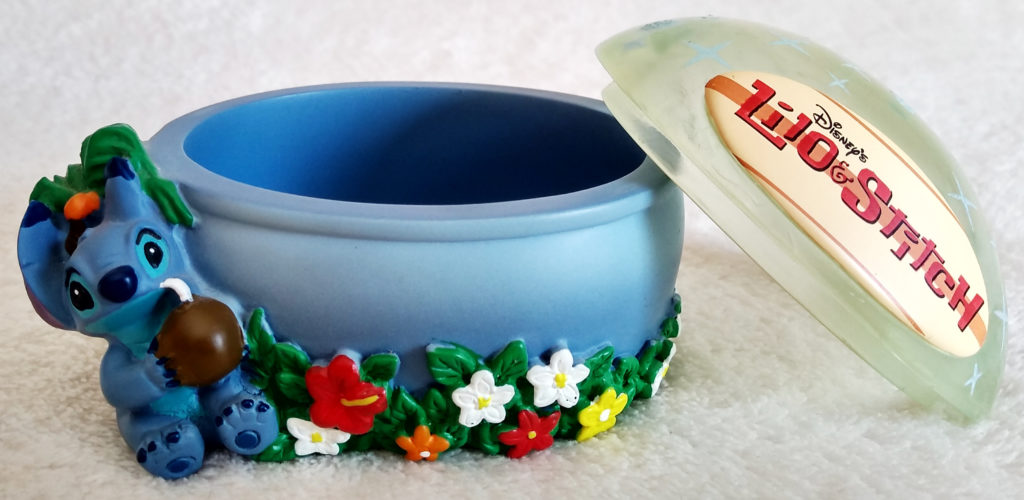 The top half is transparant with a greenish tint. It has Disney's Lilo & Stitch's logo painted on the front, and has glittery stars all over it.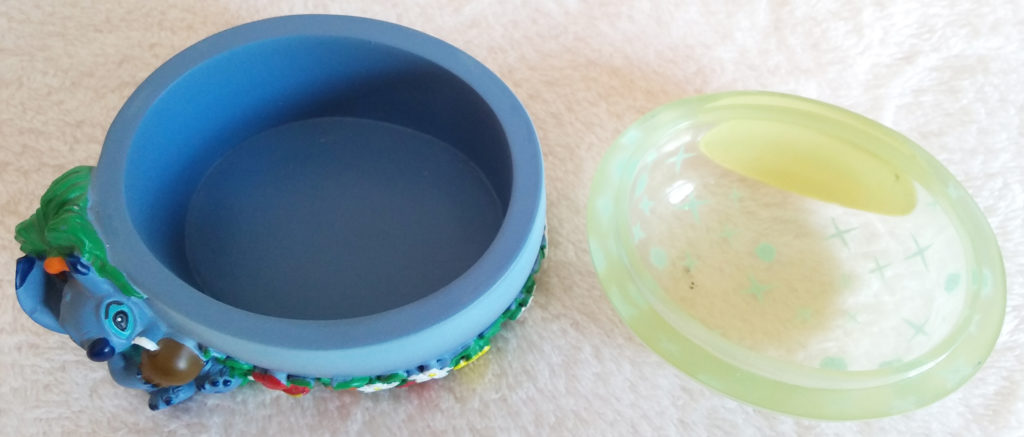 The top lid does not click in place but is simply placed on top. There is a little groove on it to keep it in place however. The inside is plain blue.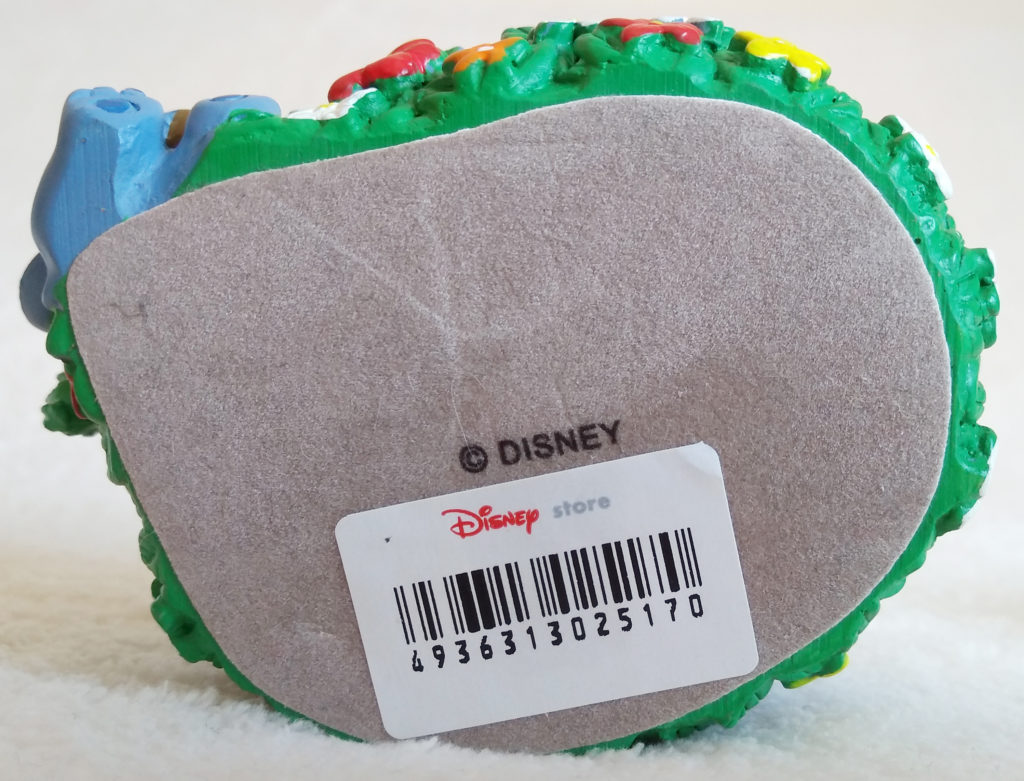 On the bottom is soft grey anti-slip fabric, with the branding © Disney printed on it. Mine still has the original Disney Store sticker on it as well, with the barcode.
It came in a plastic bag in a plain light blue box, with Japanese writing on it, as it is from the Disney Stores in Japan. It's RRP was ¥ 1,300 (¥ 1,365 incl Tax).
---
Lilo & Stitch is probably my second favourite Disney movie (after the Lion King). The rebellious and not typical Lilo resonated with me and Stitch is all things I love (blue, dog, alien). Although I prefer Chris Sander's original pitch (Stitch being a bad ass space criminal instead of an experiment gone rogue) the movie is enjoyable to watch and so different from the previous Disney movies. Stitch became one of my favourite Disney characters. His mannerisms are cute to watch and his voice is amazing.
I'm also a sucker for organisation and storage. So cute little boxes are my thing. My mom found this on a second hand market once and gave it to me. For years I kept it on my shelves, storing rings, and later on my desk storing paperclips or small pegs. As I moved out, I got more into boxes that could stack and would close well (think tupperware like), which this one obviously can't.

After much consideration, I decided to part with this as it's kind of in my way now and not being used. As much as I love Stitch, I have to be more practical with my space, and would love to use the money to fund other things.
Looking this up, I found it actually came from Japan! This is why I never saw one alike it I guess. Even now searching info for it I only found 1 sold on Mercari (a Japanese selling site). So it's definitely a cute unique piece. I hope to make a fellow Stitch fan very happy with it!

I now no longer possess this. Despite not having this anymore, I still wanted to catalogue it here for fellow collectors. The photo's are, as always, of the actual item in hand and not stock photos.
---
Got any more details / information for me to add? Or did I get something wrong? Do you own the same trinket box? Or do you have any cute boxes? Do you agree or disagree with my findings? Let me know in the comments below!