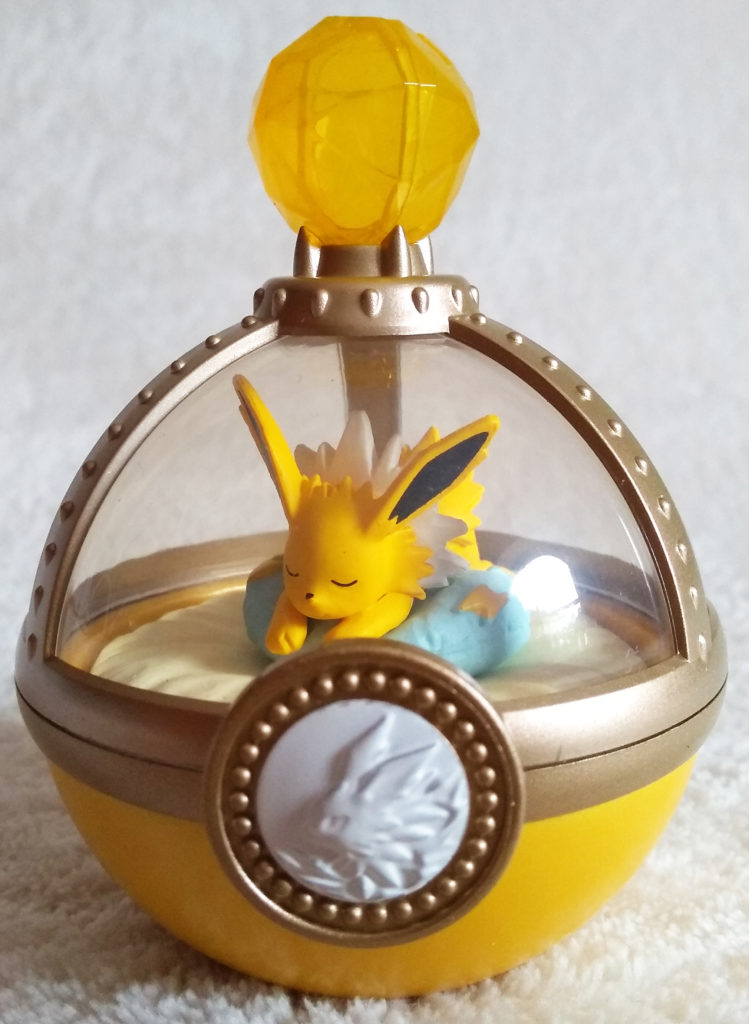 Company: Re-ment
Release:
Volume 1: Nov 2018
Volume 2: Oct 2019
Size: 9 cm
Main distribution: Japan
Barcode Vol. 1: 4521121204253
---
Re-Ment makes various blind boxes with cute little items and / or scenes of a multitude of IPs. This series is called Dreaming Case featuring Pokémon Eevee and its evolutions. It came in 2 volumes, making a total of 10 figures.
Volume 1
Release date: Nov 2018
Barcode: 4521121204253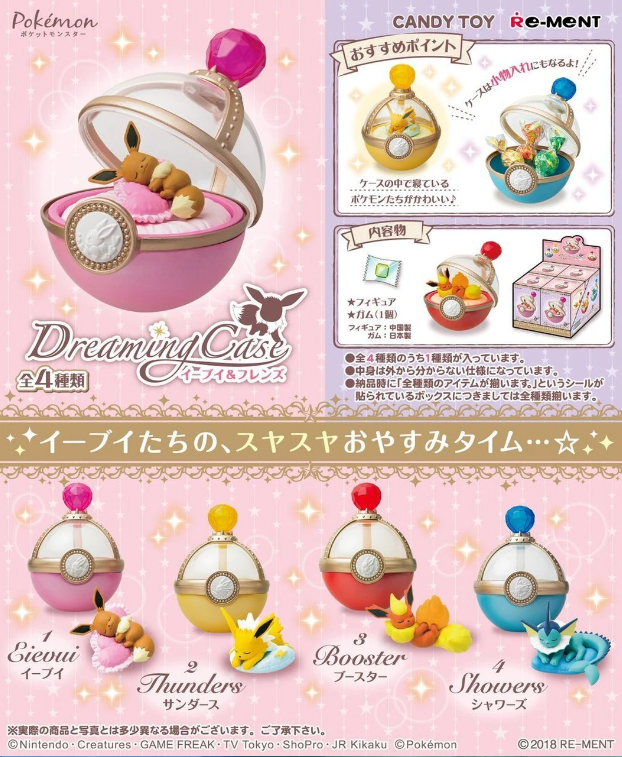 The first volume exists out of 4 figures; Eevee, Jolteon, Flareon and Vaporeon. The set focuses on the first Generation of Pokémon.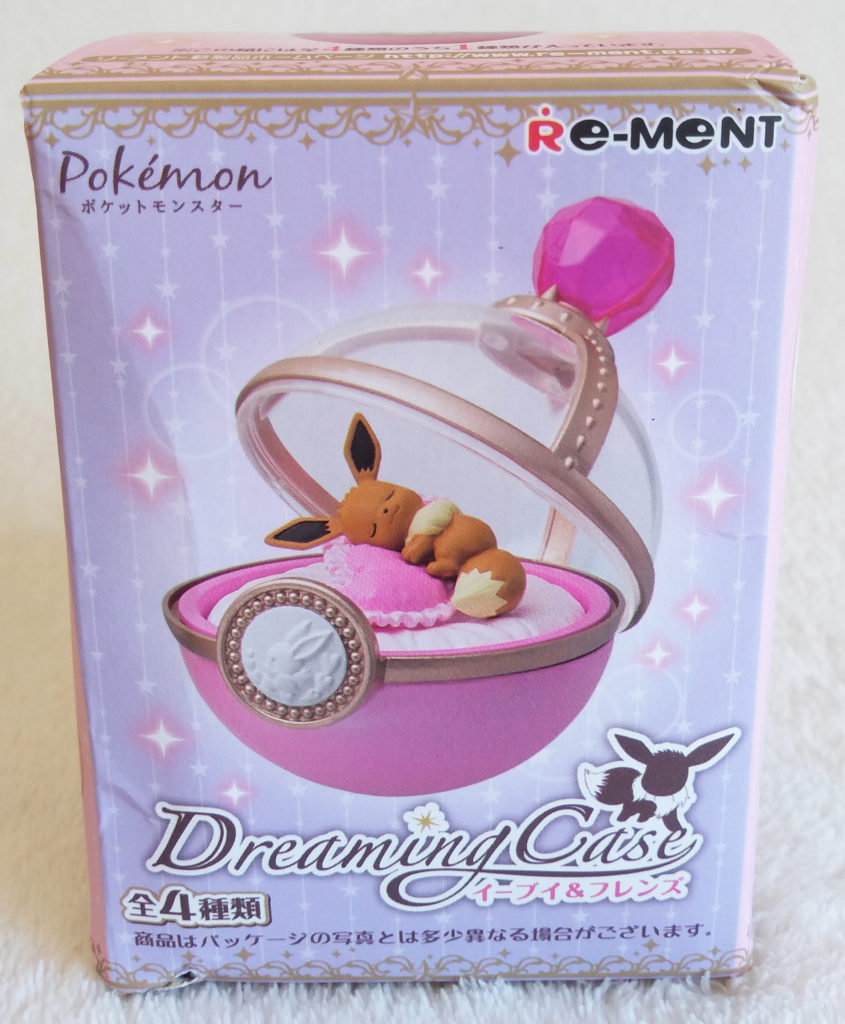 All the blind boxes look the same. It'll be a surprise which one of the 4 figures you get.
On the sides of the blind box are the 4 different figures displayed. You can get:
1) Eievui / Eevee
2) Thunders / Jolteon
3) Booster / Flareon
4) Showers / Vaporeon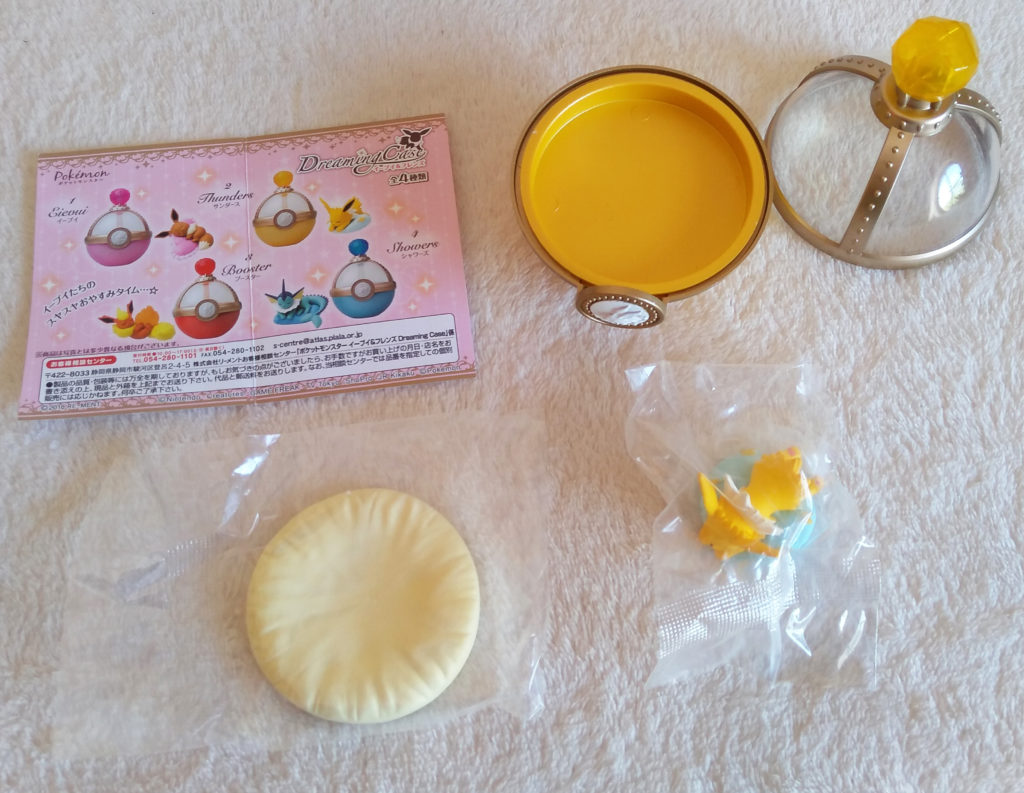 When you open the blind box you'll find the Pokéball in bubble wrap, and the figure / bits in plastic, a leaflet showcases all of the figures, and a piece of candy in plastic. I heard the candy is there so they can sell them in convenient / grocery stores in Japan!
I got 1 of these; Jolteon.
2) Thunders / Jolteon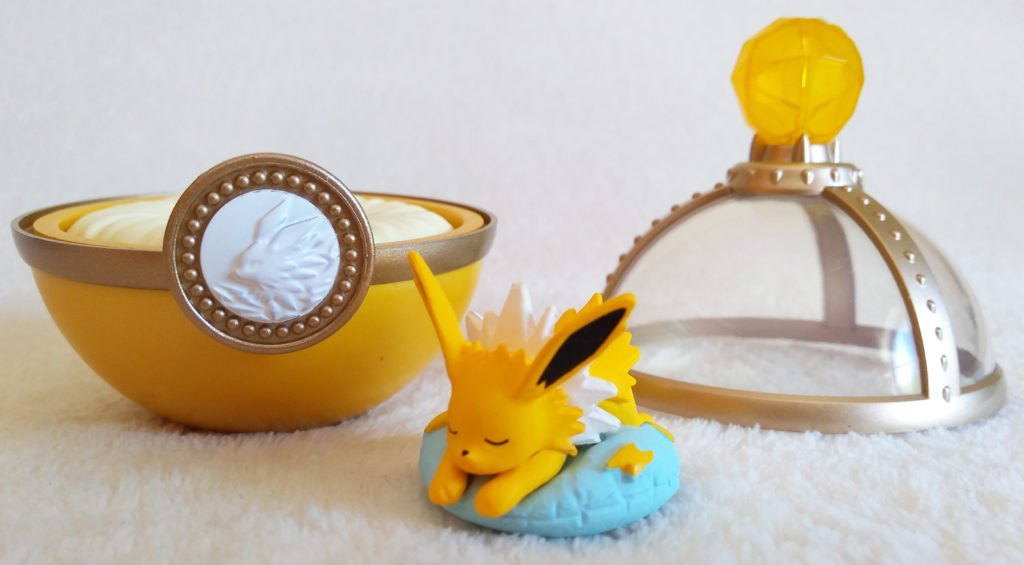 Jolteon is sleeping on a blue cushion with lightning bolts. He is attached to this, so you can't separate him from the cushion. His "Pokéball" is half yellow, half transparent. There is a slight shimmer to it. The "button" has a stylised Jolteon headshot on it. On top of the "Pokéball" is a yellow diamant. Inside it is a larger yellow cushion, which can be removed. Inside is also a flat piece to create the "floor" in the ball, but this can also be removed, making a round container.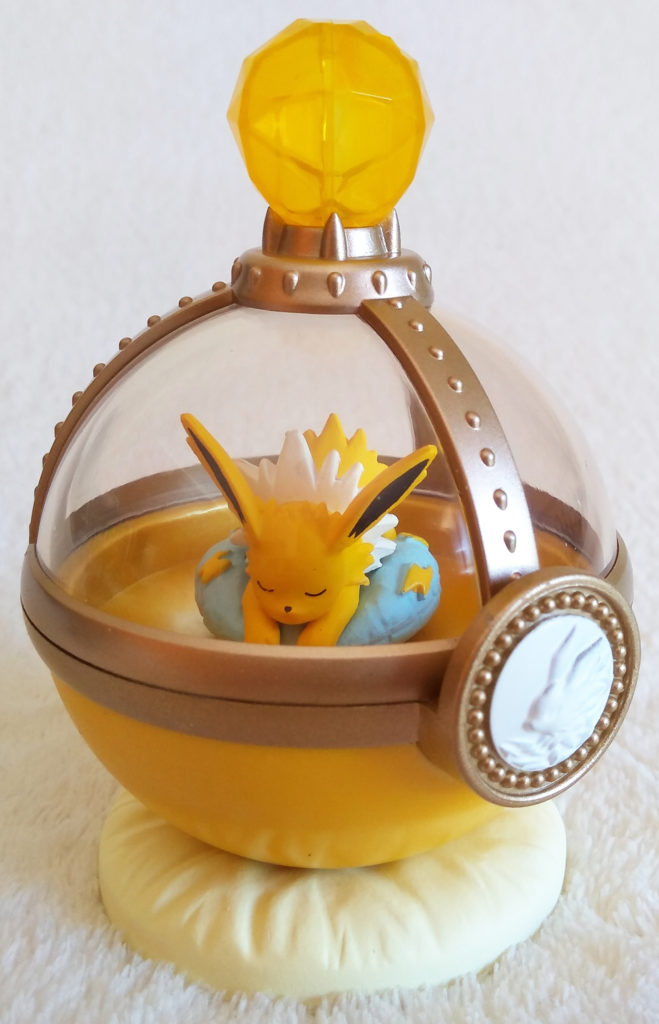 Due to the separate pieces there are various ways to display. The bottom of the "Pokéball" is flat, but you could also place it on top of the larger inner cushion.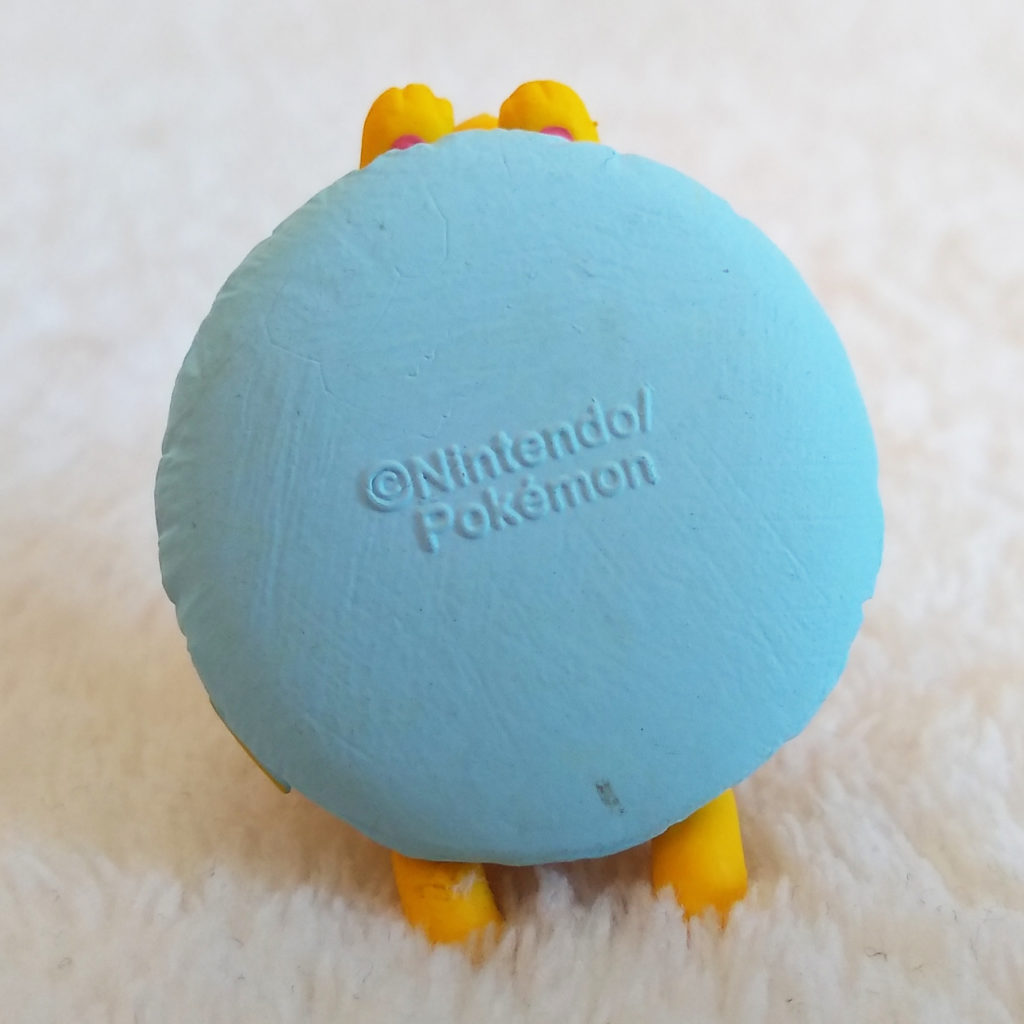 I could only find branding on the Jolteon figure. It reads in raised font: © Nintendo / Pokémon.
Volume 2
Release date: Oct 2019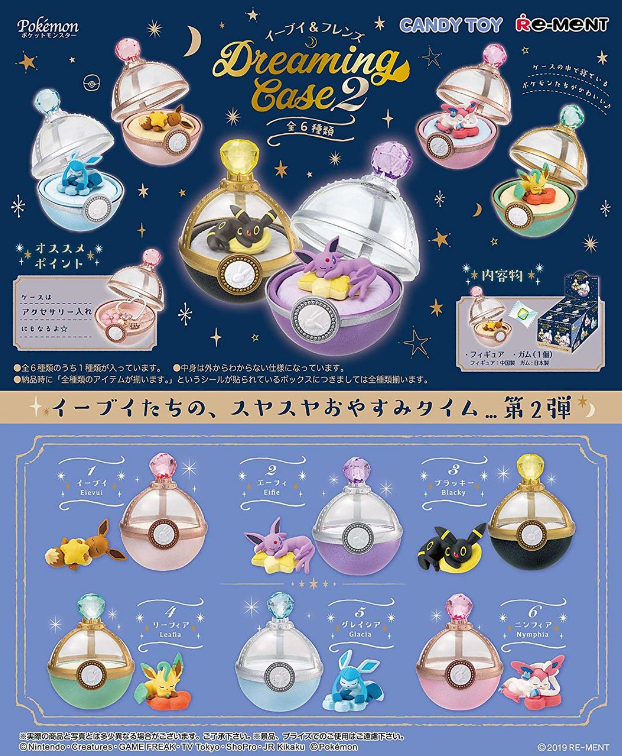 The second volume exists out of 6 figures; Eevee, Espeon, Umbreon, Leafeon, Glaceon and Sylveon. The set focuses on the remaining Eevee evolutions, as well as adding a new Eevee.
I got none of these.
---
I love the little sets Re-Ment comes out with. The Kirby and Pokémon themed ones are my favourites, but I've seen several others I'd enjoy too. The little scenes in cute cases are something I adore.
And although I like the idea of these, I didn't go for them as they are quite expensive. But when I found Jolteon on sale through Instagram due to left over stock from an anime shop, I caved. Not only was it a good price, I knew which one I was going to get.
Jolteon is my favourite Eeveelution. And of the figures, I think he looks the cutest and sleepiest too. I also love the transparant "Pokéball". The original idea was of Pokémon being in Gashapon balls, so the transparant half fits with me. I also adore Gashapon, so it's a double win. These look so luxurious as well. Although I find the diamond at the top a bit over the top, it does make it easy to open them.
I don't have a great need for collecting them all though. Having just 1 special "Pokéball" on the shelf, makes it look all the more luxurious. However, if I find the rest of Gen 1 for cheap, I wouldn't say no.
If you like small, cute little scenes / figures Re-Ment is something you may want to look into. If you like cases / terrariums, sleeping Pokémon, Eevee or its Eeveelutions, this set is highly recommended!
---
Got any more details / information? Did I get something wrong? Do you own the same figure or the full set? Let me know in the comments below!