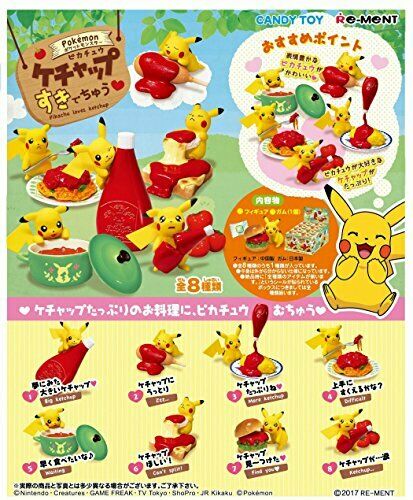 Company: Re-ment
Release: July 2017
Size: 7.5 cm
Main distribution: Japan
Barcode: 4521121203218
---
Re-Ment makes various blind boxes with cute little items and / or scenes of a multitude of IPs. This series is called "Pikachu loves Ketchup" featuring Pokémon Pikachu. The set exists out of 8 parts.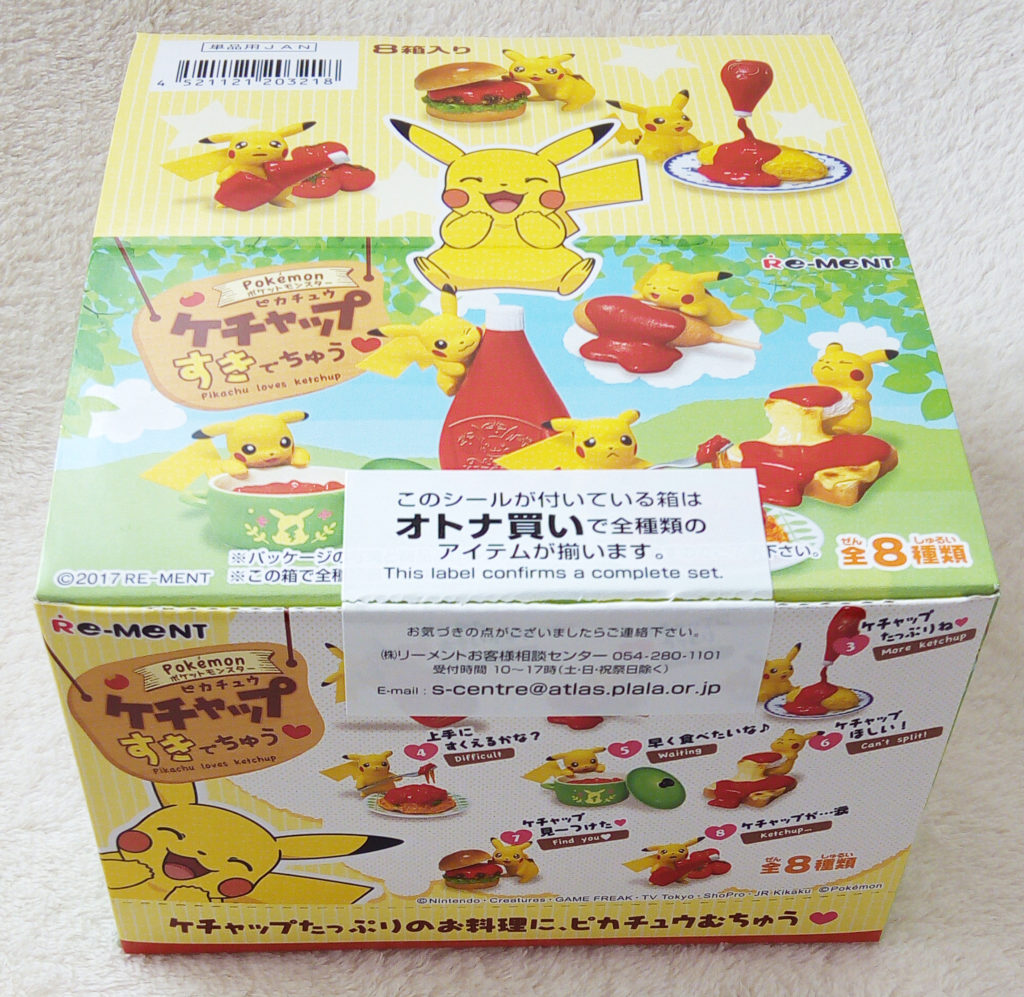 This is one of the rare occasions I bought a full box with a complete set. The box can be folded open as a store display.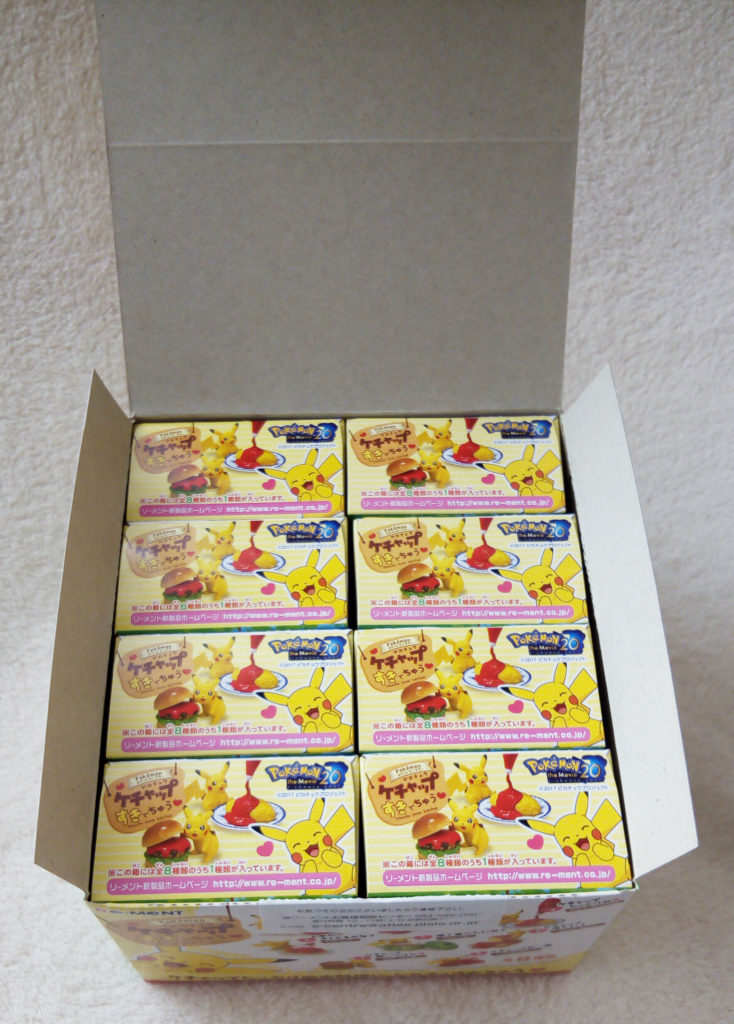 Inside are the 8 blind boxes. They are in order so if you see one of these freshly opened in store and you want a specific one you could grab the correct one.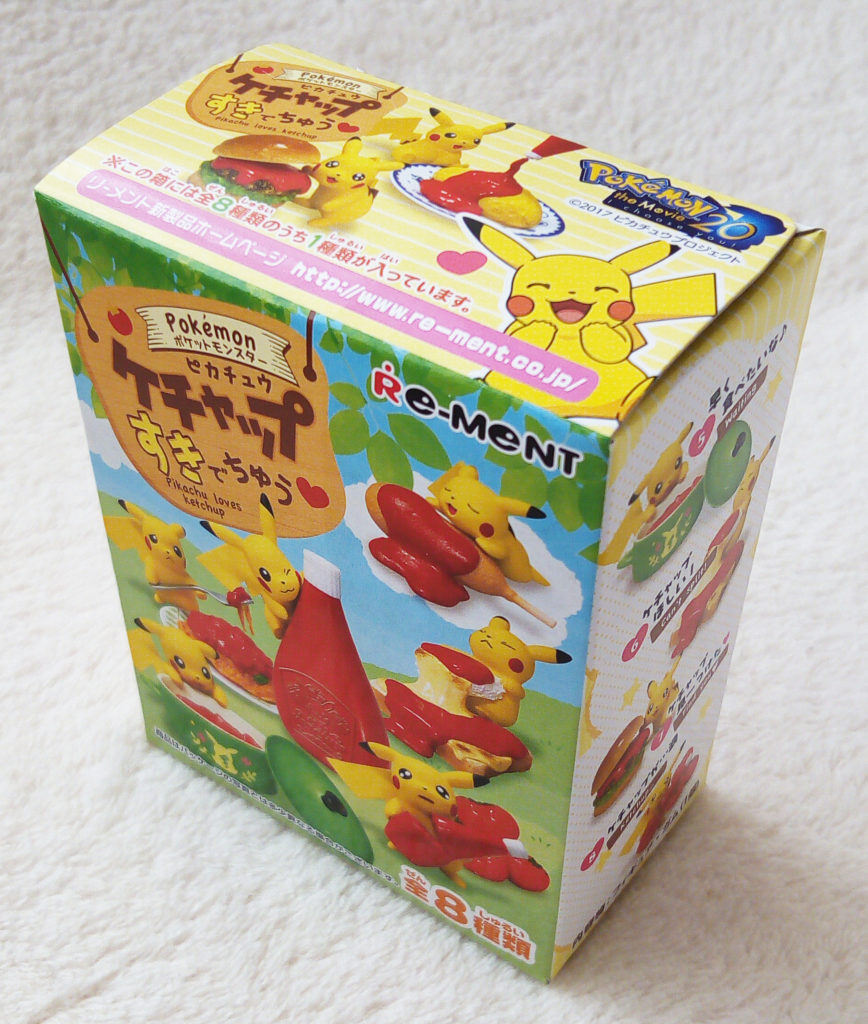 All the blind boxes look the same. It'll be a surprise which one of the 8 figures / scenes you get.
On the side of the blind box as well as the full box are the 8 different figures / scenes displayed. You can get:
1) Big Ketchup
2) Zzz…
3) More ketchup
4) Difficult
5) Waiting
6) Can't split!
7) Find you ♡
8) Ketchup…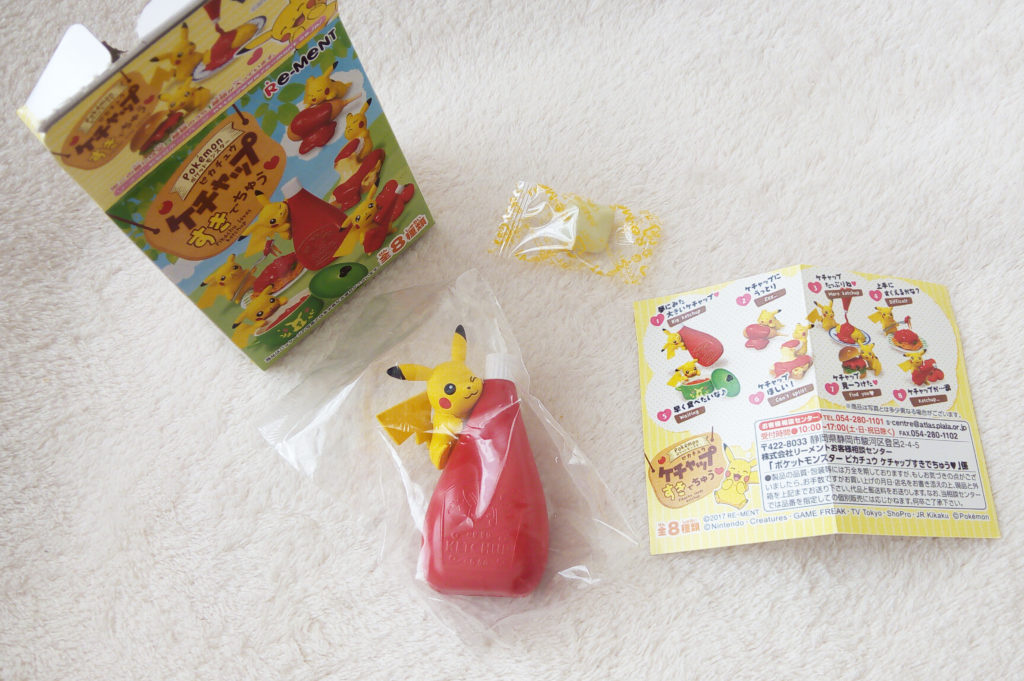 When you open the blind box you'll find the figure / bits in plastic, a leaflet, and a piece of candy in plastic. I heard the candy is there so they can sell them in convenient / grocery stores in Japan!
All the pieces have © Nintendo / Pokémon R-M CHINA on them.
1 Big Ketchup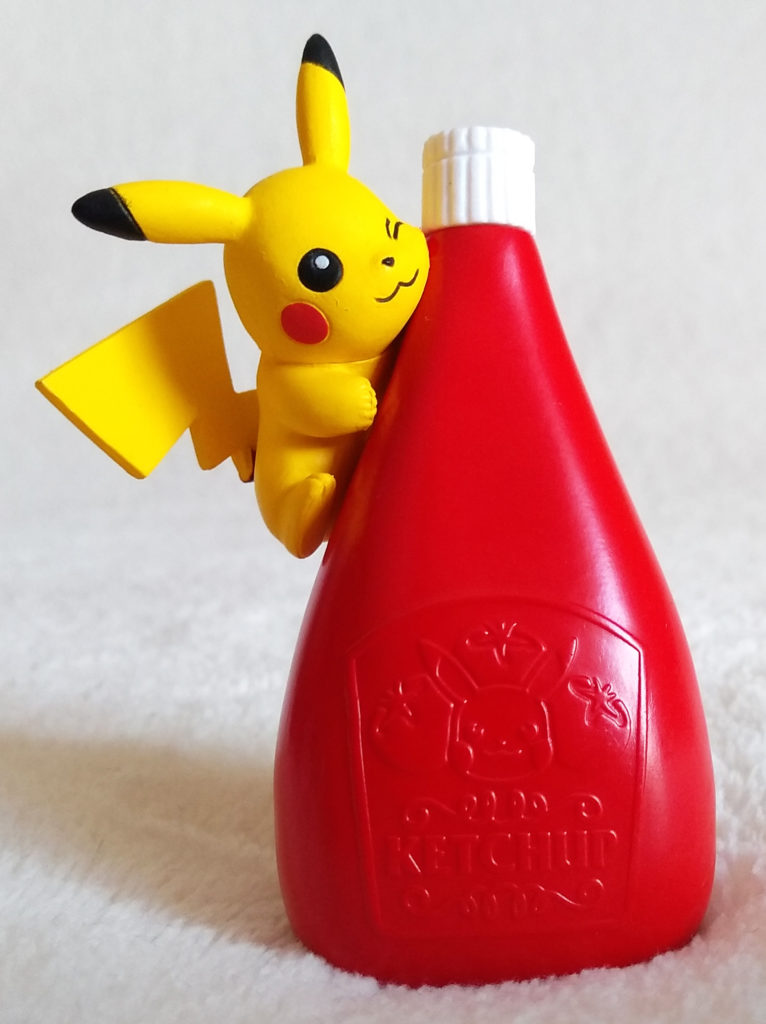 Pikachu clings onto a large ketchup bottle. He has a winky face, or is squishing his cheek against it. The ketchup bottle has a Pikachu face with 3 tomatoes as a label. It exists out of 1 piece.
2 Zzz…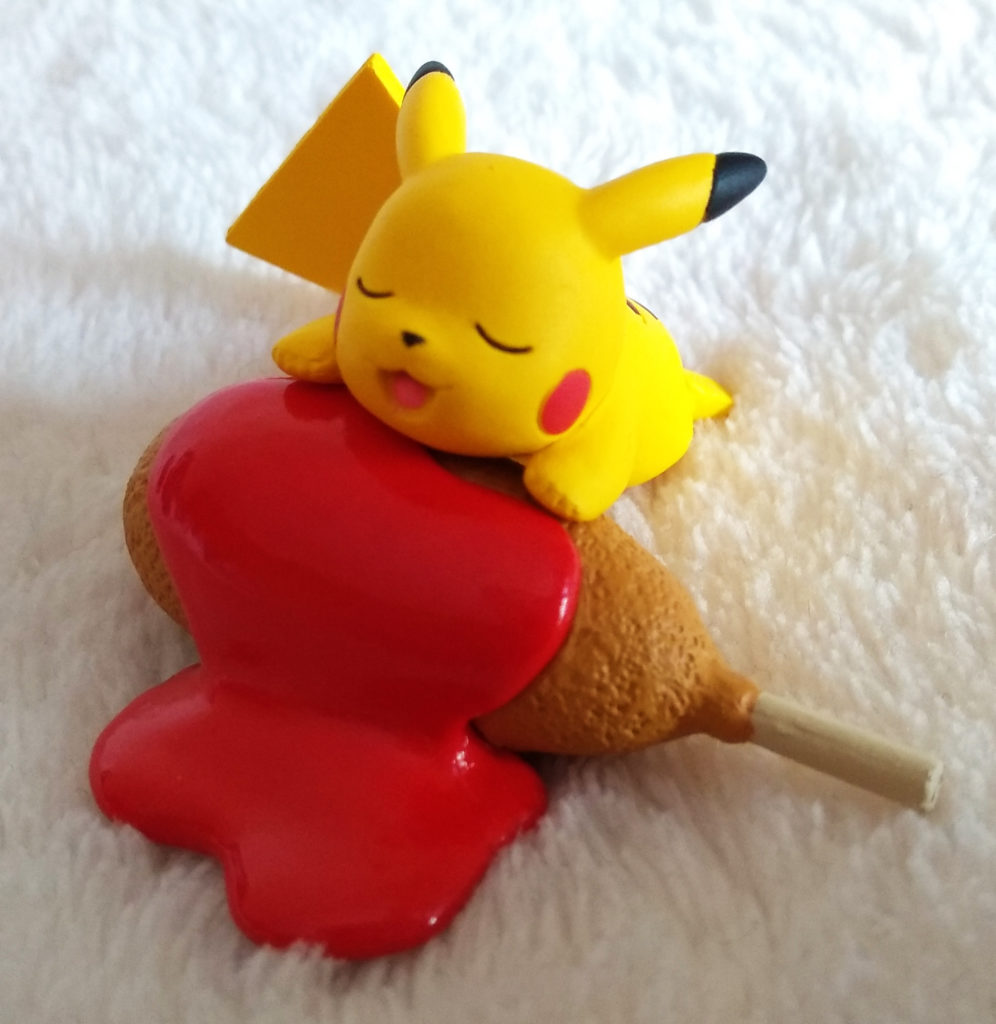 Pikachu has fallen asleep on top of a ketchup covered corndog (or some meat on a stick). Also kind of looks like he is taking a nice sniff of the ketchup. He has his eyes closed and mouth open, and looks content. He is in a laying position on his belly. It exists out of 2 pieces; Pikachu, and the ketchup covered corndog.
3 More ketchup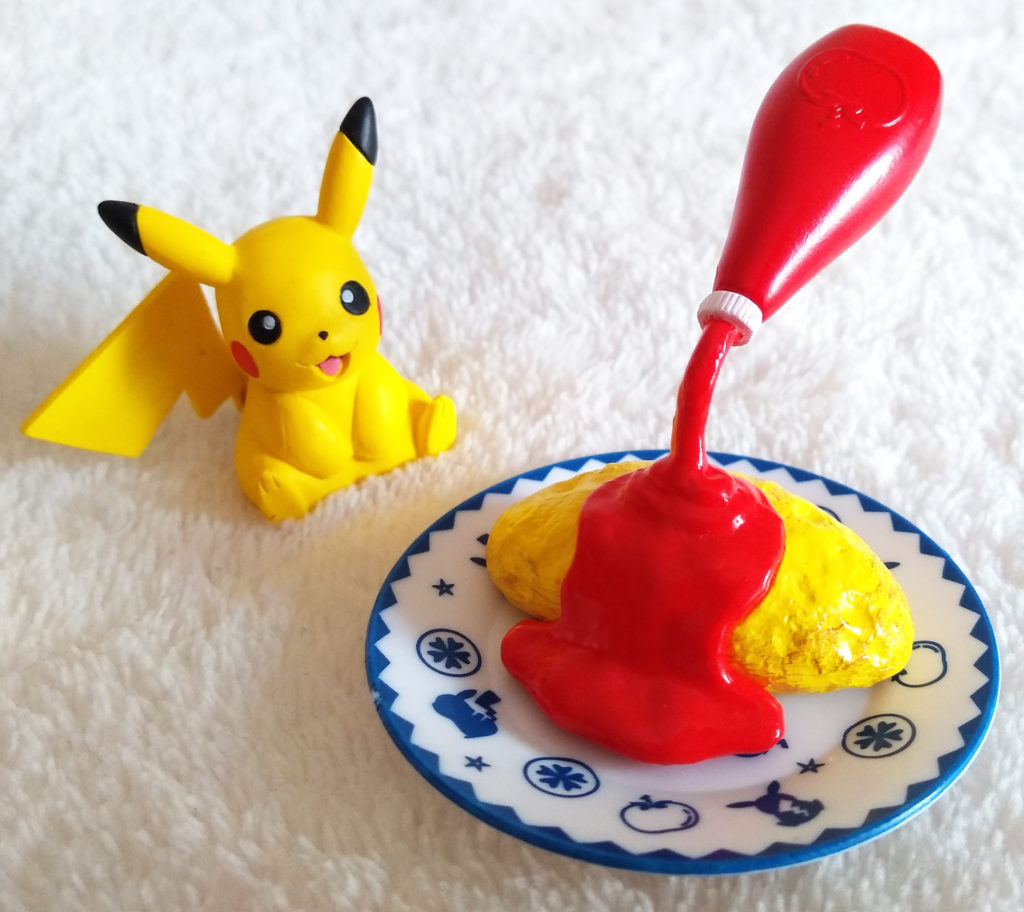 Pikachu is eagerly awaiting the ketchup pouring. He has a happy expression on his face, and is sitting. A ketchup bottle is suspended in the air pouring ketchup on an omelet on a plate. The plate has dark blue decorations of Pikachu and tomatoes. This one exists out of 4 pieces; Pikachu, the plate, the ketchup covered omelet and the ketchup bottle which attaches to the ketchup of the omelet.
4 Difficult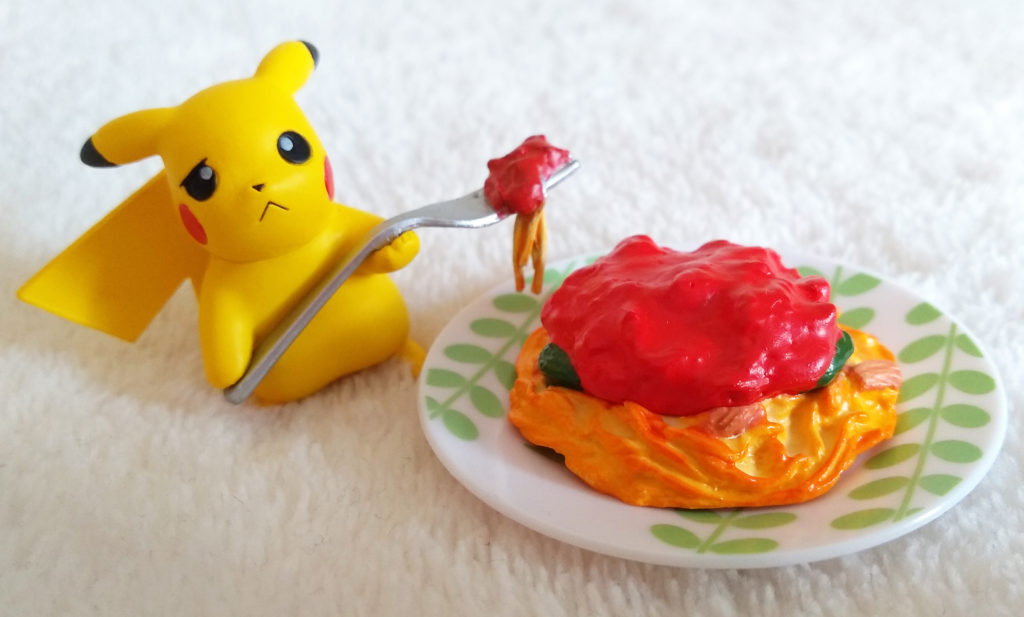 Pikachu is struggling to eat spaghetti bolognese with a fork. He is standing holding a fork with a bit of spaghetti and sauce, and there is a plate with spaghetti bolognese. He also kind of looks confused or quizzical, maybe because you don't put ketchup on your pasta but a nice bolognese sauce! The plate has light green decorations of a Pikachu and leafy plants. This one exists out of 3 pieces; Pikachu with the fork, the plate and the pasta with sauce.
5 Waiting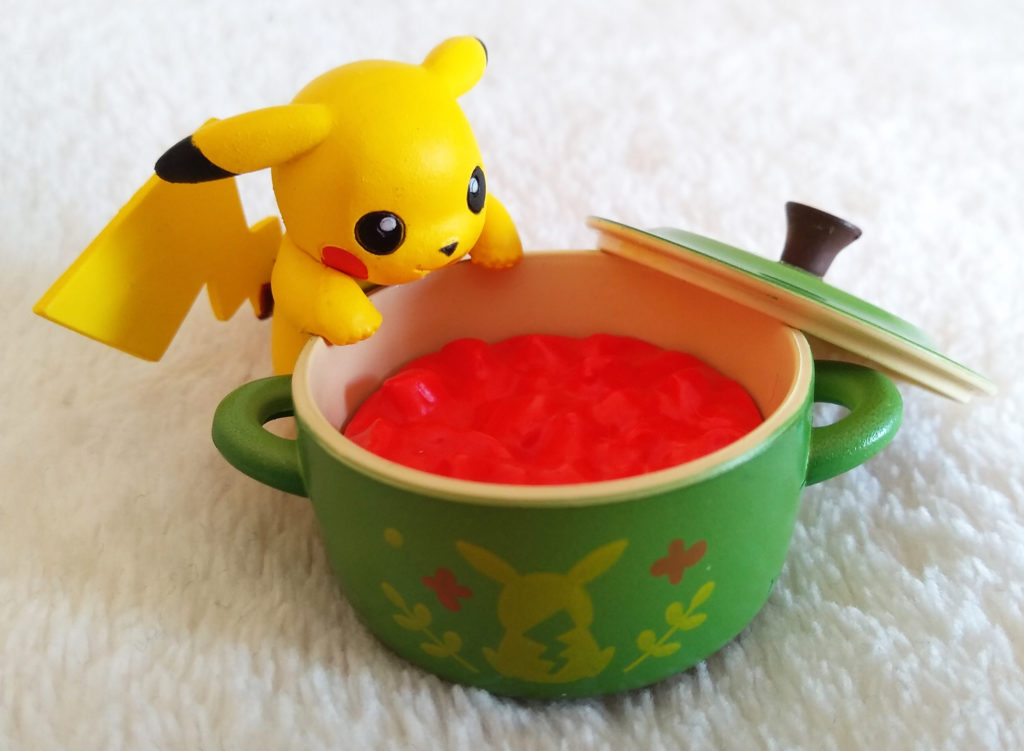 Pikachu is eagerly peeking in a pan with pasta sauce. The pan is green and comes with a separate lid that fits perfectly. The sauce can also be removed. It has a cute Pikachu decoration on the front. Pikachu is tiptoeing, his arms around the edge and his ears down. He has a happy expression on his face. This one exists out of 4 pieces; Pikachu, the pan, the lid and the sauce.
6 Can't split!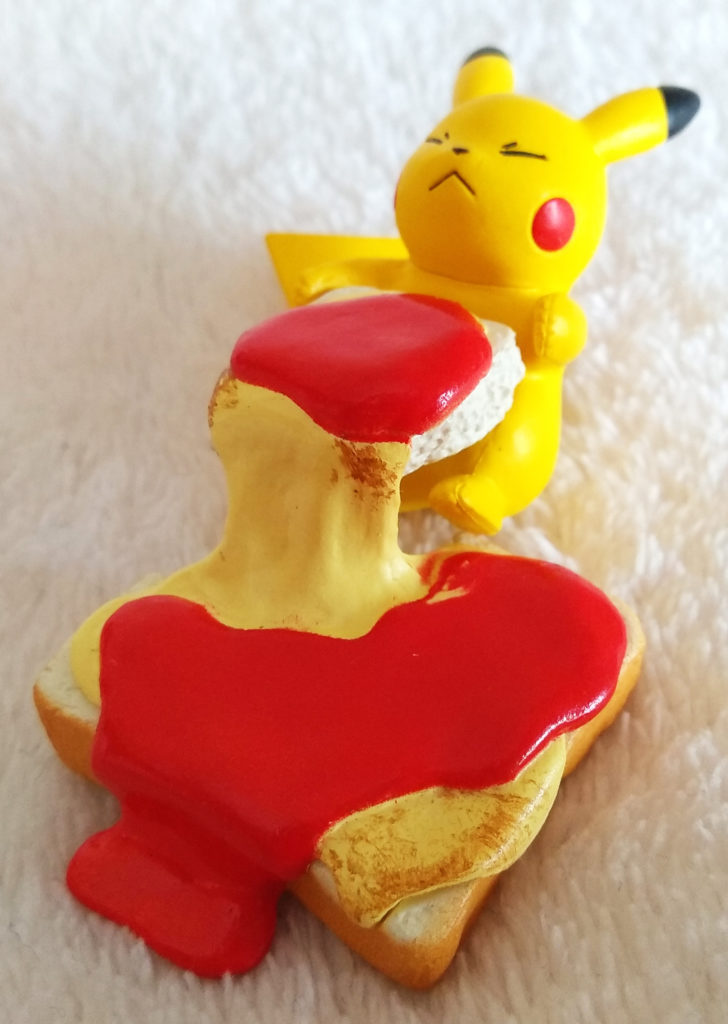 Pikachu is trying to pull a piece of toast off, but the cheese is too sticky! He has a struggling expression on his face, with eyes closed. He is leaning back pulling the toast. The toast has melted cheese and ketchup on it. It exists out of 1 piece.
7 Find you ♡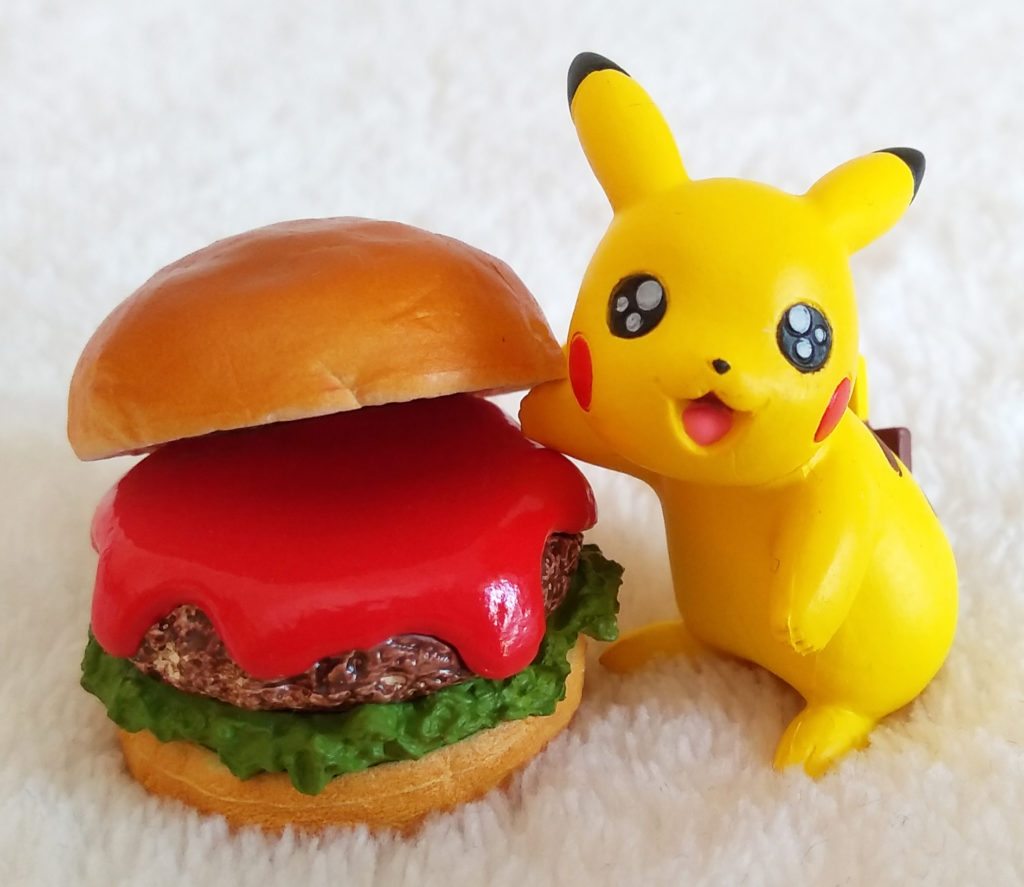 Pikachu is in love with the ketchup on this burger. He is standing and holds the top bun up with his right paw to show you the goodness. His eyes are big and all sparkly. This exists out of 2 pieces; Pikachu and the burger.
8 Ketchup…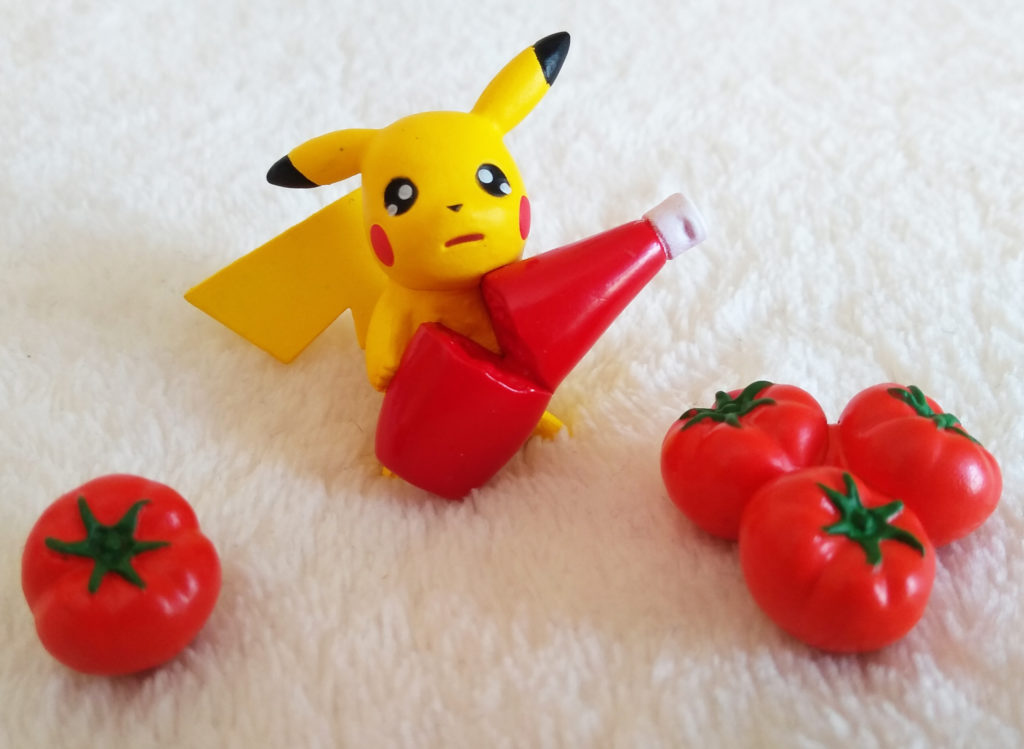 Pikachu mourns his broken ketchup bottle. He is standing and holding the broken bottle in his paws. He has a sad and shocked expression, with tears in his eyes. The ketchup bottle is ripped in the middle. It also comes with a group of 3 tomatoes, and a separate tomato. This one exists out of 3 pieces; Pikachu with the bottle, the tomato and the group of tomatoes.
---
When I saw this set of Re-ment, it was an instant buy for me. I love the weird relationship Pikachu has with ketchup. I couldn't choose between these, so I bought the whole set of HLJ.
The quality of Re-ments is amazing. Everything is so small yet so detailed. The food looks so realistic! I love small scenes and tiny foods so this was a perfect set for me.
My favourite is probably #8. It reminds me of Episode 42 of the first Pokémon anime series where Pikachu falls in love with this ketchup bottle, and then a Scyther cuts in to it. He looks so distraught!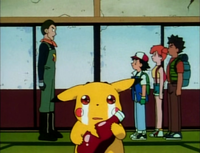 I like #5 and #7 a lot too. The food looks so good and I can imagine myself making little scenes with these.
If you like small, cute little scenes / figures Re-Ment is something you may want to look into. If you like food, Pokémon or Pikachu and his love affair to ketchup, this set is highly recommended!
---
Got any more details / information? Did I get something wrong? Do you own some of the same figures or the full set? Let me know in the comments below!