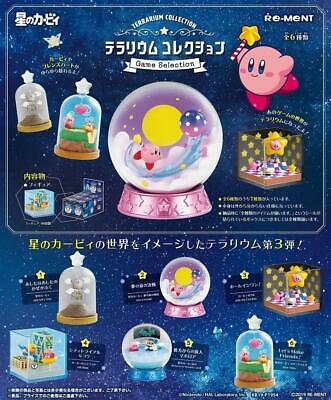 Company: Re-Ment
Release: November 2019
Size: 6~10 cm
Main distribution: Japan
Barcode: 4521121204857
---
Re-Ment makes various blind boxes with cute little items and / or scenes of a multitude of IPs. This series is called "Game Selection" featuring Nintendo's Kirby. It's part of the Terrarium Collection. The set exists out of 6 parts.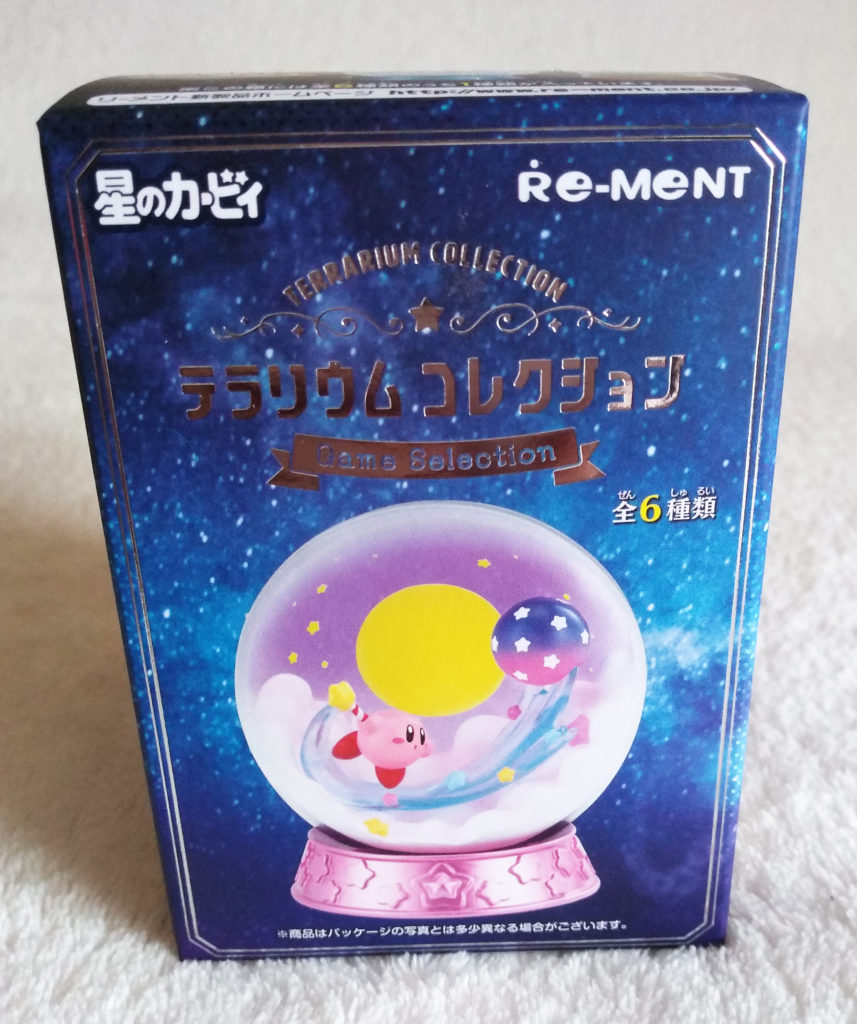 The 6 parts come in a blind box. Each box depicts the whole set and it'll be a surprise which one you get. It's a very pretty box, slightly bigger than other sets with a silver foil text at the front.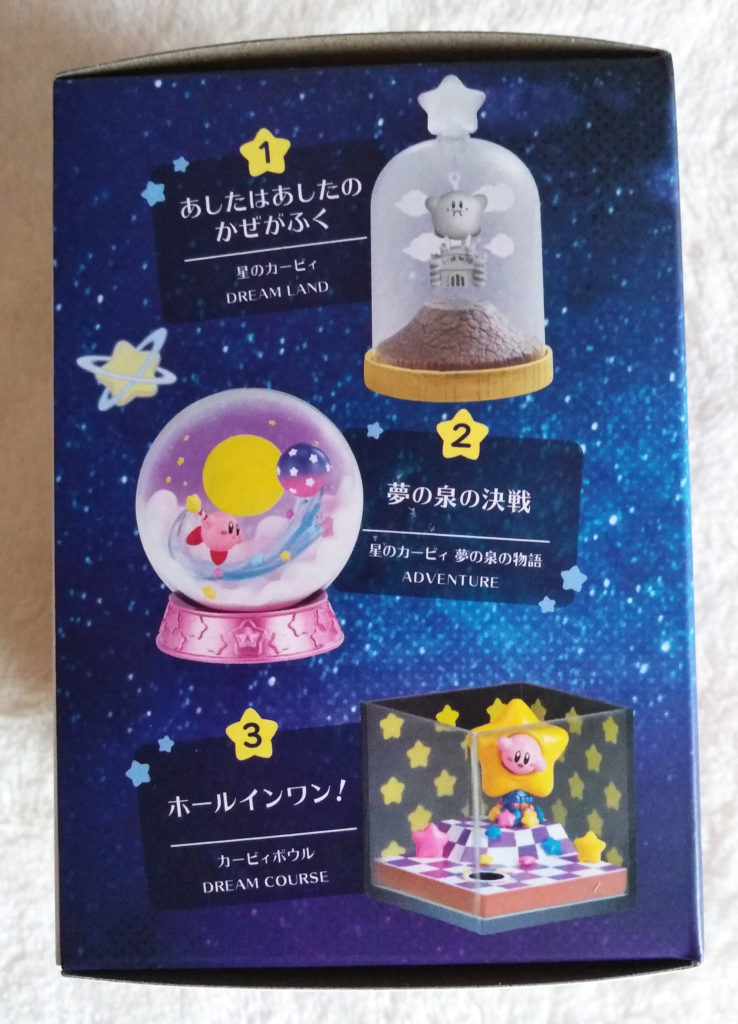 On the sides are the 6 parts printed. 3 on one side, and 3 on the other.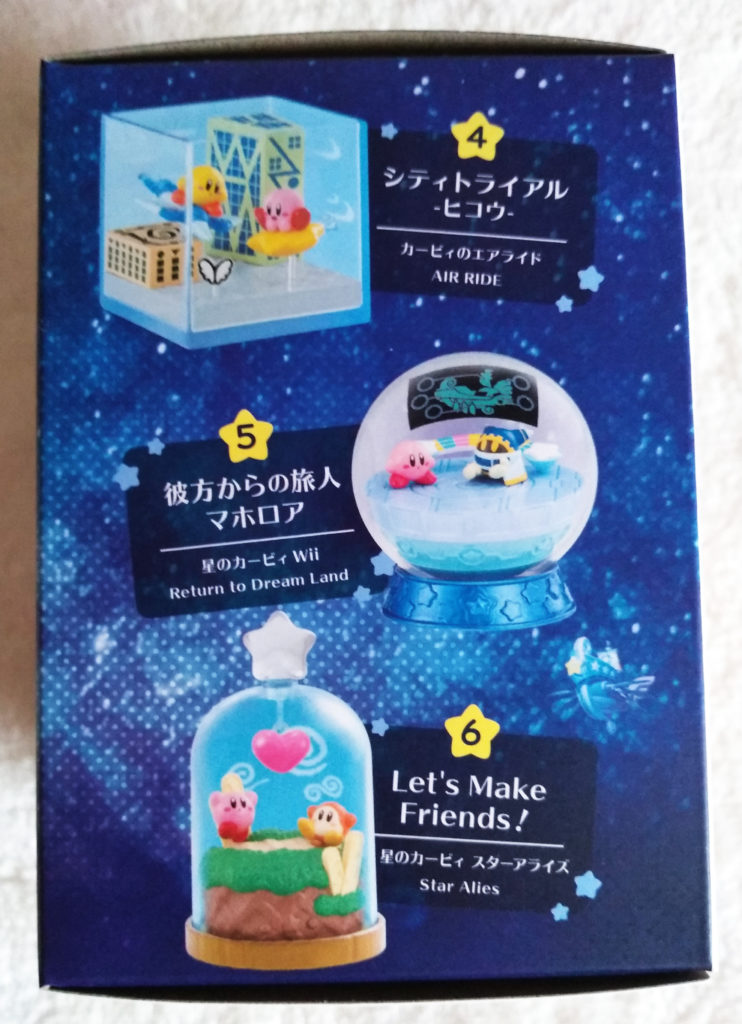 The 6 parts are:
#1 Dream Land
#2 Adventure
#3 Dream Course
#4 Air Ride
#5 Return to Dream Land
#6 Star Allies
I got #1 and #3.
#1 Dream Land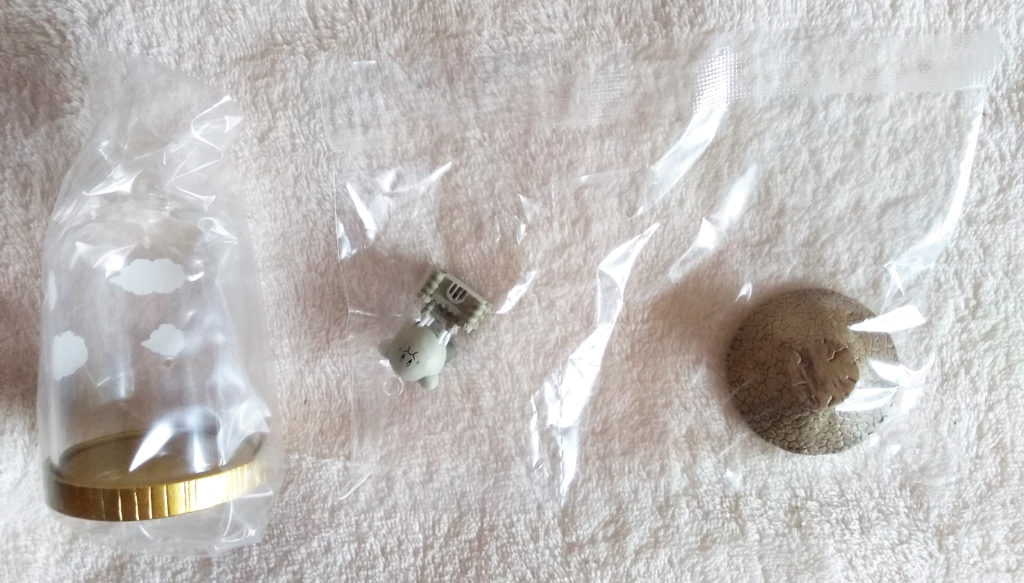 Inside the box you'll find the set in parts in joined plastic bags. It comes with the terrarium, Kirby and the floor.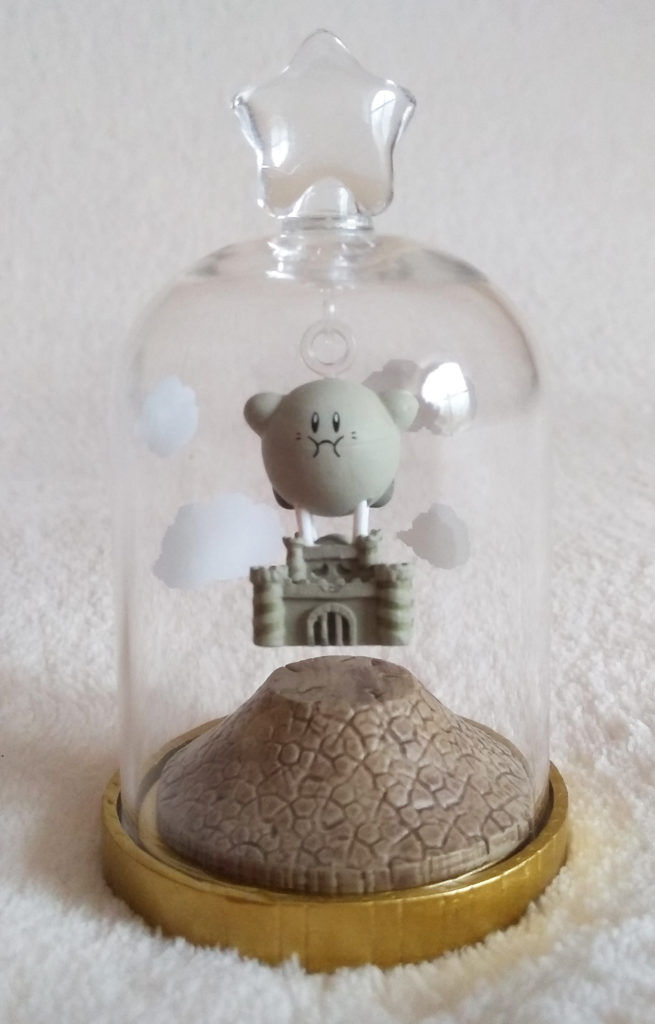 #1 Dream Land depicts the end scene of the Game Boy Classic Game Kirby's Dream Land. Kirby bloats up and takes the castle with him with the food falling out over the land. The figure is in grey scale as the Game Boy Classic Game had no colour, and Kirby has his classic face. The terrarium is nice and fully encased with a glass looking dome with a star on top, and a golden bottom. White clouds are painted on the dome. Kirby with the castle hangs from a transparant hook on the top, giving it the levitation. It's easy to put together.
#3 Dream Course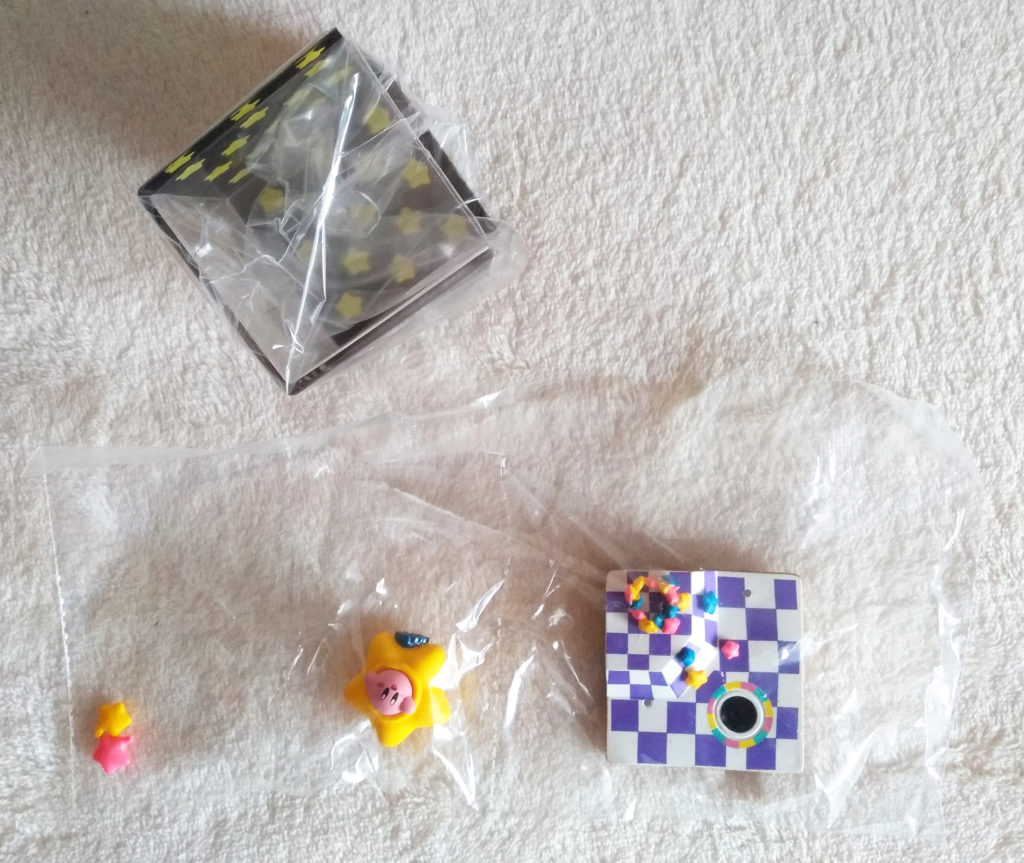 Inside the box you'll find the set in parts in joined plastic bags, as well as the terrarium in open plastic separate. The jointed plastic bags hold the floor, Kirby and 2 small stars.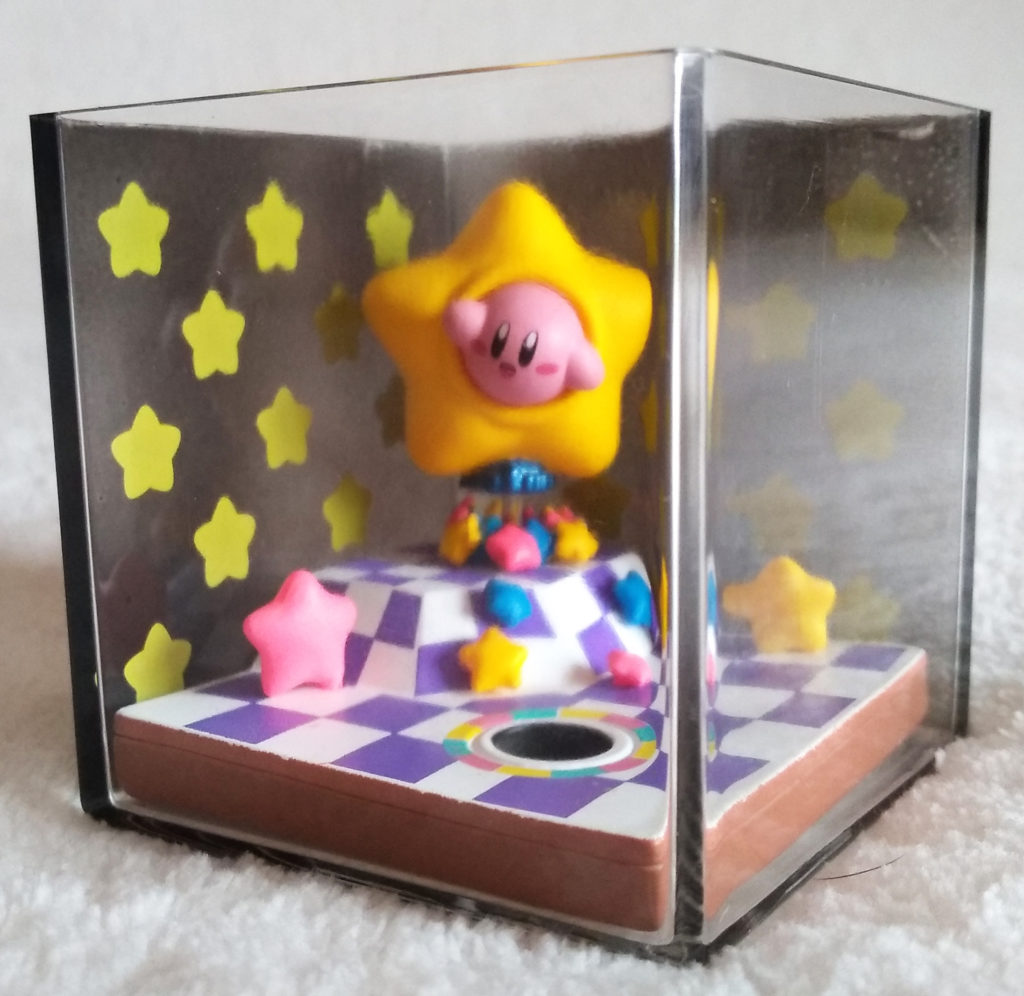 #3 Dream Course depicts a hole in one of the Super Nintendo Game Kirby's Dream Course. Kirby shoots off in a Star to the next area. The terrarium a glass looking cube with an open top. A dark background with yellow stars is painted on 2 sides. Kirby with the big star is standing on a small transparant stick on the top, giving it the levitation. The two small stars are placed with a pin on the sides. It's quite easy to put together.
The quality of the items is great with excellent colouring.
---
I love the little sets Re-Ment comes out with. The Kirby and Pokémon themed ones are my favourites, but I've seen several others I'd enjoy too. The little scenes in cute cases are something I adore.
Although I'd love to get a full set, this can get quite expensive so for some I just buy a random box and let myself be surprised. If I want a full set it'd be cheaper to find a full set online and buy that then getting random boxes in the store.
I love games and cute little depictions of them, but I don't need the whole set of this. I just wanted to get my favourites. The shop I bought them from (an independent anime shop in Newcastle) marked which one was inside so I could just buy the ones I wanted.
I have so many happy memories of Kirby's Dream Land on the Game Boy. It was the first game I ever bought myself! I immediately recognised the scene too. I love the enclosed dome and it just looks so pretty. The greyscale and classic Kirby are a nice touch too.
Kirby's Dream Course on the Super Nintendo I didn't personally owned till much later. I had bought it as a present for a friend though back in the day and we played it all the time. I later played it on the Super Nintendo mini with my boyfriend and his sister, and have since bought it for myself on the Super Famicom. Another game with lots of funny co-op memories and a scene I instantly recognised. I also love SNES merchandise which is hard to find. My only grievance with this one is is that the top is open, which means dust can fall in.
Although primarily sold in Japan I've seen several stores importing these now, especially the Pokémon series so it's fairly easy to get these. However, they are quite expensive for a blind box and range from around €/£ 7~12. Getting a full set by buying them randomly and potentially getting doubles can therefor get expensive! I can usually find a full set for around £40, which comes down to £5 each for an 8 part set, which is a bit more doable. I bought these for £10 which is a bit pricey, but these sets are bigger (only 6 in a set instead of 8) and I knew which ones I was getting so I paid a bit more to mitigate the risk of getting a double or an unwanted one.
The quality is amazing and the tiny items are very detailed! They would be very dangerous impulse buys if they were cheaper!
If you like small, cute little scenes Re-Ment is something you may want to look into. If you like Kirby or its games this series is highly recommended!
---
Got any more details / information? Did I get something wrong? Do you own the same terrariums or the full set? Let me know in the comments below!