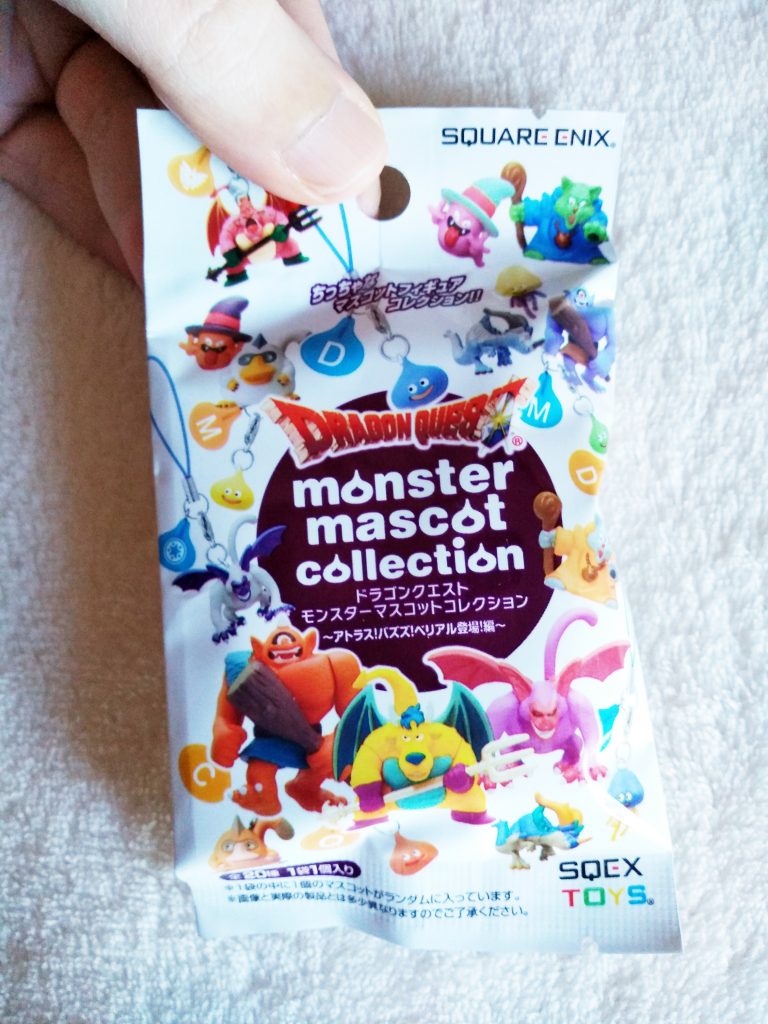 Company: SQEX Toys
Release: January, 2014
Size: ~5 cm
Main distribution: Japan
Barcode: 4988601222686
---
This is a keychain or dangler collection from Dragon Quest, series 'Monster Mascot Collection'. They are blind bags that exist out of a dangler with a Dragon Quest Monster, and a flat, Slime shaped coloured plate with a letter. There are 20 different ones to collect. I got 1 of them.
As these are blind bags it is impossible to tell which one you will get. I tried to "feel" for it but this is quite hard to do as there is a cardboard sleeve inside wrapped around the dangler.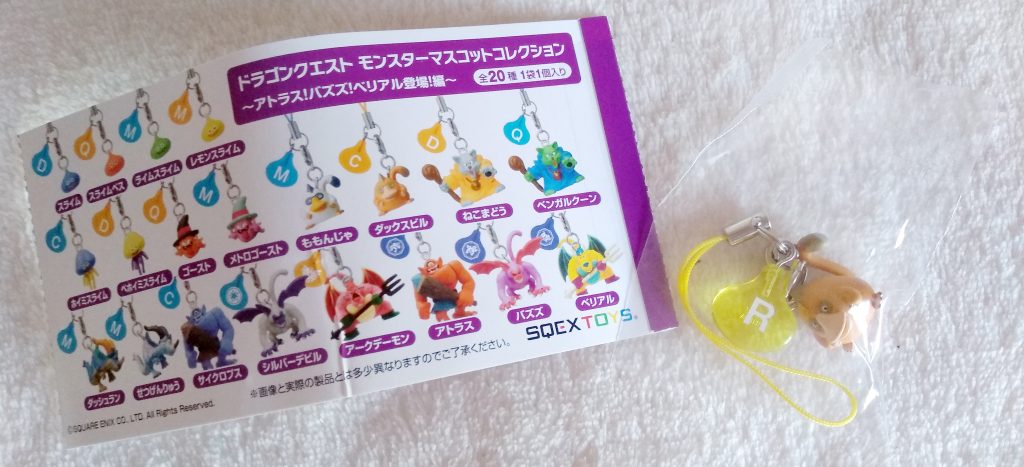 I was hoping for a Slime but I got a Splatypunk. A pallette swap and a slightly stronger variant of the Platypunk. With it is a yellow Slime plate with a white R.
On the bottom of the Splatypunk is © S·E. I'm guessing it stands for Square Enix.
---
After I had discovered Dragon Ball, it wasn't long until I discovered Dragon Quest, as I was looking for anything drawn by Akira Toriyama. I fell in love with the games, although admittedly I started playing the re-makes on the Super Nintendo rather than the originals on the Nintendo.
Surprisingly though, I never found much merchandise of Dragon Quest. I got some main characters, but never a Slime or any monster for that matter.
I thought these were cute and bought this last minute in an anime shop in Newcastle. I was hoping for a Slime, and had tried to feel for one. I felt something small and round with a small point, but I guess it was the mohawk! Ah well.
I doubt I would try and get all of these. The amount is quite intimidating to be honest. And since I got my little Slime out of the bath bomb, I don't have any burning need to try again here.
I'm not sure yet if I'll keep this. It's cute and one of Akira Toriyama's designs. But I'm not sure yet what I'd do with it. However, it's quite small and not taking up much space, so I'll have a think about it.
---
Got any more details / information you think I should add? Or did I get something wrong? Do you own any of these? Which one is your fav? Do you agree or disagree with my findings? Let me know in the comments below!