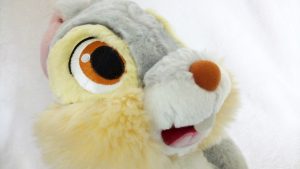 Series: Bambi
Company: Walt Disney Company / The Disney Store
Size: 30 cm
Main distribution: Worldwide (at the Disney Store)
---
This is a Thumper from the Disney Store.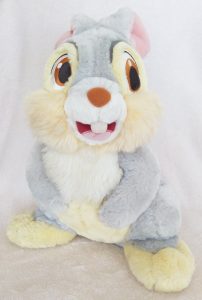 It's a large plush that's about 30 cm big. He is in a standing position. He is made from a very soft fabric with a mid-long pile and has longer hair on his chest and cheeks. His eyes are embroidered whereas his nose is a fabric covered button. Even its teeth is made from proper plush and 3D, instead of some felt sticking out of his mouth. He looks sideways to his left, giving him a cheeky expression.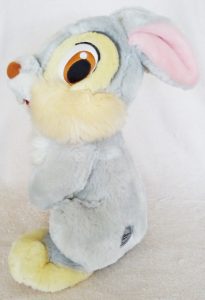 His proportions are quite good. He has the large hind legs and even that little elbow fold in his arms. His head seems slightly too small for its body, and too long. I find Thumper has a more squashed face, with smaller eyes and thicker cheeks. Overal the plush looks quite like him though.
He has very light pastel colours, much lighter than his animation counterpart, but this gives him a very cute look.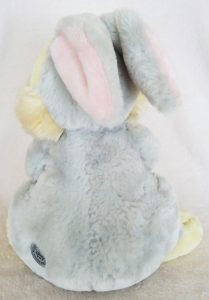 He has a large base and his big feet spread, which makes him easy to stand. The plush has pellets in his bum which gives him the weight to sit upright well.
He is very soft and cuddly, and not too firmly stuffed.
The only (in my opinion) negative thing about this plush; he has no tail!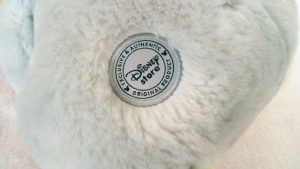 As most Disney Store plush it comes with the signature Disney Store stamp on his butt.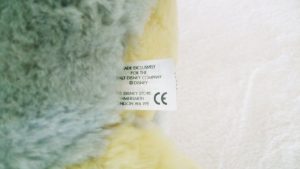 Its tush tag is fairly standard, with the usual Disney Store information, copyrights and wash instructions.
---
I never owned the movie of Bambi as a child, but my aunt did. So whenever we were there I watched that VHS. Thumper was my favourite, but then again, I grew up with nijntje, my favourite plush was a bunny and I owned a pet rabbit, so bunnies were high up there.
I also always loved the stamped Disney Store plush. Their quality is amazing and they are as official as can be.
The Netherlands doesn't have a Disney Store, so finding these (usually secondhand) was always such a magical experience. As a kid, I wanted to collect them all.
Now I'm living in the UK where most major cities have a Disney Store, some even two! The magic has slightly worn off I must say, but it's still a treat to go the shop and look at all of the stamped plush.
I found this guy in a charity shop for cheap and took him home with me. I loved his pastel colours and figured he would look great during the Easter period.
So during the Easter period I have him displayed in the house, as I like my holidays geeky themed.
This Thumper is so soft and cute, it's probably my favourite Thumper I currently own. My only grievance with this Thumper is, he's missing a tail!
---
Got any more details / information for me to add? Or did I get something wrong? Do you own the same plush? Do you agree or disagree with my findings? Let me know in the comments below!