-I no longer own this merchandise and this post has therefor been archived-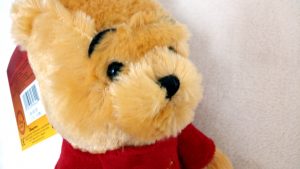 Series: Winnie the Pooh
Company: The Disney Store
Size: 22 cm
Main distribution: Worldwide (at the Disney Store)
---
This is a Pooh Bear that was sold exclusively in the Disney Stores. This is a very soft, fuzzy plush. The slightly bigger version is here.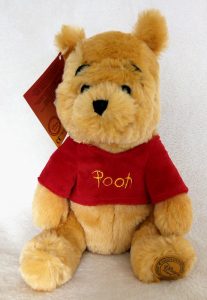 It's a rather small plush as far as Disney Store plush go, but still a nice size at 22 cm sitting. Winnie is a slightly dark yellow / orange honey-like colour rather than his animation yellow and is wearing his iconic red T-shirt but with golden Pooh stitched on it. His nose is embroidered and his eyes are two black round hard plastic buttons. He has two black felt eyebrows.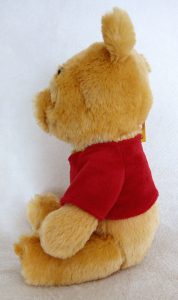 Winnie the Pooh is very soft. He has a fuzzy texture with a long pile. His limbs are soft and hang by gravity. His proportions are alright although I find he could be chubbier.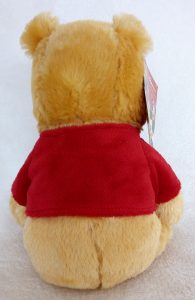 He has pellets in his butt that makes it easy for him to sit up.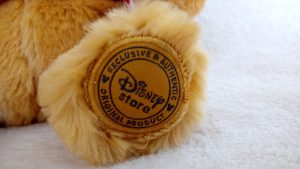 As most Disney Store plush it comes with the signature Disney Store stamp on his foot.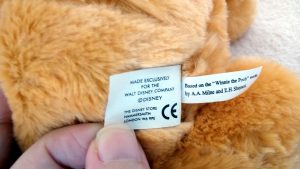 Its tush tag is fairly standard, with the usual Disney Store information, copyrights and wash instructions.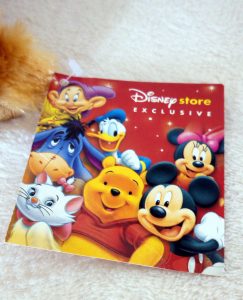 It has a hang tag in its ear, that's a pretty standard "Disney Store Exclusive" one. It features a red backgrond and several Disney characters.
Sadly mine is creased.
---
I always loved the stamped Disney Store plush. Their quality is amazing and they are as official as can be.
The Netherlands doesn't have a Disney Store, so finding these (usually secondhand) was always such a magical experience. As a kid, I wanted to collect them all.
Now I'm living in the UK where most major cities have a Disney Store, some even two! The magic has slightly worn off I must say, but it's still a treat to go the shop and look at all of the stamped plush. This Pooh Bear retailed for £8 / €13 in the Disney Store.
This plush is extremely soft and cuddly due to it's long hair. As a general teddy it's amazing, as Pooh I find him too slim. I also don't like the letters on his shirt. But these are personal preferences and I can't really fault the plush on anything.
However, finding these stamped plush less rare now, and needing the room / money, I have decided to sell them and only keep my favourite characters. As there are so many Pooh Bears out there, and this is not my favourite in particular anyway, I have decided to sell him. This one is now sold.
I still wanted to catalogue him here for fellow collectors. The photo's are, as always, of the actual plush in hand and not stock photos.
---
Got any more details / information for me to add? Or did I get something wrong? Do you own the same plush? Do you agree or disagree with my findings? Let me know in the comments below!