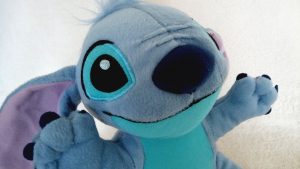 Series: Lilo & Stitch
Company: SEGA
Size: 23 cm
Main distribution: SEGA Crane Games (Worldwide)
---
This Stitch distributed in SEGA arcade's crane games. These were not for retail sale and had to be won. This particular Stitch is a medium price.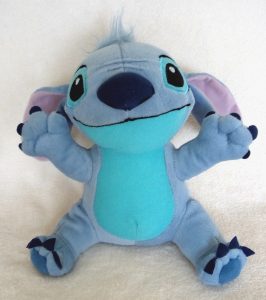 It's a decent sized plush that's about 23 cm big. He is in a sitting position with his legs sticking out to the front and his arms upwards. His ears are sideways but due to gravity hanging low. He is made from a soft fabric with a short pile and has a little tuft of long hair on his head. His face features are embroidered.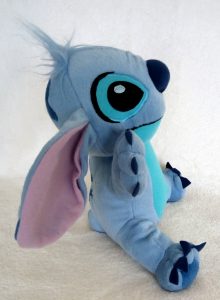 His proportions are off. This Stitch is about 2 heads big. There isn't any room for his extra set of limbs to grow out.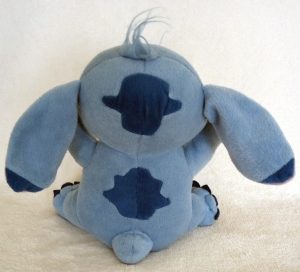 The colours are of the Stitch from the TV series, a lighter blue than the movie Stitch.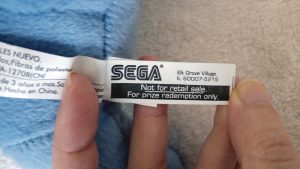 His tush tag is from the SEGA arcade. It clearly depicts these are prizes only. The other tag is a fairly standard one that describes material.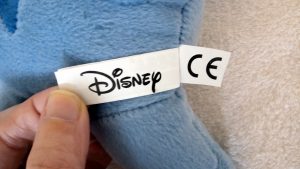 On the back it simply says Disney. The CE marking has been added later to the plush when it was imported to Europe.
---
Lilo & Stitch is probably my second favourite Disney movie (after the Lion King). The rebellious and not typical Lilo resonated with me and Stitch is all things I love (blue, dog, alien). Although I prefer Chris Sander's original pitch (Stitch being a bad ass space criminal instead of an experiment gone rogue) the movie is enjoyable to watch and so different from the previous Disney movies. Stitch became one of my favourite Disney characters. His mannerisms are cute to watch and his voice is amazing.
My mom found these in a charity shop and bought it for me knowing I like the blue space dog. I've seen them in the crane games at fun fairs in the Netherlands (where these are probably from) as well as the SEGA arcade in Sydney.
However, they is not my favourite (Stitch) plush. I'm not a big fan of "teddy" posed characters (sitting with paws sticking out) nor characters that are out of proportions from their original design. Not only that, I find these extremely derpy looking. Clearly mass produced, with little care for details. Stitching is off and patterns don't quite match up (especially noticeable on the back with his pattern) and his expression is awkward. They also feel very cheap to me.
Still, the fact you could only win these makes them a bit hard to get hold of for people who aren't good at the crane game. Their exclusiveness may also make these collectable. And Stitch is a popular character.
I no longer own this plush.
---
Got any more details / information for me to add? Or did I get something wrong? Do you own the same plush? Do you agree or disagree with my findings? Let me know in the comments below!